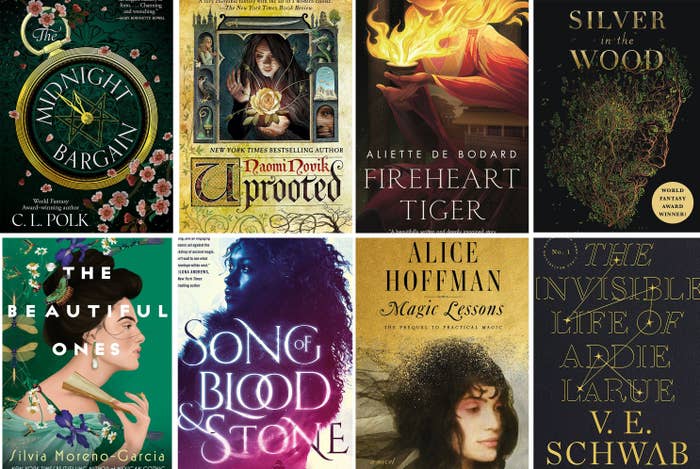 This feminist fantasy takes place in a Regency-era fantasy world, where magical women are married off and collared so they can't practice their magic. Beatrice Clayborn doesn't want to marry; she wants to improve her magic and become a great sorcerer. However, after a recent financial disaster, her family is relying on her to make a good match and save them from destitution. Scoping bookstores, Beatrice finds a grimoire that could be the key to advancing her magic, but the wealthy Ysbeta Lavan snags it first. After meeting Ysebeta's brother Ianthe at a marriage ball, Beatrice finds herself feeling unwillingly attracted to her adversary's brother, and he to her. This novel is a fast-paced, delightful read full of plot twists, romantic angst, and social justice themes.

Get it from Bookshop, Target, or Amazon.
Uprooted by Naomi Novik (Del Rey; out now)
In Dvernik, you dare not enter the forest. Everyone knows you don't touch the trees and you never eat the fruit. Sometimes the forest takes people, even whole villages when it's strong enough. A few return, but they're so corrupted they're no longer human at all. The villages surrounding the woods have a protector called the Dragon — a magician who takes a girl to serve him in his tower every 10 years. This year he chooses Agnieszka, a clumsy 17-year-old who never expected to be selected; Kasia, her beautiful best friend, was the special one, not her. But the Dragon chooses the one with magic, and Agnieszka's unique magic, tied to the mythical Baba Jaga magic, must save everyone. Meanwhile, what started as a hate-hate relationship begins to transform into something else the longer Agnieszka and the Dragon live and work together.

Get it from Bookshop, Target, or Amazon.
Fireheart Tiger by Aliette de Bodard (Tordotcom; Feb. 9)
This lush and beautiful sapphic novella explores themes of colonization in a Vietnamese-inspired fantasy setting. Thanh is the youngest princess of Bìanh Hả. When she was a child, her mother, the queen, sent her as a hostage to Ephteria, a powerful country that seeks to colonize Bìanh Hả and all other countries. There, she survives a traumatic fire and falls in love with the Ephteria heir, Eldris. Many years later, when she's returned to Bìanh Hả, Eldris comes to Bìanh Hả to renegotiate the treaty's terms, and Thanh finds herself sliding back into their old romance. At the same time, she's wiser than she once was and is now repulsed by Eldris's internalized colonizer attitudes of privilege. While Thanh struggles with her feelings for Eldris, her mother's expectations, and her inadequacy at sparing Bìanh Hả from what seems inevitable, she also keeps secret a blazing magic born in that fire she survived as a child.
Get it from Bookshop or Amazon.
Silver in the Wood by Emily Tesh (St. Martin's; out now)
As the Wild Man of Greenhollow, Tobias is bound to the forest, unable to leave, and deeply connected to the trees and the forest's magic. Feared by the villagers, he lives a quiet life in the wood with only a cat and a dryad as friends. Then the handsome and charming Henry Silver moves into Greenhollow Hall and begins making trips to the wood to visit Tobias, curious about Green Man mythology and lore — but he awakens a darker past by doing so. This quiet and enchanting novella will sweep readers off their feet. Book two, Drowned Country, continues their story.
Get it from Bookshop or Amazon.
The Beautiful Ones by Silvia Moreno-Garcia (Tor; April 27)
In this Regency fantasy, Nina, a young, wealthy country girl with untrained telekinetic magic, is presented to society for the first time. Women with magic are frowned upon in high society; no suitors come to court her, and she has no friends. Like Nina, Hector Auvray is telekinetic. He grew up poor but has become quite wealthy due to the popularity of his magical performances. When younger, he fell in love with Valérie, the most beautiful woman ever — according to anyone who matters. Valérie fell in love with him too, and she promised to wait for him as he made his fortune. But she didn't — and instead married Nina's uncle, a rich and titled man. After Nina approaches Hector at a party, as a fan of his telekinetic skills, he decides to court her to get closer to Valérie. But this goal becomes complicated when another part of him starts to admire Nina. This slow-burn romance is perfect for fans of Jane Austen.
Get it from Bookshop, Target, or Amazon.
Song of Blood & Stone by L. Penelope (St. Martin's Griffin; out now)
Jasminda is an outcast in Elsira, condemned by her dark skin color and her Lagrimari father. An invisible, magical veil separates Lagrimar and Elsira, and whenever that veil falters, a war between the two countries follows. When a group of enemy soldiers stumble upon Jasminda's isolated farm, with an Elsiran spy named Jack in tow, they incorrectly believe they're still in Lagrimar — and Jasminda finds herself in the center of a possible war that only her Earthsong can stave off. Meanwhile, she and Jack slowly begin to fall for each other. This is an atmospheric love story on an epic scale. There are currently six books in the Earthsinger Chronicles, with a seventh slated for publication in August 2021.
Get it from Bookshop, Target, or Amazon.
Magic Lessons by Alice Hoffman (Simon & Schuster; out now)
The Owens' women are cursed: The men they fall in love with are doomed to die an early death. This prequel to Practical Magic and The Rules of Magic traces the Owens' magical bloodline to 1600s Salem, Massachusetts, where the curse began. First, Maria Owens falls in love with a handsome stranger in Curacao, where she works as a maid, but after a week of bliss, he disappears, and she realizes she's pregnant. Maria follows him across the sea to Salem, promising to heal a Jewish sea captain's son in exchange for her and her infant daughter's passage. As she attends the sea captain's son, she finds herself falling for his easy humor and kindness. But so recently heartbroken, Maria refuses to give her heart to another. Yet, she fails to find the love she thought she'd lost in Salem and only discovers oppression and prejudice instead. While Magic Lessons is a prequel, it stands well on its own and is my favorite of the three. It's a gorgeous meditation on love, family, and revenge.
Get it from Bookshop, Target, or Amazon.
In 18th-century France, Addie LaRue makes a bargain with the darkness to avoid a forced marriage. If the darkness can help her attain her freedom, she will give him her soul — when she's ready. But the darkness is tricky. Addie's freedom comes at a high cost; everyone who sees her immediately forgets her. Her parents and her friends fail to recognize her when she returns to the village. She lives for centuries — refusing to give in to the darkness — but can never have a second conversation with a single person. She's never able to fall in love. Then one day in 2014, a bookseller remembers her name. She's finally found someone to build a relationship with, and their romance blooms slowly but surely. But the darkness doesn't give up his victims so easily. He wants Addie for himself. This is a beautiful, meditative novel with an ending that hit me right in the heart.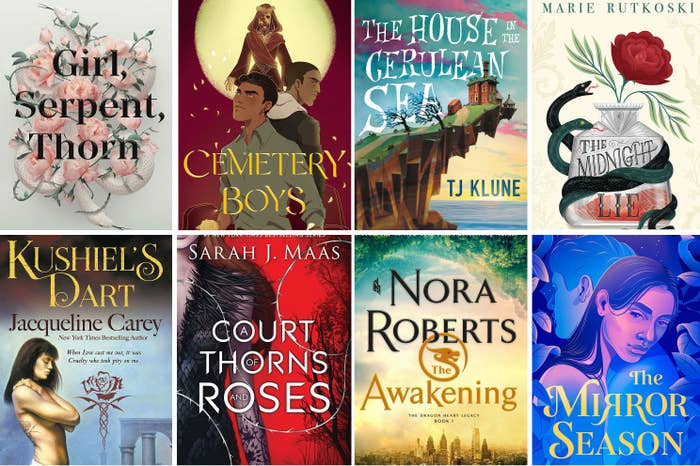 Girl, Serpent, Thorn by Melissa Bashardoust (Flatiron; out now)
In this Persian-inspired YA fantasy, a poisonous girl manages to find love despite her killer touch. Cursed by Divs (a society of magical creatures) as an infant, Soraya has a deadly touch, and she lives in isolation — despite being the Shah's twin. When her brother arrives home from a campaign with a captured Div — and the handsome stranger who helped defeat it — she jumps at the chance to find out how to cure her curse. As the handsome stranger takes an interest in her and Soraya interrogates the captured Div, she begins to question her lack of freedom and the reasons for her curse. Girl, Serpent, Thorn is a lovely feminist fairy tale with a surprising romance.
Get it from Bookshop, Target, or Amazon.
Cemetery Boys by Aiden Thomas (Swoon Reads; out now)
In Yadriel's traditional Latinx family, women become brujas and practice healing magic, and the men become brujos and help spirits to the land of the dead. Yadriel is a man, but his family refuses to let him complete the ritual to become a brujo because he's trans. With the help of his friend Maritza, Yadriel completes the ritual without his family's knowledge. When his cousin is murdered afterward, he and Maritza try to find out why — but in doing so, they accidentally raise the ghost of Julian Diaz, another murdered teen. As the three try to help Julian discover what happened to his cousin, Yadriel and Julian begin to fall in love. This fun and delightful young adult contemporary fantasy is the first novel written by a trans author to make it onto the New York Times bestseller list. It's a swoonworthy read.
Get it from Bookshop, Target, or Amazon.
This heartfelt novel features an unassuming social worker content with the status quo who stumbles upon a cause that will transform his life and a love that will stand beside him. In a world similar to our own, magical children are forced into "orphanages," which are really prisons. Linus investigates these orphanages to ensure they're running well and the children are safe. Unlike the other caseworkers at the Department in Charge of Magical Youth, he truly cares for the magical children he thinks he's helping. Then Extremely Upper Management gives him a top-secret job to investigate an orphanage on an island in the Cerulean Sea. This is no ordinary orphanage. The children here are more magical than most, to say the least: There's Lucy, aka the Antichrist, Talia, a possibly murderous gnome, a wood sprite, a boy who changes into a pomeranian, a wyvern who collects buttons, and an unidentified blob who dreams of being a bellhop. And let's not forget their handsome and charming caretaker Arthur Parnassus. What begins as a terrifying job for Linus turns into an opportunity to find the happiness he's always craved.
Get it from Bookshop, Target, or Amazon.
The Midnight Lie by Marie Rutkoski (Farrar, Straus and Giroux; out now)
Prepare to be devastated by this gorgeously rendered sapphic fantasy. It takes place in a dystopian city where a portion of the population is imprisoned in a town behind walls, while the High Kith live a life of luxury and magic. Nirrim is one of the imprisoned — an orphan who can flawlessly forge any document and remembers everything with perfect clarity. Then Sid, a charming traveler from distant lands, comes into Nirrim's life and threatens to destabilize all of Nirrim's plans. I listened to the audiobook read by the fantastic Justine Eyre, whose ability to create a unique voice for each character made it feel like I was listening to a full-cast radio drama. The ending shook me, but thankfully this is the first in a two-book series. Book two, The Hollow Heart, releases Sept. 14.
Get it from Bookshop or Amazon.
Kushiel's Dart by Jacqueline Carey (Tor; out now)
This erotic and politically fraught fantasy is set in a world where, after Jesus's death, his tears mix with Mary Magdalene's to create a child Elua, whose angels are courtesans. Phèdre nó Delaunay is sold as a child and trained to become both a courtesan and a spy. But born with Kushiel's symbol — a mote in her eye — she's cursed to find pleasure in pain. After being kidnapped, she uncovers a plot that threatens her entire kingdom. This steamy fantasy series has eight super-long books, so it will keep readers busy for a while!
Get it from Bookshop, Target, or Amazon.
Feyre's family has fallen into poverty, and she hunts to keep her family fed. One day while hunting in the forest, she accidentally kills a shapeshifted fairy, and a fae beast visits her home afterward and demands recompense. Feyre must accompany the creature, named Tamlin, across the borders of Faery, never to return. He takes her to his sprawling estate. While the two hate each other at first, that hate slowly turns into a different kind of passion. Make sure to read all four books in this steamy YA fairytale series.
Get it from Bookshop, Target, or Amazon.
The Awakening by Nora Roberts (St. Martin's; out now)
Romance queen Nora Roberts turns to portal fantasy in this enthralling first book in a new trilogy. Twenty-six years old and debt-riddled, Breen Kelly struggles to make ends meet and despises her job as a teacher. Then she discovers that her father, who disappeared long ago, left her a mysterious bank account with $4 million in it. With this newfound wealth, she decides to travel to Ireland and try to find her father. Once there, she follows a portal and discovers a magical land straight out of her dreams, full of mermaids and dragons and fae, as well as a charming and handsome warrior leader named Keegan.
Get it from Bookshop, Target, or Amazon.
The Mirror Season by Anna-Marie McLemore (Feiwel & Friends; March 16)
In this beautiful YA contemporary fantasy novel loosely inspired by the fairy tale "The Snow Queen," two teens heal and learn how to find love and joy again after a sexual assault. Ciela and Lock flirted at a party's beginning, but by its end, they've both been sexually assaulted, and Ciela has dropped Lock off at a hospital, still unconscious from the drug that had been mixed into his Dr. Pepper. As a queer brown teen, Ciela knows that no one will listen to her story, especially since the classmates who assaulted her and Lock are white and from wealthy families. When school starts back, she and Lock find themselves attracted to one another once more, but while he knows he was sexually assaulted that night, he doesn't remember the details. While The Mirror Season focuses on a traumatic event and will undoubtedly make many readers (like myself) cry, it's also a hopeful and empowering novel, with a tender and magical romance that forms between the protagonists.
Get it from Bookshop, Target, or Amazon.
Margaret Kingsbury is a freelance writer and editor whose work has appeared in BuzzFeed Books, Book Riot, StarTrek.com, Parents, the Earth Island Institute, and more. Follow her on Instagram and Twitter.