On Sunday night, Sterling K. Brown won a Primetime Emmy for the second year in a row.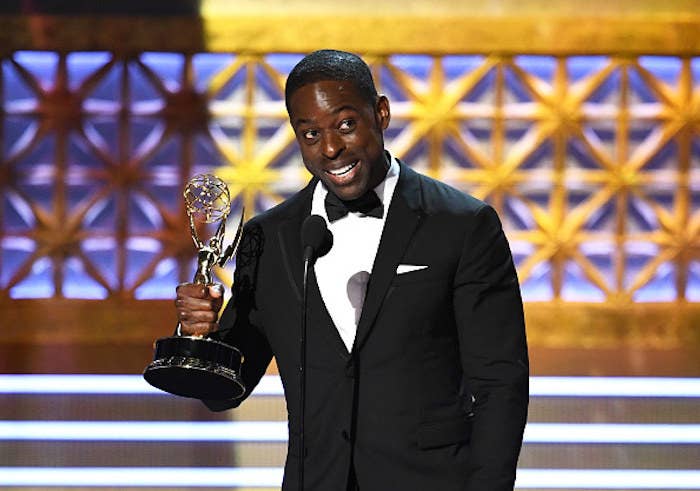 This time, Brown won Outstanding Lead Actor in a Drama Series for playing Randall on NBC's This Is Us. He is the first black actor to win the award in 19 years. (The last was Andre Braugher, who won the award in 1998 for Homicide: Life on the Street.)
During his acceptance speech, Brown paid homage to Braugher.
And, in one of the funniest moments of the night, Brown thanked his white TV family.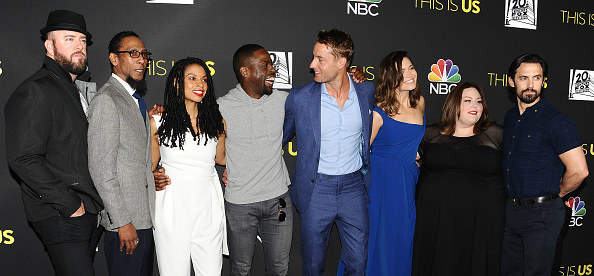 But before Brown could finish his acceptance speech, the telecast, which was running short on time, played loud music and eventually cut off his mic, which neither he nor audiences appreciated.
Below is what Brown was able to deliver of his speech...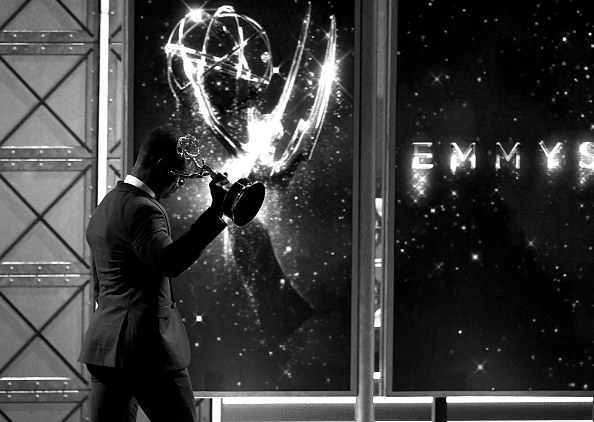 Thank you. Before anything like this happened for your boy, I was a fan — first, last, and always a fan. So my fellow nominees, I'm a fan. I love y'all. This one right here, like this one right here, when I think about it, like, Walter White held this joint, Dick Whitman held this joint — I may have lost some of y'all, but you know, Google it — and 19 years ago, Det. Frank Pembleton held this joint, as impeccably played by Andre Braugher. I just want to say, Mr. Braugher, whether it is at Stanford University or on this Emmy stage, it is my supreme honor to follow in your footsteps. I want to thank Bob Greenblatt, Jennifer Salke at NBC for your support from the beginning. I want to thank Dana Walden, Gary Newman, and everyone at 20th Century Fox for keeping your brother gainfully employed. Appreciate that. I want to thank my cast, Milo, Mandy, Justin, Chrissy — you are the best white TV family that I brother has ever had. Better than Mr. Drummond, better than them white folks that raised Webster. I love you. Susan Kelechi Watson. Susan, it is my pleasure to rep black love with you, sister. Let's keep doing it like Martin and Gina. Ron Cephas Jones, you just have to show up and the work is already there, brother. Thank you so much for embodying the presence which is never in absence. I love you. Our writers, you are our life's blood. You can play, you can play. You can play. I didn't get that loud, nobody got that loud music. Writers, I love you, you are our life's blood, our producers and directors, I love you. I'm good.
And in the press room afterwards, he said how he would've finished his speech, if given the chance.
I wanted to thank our writers. A show doesn't get seven acting nominations without some impeccable, beautiful, thoughtful writing. You guys are our life's blood, so I want to thank you so much. To our producers and directors, in particular John Requa, Glenn Ficarra, and the crazy–cool Ken Olin, thank you for you guidance and friendship. And I wanted to thank Dan Fogelman. He is the Hebrew hammer with which our house is built, and he makes me laugh and cry in equal parts. He keeps me coming back for more, and in his own little, small, special way, he's not trying to make America great again — he's trying to make it the best that it's ever been, and I love him for taking me on this journey with him. I wanted to thank my manager of 17 years, Jennifer Wiley-Stockton. We've been doing this for a long time and it feels like we're just getting started. I can't wait to see what's next. And to my wife — they cut me off before I got to thank my wife — Ryan Michelle Bathé, you're everything. You make my life worth living and you gave me two of the most beautiful things that god has ever put on this planet, my sons. Andrew Jason Sterling Brown, Omari Michael Brian Christian Brown, Daddy loves you with the strength of a thousand suns. I'll see you Monday after work. Love you. Thank you.
Susan Cheng contributed reporting to this story.