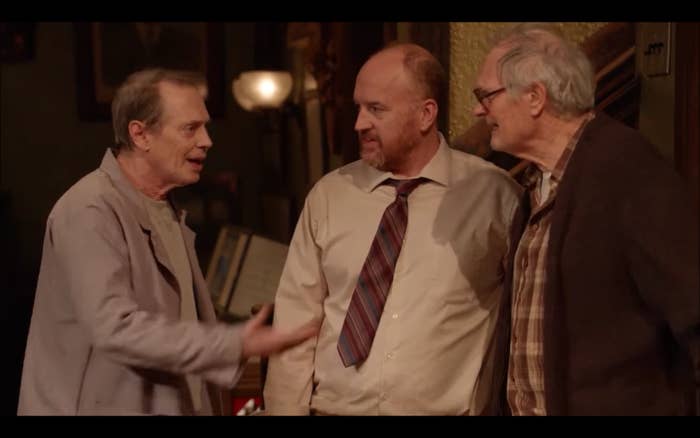 In January, Louis C.K. pulled a Kanye West and launched a previously unannounced series on his website called Horace and Pete. C.K. produced, directed, wrote, starred in, distributed, and financed the show on his own. The experiment put him and deep debt, but in a talk with TV critic Emily Nussbaum at the New Yorker Festival on Friday night, C.K. revealed he's sold Horace and Pete to a streaming service.
The comedian was purposefully vague about the specifics, saying, "A web service. It's a new thing that's going to happen soon. It's one of those services." Could it be Seeso, NBC's new comedy streaming service, Nussbaum inquired? "No, what did you say?" C.K. replied, seemingly not knowing what Seeso is. Finally, he revealed with a laugh, "It's Hulu, what the fuck. I have no idea if I have a right to say that..."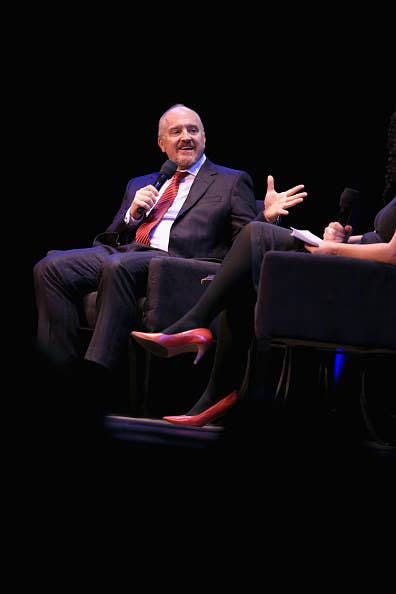 C.K. released the pilot of Horace and Pete for $5 in January — the second episode cost audiences $2 and the final eight episodes in the series were $3. But it wasn't enough to recoup the cost of Horace and Pete, which — C.K. estimated in an interview with Howard Stern — cost him half a million dollars per episode. "I'm millions of dollars in debt right now," C.K. told Stern in April. "I got so excited about having the show appear from nothing. So I made the first four, and I didn't tell nobody and it made a nice little amount of money. But when I got to Episode 4, I was like, 'Hey gang, I don't have any money.' So I had to take out a line of credit."
The project being streamed on Hulu would mean C.K. could securely pay back those who played a part in Horace and Pete. "I get to write checks to Alan Alda and Steve Buscemi because they own a big chunk of the show," he said. "To me, what is fun is the checks you're writing. To me, that says you're doing good, and that's not because, like, I'm a nice guy. It's because if you're writing big checks to Steve Buscemi, you've got a good fucking life."
C.K. seemed confident the experimental show will be on the streaming site shortly. Hulu did not reply to BuzzFeed News' request for confirmation and more details on the alleged acquisition.