The 2017 Grammys did not shy away from politics. During both the musical performances and award presentations, there was a clear message of resistance to the current political climate at this year's awards.
First, during the pre-telecast Premiere Ceremony, the award for Best Comedy Album really kicked things off, with Margaret Cho hopping onstage after her loss to say, "Fuck Donald Trump." Winner Patton Oswalt took to the press room stage to get real about claims Hollywood is out of touch with Middle America.
"Middle America voted a reality TV show. They voted Hollywood into the White House twice: Reagan and Trump. So if anything, the pushback... It seems like they're pushing back against Hollywood, but then tripping and putting Hollywood right into positions of power. It's a little weird. And also everyone I know in Hollywood are people who came from the Midwest," he said. "I hosted the Art Directors Guild last night. These are quiet, sturdy, hardworking craftsmen, carpenters, bricklayers, masons that create the world that movies are made out of. So I don't know why there's a weird separation or pushback from Middle America on Hollywood."

The live show started with host James Corden throwing a quick message of unity into his opening number right off the bat.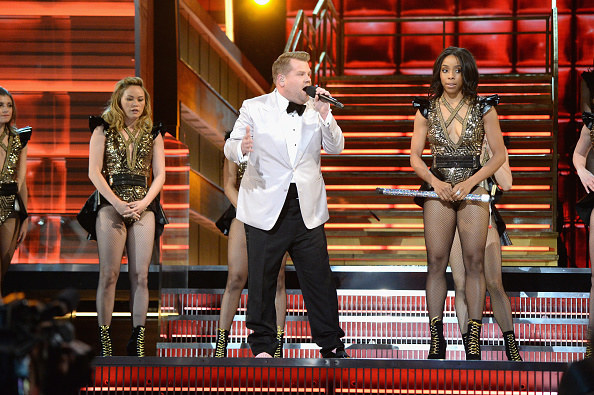 "We sit here tonight, no matter our race / Or where we were born or color of face / We using this art remembered forever / And we can survive just by sticking together / The passion, the fashion, the voice and the soul..." he rhymed.
And Jennifer Lopez got real about the power of music.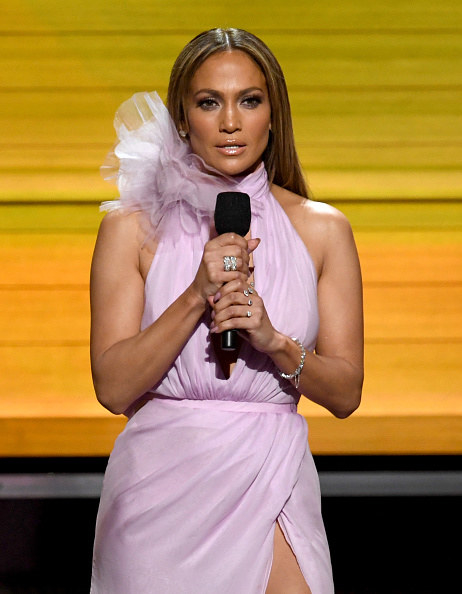 "This night is not about dresses or even the awards. It is about the music, the words, and the voices. How they move us, inspire us, and touch all our lives. At this particular moment in history, our voices are needed more than ever. As Toni Morrison once said, 'This is precisely the time when artists go to work. There is no time for despair, no place for self-pity, no need for silence, and no room for fear. We do language. That is how civilizations heal.' So tonight, we celebrate our most universal language: music," she concluded.
Presenter Paris Jackson used her time presenting to give a shout-out to the #NoDAPL protest.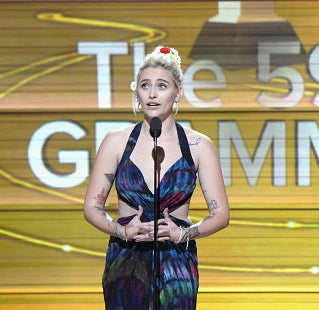 "Thank you. Thank you so much. We can really use this kind of excitement at a pipeline protest, guys. #NoDAPL," she urged.
Katy Perry's performance of "Chained to the Rhythm" was a trifecta of protest symbols, with her pantsuit inspired by Hillary Clinton; her "persist" armband inspired by Elizabeth Warren; and her pose at the finish in front of a "We the People" backdrop.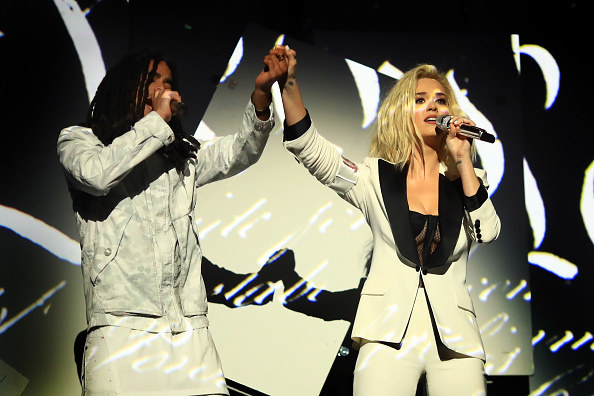 "We all experience pain and loss and often we become inaudible. My intention for the film and album was to create a body of work that will give a voice to our pain, our struggles, our darkness and our history, to confront issues that make us uncomfortable," she read from the golden card she brought up with her.

"It's important to me to show images to my children that reflect their beauty so they can grow up in a world where they look in the mirror, first through their own families, as well as the news, the Super Bowl, the Olympics, the White House, and the Grammys, and see themselves. And have no doubt that they're beautiful, intelligent, and capable. This is something I want for every child of every race, and I feel it's vital that we learn from the past and recognize our tendencies to repeat our mistakes."
And Laverne Cox used her time onstage as a presenter to raise awareness for Gavin Grimm's Supreme Court case.
"Everyone please google Gavin Grimm. He's going to the Supreme Court in March. #StandWithGavin."
Preceding his A Tribe Called Quest performance, Q-Tip brought a calm political message...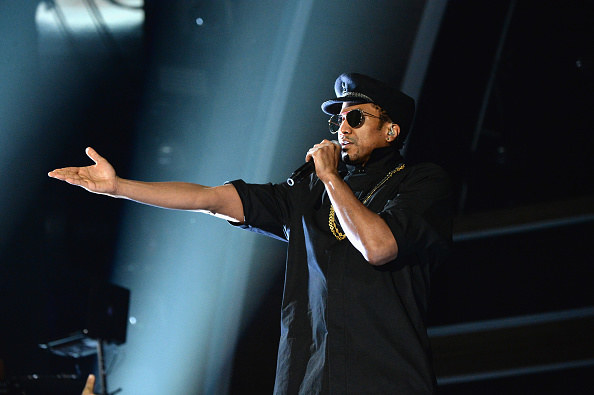 "We'd like to say to all of those people around the world, all those people who are pushing people who are in power to represent them, tonight, we represent you."
"I'm not doing the political clamor right now. I just want to thank President Agent Orange for perpetuating all of the evil that you've been perpetuating through the United States. I want to thank President Agent Orange for your unsuccessful attempt at the Muslim ban. We the people. We the people! We the people! We the people."
And finally, Recording Academy President Neil Portnow used his annual Grammys speech to call for President Trump and Congress to have a renewed commitment to the arts.
"We are constantly reminded about the things that divide us — race, region and religion, gender, sexual orientation, political party. But what we need so desperately are more reminders of all that binds us together — our shared history, our common values, and our dedication to build for ourselves a more perfect union. More than a century ago, a poem was combined with a musical composition and became an instantly recognizable song the world over. Let's see if you know it?" he asked. A trumpeter played a familiar tune.
"'America the Beautiful' captures the essence of our country and reminds us that we are and always will be one people, from sea to shining sea.

"In times of triumph and of tragedy, we turn to song and the abiding power of music to lift our spirits, soothe our souls, and remind us that everything will be okay. President John F. Kennedy once observed, 'The life of the arts is very close to the center of a nation's purpose and is a test of the quality of a nation's civilization.' That's so true. And that's why we must be loud and clear in our unwavering support of music and the arts, and those who create it.

"Behind the extraordinary artists you've seen here on our stage are hundreds of thousands of unsung musicians, songwriters, producers, and engineers — American creators, whose jobs suffer from unfair rules and regulations, some going back 100 years. So, the Recording Academy, together with America's music makers, call on the president and Congress to help keep the music playing by updating music laws, protecting music education, and renewing America's commitment to the arts.

"It's our collective responsibility to preserve what binds us and to ensure that the whole world continues to benefit from one of our most unique, economically and spiritually important assets and exports: American music."