Everyone in Brazil — from average people to the highest levels of government — is talking about rape culture after a 16-year-old girl told police she had been the victim of an alleged gang rape.
As news of the crime began to spread on Thursday, messages against rape began appearing on both Facebook and Twitter.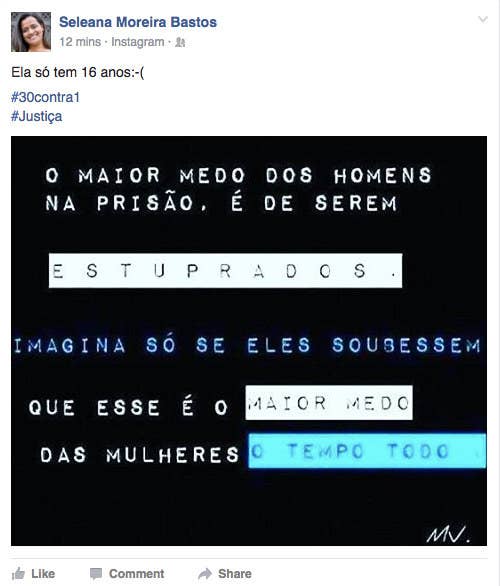 And this image has been shared widely: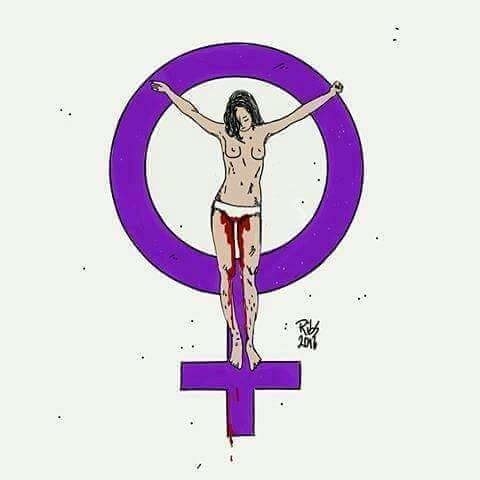 UN Women's Brazil office weighed in and issued an official request to the government of Rio, stating that "gender perspective should be integral in the investigation, prosecution, and trial of such cases."
And some people focused on the attitude of the attacker that posted the video to Twitter and the men who flooded his tweet with misogynistic comments before it was taken down:
Though there were some people who tried to find some justification for what the girl's rapists did, others were having none of it:
This round-up of people from around the world victim-blaming the girl racked up more than 40,000 shares:
Videos about the case also soon began popping up. One of the most viral videos on Brazilian Facebook was this from a Brazilian woman named Maynara talking about the case in English:
And other women have posted videos calling for a 33-day vigil against rape.
But talking about this one case as an isolated incident wasn't enough — suddenly, discussion of rape culture was everywhere.
The more artistically inclined have produced several powerful images to both speak out about rape culture and come to the defense of the girl:
And men began the vital task of talking about rape culture with other men.
On Twitter, @ThinkOlga created and helped promote the hashtag #RaivacomRazão (Angry for Good Reason).
And Brazilian celebrities have started lending their voices to the cause:
As the case continues to move forward in the justice system, hashtags aimed at combating rape have trended throughout Brazil with one — #EstuproNaoÉCulpaDaVitima — still firmly in place.