On Feb. 1, Dylan Farrow published an open letter in the New York Times accusing her father of sexually assaulting her at age 7.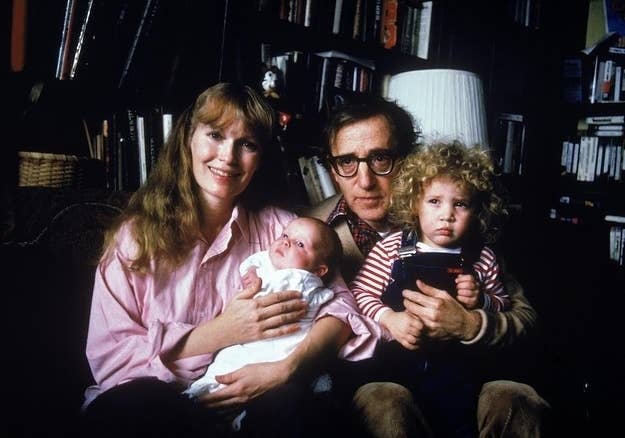 I didn't like how often he would take me away from my mom, siblings and friends to be alone with him. I didn't like it when he would stick his thumb in my mouth. I didn't like it when I had to get in bed with him under the sheets when he was in his underwear. I didn't like it when he would place his head in my naked lap and breathe in and breathe out. I would hide under beds or lock myself in the bathroom to avoid these encounters, but he always found me. These things happened so often, so routinely, so skillfully hidden from a mother that would have protected me had she known, that I thought it was normal. I thought this was how fathers doted on their daughters. But what he did to me in the attic felt different. I couldn't keep the secret anymore.
The Oscar Award-winning directer denied sexually assaulting his daughter. He said he believed at the time of the trial "common sense would prevail." The allegations were dismissed until Dylan spoke out recently.
Allen blamed Mia Farrow for orchestrating the untruth as a way to gain full custody and get back at him during their break up. "Mia insisted that I had abused Dylan and took her immediately to a doctor to be examined. Dylan told the doctor she had not been molested. Mia then took Dylan out for ice cream, and when she came back with her the child had changed her story." He then explained how the Child Sexual Abuse Clinic of the Yale-New Haven Hospital came in to investigate and found no foul play.
He quoted them as having said:
It is our expert opinion that Dylan was not sexually abused by Mr. Allen. Further, we believe that Dylan's statements on videotape and her statements to us during our evaluation do not refer to actual events that occurred to her on August 4th, 1992... In developing our opinion we considered three hypotheses to explain Dylan's statements. First, that Dylan's statements were true and that Mr. Allen had sexually abused her; second, that Dylan's statements were not true but were made up by an emotionally vulnerable child who was caught up in a disturbed family and who was responding to the stresses in the family; and third, that Dylan was coached or influenced by her mother, Ms. Farrow. While we can conclude that Dylan was not sexually abused, we can not be definite about whether the second formulation by itself or the third formulation by itself is true. We believe that it is more likely that a combination of these two formulations best explains Dylan's allegations of sexual abuse.
He said that since then Farrow has continued with the story to the point that Dylan is unsure of the truth. "[It's] not that I doubt Dylan hasn't come to believe she's been molested, but if from the age of seven, a vulnerable child is taught by a strong mother to hate her father because he is a monster who abused her, is it so inconceivable that after many years of this indoctrination the image of me Mia wanted to establish had taken root? Is it any wonder the experts at Yale had picked up the maternal coaching aspect 21 years ago?"
Allen said that there is no way he molested Dylan in an attic because "she should have realized I'd never go to because it is a tiny, cramped, enclosed spot where one can hardly stand up and I'm a major claustrophobe. The one or two times she asked me to come in there to look at something, I did, but quickly had to run out. Undoubtedly the attic idea came to her from the Dory Previn song, 'With My Daddy in the Attic.'"
Allen also implied Mia Farrow is prone to being untruthful as she recently admitted that Ronan Farrow may be fathered by Frank Sinatra. "I pause here for a quick word on the Ronan situation. Is he my son or, as Mia suggests, Frank Sinatra's? Granted, he looks a lot like Frank with the blue eyes and facial features, but if so what does this say? That all during the custody hearing Mia lied under oath and falsely represented Ronan as our son? Even if he is not Frank's, the possibility she raises that he could be, indicates she was secretly intimate with him during our years. Not to mention all the money I paid for child support. Was I supporting Frank's son? Again, I want to call attention to the integrity and honesty of a person who conducts her life like that."
No one wants to discourage abuse victims from speaking out, but one must bear in mind that sometimes there are people who are falsely accused and that is also a terribly destructive thing.
Updated - Feb. 8, 11:17 a.m. ET:
Last night, shortly after Allen's letter was published, Dylan Farrow released a statement to The Hollywood Reporter. In her response Farrow cites multiple inconsistencies she found in Allen's letter:
"He insists my mother brought criminal charges - in fact, it was a pediatrician who reported the incident to the police based on my firsthand account. He suggests that no one complained of his misconduct prior to his assault on me - court documents show that he was in treatment for what his own therapist described as "inappropriate" behavior with me from as early as 1991. He offers a carefully worded claim that he passed a lie detector test - in fact, he refused to take the test administered by the state police (he hired someone to administer his own test, which authorities refused to accept as evidence)"
Farrow also supplies quotes from court documents from the 1992 New York Supreme Court ruling on the case, including the finding that "there is no credible evidence to support Mr. Allen's contention that Ms. Farrow coached Dylan or that Ms. Farrow acted upon a desire for revenge against him for seducing Soon-Yi. Mr. Allen's resort to the stereotypical 'woman scorned' defense is an injudicious attempt to divert attention from his failure to act as a responsible parent and adult."
"From the bottom of my heart, I will be forever grateful for the outpouring of support I have received from survivors and countless others. If speaking out about my experience can help others stand up to their tormentors, it will be worth the pain and suffering my father continues to inflict on me. Woody Allen has an arsenal of lawyers and publicists but the one thing he does not have on his side is the truth. I hope this is the end of his vicious attacks and of the media campaign by his lawyers and publicists, as he's promised. I won't let the truth be buried and I won't be silenced."