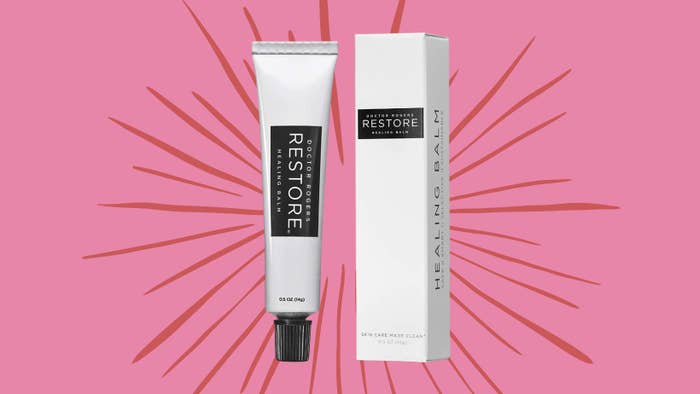 BuzzFeed may collect a share of sales or other compensation from the links on this page if you decide to shop from them. All products were independently selected by editors, and the prices were accurate and items in stock at the time of publication.
Despite the fact that I generally stay on top of my skin care regime, every year I'm thrown for a loop with the arrival of the dry cold weather season. Without fail (and even regardless of preventative measures), I wake up with scabby dry lips and skin. Over the years, I've tried everything, from Laneige's cult-fave lip mask to Aquaphor, Weleda and Aussie-beloved PaPaw ointment in a desperate attempt to soothe my dehydrated winter lips overnight. By morning, they've all faded and my lips are as parched as ever — that was, however, until I got my hands on a tube of Doctor Rogers' Restore Healing Balm.
This all-purpose balm has a much thicker texture than any other ointment or balm I've ever tried. It's viscous, but not drippy or gloopy. Even popular occlusives like Vaseline don't feel quite as luxuriously dense as this versatile balm. And while it is comparatively more expensive than the aforementioned ointments, it's profoundly more effective. I use a very small dab on my lips before bed, and without fail wake up with smooth, hydrated lips eight hours later — I can even still feel slightly tacky remnants.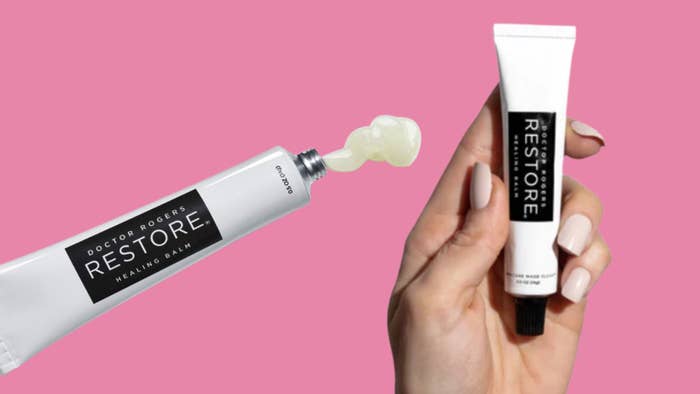 If the $30 price tag is off-putting, know that a little goes a long way, and the combination of a tube's longevity plus the formula's efficacy makes it worth every penny. Not a single night has passed that I don't wake up with lips that are still hydrated, slick and plump.
This vegan and cruelty-free balm is made with plant-based ingredients and contains no petroleum, lanolin, parabens, phthalates, sulfates or fragrances. These are super common ingredients in many other occlusive balms, making Doctor Rogers a great option for anyone with allergies or sensitivities. In fact, many reviewers specifically note that it's a great alternative for people who are sensitive to petrolatum-based products like Vaseline or Aquaphor.
This balm is made with just three ingredients: castor seed oil, glycerin and hydrogenated castor oil, a form of castor oil that helps to increase the stability of the balm. I've never noticed a weird or strong taste and it definitely doesn't have a strong smell. The castor oil is hydrating and helps decrease inflammation, while also protecting the skin from external stressors. Glycerin helps to reduce irritation and strengthen the natural moisture barrier.
Aside from just healing and moisturizing my poor chapped lips, the Doctor Rogers Restore Healing Balm has many uses. This multi-purpose balm was designed to be as versatile as it is effective and is safe to use on all manner of skin issues. It was specially formulated to help skin heal after procedures like laser and stitches, can be used on severely dry and sensitive skin all over the body, can help to heal cuts, scrapes and burns quickly, is great for dry hands and cuticles, can soothe diaper rash and cracked nipples and can even be used while a fresh tattoo is healing. As a result, I keep one on my bedside table, another at my desk and a third in my purse at all times. I never want to be without it.
I know not everyone is a fan of metal and aluminum packaging, but I love the tube. It's recyclable aluminum, so you can give it a rinse and dispose of it responsibly. If you find that a metal tube causes little goopy explosions every time you open it, try holding it upright both when you open it and when you give the bottom of the tube a gentle squeeze. I have found that gravity is always helpful when controlling the amount of product that comes out.
Kiss those cracked, dry lips goodbye and pick up a tube of Doctor Rogers Restore Healing Balm before true cold sets in. Your lips (and everywhere else) will thank you for snagging this game-changing ointment. But don't just take my word for it, take a peek at a few glowing reviews on Amazon.
Promising reviews:
"Effective. I like this stuff very much. I was put off at first by the price, but buying the larger size helped offset that concern. I've never used anything quite like it. While it comes out of the tube looking like petroleum jelly, it doesn't feel like that at all. It spreads easily, feels silky, and leaves a nice non-greasy barrier on the skin. I use it every night on my dry gardeners' hands and dab some on my lips as well. Both are smoother and healthier than before." — D. Parker

″Unscented, gentle, and super effective. You know when you're ill (like a cold or the flu, anything with a runny nose) and all the tissue use means you get a hole in your skin under your nose? So, when I use this product under my nose, that hole doesn't happen. Basically, I use this anywhere someone might normally use Neosporin or bacitracin except this is 1000x more effective for me, and has the added bonus of being vegan, not tested on animals, not adding to our planet's petroleum problem, and created by a small company rather than a giant conglomerate (even if you purchase it from a giant conglomerate). Highly, highly recommend. Tastes pleasantly sweet, too. And not scented, thank goodness. Excellent for thinning out makeup pigment. I honestly find new uses for it all the time and the giant tube lasts me 6 months. Worth the price." — Eliza

"Amazing for dry lips. It took me forever to find the right combination of balms and chapsticks for the dry Denver climate. I finally found Dr Bronner's Organic Lip Balm and this Doctor Rogers restore lip balm. The combination of the two products has finally cured my cracked and bleeding lips! I like to use the Rogers balm before bed and the Dr. Bronner's lip balm during the day. Amazing!!!" — Don Gates

"Something that finally worked!!! I struggle with dry, chapped lips year round. I finally found Restore and fixed it. Great product. Pricey for a small tube but a little goes a long long way. Excellent product." — Debi Crouch
HuffPost may receive a share from purchases made via links on this page. Every item is independently selected by the HuffPost Shopping team. Prices and availability are subject to change.