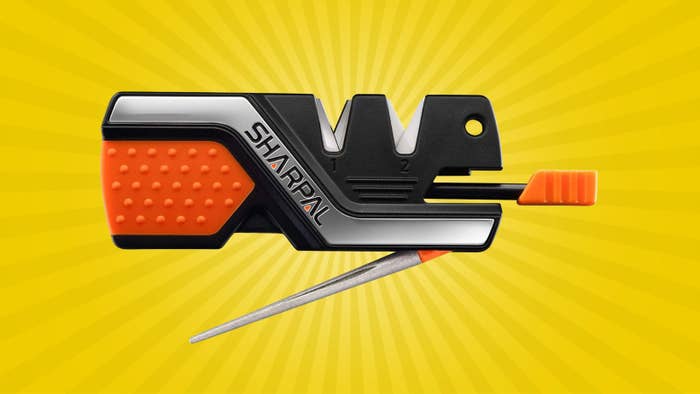 BuzzFeed may collect a share of sales or other compensation from the links on this page if you decide to shop from them. All products were independently selected by our editors, and the prices were accurate and items in stock at the time of publication.

When it comes to staying out of harm's way, having small emergency-preparedness tools can make a big difference in peace of mind. There are many popular car-specific emergency tools around, like seatbelt cutters, car emergency kits and jump starters, but it's reassuring to also have a small item on your person that can help out in a range of events, from a simple nature outing to a catastrophic situation. A pocket knife always comes in handy, but there is one multitool on Amazon that thousands of reviewers swear by called the Sharpal six-in-one pocket knife sharpener and survival tool.

You can buy the Sharpal tool from Amazon for around $10.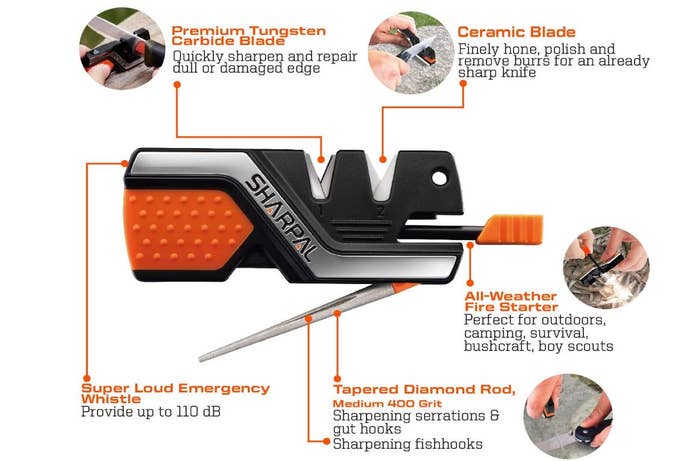 It primarily works as a knife sharpener, either for pocket knives or larger chef-style options, but has other functions as well. It includes a Tungsten carbide blade (to sharpen dull, damaged knives), a ceramic blade (to polish and finely hone already-sharp knives), a fire starter, a high-pitched emergency whistle and two additional sharpening components: a tapered diamond rod for sharpening serrated knives and gut hooks and a groove-in diamond rod for sharpening fishhooks and pointed tools.
It's ideal for camping, nature lovers, fishing enthusiasts and anyone concerned that they could potentially find themselves in a jam while in an outdoor situation.
Boasting 4.5 out of 5 stars on Amazon and 17,292 five-star ratings, it's also rated as "Amazon's choice" for hunting knife sharpeners.
Weighing only an ounce and a half, this compact tool is easy to throw in a backpack, tote, or even hang on a belt loop. It's versatile and easy enough for even beginners to use, with a soft, rubber-coated design that is comfortable to grip. It quickly sharpens dull or damaged blades, starts fires no matter what the weather conditions may be and can alert others in the area of your presence or scare off wild animals. For under $10, there's no reason not to snag one and keep it tucked away for unexpected situations.
Take a look at just a few of the many rave reviews on Amazon and then pick one up for yourself as well as for the nature lover in your life. It makes for a thoughtful gift while also giving peace of mind.
Promising reviews:
"With a belt knife and this in your pocket, you can survive in the wilderness till found. I go to northern Canada regularly and always carry this for fire starting, knife sharpening and survival whistle. Easy to carry, never leave home without it. If it had a small high quality compass it would be perfect, but there is always the sun." — Bassman

"Great little sharpener. In an outdoor situation, you don't want to spend a lot of time keeping your knife sharp. This little thing will keep your blade honed with very little effort. It's light, has a lanyard hole, and the diamond sharpener has several different uses. I attach it to my knife scabbard so I can quickly (10 strokes or less) keep my edge nice and sharp while I'm using it." — Michael Mitchell

"Perfect for outdoor lovers! I bought one for my brother since he enjoys camping. He was playing around with it Christmas morning. The flint area is covered with this black material for safety. You scrape it away and the flint works perfectly." — Jess