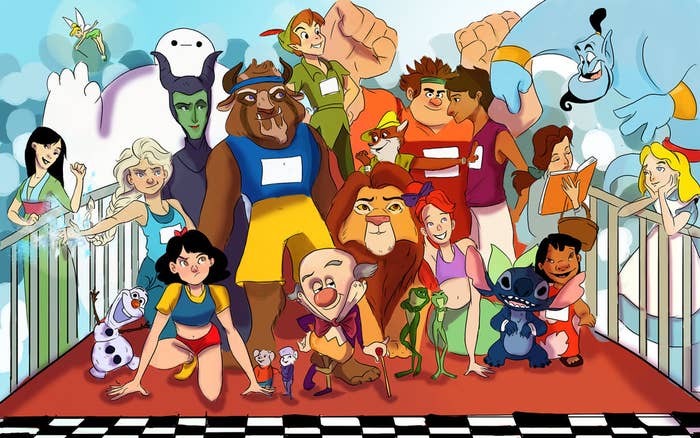 The Disney movie closest to your heart is probably the one you saw at just the right age and rewatched on a parent-tormenting loop. Trying to objectively critique these movies can be a challenge. How do you assess their quality without taking nostalgia into account?
So, to embark on the Herculean task of ranking every Disney Animation Studios film — not movies put out by DisneyToon (A Goofy Movie), classic coproductions (Mary Poppins), or more contemporary collaborations (anything by Pixar) — I rewatched all 57 of these movies and developed a scoring system based on plot, characters, music, animation, and influence.
The results are, of course, tempered by personal bias, but I did my best to look at the big picture. If nothing else, hopefully we can agree on what makes the best of Disney so timeless and exceptional: strong stories with gorgeous visuals, stirring music, and that inexplicable quality we so often call "heart."
Now, without further ado, here is my ranking of all 57 Disney Animation Studios films, from worst to best.
57.
Make Mine Music (1946)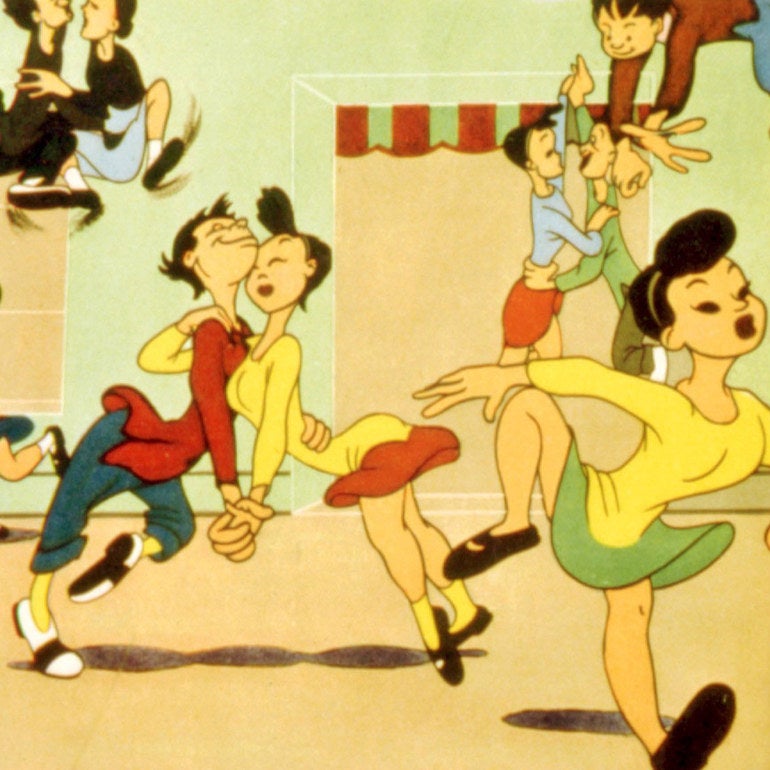 Directed by: Jack Kinney, Clyde Geronimi, Hamilton Luske, Joshua Meador, and Robert Cormack
Written by: Walt Disney, James Bordrero, Homer Brightman, Erwin Graham, Eric Gurney, T. Hee, Sylvia Holland, Dick Huemer, Dick Kelsey, Jesse Marsh, Tom Oreb, Cap Palmer, Erdman Penner, Harry Reeves, Dick Shaw, John Walbridge, and Roy Williams
In the '40s, Disney animators were divided between the Army and making propaganda films on the home front. The only feature-length films they produced were the notorious package films, collections of unrelated shorts mashed together, sometimes with a rough frame narrative but more often not. Make Mine Music is the worst offender: There's some nice animation (Blue Bayou is subtly gorgeous) and the occasional memorable story (The Whale Who Wanted to Sing at the Met is weird enough to stick with you), but there's no connective tissue to make the film as a whole feel even remotely cohesive. While Make Mine Music is interesting as a time capsule, it doesn't offer much for modern-day audiences. The most controversial bits have been edited out: Gone are the bare breasts in All the Cats Join In, while The Martins and the McCoys has been removed entirely for its "graphic gunplay." Even restoring those moments merits only the slightest shrug.
56.
Home on the Range (2004)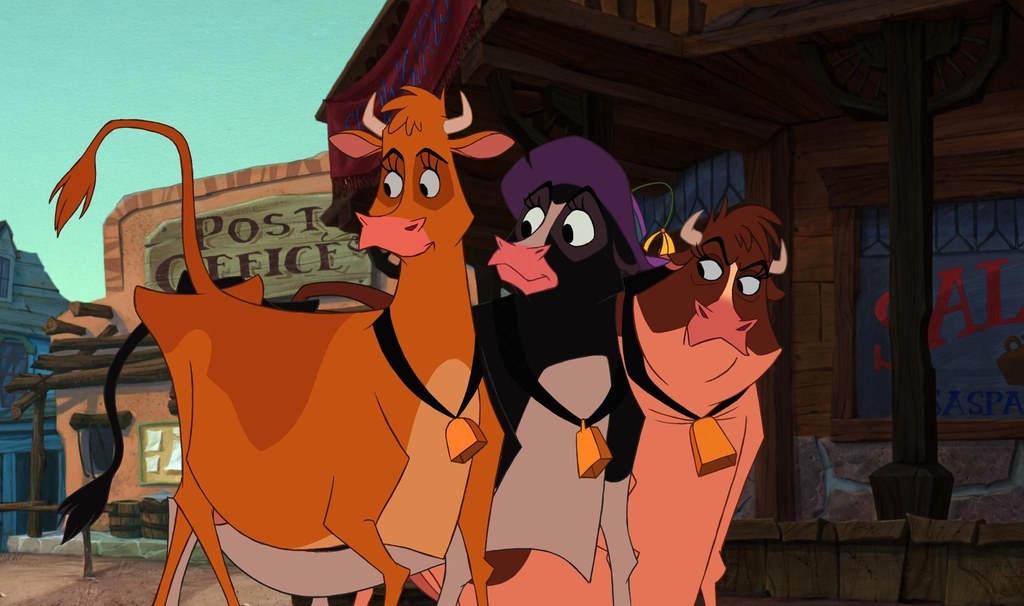 Directed by: Will Finn and John Sanford
Written by: Will Finn and John Sanford
With the vocal talents of Roseanne Barr, Dame Judi Dench, and Jennifer Tilly as three cows on a quest to save their struggling owner's farm, Home on the Range should be a lot more fun than it is. But like so many Disney films in the early 2000s, it's all over the place. The humor is largely juvenile and slapstick — burping is a punch line — and the entire enterprise feels too cartoony to be taken seriously. If there's an emotional core to the film, it's lost amid all the silly action and instantly forgettable musical numbers. At least the package films have a reason to feel as scattered as they do. Home on the Range is disjointed simply because of its subpar writing. It's clearly geared toward children, but unlike the vast majority of Disney films, there's nothing in it to keep adults entertained. And while some suspension of disbelief is necessary for all anthropomorphic animal movies, there is still a depressing lack of logic here. Just trying to imagine how three bovines are able to hogtie a cattle rustler is enough to take you out of the movie entirely.
55.
Fun and Fancy Free (1947)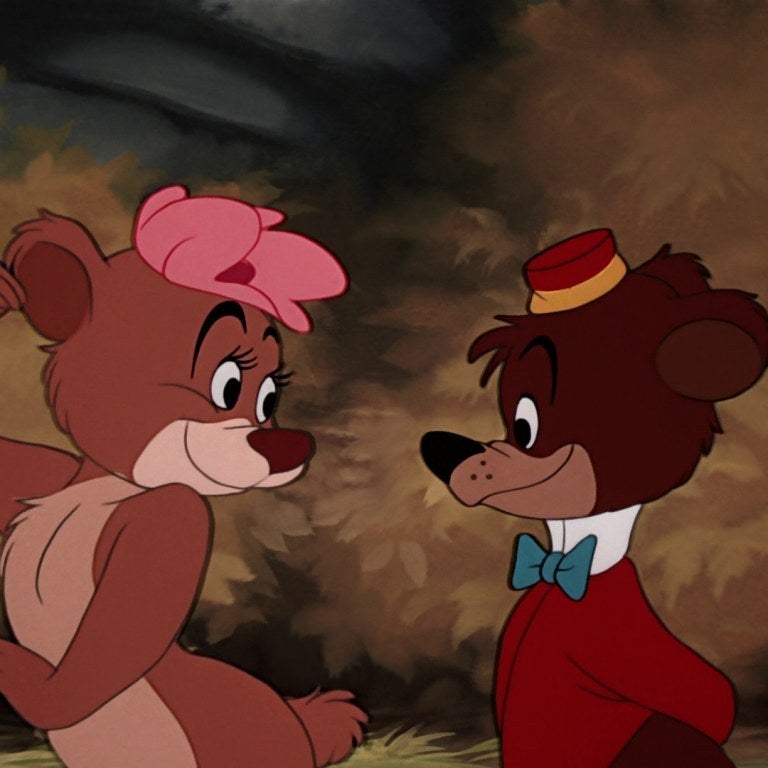 Directed by: Jack Kinney, Bill Roberts, Hamilton Luske, and William Morgan
Written by: Homer Brightman, Eldon Dedini, Lance Nolley, Tom Oreb, Harry Reeves, Ted Sears, and Sinclair Lewis
Another package film, Fun and Fancy Free has the advantage of two longer segments: Bongo, about a circus bear who escapes captivity and falls in love, and Mickey and the Beanstalk, a Disney take on the classic fairy tale. Both are fine, though the latter has more substance. It's nice to see Mickey as a hero, and Donald Duck and Goofy also make appearances. (In a recurring gag, Goofy's pants repeatedly fall down, which is not the sharp writing audiences would come to expect from Disney's subsequent animated films.) But the most egregious aspect of Fun and Fancy Free is the live-action interstitial featuring ventriloquist Edgar Bergen and his dummies Charlie McCarthy and Mortimer Snerd. It has no bearing on the plot, except for the fact that Bergen narrates the story of Mickey and Willie the Giant, and there are some truly dreadful puns. It's unclear why this live-action scene was included at all: Unlike Willie the Giant wearing the iconic Brown Derby restaurant as a hat, it's utterly charmless.
54.
The Three Caballeros (1944)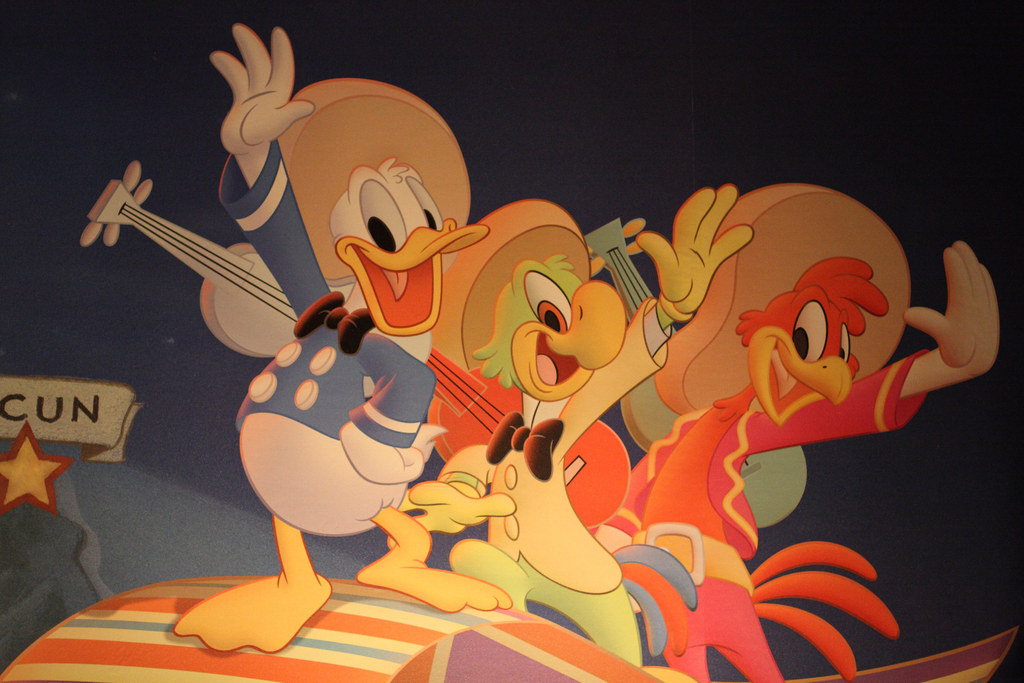 Directed by: Norman Ferguson, Clyde Geronimi, Jack Kinney, Bill Roberts, and Harold Young
Written by: Homer Brightmen, Ernest Terrazas, Ted Sears, Bill Peet, Ralph Wright, Elmer Plummer, Roy Williams, William Cottrell, Del Connell, and James Bodrero
The Three Caballeros isn't exactly a sequel, but it's certainly a thematic follow-up to Saludos Amigos. In contrast to most of the package films, the narrative here actually works: It's Donald Duck's birthday, and each of the gifts he receives inspires a different segment. (A film projector with photos of birds helps recount the tale of Pablo, a penguin who longs for warmer climates.) The humor of these cartoons is more Looney Tunes than Disney, but what the film lacks in substance it makes up for in style. Donald's buddies José Carioca, the cigar-smoking parrot, and Panchitos Pistoles, a pistol-wielding rooster, round out the titular caballeros and join forces for some of the film's most dynamic sequences, full of vibrant colors and catchy music. Aurora Miranda (the sister of the more famous Carmen) also makes a memorable appearance. By the time The Three Caballeros goes off the rails with a bizarre fantasy sequence (the aptly named Donald's Surreal Reverie), you're either in sync with the beat or not.
53.
Chicken Little (2005)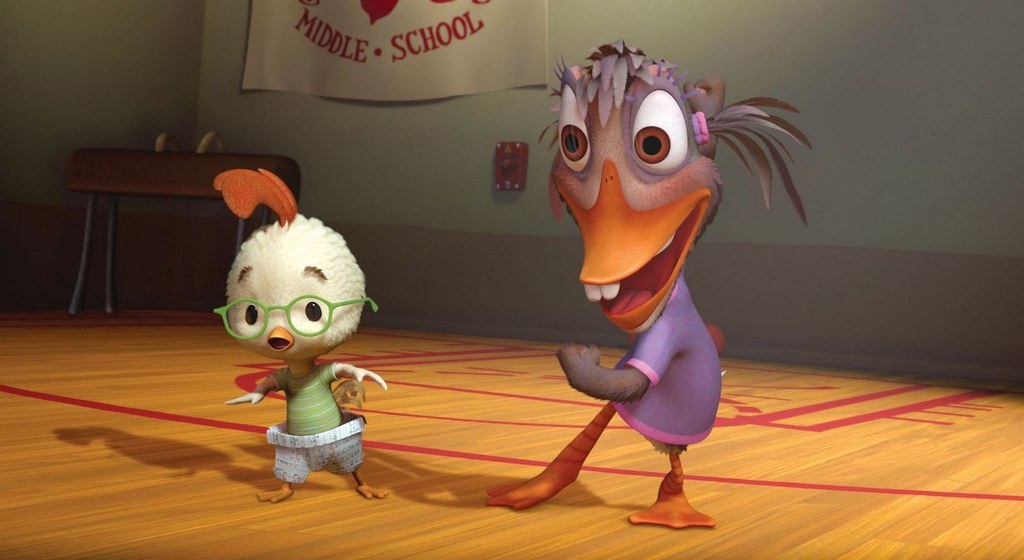 Directed by: Mark Dindal
Written by: Steve Bencich, Ron J. Friedman, and Ron Anderson
The best thing that can be said about Chicken Little is that it's inoffensive. There's nothing particularly wrong with this early computer-animated effort from Disney, but there's nothing particularly right about it either. The movie is a cute, mildly amusing adaptation — and that term is used loosely — of the fairy tale in which Chicken Little is hit by an acorn and believes that the sky is falling. Here, an imminent alien attack is underway, and no one believes poor Chicken Little. Despite some sweet moments (and one truly regrettable karaoke rendition of the Spice Girls' "Wannabe"), the plot never really comes together. There's simply too much going on here, from Chicken Little's budding baseball career to the underdeveloped sci-fi subplot. The big moments, like Chicken Little and his "ugly duckling" friend Abby Mallard sharing their first kiss, come out of nowhere as a result of the unfocused script. What does work is Chicken Little's relationship with his father, Buck "Ace" Cluck, a high school sports legend who has trouble relating to his accident-prone offspring.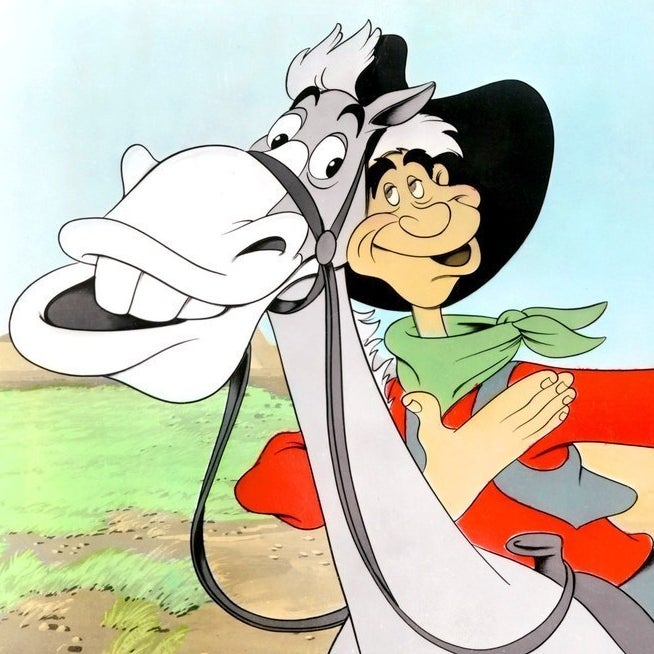 Directed by: Jack Kinney, Clyde Geronimi, Hamilton Luske, and Wilfred Jackson
Written by: Winston Hibler, Harry Reeves, Ken Anderson, Erdman Penner, Homer Brightman, Ted Sears, Joe Rinaldi, William Cottrell, Jesse Marsh, Art Scott, Bob Moore, and John Walbridge
Melody Time stands out from other package films for a few notable segments. Once Upon a Time in Wintertime is stunning and surprisingly tense, Bumble Boogie offers a distinctive blend of color and texture, and The Legend of Johnny Appleseed is a cute retelling of the well-known tale. That being said, Melody Time suffers from a familiar problem: There is a lack of logic to the collection, which includes more traditional stories with abstract shorts that would be better suited for Fantasia. (In fact, several of the shorts in the package films were originally intended for the 1940 classic.) It's jarring to move from Little Toot, the story of an anthropomorphic boat, to Trees, a poetic (and ultimately melancholy) meditation on the changing seasons. And Blame It on the Samba is a lot of fun, but that doesn't mean much without context. Thanks to some standout animation, certain segments of Melody Time are worthy of repeat viewing, but at the end of the day, it's another package film, slapped together with little thought about what the audience might want.
51.
Saludos Amigos (1942)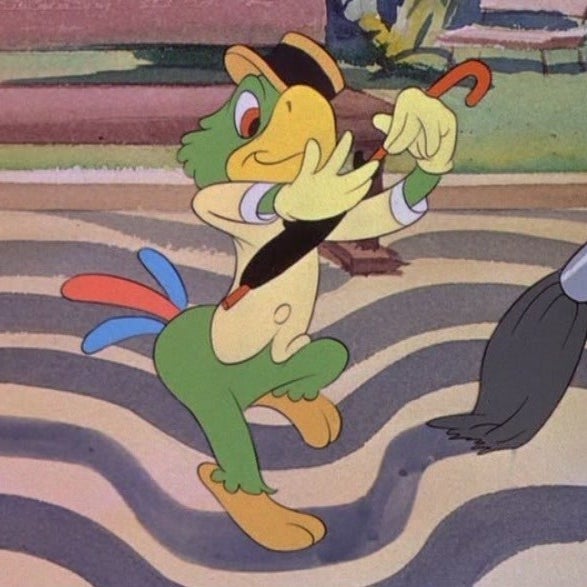 Directed by: Norman Ferguson, Wilfred Jackson, Jack Kinney, Hamilton Luske, and William Roberts
Written by: Homer Brightman, William Cottrell, Richard Huemer, Joseph Grant, Harold Reeves, Ted Sears, Webb Smith, Roy Williams, and Ralph Wright
Because it's the first of Disney's package films, Saludos Amigos seems almost innovative. It contains only four segments, mercifully, at least two of which are good: Lake Titicaca, which follows Donald Duck as a tourist in South America, and El Gaucho Goofy, in which cowboy Goofy learns to be a gaucho. The final segment is at least nice to look at. Aquarela do Brasil, Portuguese for "Watercolor of Brazil," is just that — it introduces the character of José Carioca, who teaches Donald how to samba against a beautifully realized painted backdrop of the country. The use of actual Portuguese grants the entire enterprise an authenticity that might otherwise be lacking. The frame narrative here works in part because it's so literal: The Disney artists travel to Latin America, where they explore the country and let it inspire their work. This is, more or less, a documentary reflecting the real goodwill trip that inspired Saludos Amigos and, later, The Three Caballeros. The latter may be better remembered, but the former is more consistently entertaining and better appreciated as a singular work.
50.
The Fox and the Hound (1981)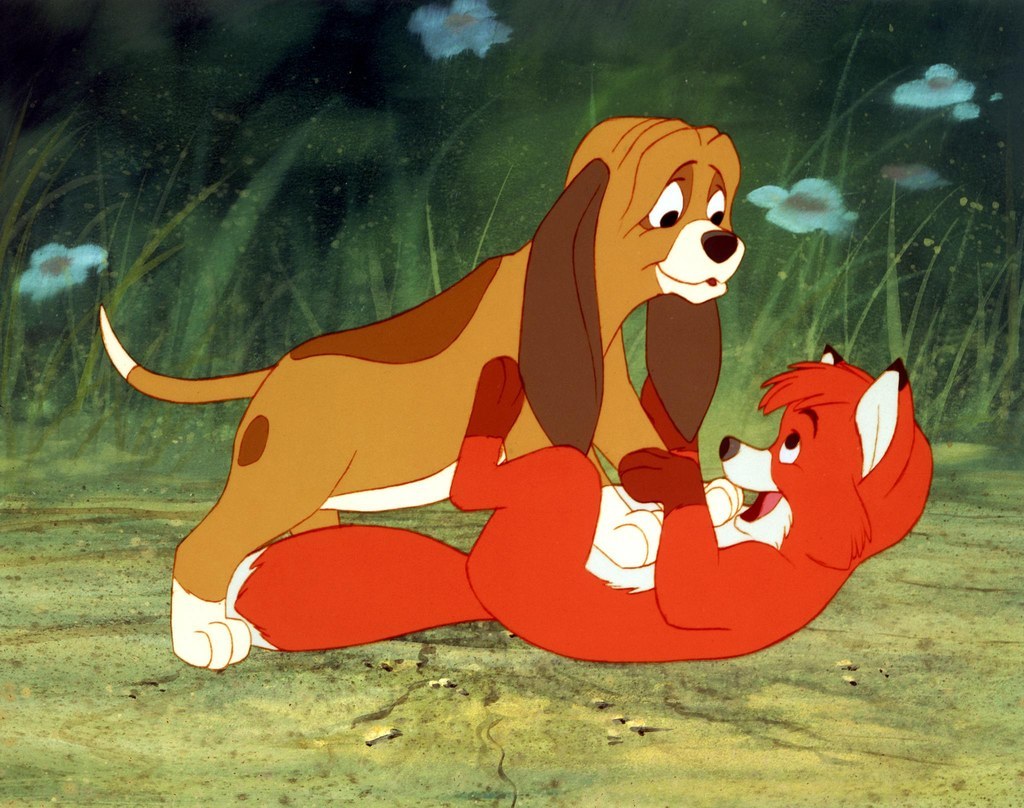 Directed by: Ted Berman, Richard Rich, and Art Stevens
Written by: Ted Berman and Larry Clemmons
The Fox and the Hound has its fans, most of whom are almost certainly masochists. Of all Disney's bleaker offerings, this film is the most relentlessly depressing, telling the story of Tod the fox and Copper the hound, two young companions who grow up and realize their adorable interspecies relationship can never be sustained. Trauma abounds, from the Widow Tweed abandoning Tod at a game preserve, to the brutal showdown between Tod, Copper, and a vicious bear. For those who cower at the thought of animals in peril, The Fox and the Hound is an exercise in cinematic torture. But personal tastes aside, it's just a mediocre Disney film. The characters, however cute they look, are at best underdeveloped and at worst unlikable. It's lose-lose: The movie will bore you unless you force an investment, and doing that will only get you hurt. At least Bambi — who, like Tod, loses a mother very early on — had friends who stuck by him. The Fox and the Hound suggests a much more cynical (albeit realistic) interpretation of the animal kingdom.
49.
Robin Hood (1973)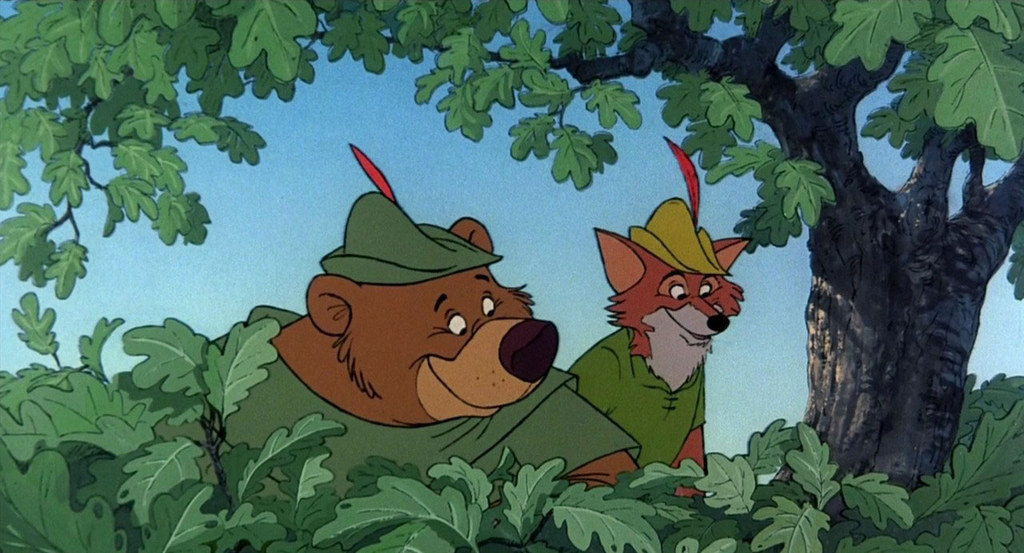 Directed by: Wolfgang Reitherman
Written by: Larry Clemmons
Robin Hood is often criticized for recycling animated sequences from past Disney films, and with good reason — thanks to a small budget, the animators pulled from Snow White and the Seven Dwarfs, The Jungle Book, and The Aristocats. Once you know to look for these moments, they're impossible to unsee. But the animation, which doesn't look as cheap as it could all things considered, isn't the only problem with Robin Hood. While there's a definite plot, much of the running time is devoted to comic relief characters and set pieces, some parts of which work better than others. One particularly irksome example: an extended football sequence that's both overly long and completely out of place. It's a shame, because what works, works well. The decision to recast the familiar story with anthropomorphic animals is a smart one (not to mention sexually confusing to those who found themselves attracted to a talking fox). And some of the songs are nice, especially the catchy "Oo De Lally" and the gorgeous "Love," which is featured in a sequence that's as charming as it is out of place.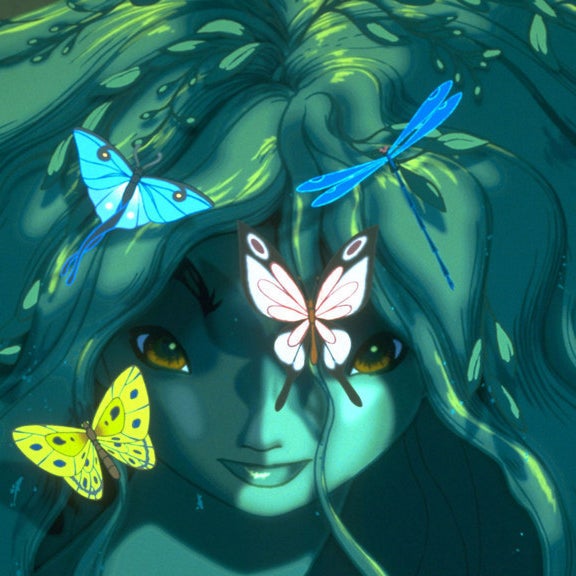 Directed by: Don Hahn, Pixote Hunt, Hendel Butoy, Eric Goldberg, James Algar, Francis Glebas, and Paul and Gaëtan Brizzi
Written by: Don Hahn, Irene Mecchi, David Reynolds, Kevin Yasuda, James Fujii, Eric Goldberg, James Capobianco, Ron Meurin, Perce Pearce, Carl Fallberg, Robert Gibbs, Terry Naughton, Todd Kurosawa, Pat Ventura, Don Dougherty, Stevie Wermers, and Paul and Gaëtan Brizzi
Fantasia 2000 is beautiful and completely superfluous. When Walt Disney made the original Fantasia in 1940, he had planned on producing a series of films featuring both new and recurring shorts scored to classical music. (Instead we got the package films. Ah, well.) With that in mind, Fantasia 2000 is a fine idea, and it does do a great job of reflecting the staggering advances in animation since Disney's time. But there's very little substance to any of the short films here: They're pretty but empty. That would be less of a crime if Fantasia 2000 hadn't been released at the end of a decade that represented the very best of Disney Animation's storytelling abilities. And when it comes to story alone, The Sorcerer's Apprentice, recycled from the original Fantasia, remains the standout. That having been said, there are some truly stunning sequences, namely Pines of Rome (even if those levitating CGI whales haven't aged terribly well) and the climactic The Firebird, which almost makes the whole endeavor worthwhile. Almost.
47.
The Black Cauldron (1985)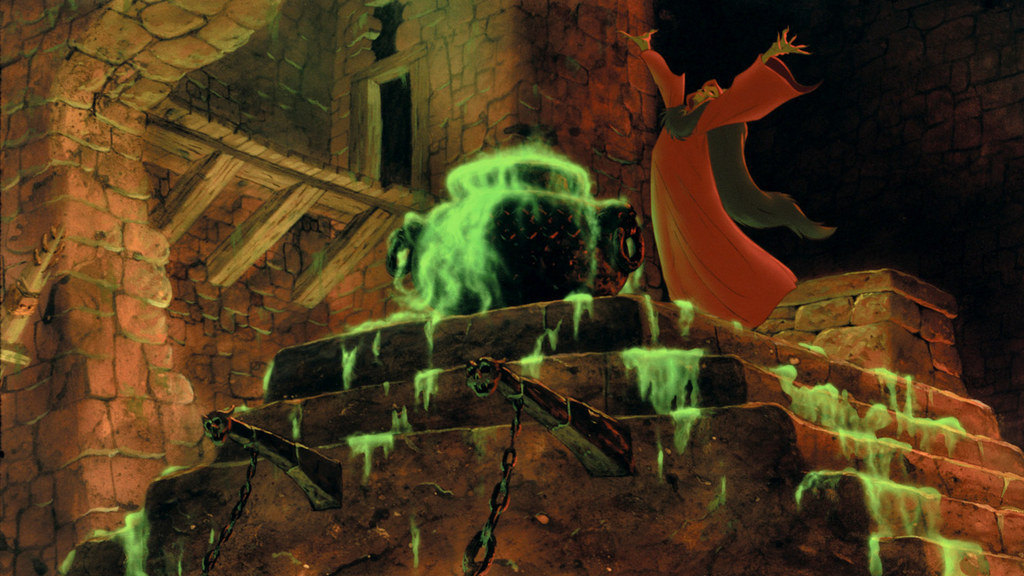 Directed by: Ted Berman and Richard Rich
Written by: Ted Berman, Vance Gerry, Joe Hale, David Jonas, Roy Morita, Richard Rich, Art Stevens, Al Wilson, and Peter Young
The Black Cauldron is notorious for being a critical and commercial failure. It's stylistically so different from anything that came before it or after it, making it easy to forget it's a Disney film. (Disney would probably prefer it that way. It took more than a decade before the film was released on home video.) But The Black Cauldron's uniqueness is one of its assets. While it's easy to condemn the film for being oddly dark and more complex than typical Disney fare, it's refreshing to see the studio taking chances with more mature source material like Lloyd Alexander's book series The Chronicles of Prydain. And the animation style, though unfamiliar, is captivating. Would The Black Cauldron have fared better if it weren't a Disney film? Probably — but not by much. Putting all the unfair criticisms aside, there are plenty of legitimate complaints to be made. The film's writers tried their best to condense two books worth of material into an 80-minute movie, and the results are predictably lacking. There are hints of a great dark fantasy film here; sadly, The Black Cauldron is not it.
46.
Ralph Breaks the Internet (2018)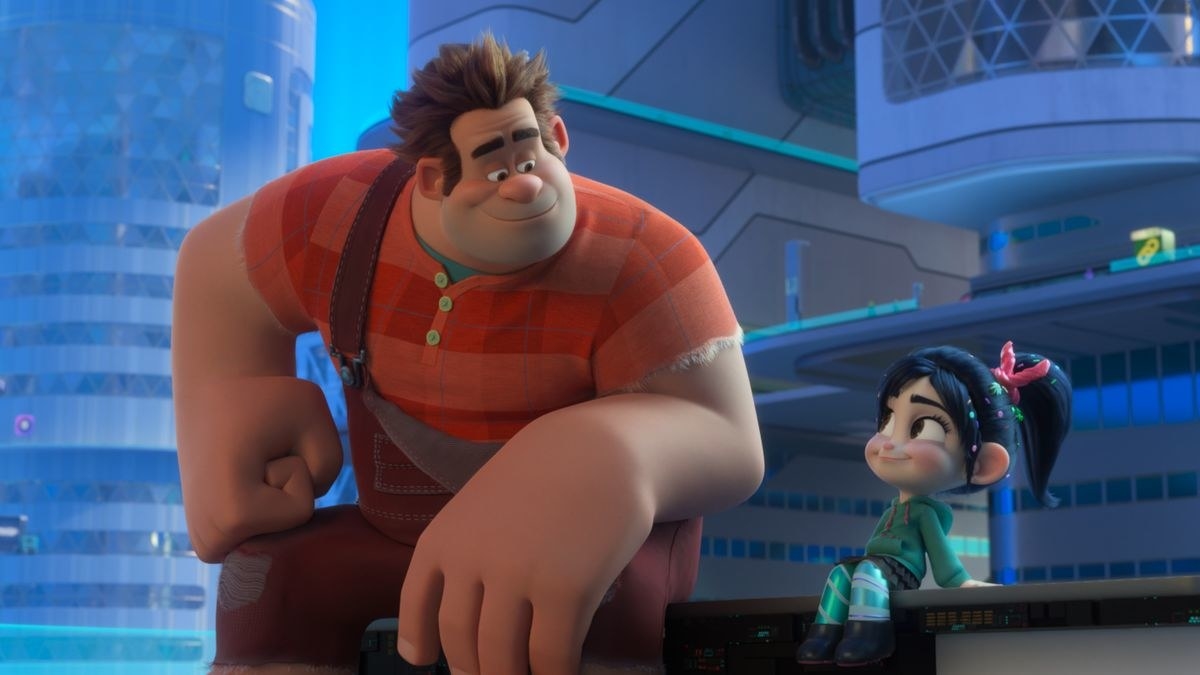 Directed by: Rich Moore and Phil Johnston
Written by: Phil Johnston and Pamela Ribon
There's a moment in Ralph Breaks the Internet — it's the moment, really — in which Vanellope, the plucky hero of Wreck-It Ralph, finds herself getting advice from all the Disney Princesses who came before her. For longtime fans of Disney, it's a stunning scene, made all the more special by the fact that the original voice actors (well, the ones who are living) reprise their roles. It's also incredibly surreal, and just when you think it can't get any weirder: C-3PO bursts in. Disney has gotten bigger and bigger, and Ralph Breaks the Internet reflects that with cameos from Star Wars characters and Marvel superheroes. But in doing so, Disney appears to have lost some focus. This doesn't feel like a Walt Disney Animation Studios movie, and while that label has admittedly become murkier over the years, Ralph Breaks the Internet is especially out of place. Yes, the basic story of misunderstood video game villain Ralph and his best friend Vanellope navigating the internet has heart, and a familiar emphasis on chosen family. But it's also a shameless showcase of brands — Disney, of course, but also Amazon, Google, and countless others — that is more a celebration of corporate synergy than Disney magic.
45.
Dumbo (1941)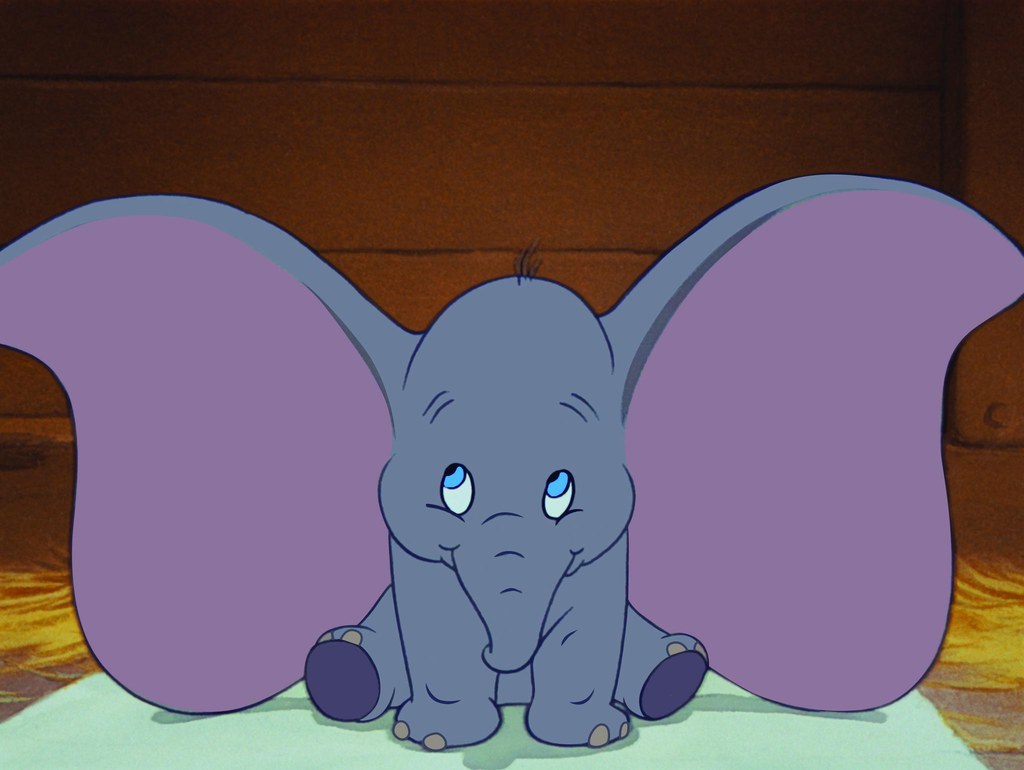 Directed by: Ben Sharpsteen, Norman Ferguson, Wilfred Jackson, William "Bill" Roberts, Jack Kinney, and Samuel Armstrong
Written by: Otto Englander, Joe Grant, and Dick Huemer
As fondly remembered as it may be, Dumbo, at just over an hour, is slight to a fault — Dumbo himself spends most of the film getting mocked and mistreated by everyone around him, until he finally discovers his hidden talent, the ability to fly with his giant ears, at the end of the movie. It's a surprisingly somber affair: The best moment, Dumbo's mother cradling him with her trunk through the bars of a cage and singing "Baby Mine," is also its most devastating. The story is sweet (if not frequently upsetting), but in addition to its truncated length, animators were instructed to do things cheaply, which means significantly less detail than the Disney films before it. And then, of course, there's the questionable racism of the crows, commonly regarded as offensive black stereotypes — less questionable when you learn that the lead crow is actually named Jim Crow. Yes, the reference is a product of a different time, but like so much of Dumbo viewed from a modern perspective, it just doesn't fly.
44.
Peter Pan (1953)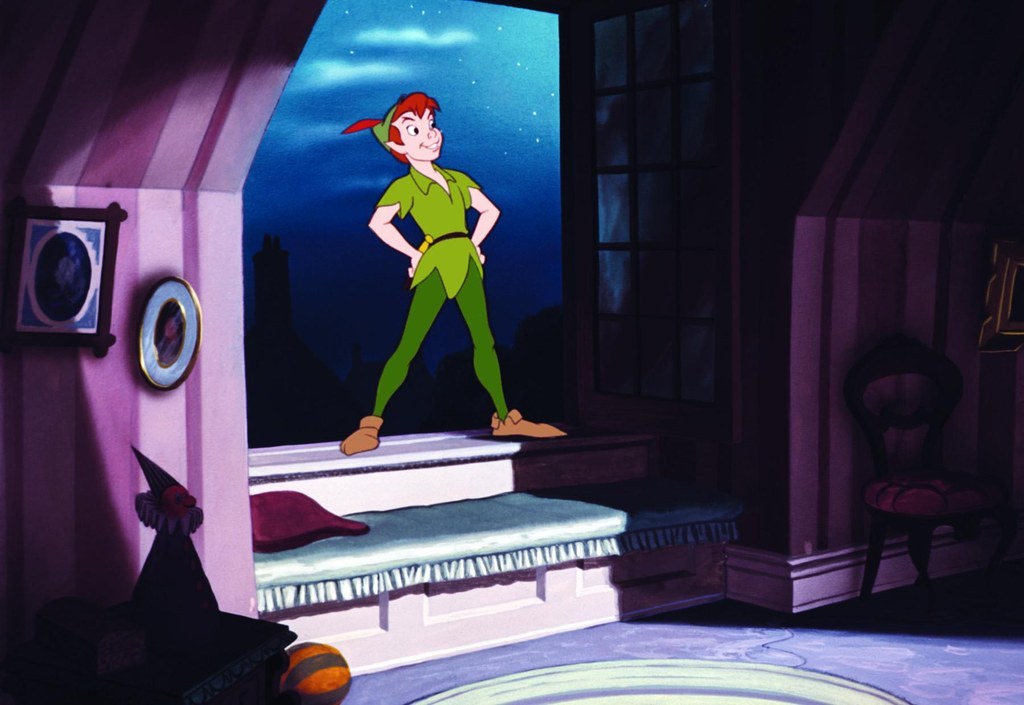 Directed by: Clyde Geronimi, Wilfred Jackson, and Hamilton Luske
Written by: Milt Banta, William Cottrell, Winston Hibler, Bill Peet, Erdman Penner, Joe Rinaldi, Ted Sears, and Ralph Wright
Here's what Peter Pan has in common with Dumbo: It's one of Disney's most iconic films and it has a loyal and devoted fanbase, but it's also pretty seriously flawed and a lot more racist than you remember. To be fair, Peter Pan's racism is no secret — the song "What Made the Red Man Red?" is generally regarded with the appropriate amount of shame. But what's surprising on viewing it today is how little Peter Pan has to offer. In addition to the shockingly outdated conception of "Indians," the film also features a reductive and frankly offensive portrayal of its female characters, all of whom are in vicious competition with one another. (Tinker Bell spends most of the film trying to kill Wendy, who is equally jealous of Tiger Lily.) So what does Peter Pan have going for it? Some memorable songs and a lot of gorgeous visuals, including Peter Pan leading the Darling children in flight over London. When it comes to mindless diversion, that's more than enough.
43.
Brother Bear (2003)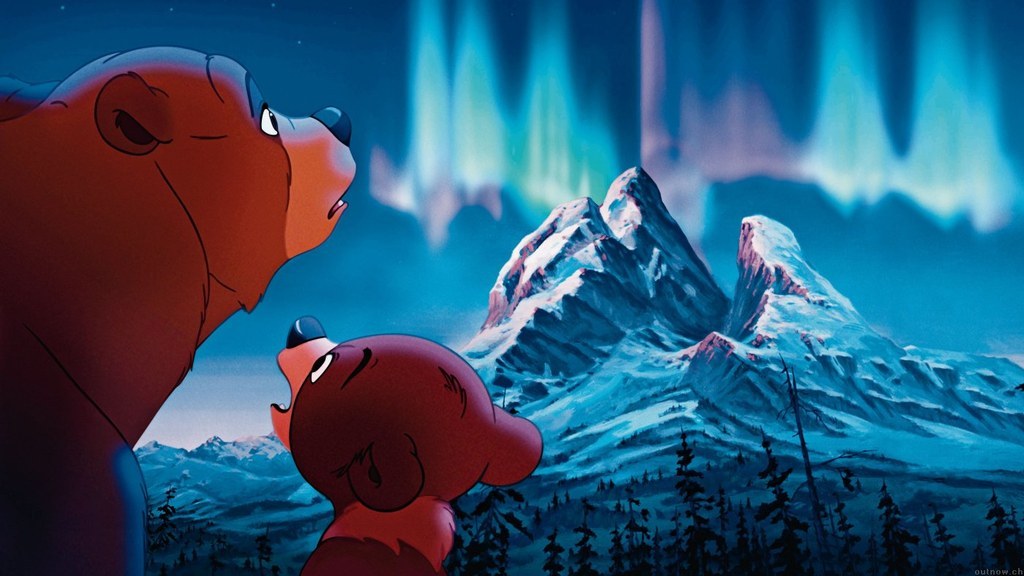 Directed by: Aaron Blaise and Robert Walker
Written by: Tab Murphy, Lorne Cameron, David Hoselton, Steve Bencich, and Ron J. Friedman
In many ways, Brother Bear is underrated. Though largely forgotten, it's one of the more intelligent and emotionally complex Disney films of the early 2000s. The story follows Kenai, a boy who gets turned into a bear to teach him a lesson after he murders the bear that killed his brother Sitka. Kenai befriends another bear, Koda, only to discover that the bear he killed was Koda's mother. It's a brutal twist, and it's handled with surprising deftness. The film is also notable for its unique choice to transition to a wider aspect ratio and a more vibrant animation style to reflect Kenai's transformation. That having been said, Brother Bear makes its share of mistakes. The music by Phil Collins is intrusive and poorly integrated into the movie, either too on the nose or completely out of place. And as might be expected, the ending, however sweet, is a little too pat given the complexity of the issues at play. Brother Bear is a kids' movie that toys with a thematic maturity that it's afraid to fully embrace, and that ultimately undermines its lofty goals.
42.
Dinosaur (2000)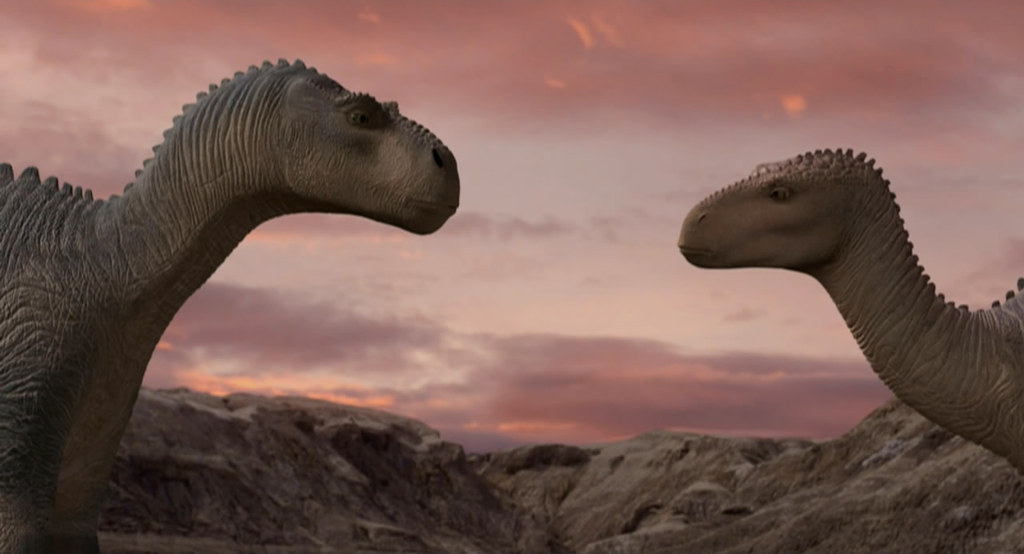 Directed by: Ralph Zondag and Eric Leighton
Written by: John Harrison and Robert Nelson Jacobs
The worst thing about Dinosaur is the way it looks: The dinosaurs themselves are computer-animated and displayed against a live-action background. It's a neat idea, but it can't compete with the technological advancements that have been made over the past 15 years. At best, it looks like a decent video game. The story, however, is not bad, even if it does feel a little too close to the non-Disney classic The Land Before Time: Aladar, an iguanodon whose mother is killed by a carnotaurus, is taken in by a family of lemurs. When a meteor strikes and separates the family, the remaining members set out for the safe haven known as the "Nesting Grounds." To its credit, Dinosaur is more action-packed and, at times, more frightening than The Land Before Time — it's violent and dark enough to earn its PG rating, the first since The Black Cauldron. And although the animation hasn't aged well, there are still some stunning sequences, like the truly terrifying meteor scene and its devastating aftermath.
41.
The Adventures of Ichabod and Mr. Toad (1949)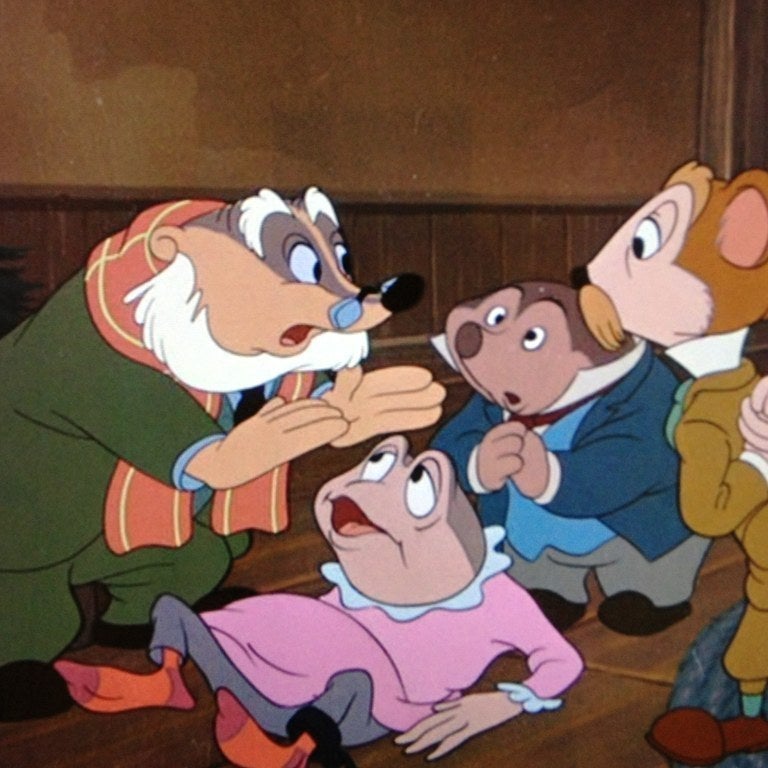 Directed by: Jack Kinney, Clyde Geronimi, and James Algar
Written by: Erdman Penner, Winston Hibler, Joe Rinaldi, Ted Sears, Homer Brightman, and Harry Reeves
The Adventures of Ichabod and Mr. Toad is easily the best of the package films, although the grouping of its two stories is completely nonsensical. The Wind in the Willows and The Legend of Sleepy Hollow are vastly different pieces of literature, and that shows in their adaptations: The former is an irreverent and lighthearted tale, while the latter is a fairly straightforward horror story. The oddness of the pairing aside, however, both are pretty good. But not great, as the animation and songs feel a little less than. (Again, this was the '40s, when Disney could hardly afford to be at the top of its game.) Ichabod's adventure proves to be the more memorable one, because it's genuinely terrifying. The Headless Horseman is one of the scariest characters in any Disney film. Perhaps by necessity, the animators showed considerable restraint, which just made him more effective. He's defined by the creepy details that stand out against his otherwise minimalist form: the flowing purple cape and his horse's red eyes. That flaming pumpkin is the stuff of nightmares.
40.
The Aristocats (1970)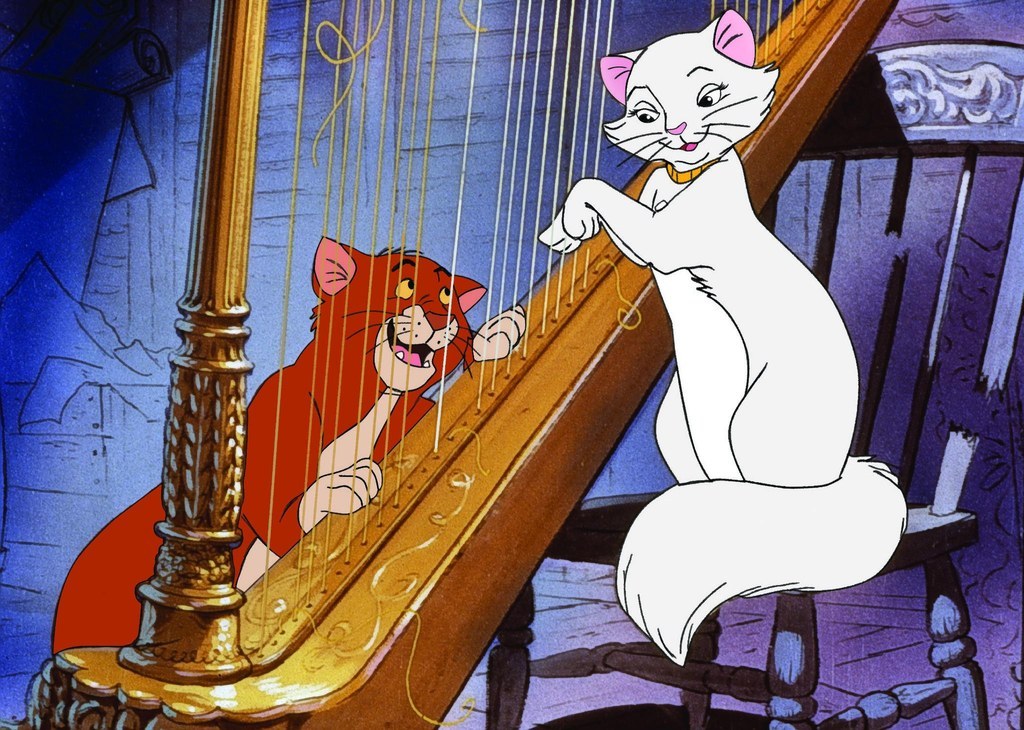 Directed by: Wolfgang Reitherman
Written by: Ken Anderson, Larry Clemmons, Eric Cleworth, Vance Garry, Julius Svendsen, Frank Thomas, and Ralph Wright
There's plenty to like about The Aristocats, the charming story of the regal cat Duchess, her three kittens, and the handsome stray Thomas O'Malley. The animation has a deliberate line-drawn feel that allows the cats to be extra expressive, and the titular Maurice Chevalier song that opens the movie gives it a touch of class. (Well, that and the incomparable vocal talents of Eva Gabor as Duchess.) The only reason The Aristocats isn't ranked higher is that it's not particularly memorable beyond the charm. It's cute but not original: Like the superior One Hundred and One Dalmatians, it revolves around the unpleasant notion of a villain trying to murder a group of defenseless animals. Meanwhile, the distinctive animal personalities are reminiscent of Lady and the Tramp, with which the film can't really compare. The Aristocats is sweet and often delightful — the high-energy scat song "Ev'rybody Wants to Be a Cat" is a definite highlight — but it just doesn't stand out enough on its own to compare to the very best Disney films.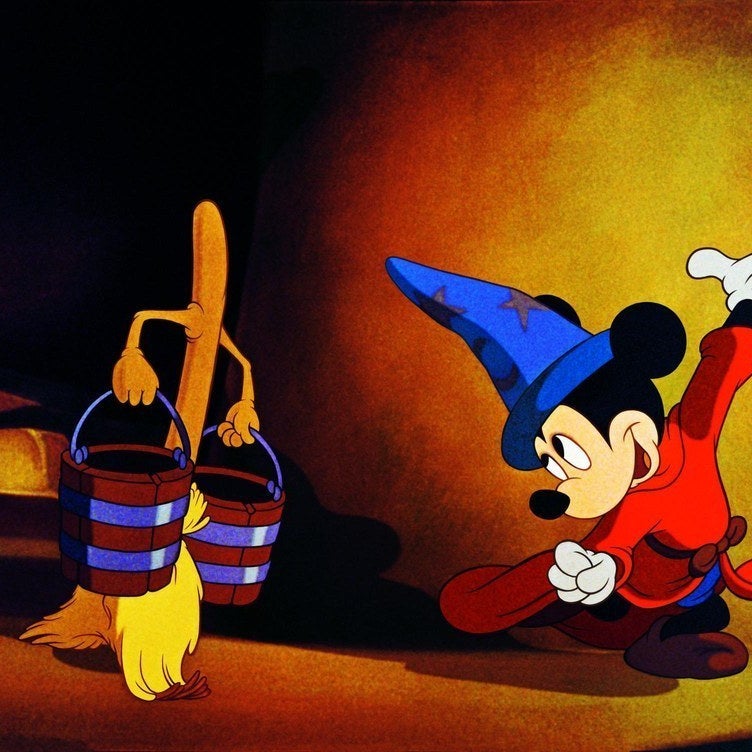 Directed by: Samuel Armstrong, James Algar, Bill Roberts, Paul Satterfield, Ben Sharpsteen, David D. Hand, Hamilton Luske, Jim Handley, Ford Beebe, T. Hee, Norman Ferguson, and Wilfred Jackson
Written by: Lee Blair, Elmer Plummer, Phil Dike, Sylvia Moberly-Holland, Norman Wright, Albert Heath, Bianca Majolie, Graham Heid, Perce Pearce, Carl Fallberg, William Martin, Leo Thiele, Robert Sterner, John Fraser McLeish, Otto Englander, Webb Smith, Erdman Penner, Joseph Sabo, Bill Peet, George Stallings, Campbell Grant, and Arthur Heinemann
In order to enjoy Fantasia, you have to give yourself over to it. The film is a visual symphony designed to effortlessly combine music and animation: It's meant to be experienced. All of this is a pretentious way of saying that, for all its inarguable beauty, Fantasia can be a total bore. It's easier to appreciate Fantasia than it is to like it, although there are certainly segments (or at least moments within segments) that are fun to watch. The Sorcerer's Apprentice, to cite the most famous example, is engaging, and the final sequence Night on Bald Mountain is captivating for its sheer audacity. A film that isn't really about anything suddenly showcases a battle between good and evil, complete with the imposing devil Chernabog. At the very least, Fantasia is impressive: Only the third film produced by Walt Disney Animation Studios, it represents the animator's peerless vision and innovation. When it comes to rewatching Fantasia, perhaps it's best taken in parts, where you can skip over the unfortunate racist imagery of The Pastoral Symphony and the tiresome Meet the Soundtrack section.
38.
Oliver & Company (1988)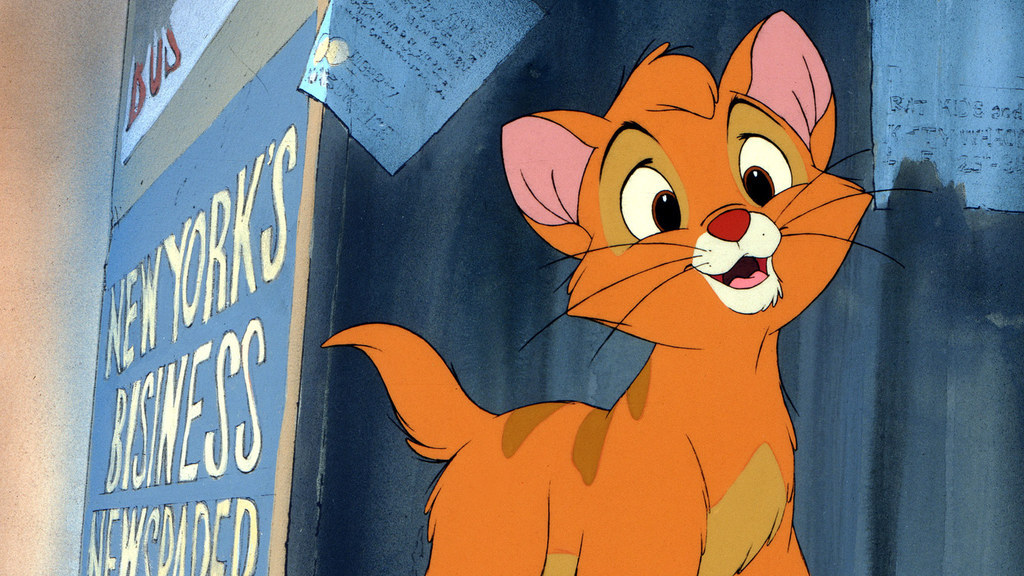 Directed by: George Scribner
Written by: Jim Cox, Tim Disney, and James Mangold
In the tradition of Robin Hood, Oliver & Company takes a familiar story — here, it's the Dickens novel Oliver Twist — and recasts it with talking animals. It's surprisingly effective. Meek orphan Oliver becomes a kitten who finds himself in the world of dog thieves led by Fagin, a human. (Thankfully, he's no longer the anti-Semitic character he was in the novel and several of its earlier adaptations.) The depiction of New York City is impressively gritty, which fits the subject matter and gives the film a bit of an edge for a Disney movie. The music is also distinctive, but it works, in part because of the voice talent involved: Huey Lewis sings the opening song, Billy Joel voices Dodger and sings "Why Should I Worry," and Bette Midler steals the show as Georgette, who gets the iconic number "Perfect Isn't Easy." At times, Oliver & Company feels a little too dark — the "animals in peril" theme, a Disney classic, is pushed to its limit here. This may be the only G-rated movie in which two dogs are thrown from a train and electrocuted to death. They're villains, but still.
37.
Treasure Planet (2002)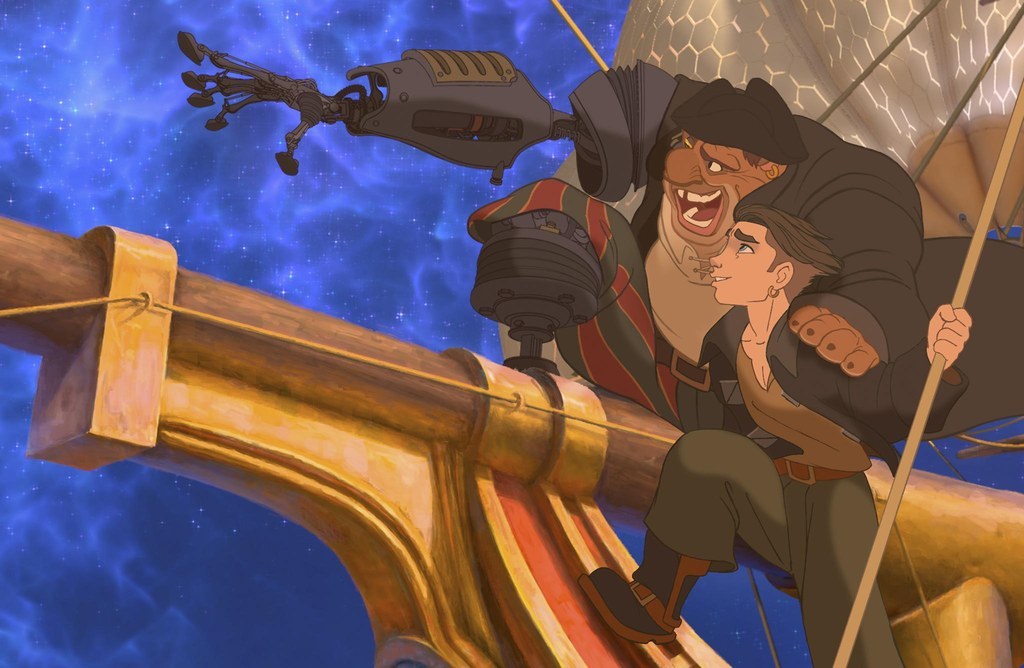 Directed by: Ron Clements and John Musker
Written by: Ron Clements, John Musker, and Rob Edwards
Although Treasure Planet's characters are drawn in traditional 2D animation, they're placed against 3D computer-generated backgrounds. The combination of the old and the new result in a thoroughly unique aesthetic, with stunning depth and fluid movements through space. Treasure Planet is, above all, beautiful to look at, and that makes up for areas where the film is lacking. As a sci-fi interpretation of the classic adventure novel Treasure Island, the movie works best when it remains grounded with a strong focus on its characters and their motivations. To its detriment, Treasure Planet sometimes gets too caught up in shiny robot parts, which distract from a solid story. It might seem contradictory to praise the film's technological advancements while also calling for restraint, but the best Disney movies showcase breathtaking animation without losing focus of the rich emotional core. And indeed, when it centers on the relationship between young Jim Hawkins and the cyborg John Silver, Treasure Planet can be quite powerful. Otherwise it gets a little lost in space.
36.
Winnie the Pooh (2011)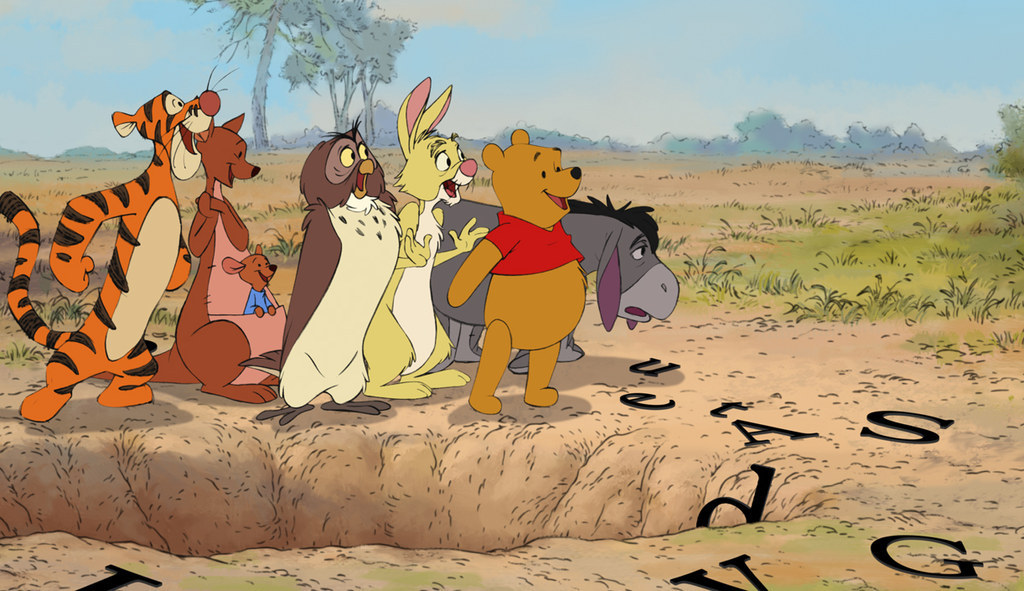 Directed by: Stephen J. Anderson and Don Hall
Written by: Stephen J. Anderson, Clio Chiang, Don Dougherty, Don Hall, Brian Kesinger, Nicole Mitchell, Jeremy Spears, and Kendelle Hoyer
What's amazing about Winnie the Pooh — the second Walt Disney Animation Studios adaptation of A. A. Milne's Winnie the Pooh stories — is how much it feels like it was made decades ago. The film is designed to feel like a throwback, and it's a remarkably effective technique: Despite the occasional computer-animated assist (Pooh gets a ramped-up fantasy sequence involving CGI honey), it looks an awful lot like the 1977 original. And it's not just the animation either. Winnie the Pooh maintains a more traditional sensibility, with most of the sharp humor deriving from wordplay and predictable misunderstandings, and songs that would not feel out of place in the earlier film. In fact, the only time Winnie the Pooh falters is when it allows too much of the modern world to shine through in the form of slapstick humor and sight gags that don't align with Milne's sensibility. If there's another mark against Winnie the Pooh, it's the running length: At just over an hour — including the end credits — it's almost too slight for a feature film.
35.
Zootopia (2016)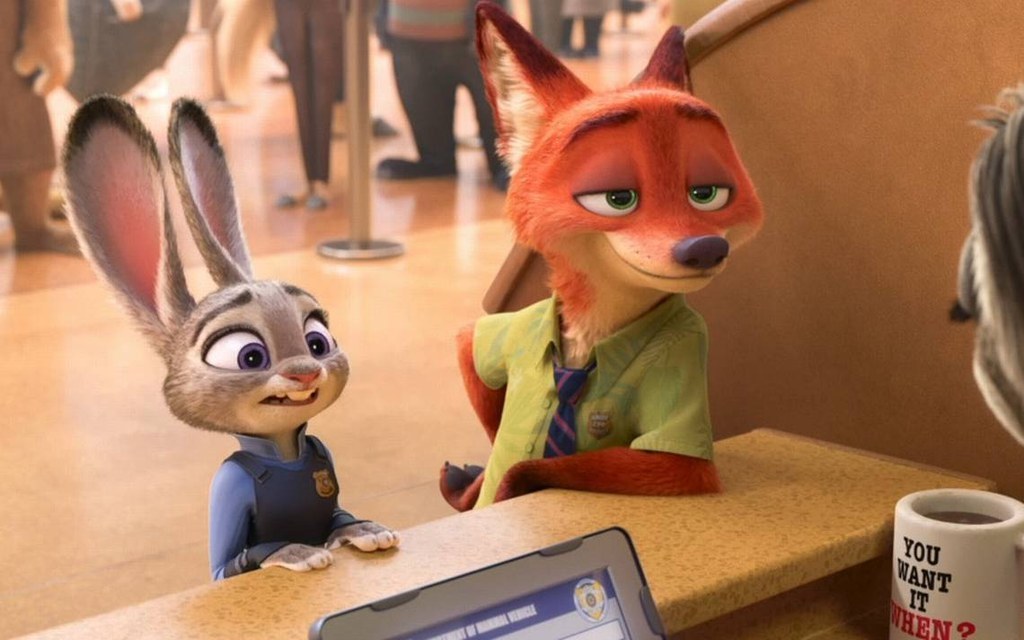 Directed by: Byron Howard and Rich Moore
Written by: Jared Bush and Phil Johnston
Zootopia has its heart in the right place. But the buddy cop mystery, which pairs up rabbit officer Judy Hopps and fox con artist Nick Wilde, turns out to be a seriously unsubtle allegory about the dangers of racial profiling. It's an ambitious and laudable project, particularly given the contemporary context (the Black Lives Matter movement) and Disney's less-than-favorable history of representing people of color. That having been said, Zootopia's metaphors are muddled, at times to an alarming degree, e.g. the moral that prey should not make assumptions about predators is undercut when the predators' innate violent urges are exposed. To be fair, the film is careful to not directly align any animals with a particular racial group, but the association is still there, and it's both uncomfortable and misguided. Aside from that, it's a fairly straightforward story with some notable flourishes. (The idea that this is a world made by evolved animals, for evolved animals, is a brilliant one.) It's also wonderful to see a female lead character who's not motivated by true love but by her passion for work. Still, Zootopia should have that distinctive Disney warmth and this one feels a little chilly.
34.
Pocahontas (1995)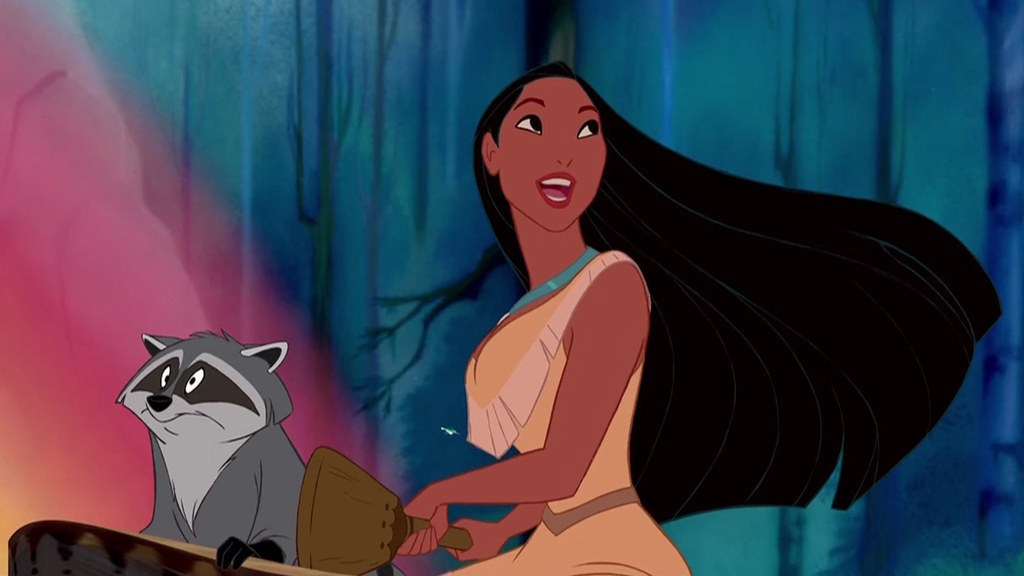 Directed by: Mike Gabriel and Eric Goldberg
Written by: Carl Binder, Susannah Grant, and Philip LaZebnik
To say that Pocahontas is problematic is an understatement: Disney's historically inaccurate take on real-life Native American Pocahontas and her relationship with English settler John Smith is, at best, surface-level. At worst, it's willfully ignorant, with cringeworthy songs like "Savages," in which the white men's brutal destruction of the native population is unfairly aligned with the latter's attempts to defend themselves against the onslaught of outsiders. If you can overlook all that — and that's not to say you should — Pocahontas is actually rather beautiful, with some of the decade's best animation and a pleasant score, including standout song "Colors of the Wind," performed by Broadway star Judy Kuhn. The story is overly simplistic and tough to swallow — Pocahontas learns English because magic! — but it's at least more complex than it could have been. The scene where Thomas shoots and kills Kocoum reflects the harsh realities of the situation, and the ending, in which Pocahontas stays behind instead of leaving with John Smith, is a satisfying if not traditionally happy conclusion.
33.
Sleeping Beauty (1959)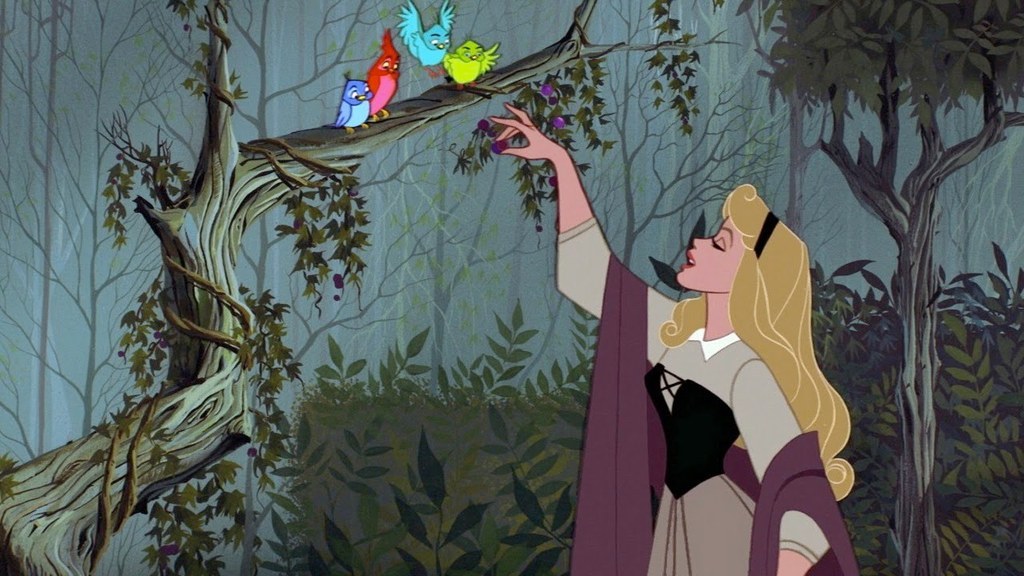 Directed by: Clyde Geronimi, Les Clark, Eric Larson, and Wolfgang Reitherman
Written by: Erdman Penner, Joe Rinaldi, Winston Hibler, Bill Peet, Ted Sears, Ralph Wright, and Milt Banta
Sleeping Beauty is one of the Disney classics that benefits from retroactive appreciation. The live-action Maleficent, starring Angelina Jolie as the most interesting character from the animated film, offers a depth and backstory that makes Sleeping Beauty look better in retrospect. By itself, however, the film is actually sort of slow and flimsy. The pacing is all off: It's 50 minutes into the 75-minute film before Princess Aurora even pricks her finger on the cursed spinning wheel. To be fair, what follows is a breathtaking climax, including an incredible battle — featuring Maleficent transformed into a dragon — and eye-capturing animation that recalls medieval art with its bright colors and highly stylized form. If Aurora isn't the most interesting Disney Princess (the most notable thing she does is fall asleep), she's surely one of the most beautiful, which does account for the film's lasting appeal. As a purely visual experience, it's a joy to take in.
32.
The Rescuers (1977)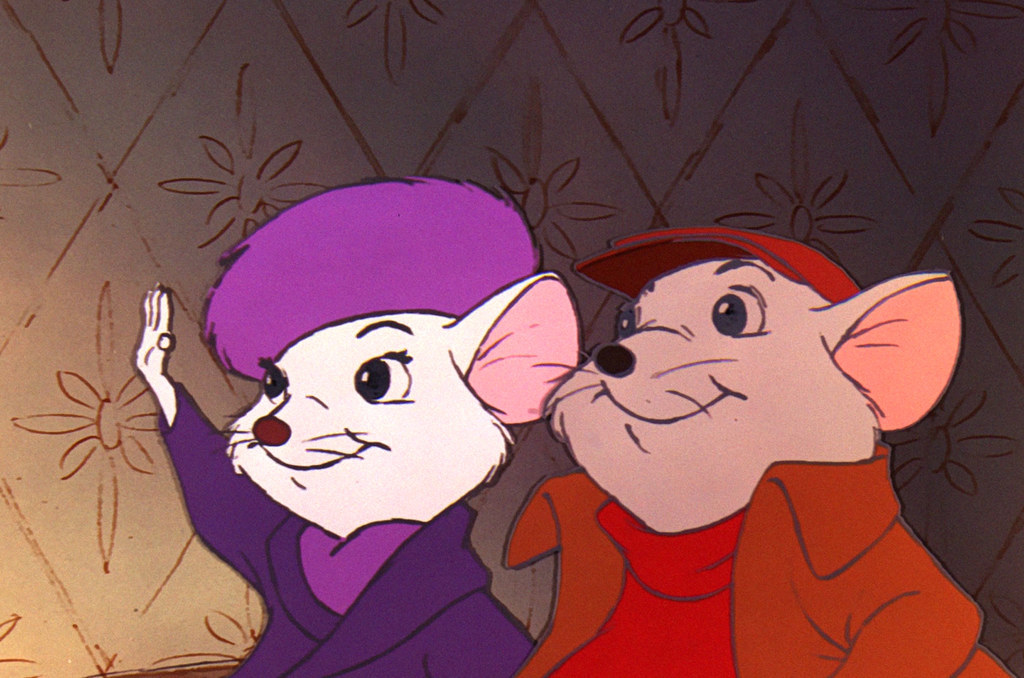 Directed by: Wolfgang Reitherman, John Lounsbery, and Art Stevens
Written by: Larry Clemmons, Vance Gerry, Ken Anderson, Frank Thomas, Burny Mattinson, Fred Lucky, Dick Sebast, and Dave Michener
The success of The Rescuers is a credit to its excellent characters, the unlikely duo of experienced Miss Bianca and nervous Bernard, cruel Madame Medusa (originally intended to be Cruella De Vil but reconceived as an original character), plucky orphan Penny, and albatross pilot Orville. The story is fairly dark, with Medusa kidnapping Penny and taunting her that she's too homely to be adopted. (Try watching the number "Someone's Waiting for You" without getting emotional. The cameo from Bambi and his mother doesn't help.) But there's also plenty of comic relief in the form of Bernard and Bianca, plucky agents of the Rescue Aid Society, the United Nations–esque mouse organization. The film does an admirable job of blending action, humor, and heart, culminating in a moving ending that gives all the characters what they deserve without feeling too neat. It's the action that's perhaps most impressive, if only because it's something Disney films had fumbled in the past: In The Rescuers, it's constant and appropriately tense. The stakes are high enough to keep viewers on the edge of their seats.
31.
The Many Adventures of Winnie the Pooh (1977)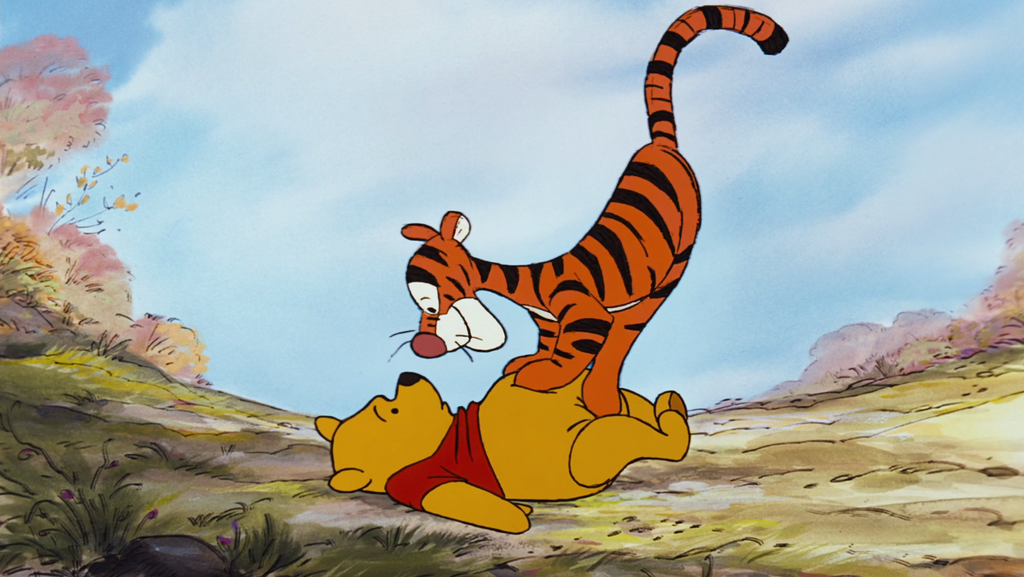 Directed by: John Lounsbery and Wolfgang Reitherman
Written by: Larry Clemmons, Ralph Wright, Vance Gerry, Xavier Atencio, Ken Anderson, Julius Svendsen, Ted Berman, and Eric Cleworth
Though not a package film (thankfully), The Many Adventures of Winnie the Pooh is stitched together from three different short films, with added material to help bridge the gaps between them. It's not always seamless — the voice of Christopher Robin changes throughout, quite dramatically, but somehow it's not really bothersome. There is such a sweetness and simplicity to Winnie the Pooh and these characters, it doesn't really matter that the film as a whole lacks cohesion. Of course, for anyone who grew up with Pooh, Piglet, Eeyore, and the other inhabitants of the Hundred Acre Wood, it's difficult to rate their adventures objectively. The nostalgia factor is strong here. So while The Many Adventures of Winnie the Pooh might prove shrugworthy for someone who's never been exposed to it before, those who have even a passing familiarity with the stories or the many films and TV series can't help but be charmed by what is surely the best adaptation of the source material. This is, after all, the introduction of Tigger and the harrowing "Heffalumps and Woozles" sequence.
30.
The Rescuers Down Under (1990)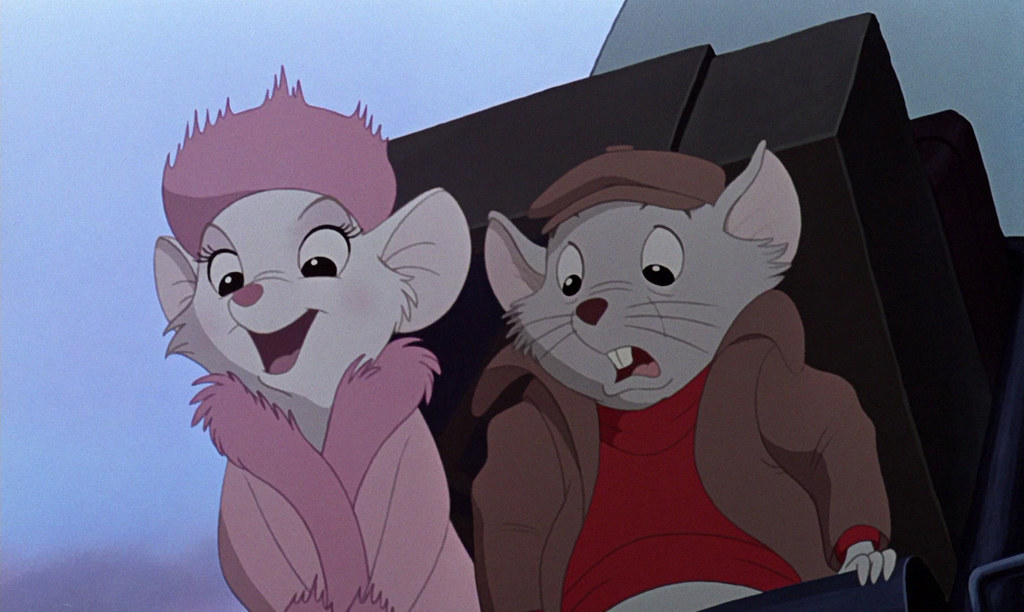 Directed by: Hendel Butoy and Mike Gabriel
Written by: Jim Cox, Karey Kirkpatrick, Byron Simpson, and Joe Ranft
Bernard and Miss Bianca returned in The Rescuers Down Under, the first Walt Disney Animation Studios sequel to another film in the canon. Unlike the vast majority of sequels, The Rescuers Down Under improves on its predecessor with stronger animation, more developed characterization, and an even tenser, action-driven story. Perhaps the only reason the film isn't better regarded is that it emerged during the Disney Renaissance, which had begun the previous year with The Little Mermaid. And compared to the rest of the films made during that time, The Rescuers Down Under falls a little short. Frankly, it's sort of unfair to hold an otherwise delightful film to that nearly impossible standard. Aside from Bob Newhart and Eva Gabor, who reprise their roles as Bernard and Bianca, John Candy also joins the cast for the memorable role of albatross Wilbur, the brother of Orville from the first film. He gets some of the best scenes and adds enough comic relief to counter the stress of the main plot, in which a poacher kidnaps a young boy named Cody to capture a giant golden eagle.
29.
Hercules (1997)
Directed by: Ron Clements and John Musker
Written by: Ron Clements, John Musker, and Barry Johnson
If you know anything about Greek mythology, Hercules is somewhat perplexing. It's a muddled adaptation of classic myths, in which Hades is recast as the villain simply because he has the misfortune of ruling over the Underworld. Luckily, there's still a lot to like. Hercules is an interesting character — he's generally good, but once he finds fame, he begins to feel the burden of celebrity. Zeus is forced to intervene and admonish his son for resting on his laurels. And Megara is far from the typical Disney Princess: She spends much of the film secretly working for Hades against her will, which imbues her with rare moral ambiguity. The music is fun and has a distinctly gospel flair — something Disney hadn't explored up to this point — when the Muses, the film's narrators, are involved. The biggest mark against Hercules is the animation, which is exaggerated and cartoony, giving the movie a more juvenile feel despite the intense action sequences. Even worse is the CGI Hydra, which is rendered with then state-of-the-art technology that now looks awkward and amateurish.
28.
One Hundred and One Dalmatians (1961)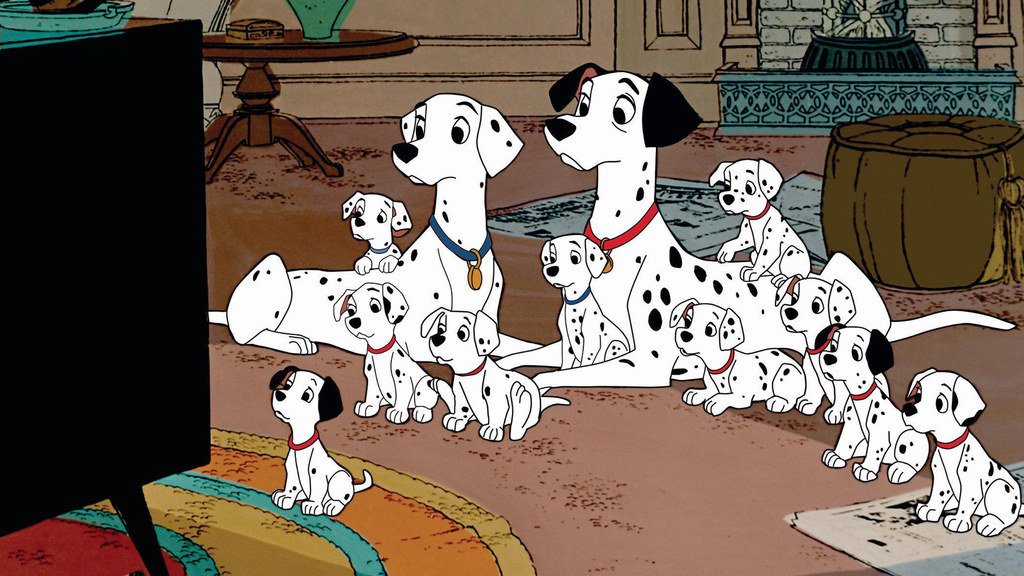 Directed by: Clyde Geronimi, Hamilton Luske, and Wolfgang Reitherman
Written by: Bill Peet
The focus of One Hundred and One Dalmatians is on the title dogs, led by parents Pongo and Perdita. (Pongo thinks of his owner Roger as his pet and sets about finding him a mate, Perdita's owner Anita.) But Cruella De Vil is iconic: She's one of Disney's most well-known villains, thanks to her distinctive design, wretched behavior (she wants to murder and skin puppies), and that song. "Cruella De Vil" is the only real song in One Hundred and One Dalmatians, but it's memorable enough to make up for the general absence of music. Cruella is thoroughly frightening, and watching her ruthlessly pursue the dogs makes the film an unbearably stressful experience at times. Naturally, they survive — even Disney wouldn't be that cruel — thanks to the "Twilight Bark" that Pongo and Perdita use to communicate with other dogs in London. It's immensely satisfying to see the animals working together to save the puppies' hides. And it's all animated with a wonderfully stylized '60s feel that keeps One Hundred and One Dalmatians fun even when you're on the edge of your seat.
27.
Meet the Robinsons (2007)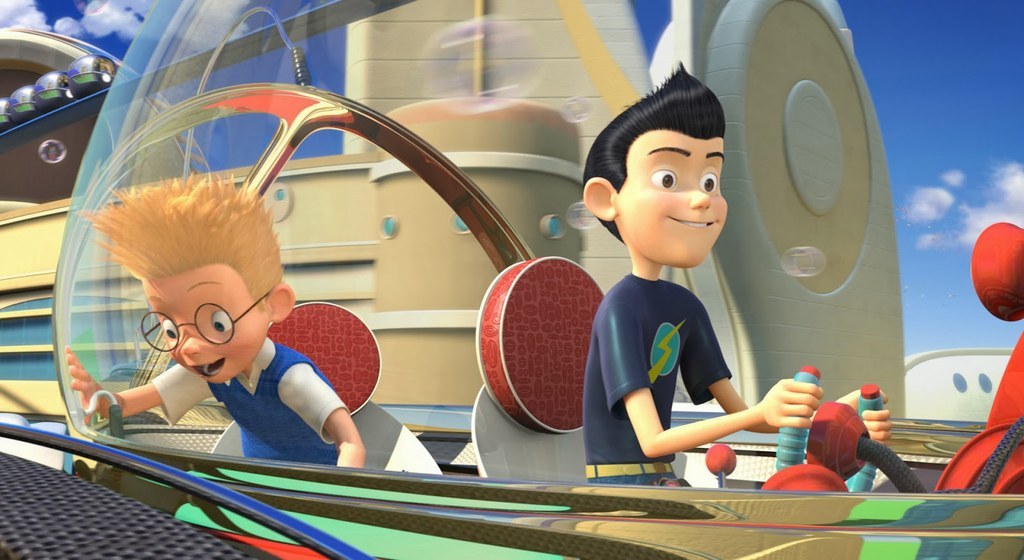 Directed by: Steve Anderson
Written by: Jon A. Bernstein, Michelle Spritz, and Nathan Greno
Meet the Robinsons is a zany sci-fi comedy that packs a surprising emotional punch. It catches you off guard with its beautiful themes and tear-jerking ending, but that's what Disney so often does best. Before that, however, Meet the Robinsons is notable for its detailed and fully realized depiction of the world in 2037. At its center are Lewis, a young inventor left at an orphanage, and Wilbur Robinson, who arrives from the future and introduces Lewis to the eccentric Robinson family. There are too many characters to really keep track of, but that doesn't matter — what's important is that the Robinsons, for all their oddness and personality quirks, stick together as a family when it counts. (Like, for example, when a dinosaur attacks.) The reveal of Lewis's true identity is a little obvious, but it's still a wonderful twist that plays out in a powerful conclusion. If you don't start crying when Lewis ventures back in time to see his birth mother and then makes the touching sacrifice not to reach out to her, you're as soulless as Doris, the evil robotic bowler hat.
26.
Snow White and the Seven Dwarfs (1937)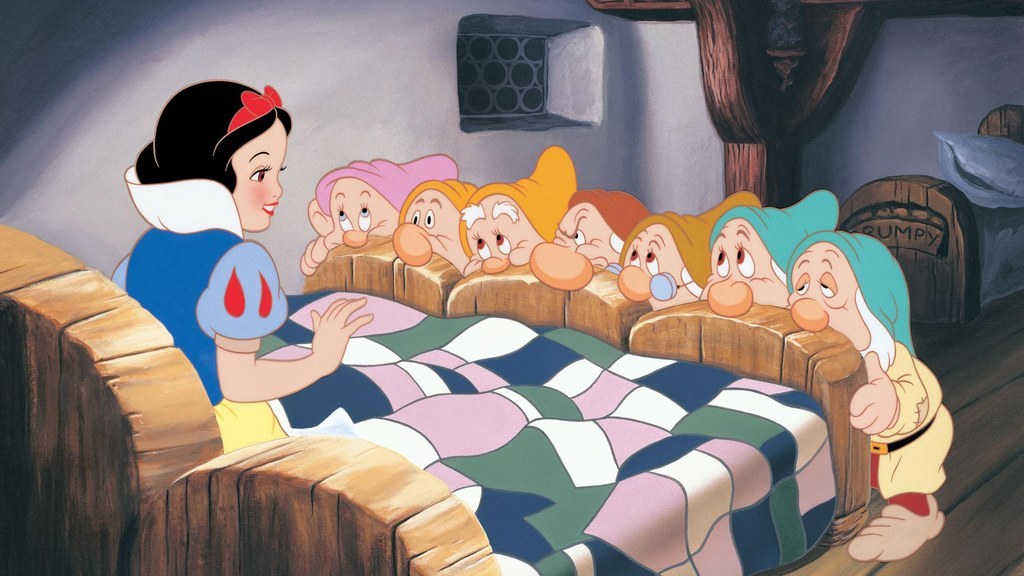 Directed by: David Hand, William Cottrell, Wilfred Jackson, Larry Morey, Perce Pearce, and Ben Sharpsteen
Written by: Ted Sears, Richard Creedon, Otto Englander, Dick Rickard, Earl Hurd, Merrill De Maris, Dorothy Ann Blank, and Webb Smith
Because it was the very first film produced by Walt Disney Animation Studios, Snow White and the Seven Dwarfs will always be beloved — its influence is incalculable. If the film, which went against conventional wisdom at the time, hadn't been a hit, it's unlikely that the many films that followed would have happened. So credit where credit's due: Snow White had a tremendous influence on Disney and on animation as a whole. That having been said, some parts of it work better than others. The scary elements — Snow White lost in the forest and the Evil Queen's transformation into an old hag — are the most effective. Too much time is spent on the antics of the dwarfs, with long drawn-out scenes of domesticity as Snow White takes on a matriarchal role. The romance between Snow White and her prince is basically nonexistent (he just shows up at the end to kiss her awake), but the song "Someday My Prince Will Come" remains a standard for a reason.
25.
The Emperor's New Groove (2000)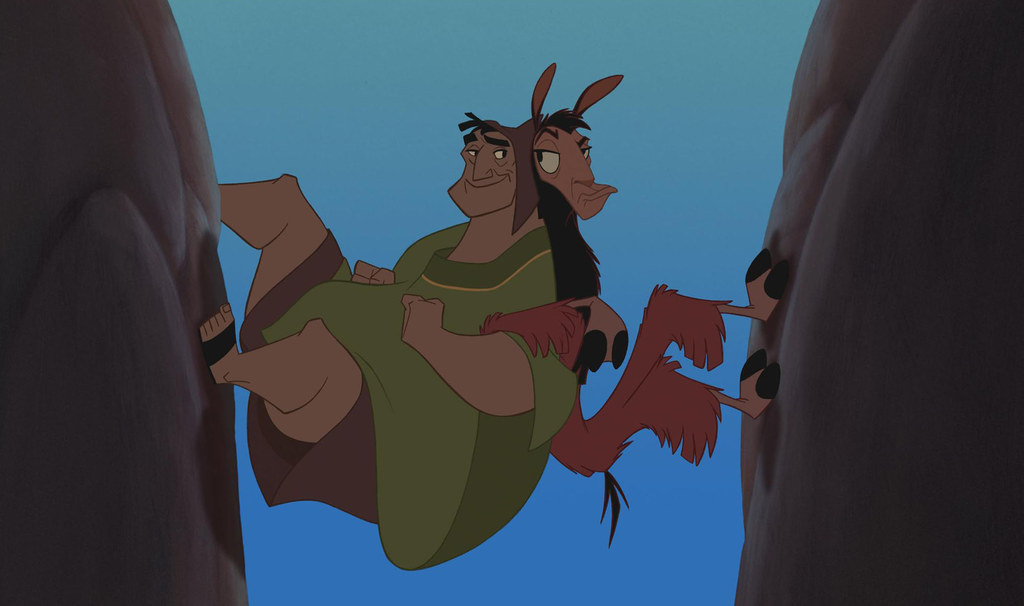 Directed by: Mark Dindal
Written by: David Reynolds
At one point, The Emperor's New Groove was a completely different movie. It was first developed as an epic musical, Kingdom of the Sun, with a score by Sting. How that turned into a lighthearted buddy comedy is the subject of the documentary The Sweatbox — but that's neither here nor there. Regardless of how great Kingdom of the Sun might have been, The Emperor's New Groove is a lot of fun in its own right. It's one of those rare children's movies that's effortlessly hilarious for adults as well: Standout characters Yzma and her henchman Kronk, voiced by the great Eartha Kitt and Patrick Warburton, respectively, get most of the laughs, but there's plenty of humor to be mined from the relationship between emperor-turned-llama Kuzco and peasant Pacha. The story proceeds about as you'd expect, with the requisite lessons learned, but the characters and jokes are strong enough to keep the audience entertained.
24.
Tangled (2010)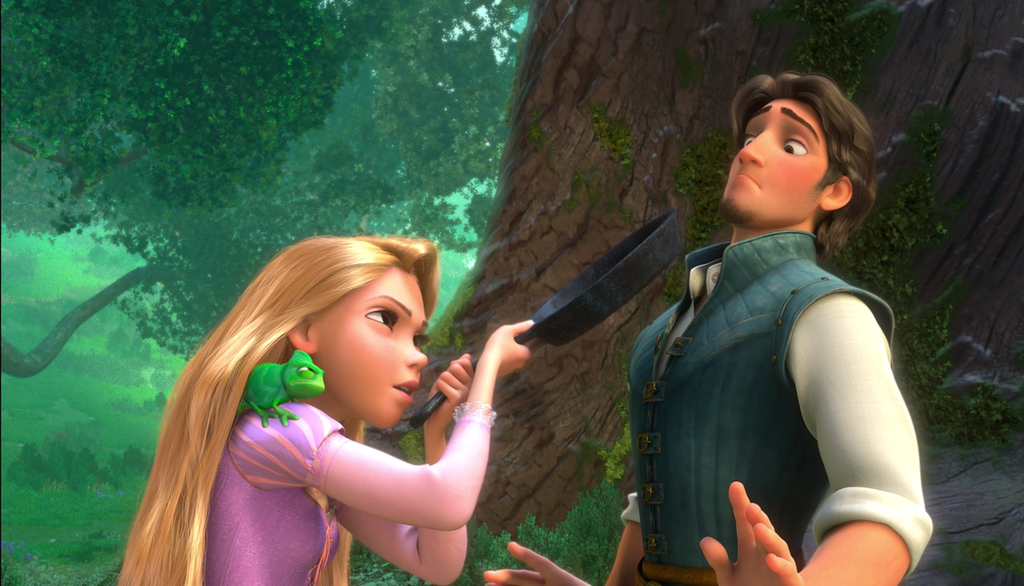 Directed by: Nathan Greno and Byron Howard
Written by: Dan Fogelman
Like The Princess and the Frog and Frozen, Tangled takes a traditional fairy tale and subverts it. Here, Rapunzel has a complicated relationship with her captor, Mother Gothel, and her "prince" is actually the thief Flynn Rider (real name: Eugene Fitzherbert). Most importantly, Rapunzel is transformed from the passive victim of the original story to a veritable action hero who uses both her cunning and her hair to save the day. There are a couple exceptional songs along the way, including "Mother Knows Best" (sung by Broadway star Donna Murphy as Mother Gothel) and "I See the Light," a romantic duet between Rapunzel and Eugene. As with some of the other recent Disney musicals, the biggest problem with Tangled is the pacing: These films tend to be front-loaded with songs and then spend too much time on straight action. The ending is also a little disappointing: Mother Gothel is quickly dispatched without much grief from Rapunzel. It's a weak conclusion to the complicated relationship the film sets up from the beginning.
23.
Wreck-It Ralph (2012)
Directed by: Rich Moore
Written by: Phil Johnston and Jennifer Lee
Wreck-It Ralph is a brilliant concept: An arcade game villain who dreams of becoming a hero travels to other games in his quest for glory. It's a hilarious and sharp look at video games, filled with ample wit and plenty of cameos. (Mario never actually shows up, although he's talked about, but Bowser gets some screen time.) The bulk of the film is spent in the Mario Kart–style racing game Sugar Rush, where Ralph connects with a glitch named Vanellope. It's a little disappointing that Wreck-It Ralph doesn't spend more time exploring the world it's created, but there's room for more of that in the planned sequel. And that's only a minor quibble given how successful the film is otherwise. The voice talent is especially great: John C. Reilly is Ralph, Sarah Silverman is Vanellope, and Alan Tudyk does an uncanny impression of Ed Wynn (the Mad Hatter in Alice in Wonderland) in order to portray the villainous King Candy. Wreck-It Ralph is sweet and richly detailed, but because there's so much material the writers could have mined from the arcade setting, it leaves you wanting a little more.
22.
Moana (2016)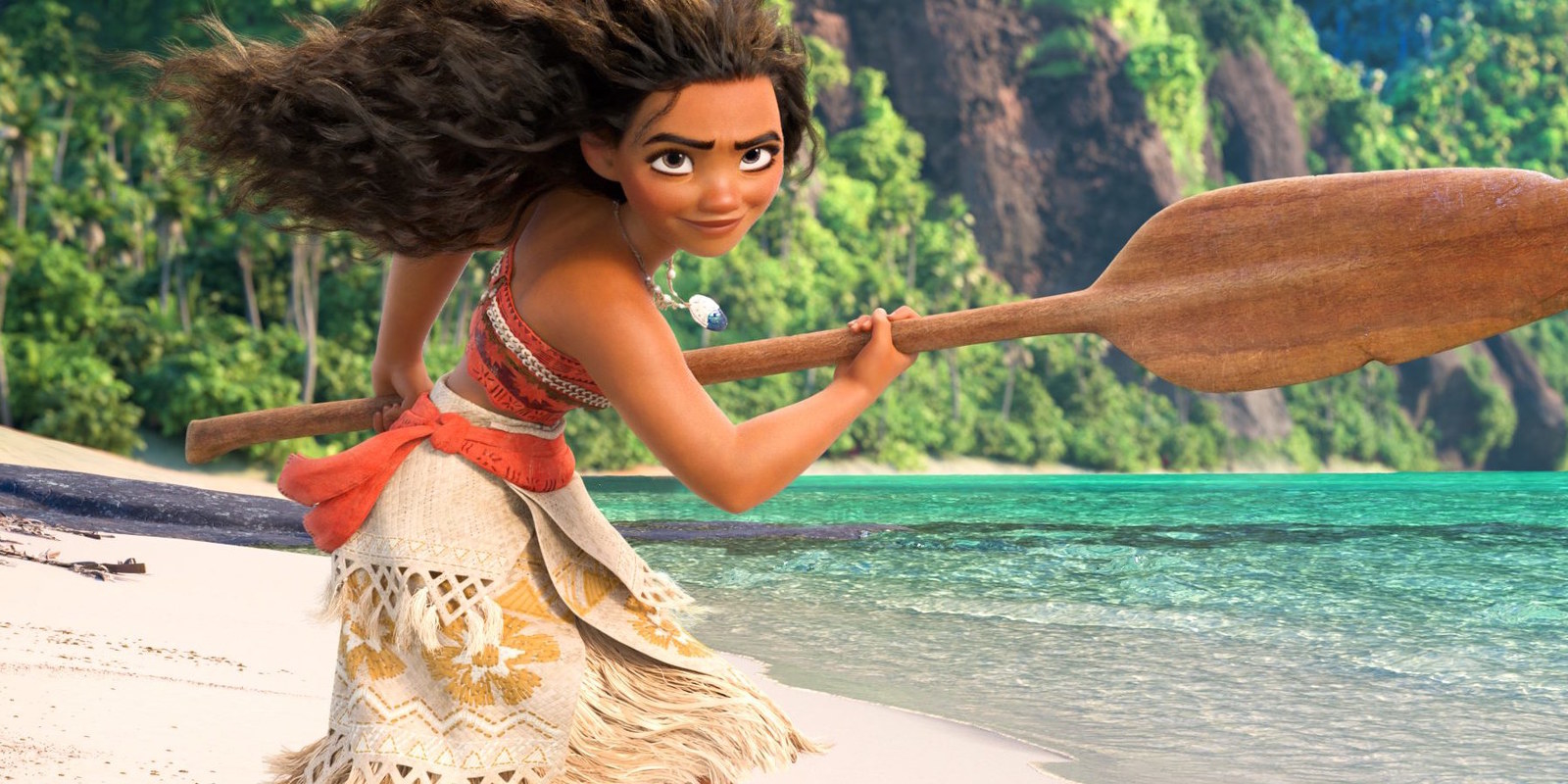 Directed by: Ron Clements, Don Hall, John Musker, and Chris Williams
Written by: Jared Bush
There is a lot to love about Moana, another modern Disney Princess movie that unpacks what it means to be a Disney Princess: She doesn't need a man (Frozen), she's not white (The Princess and the Frog), and she can be the hero of her own story (Tangled). The film is admirable in its commitment to reflecting Disney's progressive values, but it's not a major step forward so much as a reminder of how far we've come. While the representation is worth celebrating, the film as a whole isn't exactly groundbreaking. Let's look at the positives: Moana herself, voiced by newcomer Auli'l Cravalho, is a dynamic addition to the Disney Princess roster. Her quest to find the demigod Maui and save her dying island is a creative reworking of a Polynesian myth, and the story takes genuinely exciting turns aided by what may be Disney Animation Studios' most gorgeous computer animation yet. But the biggest point in Moana's favor is the original music by Lin-Manuel Miranda and Opetaia Foa'i, including the instantly iconic addition to the long history of Disney "I want" songs, "How Far I'll Go." And therein lies the problem — the lyrics, however catchy, are nearly identical to those in "Part of Your World" or "Reflection." For a movie that might otherwise be a thoroughly innovative addition to the canon, it's all a little too familiar. Ultimately, Moana is good not because it takes chances, but because it knows what works.
21.
Big Hero 6 (2014)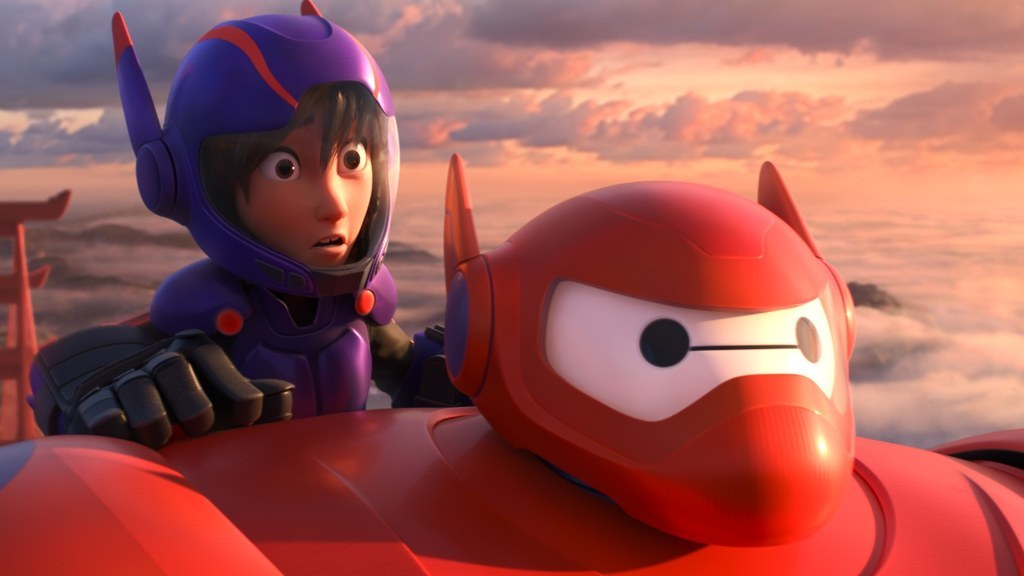 Directed by: Don Hall and Chris Williams
Written by: Jordan Roberts, Dan Gerson, and Robert L. Baird
First things first: Big Hero 6 is absolutely gorgeous. It is a stunning achievement in animation. The city of San Fransokyo, a combination of San Francisco and Tokyo, is a breathtaking backdrop for the action, which centers around a boy named Hiro forming a superhero team with Baymax, the robot his late brother Tadashi left behind. Animation aside, Big Hero 6 is a lot of fun to watch, and it has plenty of heart. Like so many Disney classics, it features a traumatic death early on — Tadashi is killed in an explosion at his university — but it pays off with the catharsis that comes from Hiro learning to let love back into his life, as he embraces Tadashi's friends and Baymax, who quite literally wants to heal Hiro. The story itself is a little weak, if only because it's essentially an origin story, which we've seen time and time again. It would be more interesting to see Hiro leading an established team — perhaps we'll see that in the sequel — or at least more of the group in action. By the time they've formed a crime-fighting unit, Big Hero 6 is nearly over.
20.
The Sword in the Stone (1963)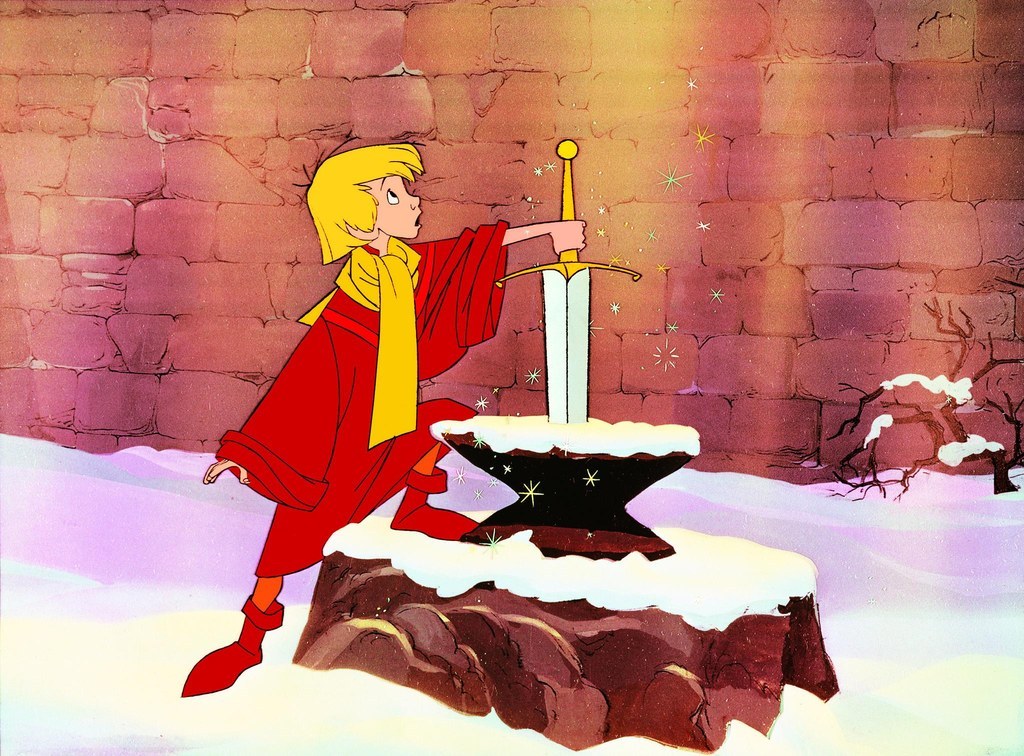 Directed by: Wolfgang Reitherman
Written by: Bill Peet
The Sword in the Stone has a markedly unusual structure. Based on The Once and Future King by T. H. White, which is itself based on Arthurian mythology, the film tracks the mentorship of the orphan "Wart" (soon to be King Arthur) by the wizard Merlin. The story doesn't follow traditional beats. Instead, it's essentially a series of vignettes: Merlin turns Arthur into a fish, then a squirrel, then a sparrow. Along the way, lessons are learned and songs are sung. The Sword in the Stone could be criticized for a lack of focus, but it's frankly too enjoyable to question. Besides, the themes are strong enough to link Arthur's misadventures. Under Merlin's tutelage, Arthur learns about love and empathy — and that magic can't solve every problem. It's surprisingly poignant, culminating in the long-awaited moment when Arthur pulls the sword from the stone and proves himself a worthy successor to the throne. It's also very funny: Although The Sword in the Stone takes place during Arthurian times, Merlin can travel through time and enjoys confounding his contemporaries with modern references.
19.
The Great Mouse Detective (1986)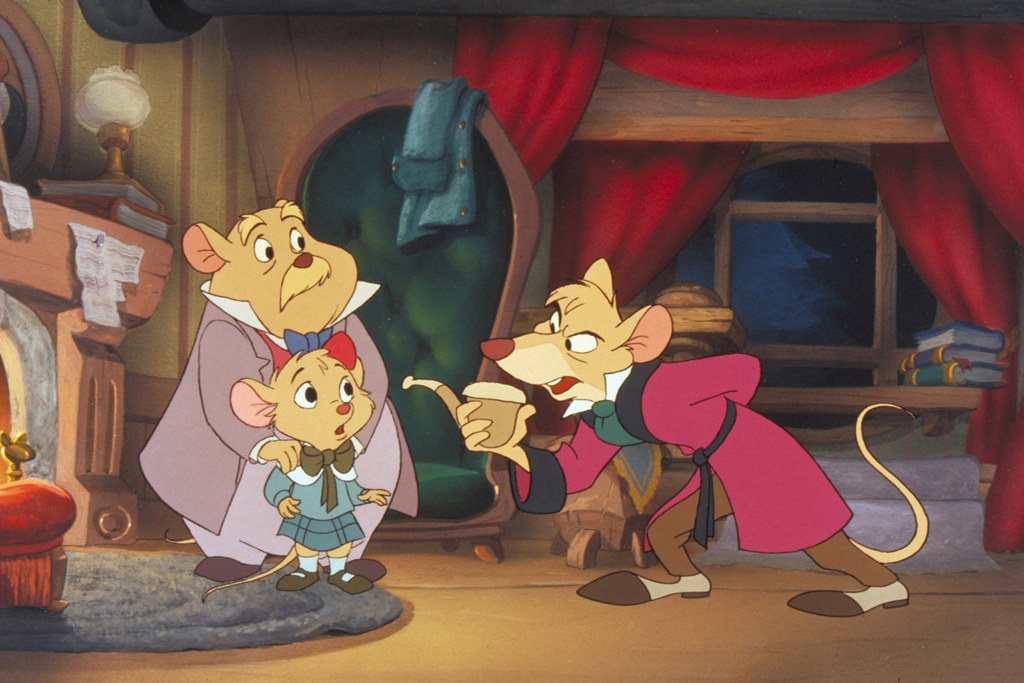 Directed by: Ron Clements, Burny Mattinson, Dave Michener, and John Musker
Written by: Pete Young, Vance Gerry, Steve Hulett, John Musker, Ron Clements, Bruce Morris, Matthew O'Callaghan, Burny Mattinson, Dave Michener, and Mel Shaw
It's sad that The Great Mouse Detective is so often overlooked. Set in late 19th century London, the mystery follows the Sherlock Holmes–inspired Basil of Baker Street, commissioned by Dr. David Dawson to find the missing father of a young mouse named Olivia. The characters are charming — they have distinctive personalities and voices, not to mention English accents — and the plot is engaging. The villain, Professor Ratigan, gets one of the best villain songs in Disney history, the aptly named "The World's Greatest Criminal Mind." (Though, let's face it, the villain songs are almost always the best in any given Disney film.) Perhaps The Great Mouse Detective is largely forgotten because it arrived between the disaster of The Black Cauldron and the Disney Renaissance. But it's certainly worthy of reappraisal. Funny and captivating, it almost feels like the jumping-off point for a series that never happened. Should Disney ever want to revisit Basil, the book series that introduced him, written by Eve Titus, has plenty more mysteries to choose from.
18.
Atlantis: The Lost Empire (2001)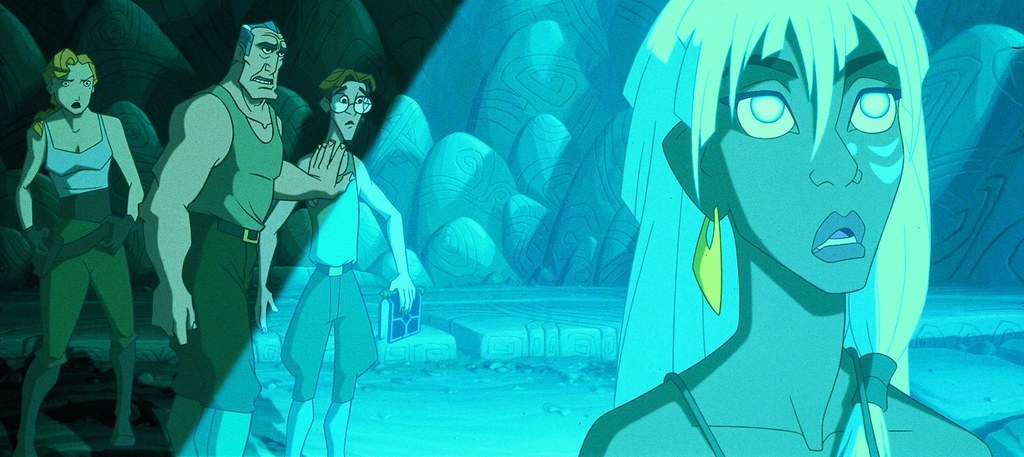 Directed by: Gary Trousdale and Kirk Wise
Written by: Tab Murphy
You can't overemphasize the amount of detail that went into Atlantis: The Lost Empire — how many other Disney films can say they inspired an entire language? (Atlantean was developed specifically for the film by linguist Marc Okrand, who also created the Klingon language for Star Trek.) Atlantis: The Lost Empire is a dynamic sci-fi adventure grounded in some very well-developed characters and, naturally, a strong emotional core. Milo Thatch is a dorky loser who also turns out to be a hero, and each member of his team is granted distinctive characteristics and backstories that are revealed throughout the film. The land of Atlantis is equally intricate, as are its inhabitants, led by Milo's romantic interest, Princess Kida. In many respects, Atlantis is an old-fashioned adventure story, a throwback in the tradition of Indiana Jones (if Indy were a total spaz). But it's also aided by technology that combines 2D animation (inspired by comic artist Mike Mignola) and more CGI than had ever been used in a Disney film at that point. The climactic fight for Atlantis is a sight to behold.
17.
Bolt (2008)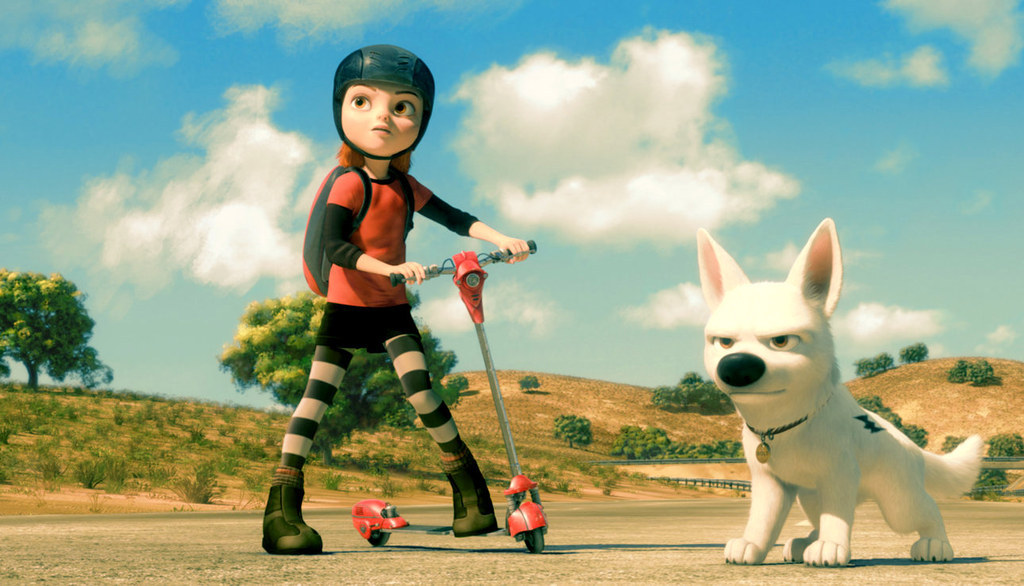 Directed by: Chris Williams and Byron Howard
Written by: Dan Fogelman and Chris Williams
The way Bolt starts out, it looks like it's going to be another sci-fi adventure, like so many of Disney's films in the first decade of the 2000s. But the twist is that Bolt the dog only thinks he's a genetically modified superhero, when in fact he's the star of a popular TV series alongside his owner Penny. It's a neat twist that inspires a lot of humor (and some pathos) as Bolt escapes into the real world and is forced to learn his own limitations the hard way. Most Disney films have sidekicks, but Bolt has two of the most memorable: Mittens, an alley cat voiced by Susie Essman, and Rhino, a portly hamster trapped in a ball who's voiced by Mark Walton. Despite not being a professional actor, Walton turns in a performance that elevates the film to new comedic heights. But, of course, Bolt is also a moving story about the relationship between a dog and his person: There's no real villain here, just the distance separating Bolt and Penny. Their inevitable reunion makes for a gorgeous and well-earned conclusion. If that doesn't make you cry, the Jenny Lewis song "Barking at the Moon" will.
16.
Lilo & Stitch (2002)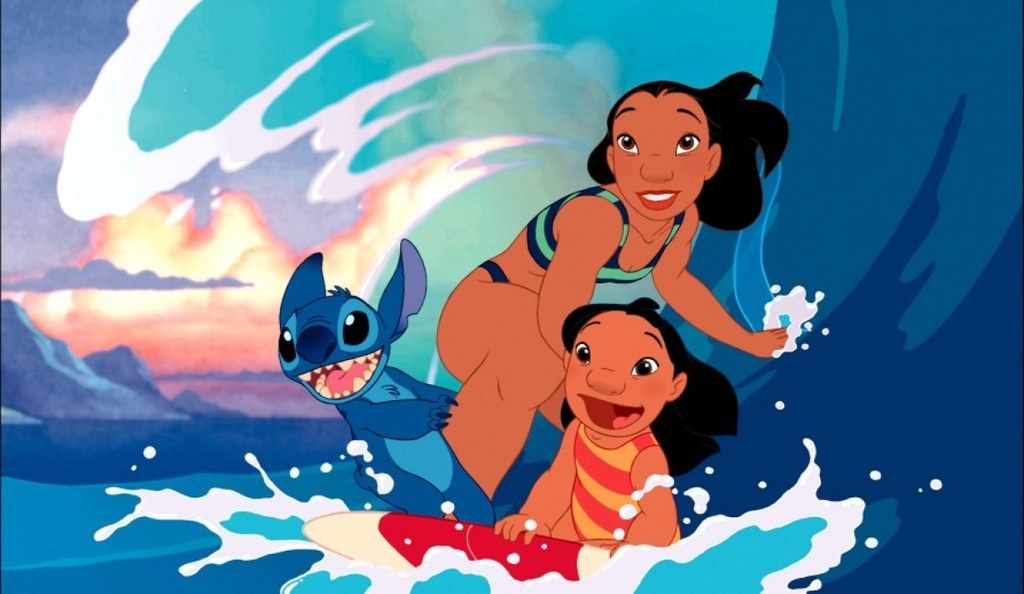 Directed by: Chris Sanders and Dean DeBlois
Written by: Chris Sanders and Dean DeBlois
"Ohana means family. Family means no one gets left behind." This oft-repeated line is thematically crucial not only to Lilo & Stitch but to Disney as a whole. So many of the films on this list center on the concept of chosen family, those you love and accept as your own regardless of blood (or species). That idea is beautifully realized in Lilo & Stitch, a deceptively mature film about a troubled little girl and her alien pet. There's a lot to love about the movie, from the unique watercolor animation style (which also allows its characters to have curvy human bodies instead of the unrealistic Disney Princess ideal) to the very serious issues it addresses (Lilo's sister Nani wants to keep her, but the threat of foster care looms large). Because the image Lilo & Stitch conjures is of a blue alien in a hula skirt, it's easy to dismiss the film as frivolous. But in fact, it's the most thoughtful and moving of the early 2000s Disney films. And with "ohana," a word whose inclusion reflects a commitment to authentically representing Hawaiian culture, we have a term for a concept that has made Disney beloved for generations.
15.
Bambi (1942)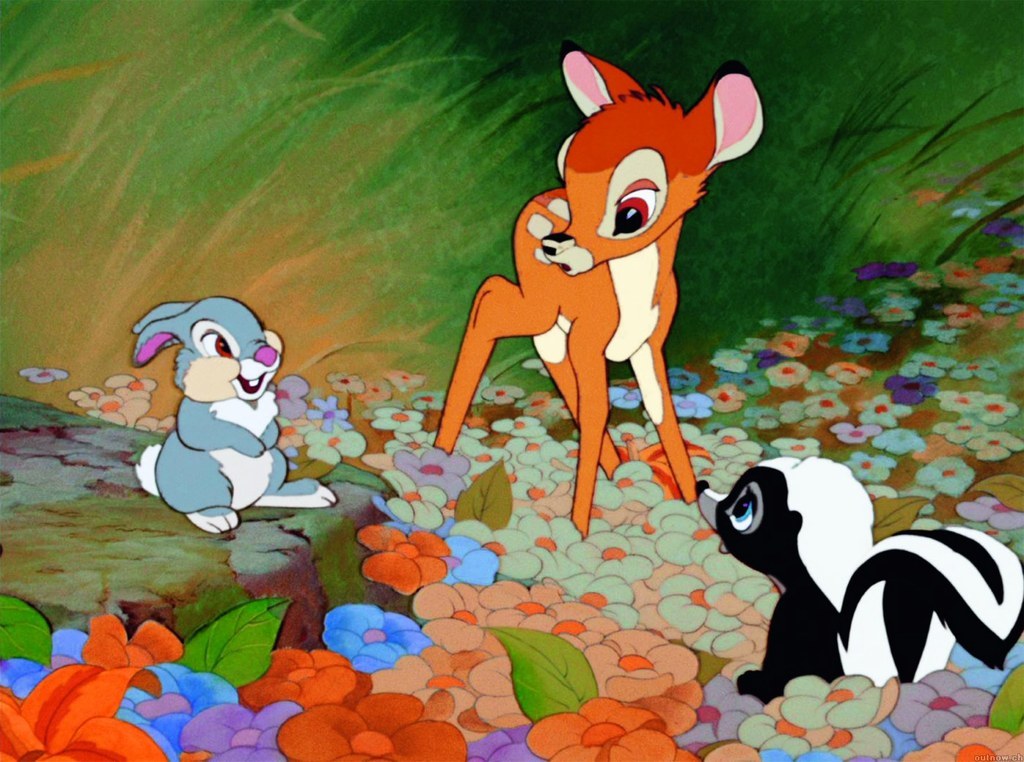 Directed by: David Hand, James Algar, Samuel Armstrong, Graham Heid, Bill Roberts, Paul Satterfield, and Norman Wright
Written by: Perce Pearce, Larry Morey, Vernon Stallings, Melvin Shaw, Carl Fallberg, Chuck Couch, and Ralph Wright
What everyone remembers about Bambi is that Bambi's mother dies, shot offscreen by a hunter. What fewer remember is that Bambi is a truly beautiful film. It's simple, yes, but that works to its advantage. Without much of a plot, Bambi is more about capturing feelings: the pain of loss, the excitement of new love, the joy of rebirth. Bambi grows from youth to adulthood along with his friends Thumper, a rabbit, and Flower, a skunk. Rather than focus too much on the details, the film opts for a more stylized approach. It's surprisingly artful for an early Disney film: There's plenty of attention paid to color and light, all of which is complemented by a lovely and occasionally haunting score. And yes, the death of Bambi's mother is important — it's a moment that adults recall watching as kids, when we lost a little bit of our innocence and learned not only that we could lose a parent, but also that man is capable of great evil. What Disney villain cast a more imposing shadow than that unseen hunter?
14.
Cinderella (1950)
Directed by: Clyde Geronimi, Hamilton Luske, and Wilfred Jackson
Written by: Ken Anderson, Perce Pearce, Homer Brightman, Winston Hibler, Bill Peet, Erdman Penner, Harry Reeves, Joe Rinaldi, and Ted Sears
Aside from the films of the Disney Renaissance, Cinderella is the quintessential Disney fairy tale adaptation. It's a fairly straightforward take on the Cinderella story as told by French author Charles Perrault. (There are countless other iterations of the tale, including a version by the Brothers Grimm.) After the dreaded package film era of the '40s, Cinderella was a necessary example of what Disney could do with animation: It tells a complete story with memorable characters and catchy songs. It's also terribly romantic. Even if you reject the idea of love at first sight, you can't help but swoon at Cinderella and Prince Charming serenading each other with "So This Is Love." If there's a complaint to be made about Cinderella it's that an awful lot of time is spent on the eponymous character's mouse friends. But that's really a matter of taste — sorry, Gus Gus fans — and it doesn't take away from the simple satisfaction of watching the glass slipper slide effortlessly onto Cinderella's foot and earning her the most Disney of all endings: a "happily ever after."
13.
Tarzan (1999)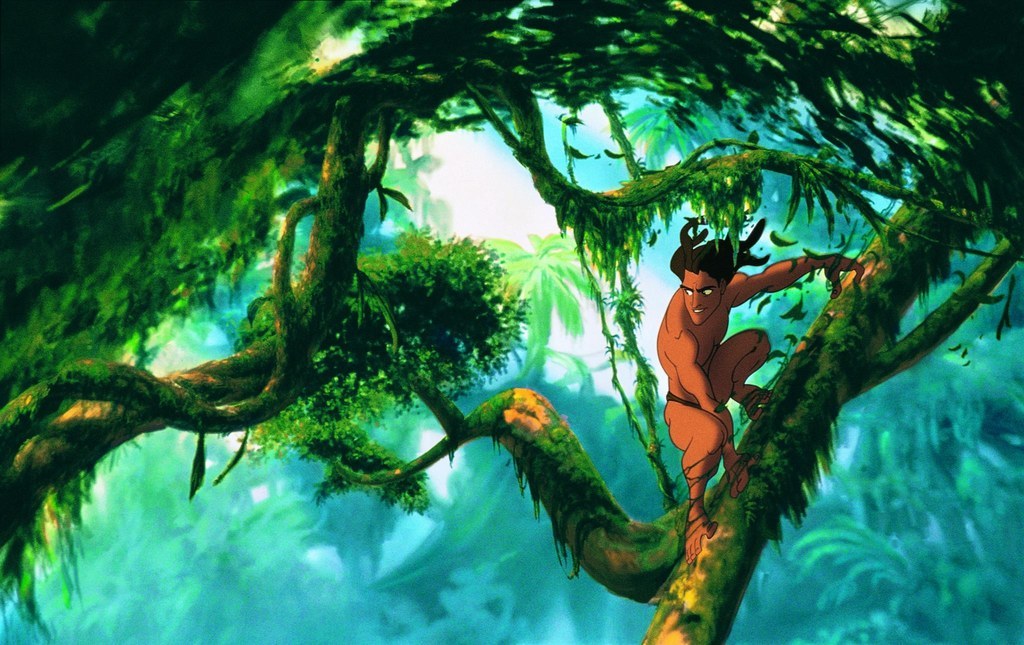 Directed by: Kevin Lima and Chris Buck
Written by: Tab Murphy, Bob Tzudiker, and Noni White
In many ways, Tarzan doesn't feel like other Disney films, especially the Disney Renaissance movies of the '90s. The Phil Collins songs, in particular, seem like they belong more on a concept album than in a Disney musical. And the story veers into dark terrain with some shocking (albeit mostly bloodless) displays of violence. But at its core, Tarzan is actually right at home among other Disney classics. Tarzan himself isn't dissimilar to Mulan: He's a person who is at odds with his surroundings. He is confounded by his own reflection. Both stories teach the valuable lesson of not changing to fit in with those who don't understand you; in fact, Tarzan and Mulan encourage the outside world to change to suit their needs instead. Tarzan also showcases some of the very best animation of the time. The jungle is richly detailed and displayed with impressive depth. Just as Tarzan swings with ease from tree to tree, his movements are perfectly captured. And because this is Disney, of course there are tears: Kerchak's death is sad, but it's Kala showing Tarzan his birth family that packs the real emotional punch.
12.
Lady and the Tramp (1955)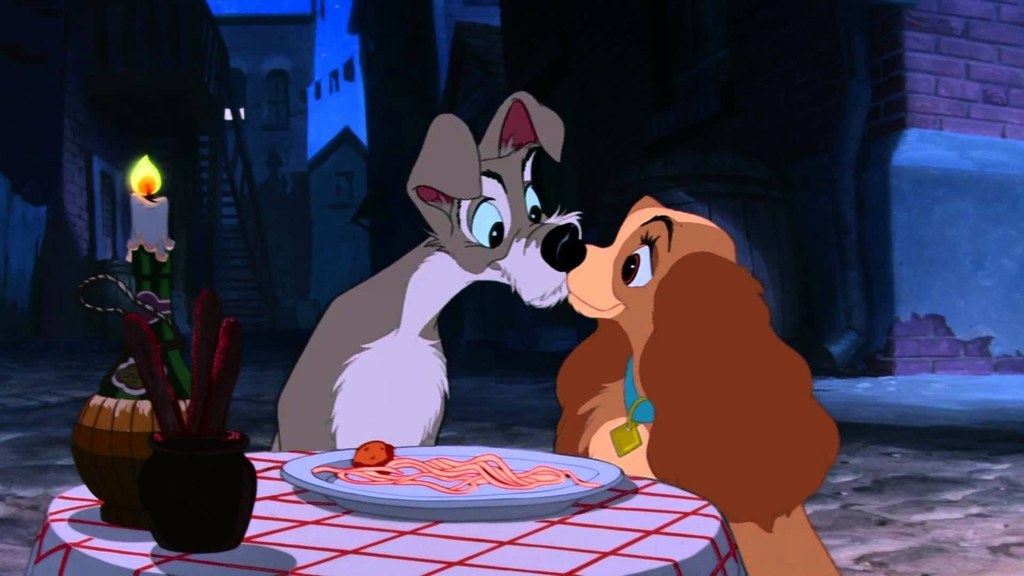 Directed by: Clyde Geronimi, Wilfred Jackson, and Hamilton Luske
Written by: Erdman Penner, Joe Rinaldi, Ralph Wright, and Don DaGradi
As was often the case when they had to draw animals, Disney animators studied the real thing. For Lady and the Tramp, they brought in several different dog breeds and learned to draw their movements and expressions with exceptional detail. More than any other animal-centric Disney film, Lady and the Tramp shows how important these efforts were in creating authentic (and adorable) characters. The strength of the film, otherwise a pretty simple love story between dignified Lady and scrappy Tramp, is in how developed these characters are. And it's not just Lady and Tramp — there's also Jock the Scottish terrier, Trusty the bloodhound, and Si and Am the Siamese cats. (The less said about "The Siamese Cat Song," the better.) Archaic racial stereotypes aside, Lady and the Tramp is difficult not to fall in love with. The famous "Bella Note" scene, in which the dogs are serenaded while sharing a plate of spaghetti and meatballs, is as romantic as it ever was. Walt Disney originally worried it would look silly. How wonderful that the animators were able to prove him wrong.
11.
Frozen (2013)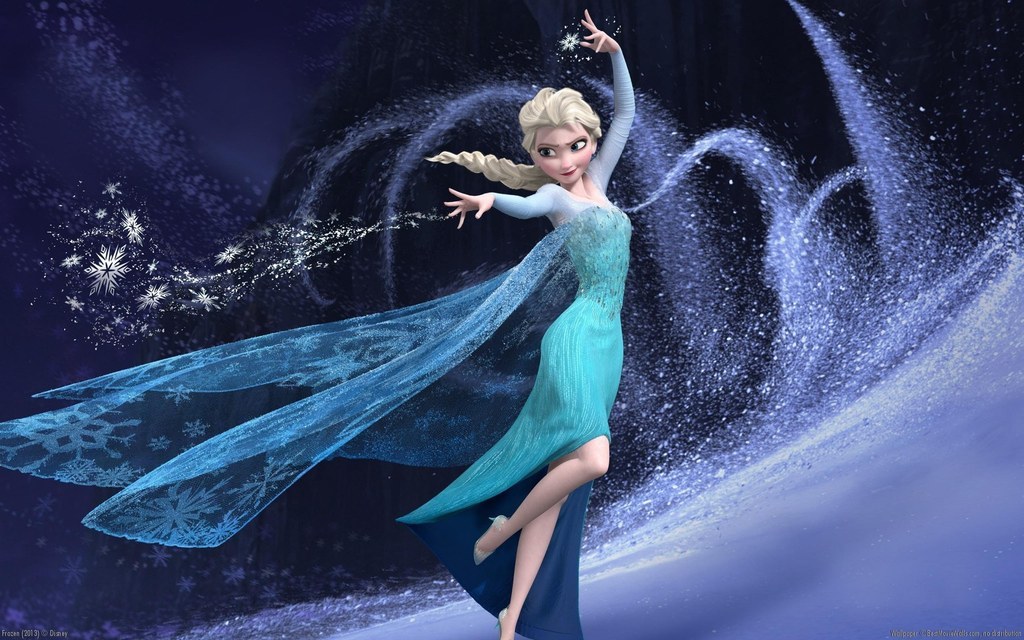 Directed by: Chris Buck and Jennifer Lee
Written by: Jennifer Lee
Frozen is an unprecedented phenomenon. It has blown up for Disney in a way that no one ever could have expected. It's also very recent, which makes it tougher to view with perspective. But here's the thing about Frozen: As easy as it is to make it a punchline (or to parody "Let It Go," as hundreds of YouTube videos can attest), it was successful for a reason. Like Tangled and The Princess and the Frog before it, Frozen subverts a traditional fairy tale with maturity, humor, and — dare I say it? — feminism. The fact that true love's kiss, that all-purpose fairy tale curse-breaker, is the kiss between two sisters is a pretty radical departure from standard Disney fare. Elsa and Anna are granted a complexity that the female characters before them were rarely afforded. More importantly, they're the center of their own universes: Romance, though present, is an afterthought. As was the case with Tangled, Frozen suffers a bit by front-loading itself with all the best songs, but because they're really great songs, it's easier to forgive. (Think back to when you heard "Let It Go" the first time, not the 8,000th.)
10.
The Jungle Book (1967)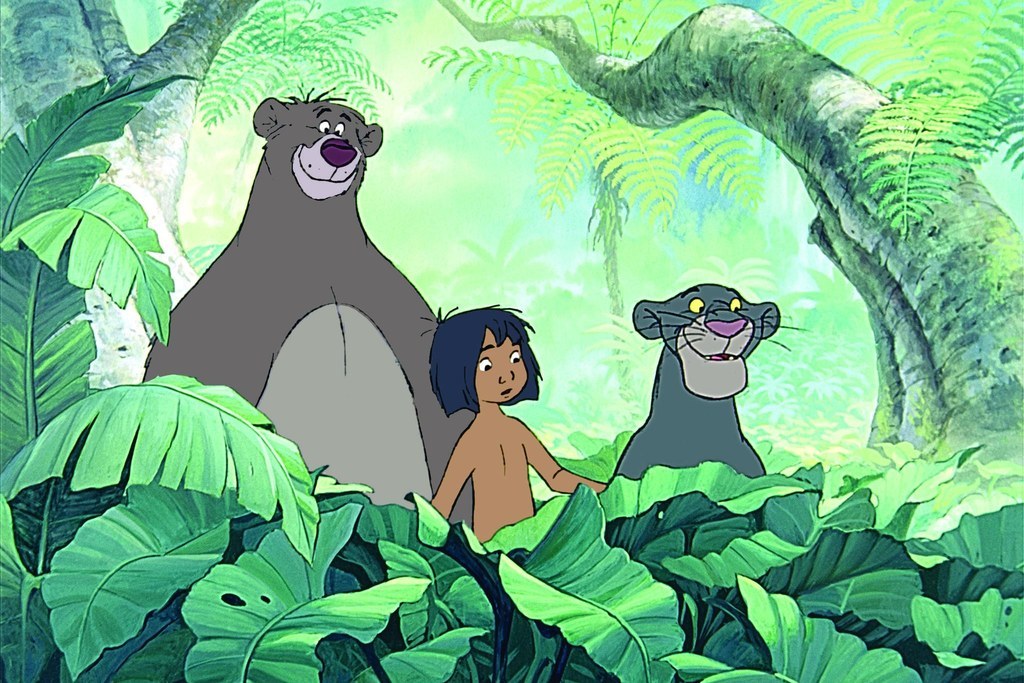 Directed by: Wolfgang Reitherman
Written by: Larry Clemmons, Ralph Wright, Ken Anderson, and Vance Gerry
Before Tarzan there was The Jungle Book. The Jungle Book is significantly lighter than its thematic cousin: Mowgli is just a child, and while he's frequently in peril, he manages to escape completely unscathed. (Baloo, Mowgli's lovable bear companion, is seriously injured by the tiger Shere Khan, but he pulls through after a genuinely stressful moment of uncertainty.) The Jungle Book offers a lot of what Disney does best — it blends the realistic with the cartoonish, the darkness of the jungle with a lighthearted tone, and linear storytelling with an aimless quality that allows for some charming diversions. Once again, the animals have distinctive personalities that take their animal characteristics into account while also embracing the human actors voicing them. There are seven songs by the legendary Sherman Brothers, including the wonderful "I Wanna Be Like You," sung by Louis Prima as King Louie the orangutan. (The other score standout, Baloo's "The Bare Necessities," was written by Terry Gilkyson.) Trying to get the latter out of your head is an exercise in futility.
9.
Pinocchio (1940)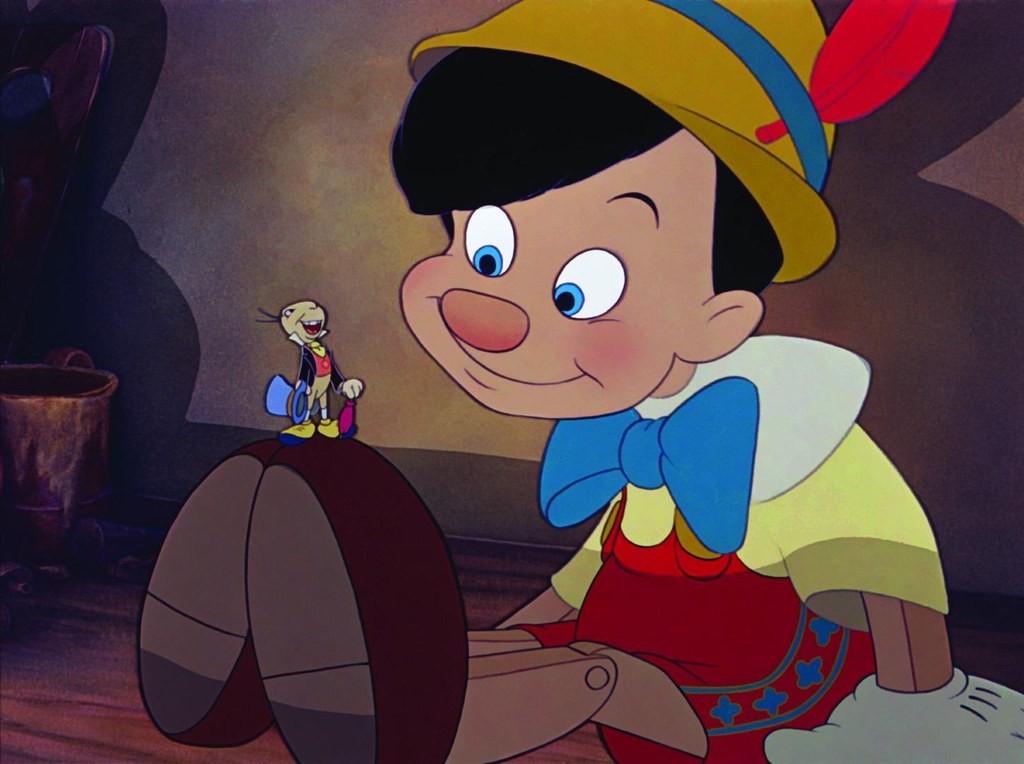 Directed by: Ben Sharpsteen, Hamilton Luske, William "Bill" Roberts, Norman Ferguson, Jack Kinney, Wilfred Jackson, and T. Hee
Written by: Ted Sears, Otto Englander, Webb Smith, William Cottrell, Joseph Sabo, Erdman Penner, and Aurelius Battaglia
It's incredible to see how much Walt Disney Animation Studios grew in just a few years by watching Snow White and Pinocchio back to back. Pinocchio is a nearly perfect animated fairy tale, made all the more impressive by the fact that it's Disney's second feature-length film. Like many of the Disney films that would come after it, Pinocchio is surprisingly adult. It's geared toward children, sure, but if anything, it's a cautionary tale: Tell a lie and your nose growing will be the least of your problems. Pinocchio suffers all manner of indignity, from almost transforming into a donkey to getting swallowed by a whale. But there's something admirable about the way the film refuses to pull any punches. At its best, Disney doesn't coddle its younger viewers or talk down to them. It's challenging and sometimes seriously frightening, but you're better for having seen it. Besides, the Blue Fairy turns Pinocchio into a real boy in the end. There's a lesson to be learned. When you wish upon a star, your dreams come true — but that doesn't mean there won't be trouble along the way.
8.
Alice in Wonderland (1951)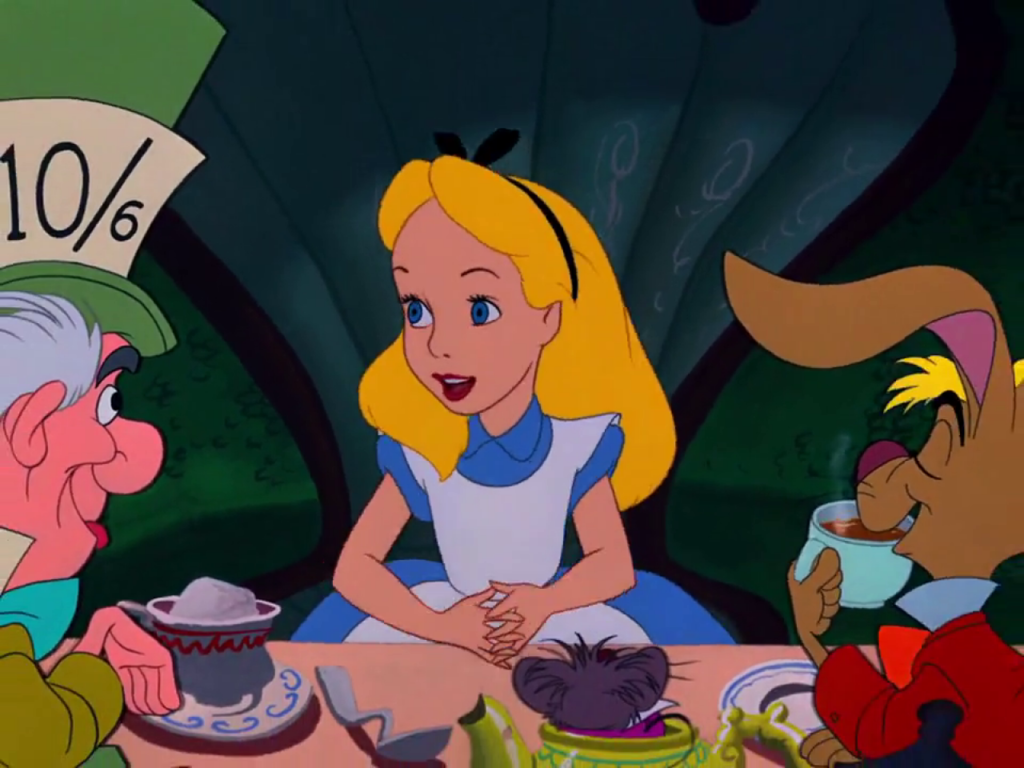 Directed by: Clyde Geronimi, Wilfred Jackson, and Hamilton Luske
Written by: Winston Hibler, Ted Sears, Bill Peet, Erdman Penner, Joe Rinaldi, Milt Banta, William Cottrell, Dick Kelsey, Joe Grant, Dick Huemer, Del Connell, Tom Ore, and John Walbridge
Lewis Carroll's Alice's Adventures in Wonderland and Through the Looking Glass have been adapted over and over again, but never more memorably than by Disney. Alice in Wonderland is both staggeringly original and instantly familiar. Although it's very much a classic Disney film — and still a product of its time —  it takes some real risks, all of which pay off. While Carroll deserves credit for the characters, they're brilliantly realized here: the Cheshire Cat, the Mad Hatter, Tweedledee and Tweedledum, and the Queen of Hearts are some of Disney's most recognizable characters. At one point, Salvador Dalí was on board to adapt these novels for Disney, and imagining what that might have looked like is intriguing. But there's also something to be said for what the Disney animators came up with: a film that wears its weirdness on its sleeve, but still manages to be accessible to the mainstream. Of all the beloved Disney films that left their mark on children the world over, Alice in Wonderland is very likely the strangest.
7.
Mulan (1998)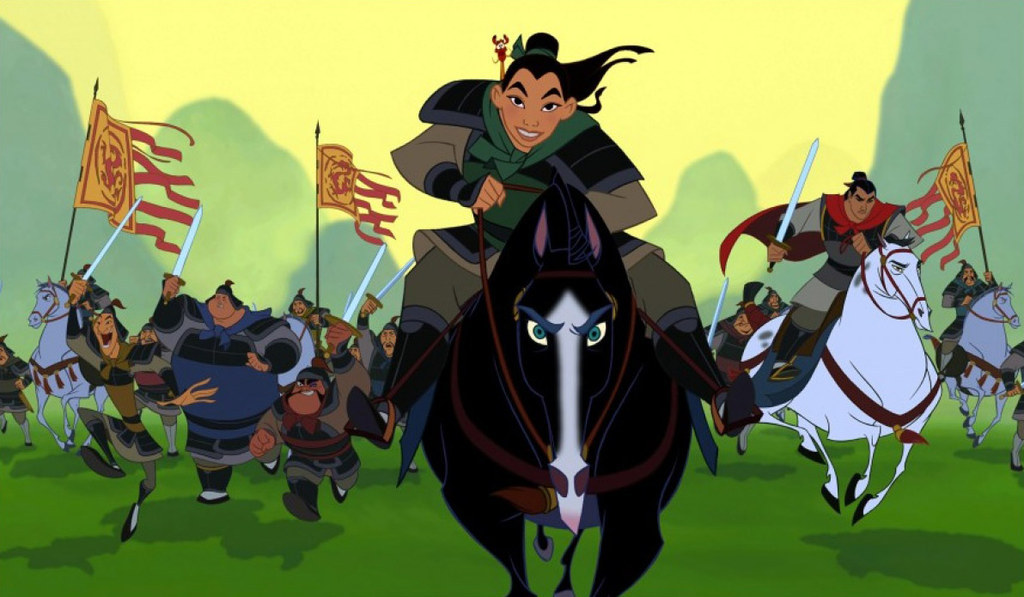 Directed by: Tony Bancroft and Barry Cook
Written by: Rita Hsiao, Philip LaZebnik, Chris Sanders, Eugenia Bostwick-Singer, and Raymond Singer
Disney has long been big with the gays: Thousands of words have been written on the topic, so it's not worth belaboring here. But it is important to note that Mulan, more than any other Disney film, feels like a love letter to embracing one's queer identity. The song "Reflection" has become a rallying cry, but while it's tempting to claim this for the gays, it's powerful for anyone who has ever felt uncomfortable in their own skin. Mulan herself is also the strongest Disney Princess, and not only in the physical sense. Like Ariel and Belle, she is fiercely independent, but she takes matters into her own hands in a way that few other Disney heroines do. Mulan is a queer icon — dressing up in men's clothing and subverting one's gender identity will do that — but she's also one of Disney's very best feminist role models. If the politics of Mulan bore you, there's obviously still plenty to be enjoyed. The action sequences are exciting, the jokes are on point, and "I'll Make a Man Out of You" is dangerously catchy. Enjoy Mulan on a surface level or engage with it critically: It's great either way.
6.
The Princess and the Frog (2009)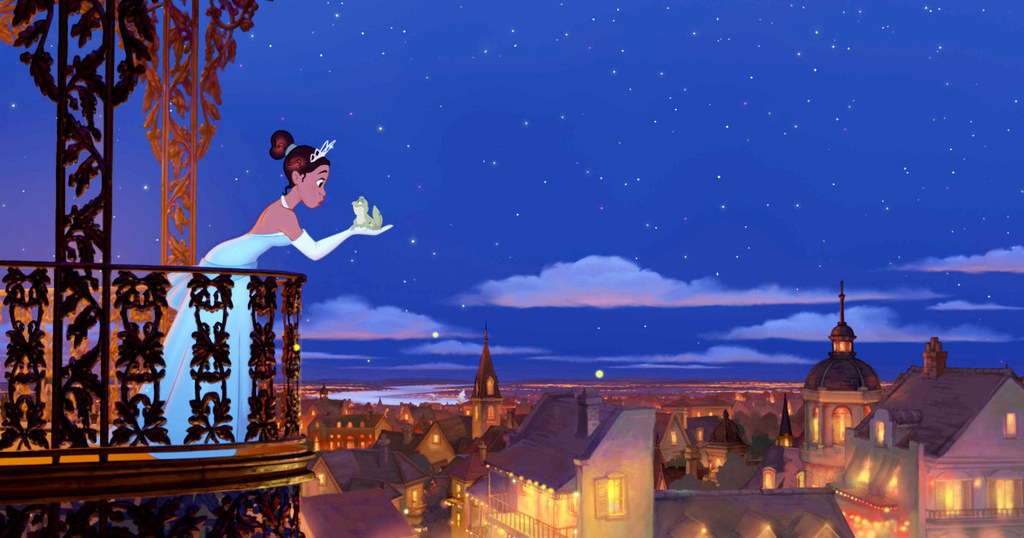 Directed by: Ron Clements and John Musker
Written by: Ron Clements, John Musker, and Rob Edwards
Yes, really. Of the more recent Disney films, it's nowhere near as popular as Frozen or even Tangled. But The Princess and the Frog is the closest Disney came in the 2000s to the heights of the '90s Disney Renaissance. It's a musical in the truest sense, with a Broadway sensibility that recalls The Little Mermaid and Beauty and the Beast. Tiana might not be as strong as Mulan, but she's an even more important Disney Princess: She's the purest articulation of the idea that you should never stop dreaming, but also never stop working toward your goals. The fact that she's a black woman, given Disney's less-than-stellar history with people of color, makes her stark independence and influential power that much more exciting. It's a real pity that The Princess and the Frog hasn't found the fanbase it deserves, but hopefully it's a film that will grow in people's estimation over time. At the very least, it's a stunning and necessary reminder of the emotional resonance of a strong story, rich music, and good old-fashioned 2D animation.
5.
The Hunchback of Notre Dame (1996)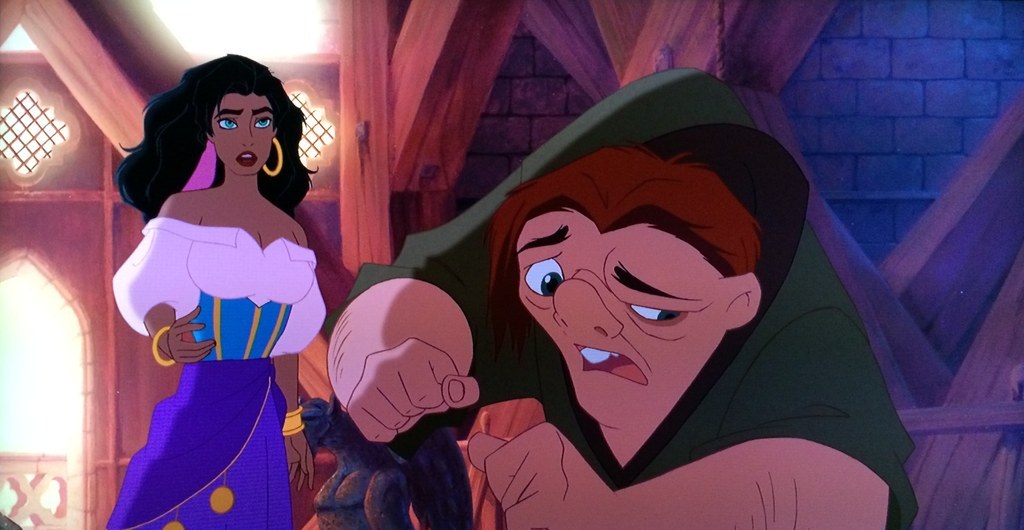 Directed by: Gary Trousdale and Kirk Wise
Written by: Tab Murphy, Irene Mecchi, Bob Tzudiker, Noni White, and Jonathan Roberts
There are many Disney films that gain something when watched again as an adult, but The Hunchback of Notre Dame is a special case. This is perhaps the only Disney movie that is utterly wasted on children. Perhaps it should be ranked lower by that logic — as a kids' movie, it's mostly a failure. But screw kids: The Hunchback of Notre Dame is a gorgeous achievement with breathtaking animated sequences and some of the finest music ever written for a Disney film. "Hellfire," a song about sexual obsession that somehow slipped into Hunchback, is an incredible song made all the more impressive by the harrowing scene in which Judge Claude Frollo imagines his own damnation. Quasimodo is a tragic figure, doomed to a much less happy ending than Disney is accustomed to. The film wisely flubs the "happily ever after" — exactly how are Quasimodo, Esmeralda, and Phoebus going to make a new life for themselves? — but the reality of his situation, much like the ponderous themes throughout, is better left for grown-ups to ponder.
4.
Aladdin (1992)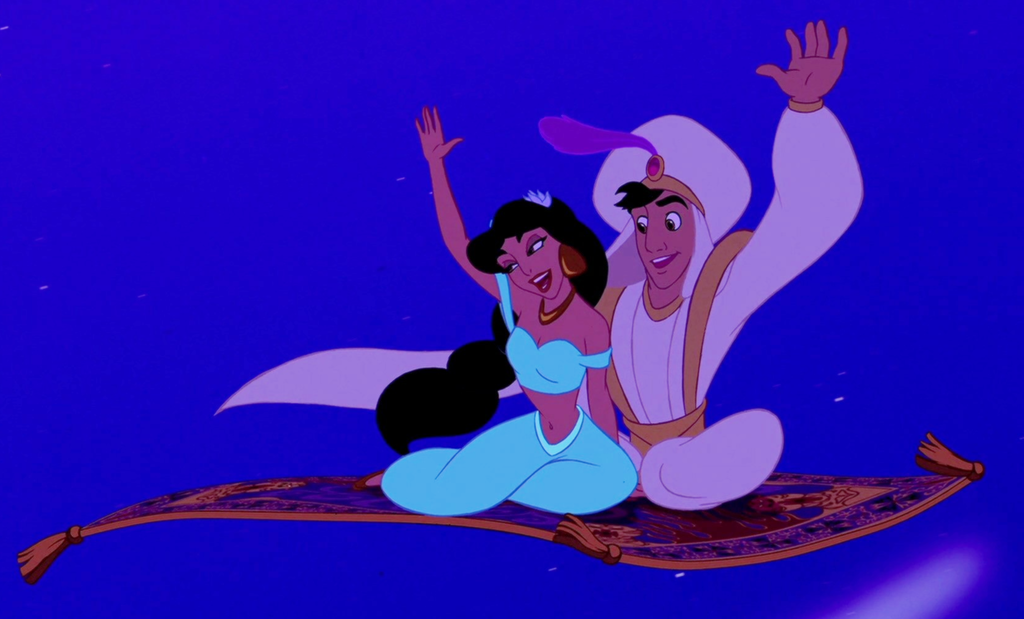 Directed by: Ron Clements and John Musker
Written by: Ron Clements, John Musker, Ted Elliott, and Terry Rossio
It's no surprise that the top five films are all products of the Disney Renaissance. The question of how to order them, however, was a matter of splitting hairs and personal preference, because they're all wonderful. Aladdin is the funniest of the lot, thanks to incredible work by the late Robin Williams as the Genie. The film is largely a showcase for his abilities as an impressionist and an exceptional performer. It's hard to imagine Aladdin attaining the instant classic status that it did without him. In fairness to the many other people involved in the production, though, Aladdin is about more than just the Genie. The script as a whole is smart and very funny, retelling an ancient Arab folktale with a distinctly modern sensibility. Aladdin and Jasmine get one of the film's most memorable scenes, a magic carpet ride over Agrabah while they duet "A Whole New World." And Jafar is another in a long line of scene-stealing villains, with a major assist from his sidekick, the parrot Iago, who owes it all to comedian Gilbert Gottfried for providing his inimitable voice.
3.
The Lion King (1994)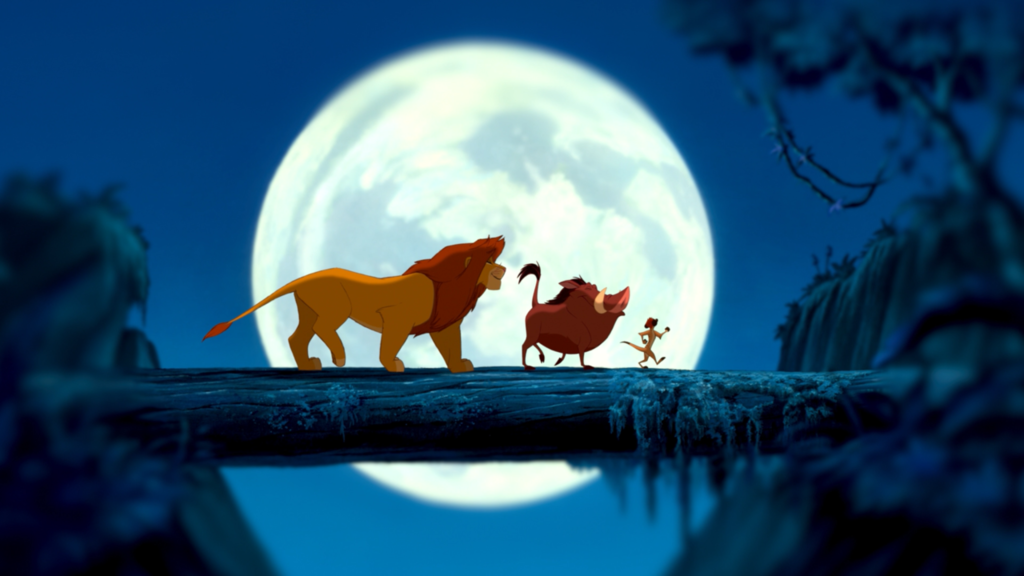 Directed by: Roger Allers and Rob Minkoff
Written by: Irene Mecchi, Jonathan Roberts, and Linda Woolverton
The Lion King features the best opening of any Disney film. The "Circle of Life" scene — as the animals converge to celebrate the arrival of Simba — is breathtakingly gorgeous. The movie is essentially a loose adaptation of Hamlet with lions — Rosencrantz and Guildenstern, however, have been turned into a warthog and a meerkat — and it amazingly works. Although it's rather heavy for kids — Mufasa's death is another one of those innocence-robbing childhood movie memories — it's really a beautiful viewing experience at any age. It helps that The Lion King manages to move effortlessly from the dark to the light. The operatic "Circle of Life" gives way to the frivolous "I Just Can't Wait to Be King." Later, Mufasa's death and Simba's flight from the kingdom segues into the introduction of Timon and Pumbaa, two of the greatest comic relief characters in Disney history. With a score by Elton John and Tim Rice, The Lion King feels so much grander than anything that came before it. And it moves us all.
2.
The Little Mermaid (1989)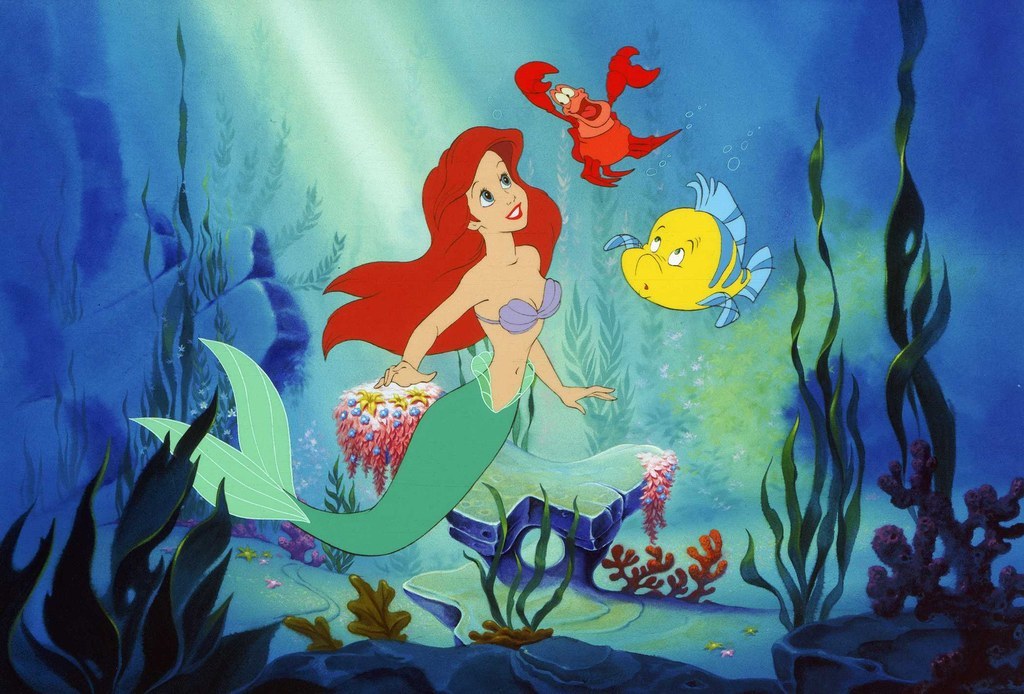 Directed by: Ron Clements and John Musker
Written by: Ron Clements and John Musker
There would be no Disney Renaissance without The Little Mermaid, the movie that ushered it in. The Little Mermaid didn't just represent a return to high-quality animation and storytelling — there were other solid Disney films in the '80s. It's actually notable for bringing about an entirely new kind of Disney film: the movie musical. Yes, Disney films before The Little Mermaid almost always incorporated music, but The Little Mermaid was the first to be structured like a traditional movie musical. And it worked, paving the way for Beauty and the Beast and Aladdin, among others. Its influence aside, The Little Mermaid is a fantastic film. It has a much happier ending than the Hans Christian Andersen fairy tale from which it's adapted, but it doesn't lose its potency. Ariel is the quintessential Disney Princess: curious, driven, and desperate for a life of her own. And then there's Ursula, the greatest of all Disney villains. It's fitting that Ariel and Ursula get the best songs: Ariel's anthem "Part of Your World" and Ursula's "Poor Unfortunate Souls," a high bar other villains' songs can never quite reach.
1.
Beauty and the Beast (1991)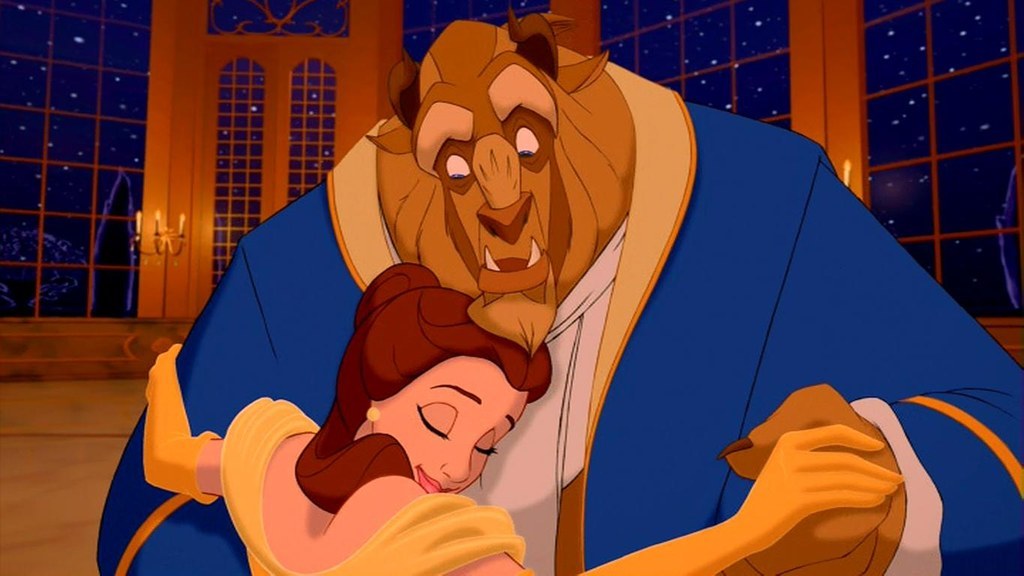 Directed by: Gary Trousdale and Kirk Wise
Written by: Linda Woolverton
No Disney film has ever been better than Beauty and the Beast, and it's hard to imagine another ever will. The first animated film to be nominated for Best Picture at the Academy Awards, Beauty and the Beast is the culmination of decades of perfecting the form. It is the flawless combination of story, animation, and music — a film that works on every level and gets better with each repeat viewing. From the beautiful stained glass opening and the introduction of bookish Belle, to the show-stopping "Be Our Guest" and the Beast's discovery of his own humanity, Beauty and the Beast takes its audience on the kind of journey that Walt Disney could only have dreamed of. Beauty and the Beast is the height of the Disney Renaissance, which is not Disney returning to its former glory — it's Disney reaching a new level of excellence, one that it couldn't have achieved without the classics that came before it. The new and the old come together seamlessly in the ballroom dance scene. As Mrs. Potts sings the title song, 2D animation and computer technology combine for Belle and the Beast's first dance.
CORRECTION
A Goofy Movie had a theatrical release. An earlier version of this post said it was released straight to video.
CORRECTION
The hound in The Fox and the Hound is named Copper. An earlier version of this post misstated his name.
UPDATE
This post has been updated to include the March 2016 release Zootopia.
CORRECTION
"The Bare Necessities" was written by Terry Gilkyson. An earlier version of this post attributed it to the Sherman Brothers.
UPDATE
This post has been updated to include the November 2016 release Moana.
UPDATE
This post has been updated to include the November 2018 release Ralph Breaks the Internet.