Katharine McPhee Is Reintroducing Herself
It's been eight years since the world first met Katharine McPhee on American Idol, and now she's taking on her first major non-singing television role on CBS's Scorpion. With the musical drama Smash behind her, she's more determined than ever to prove herself.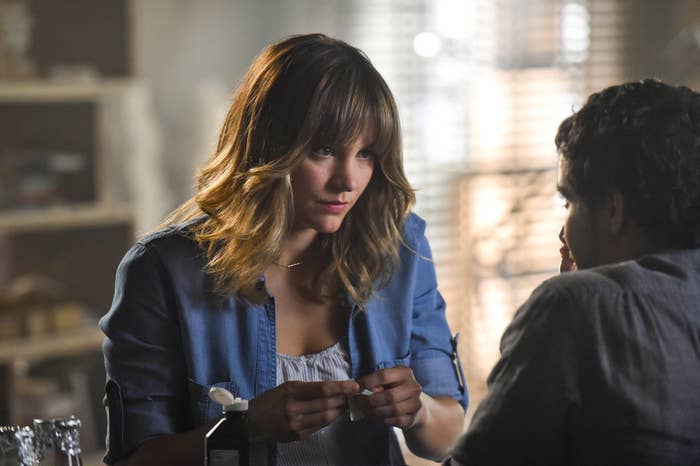 Katharine McPhee has a cold.
"I'm a little under the weather, I'm sorry," she confesses after her third or fourth cough one September morning. "My voice is low, like three octaves lower than normal." At the suggestion that she could somehow use her unusually husky tones in her performance, McPhee laughs politely before adding, "I sound like a 50-year-old smoker today."
In truth, that voice would not be out of place in these surroundings: the dingy, dimly lit Hustler Casino in Gardena, California, just west of Compton. But on this day, the Hustler Casino is standing in for a somewhat ritzier Vegas casino for an upcoming episode of CBS's Scorpion involving an excursion to Sin City.
While the usual patrons rarely glance up from the blackjack tables, Scorpion's cast and crew is buzzing back and forth between the filming location and the holding area, where an impressive array of background performers fidget during breaks.
Despite her cold and the rushed schedule, however, McPhee maintains her composure. It helps that Scorpion was something that came about in the eleventh hour.
"It's been crazy," she says, sitting down in a rare break between takes. "It all just happened so quickly. I was going out for pilot season but I wasn't sure if I would actually end up getting something. I was open to it but wanted it to be something different than what I'd done. And this came at the very end, the tail end of pilot season."
McPhee was fresh from NBC's musical drama Smash when she was cast on Scorpion, which blends action and procedural elements with character drama. Prior to that, she was best known as runner-up to Taylor Hicks on Season 5 of American Idol.
While Smash, which had plenty of naysayers throughout its two-season run, may not have convinced all detractors of McPhee's range, Scorpion is already working toward giving her a complex, fully realized character to work with. Playing Paige Dineen, a waitress and single mother who finds herself enmeshed with a team of problem-solving geniuses led by the brilliant but socially awkward Walter O'Brien (Elyes Gabel), presents a unique set of challenges for McPhee.
"Listen, I honestly don't pay a lot of attention to whether or not people are betting on whether I'll work again," she says. "Do I feel more established? No, I feel like I'm always going to be trying. Every scene I do, I'm more relaxed, but I'm always trying to prove myself because those are the standards I set for myself."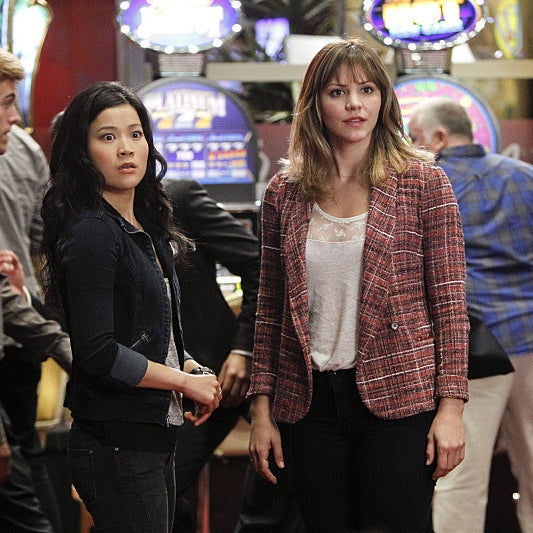 In the Scorpion pilot, which aired on Sept. 22, Paige had both heavy emotional moments, as she lamented her ability to connect with her largely silent son Ralph (Riley B. Smith), and a big action set piece, in which Paige stood up in a Ferrari while Walter sped up to keep pace with a landing plane.
"That's probably the hardest thing that I've had to do as an actor," McPhee says. "It's pure make-believe. The car's not moving. All you have is wind blowing in your hair from a huge fan, and that's it. And just screaming at the top of your lungs. It took a lot of trusting the director [Justin Lin] to say, 'Are you sure you want me to scream this loud? This feels really unnatural.' But him having done all the Fast and Furious movies, you have to at some point go, OK, I'm gonna trust what he's guiding me to do."
While Scorpion's filming schedule has been tightly packed, the pace of network television is nothing new to McPhee, whose two-season run on Smash ended in 2013. She played Broadway hopeful Karen Cartwright, whose dreams of starring in the Marilyn Monroe musical Bombshell were hindered by competitive co-star Ivy Lynn (Megan Hilty) and domineering director Derek Wills (Jack Davenport).
McPhee had already proven her musical chops when she was a contestant on Idol in 2007, but aside from a guest spot on Community and a small role in 2008's The House Bunny, Smash was her first opportunity to show off her acting abilities — and to establish herself as a triple threat. Like Scorpion, but for very different reasons, Smash was a particularly challenging show to film, with multiple big production numbers in nearly every episode.
"[On Smash], you were running from doing a scene, then carted off to go record vocals, and then have to go back to dance rehearsals. It was always something different," she says. "I miss the costumes and the lights. It's like, you get your fill of being on Broadway a little bit. I've never been on Broadway, but you get a little bit of a fill."
Talking about Smash seems a bit bittersweet: The show was touted as the "next big thing" by NBC and debuted to high ratings, which slipped as the season progressed. But the ratings dip in Season 2 was far more substantial. The series bowed out quietly after being relegated to the dreaded Saturday night time slot, where final episodes of shows that viewers have largely stopped watching are burned off.
Nevertheless, McPhee bears no ill will toward NBC for how it handled the ratings slump, acknowledging with her persistent realism that sometimes, these things just happen. "We did really well the first season," she says. "There's many different reasons people can pontificate as to why it didn't last more than two seasons. There's nothing you can do about it. You just do the best you can."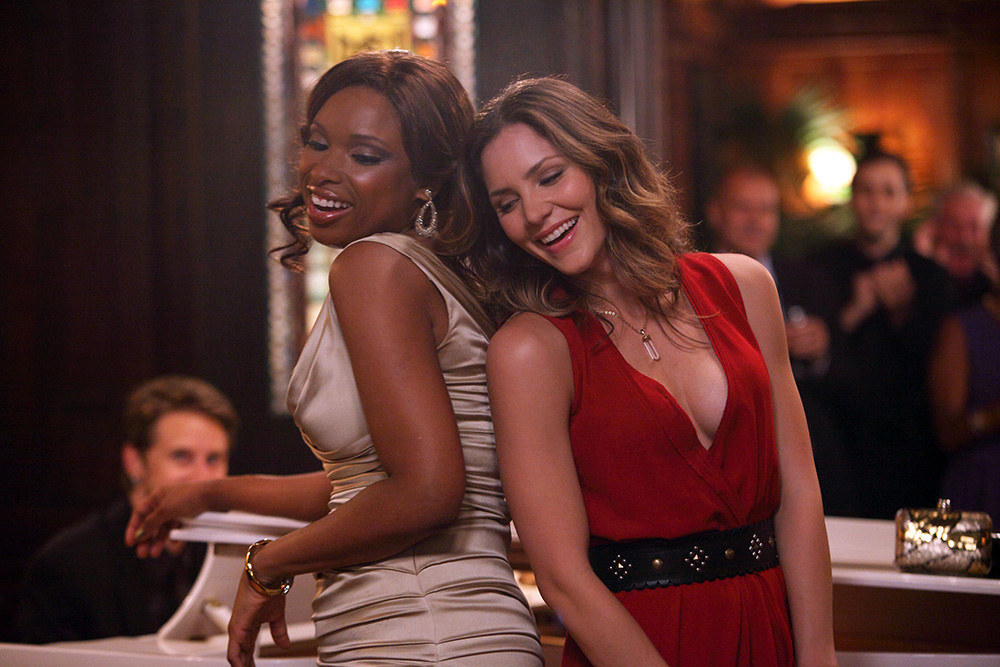 While Scorpion doesn't have McPhee singing and dancing, the series is keeping her busy. And that's the way she likes it, however stressful it might look from the outside. "I like to be busy," says McPhee, who hasn't stayed in one place for longer than 10 minutes all morning.
This particular day of filming Scorpion involves another action scene — guns blazing and a few well-orchestrated tumbles. McPhee and the other actors involved are being heavily choreographed, so it's not all that different from a big dance number on Smash, albeit less glamorous.
"I've always wanted to be Angelina Jolie in Salt," she says. But that's not what drew her to Scorpion. Instead, she was taken by the quieter, emotional moments in the pilot script, and by the idea of playing a character more grown-up than Smash's Karen.
"I just felt like it was the most adult character I've been able to come across," McPhee says. "What grounds the pilot are the sort of real meaty scenes between Walter and Paige, and Cabe [Robert Patrick] and Walter … The action stuff is exciting and fun, but you still have to ground it. That's what I was looking for, at least, something you could really play real, and not over-the-top. It's not just an action show."
Viewers will learn more about Paige and her history over the course of Scorpion's first season: The character's backstory is revealed a little more slowly than that of the other team members, according to McPhee.
"It's television, so you have such little time to introduce [the characters] — you have to introduce them really strong," she says. "She gets little pieces to show her strength. You believe that she was this woman who had a baby at a young age and had to do anything to make ends meet, and has done it in a really classy, mature way. That's what I've liked, is the strength."
Karen Cartwright, she is not. McPhee's Smash character had drive, but she was, for the most part, the shy, innocent ingénue. "When I got on set, those first few days," McPhee continues, "I was reverting back to what I was used to, which was playing sweet Karen Cartwright."
While she thinks Karen matched some of her innate characteristics — a genuine desire to succeed and translate her musical background into something more — in person, McPhee comes across much more as a Paige type.
She's clear about her wants and needs — not bossy, but assertive. While many celebrities would welcome the presence of their publicist at the table, carefully monitoring which questions are asked, McPhee casually dismisses hers, because, as she rightfully explains, it's easier to have a conversation without a third person eavesdropping.
Like Paige, McPhee has a certain edge to her.
"I don't know if it's edge," she corrects of her Scorpion character. "She's unapologetic. She's had to have more responsibility, and she has a kid, she's a little more grown-up, she's older. So I don't know if it's edgy. It's just more — not aggressive, but very direct. And I like that, because that's a fun thing to play." After a moment of self-reflection, she adds, "I'm direct. I'm pretty direct."
If Karen Cartwright was overly bright-eyed and bushy-tailed on Smash, and Paige Dineen is occasionally too world-weary on Scorpion, McPhee finds herself somewhere in the middle.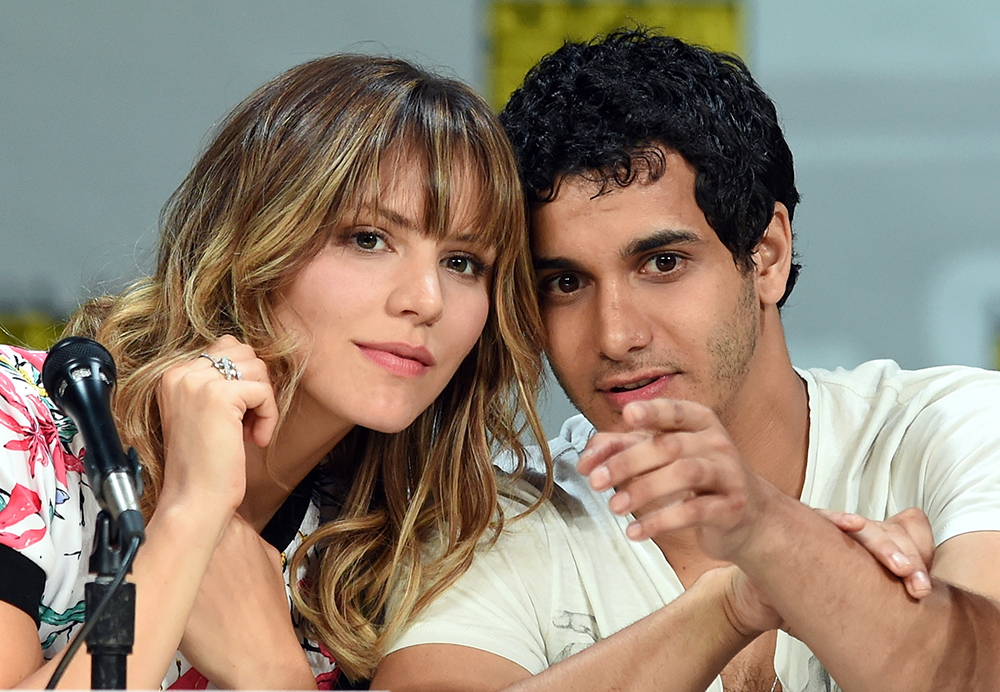 When you've carved out a certain niche for yourself, as McPhee did with Idol and Smash, it's natural to assume viewers will come to expect something specific from your work. The stigma of the singer turned actor may not be as strong as it once was — so, too, film actors doing television — but McPhee is more than a one-trick pony, and she wants her career to reflect that.
"I don't intentionally go out and say, 'OK, you guys need to send me scripts that are so different from anything else I've done.' I just want them to send me things that are interesting stories and interesting characters and interesting relationships. I think that's what I look for," she says. "I would have loved Smash to keep going. It was a lovely and an amazing experience. But I can't do musicals for the rest of my life. I'd love to, but you have to look for stuff that's different."
Witnessing the transition of a series from critical hit pilot to pop-culture punch line, as she did over the course of Smash's uneven run, it's easy to see television as a fickle mistress. But amid her honest expectations for Scorpion's future, McPhee is allowing herself optimism.
"I'm more positive about my career and the trajectory of the show and this or that than I probably was with anything else I've done before," she says. "I'm definitely not one of those people who's like, 'It's gonna be this, it's gonna be huge.' I don't make predictions like that, but I also don't like to be negative in order to protect myself from being disappointed."
Nor does McPhee focus too much on her image. At one point, she was "that runner-up on American Idol." Nowadays she's probably best known as Smash's Karen Cartwright. But if Scorpion finds the success McPhee and the rest of its cast and crew are hoping for, she'll soon broaden that designation.
At least now she's no longer being "introduced": When NBC aired its first promos for Smash, they closed with, "and introducing Katharine McPhee," which many considered an odd — and arguably shade-throwing — choice, given that she'd already broken through on Idol. But McPhee shrugs that off too. "I think that was a nice thing," she says. "I'm not offended by it. I mean, I know myself as an actor, but people don't know me as an actor."
It's McPhee's commitment to doing Paige justice that's had her soldiering on through the cold and the frequent interview interruptions and the general atmosphere of the Hustler Casino. As the conversation moves back to Smash, she acknowledges again how sad she is that it's over — but that's all the more reason to throw herself into Scorpion.
"It's fun for me to be a part of something that's totally different than what I was doing, and for people to go, 'Oh, OK, I guess she's gonna keep working as an actor,'" McPhee says. "I don't want to be just OK. I want to be really great at something."
Scorpion airs Mondays on CBS at 9 p.m.
This post has been corrected to accurately state that Katharine McPhee appeared on Season 5 of Fox's American Idol in 2006.