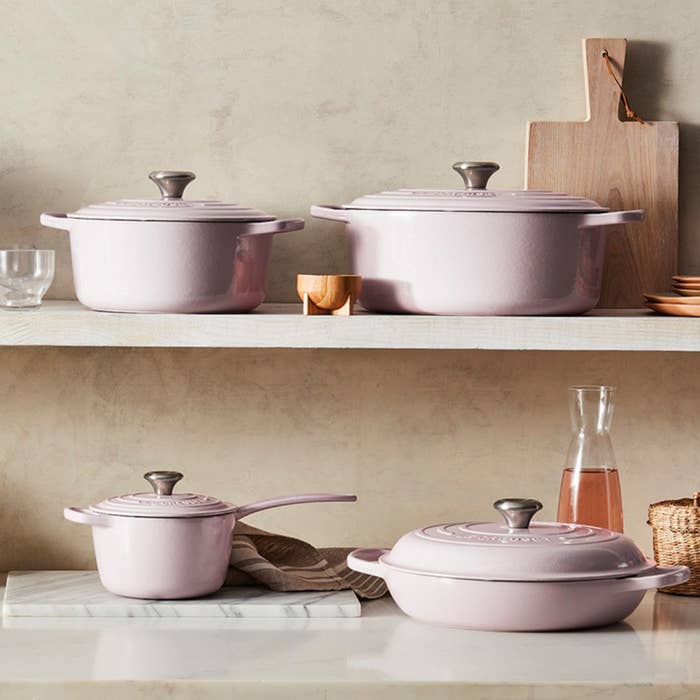 BuzzFeed may collect a share of sales or other compensation from the links on this page if you decide to shop from them. All products were independently selected by our editors, and the prices were accurate and items in stock at the time of publication.
Le Creuset is probably the most iconic brand in the cookware space. My mom has had her "flame"-colored Le Creuset Dutch oven for at least as long as I've been alive (29 years). My brother and sister-in-law got a full set of "Caribbean blue" mugs and serving dishes from their wedding registry. And now, finally, you can deck out your kitchen with a full line of pale purple Le Creuset pots and pans, a shade it's dubbed "shallot."
In case you're not familiar with shallots, they are those small but delicious bulbs that are close relatives of the onion.
When the news broke of the Le Creuset spring 2023 color launch, a BuzzFeed News Slack channel erupted in debate — not over the quality and aspirational nature of the brand, or the appeal of the soothing pale purple, which were almost universally agreed upon — but the choice of name for this new color.
It all started when someone shared a tweet of a video documenting the dramatic color reveal. The video shows the fresh new spring cookware line amid a plethora of light purple flowers. There is not one actual shallot in sight, one staffer noted.
"Someone had to explain to me that it's the inside of a shallot," an editor commented. Another agreed and questioned why it was not brown, like the outermost layer of a shallot, to which someone questioned, "Do you eat the brown part?" (It's like the skin of an onion, so, no, don't eat it.)
Photos of shallots were shared to show their white-and-purple interior. Some argued that other produce-related colors, like apple red or banana yellow, would in fact refer to the skin as opposed to the insides. Finally, the question arose of whether "shallot" is a different color than "onion." (We are talking about red onions, of course, which are actually purple, but that's a conundrum for another day.)
After peeling off the skin to reach the first edible layer, I would say that a shallot is a lighter, more gentle purple than a red onion. It's also a trendier and, in my opinion, superior vegetable.
I understand what Le Creuset was going for when naming its product line, and also in choosing this pastel hue. One of my colleagues referred to the whole launch as millennial culture proof of life — it's the amalgamation of the millennial pink and Alison Roman caramelized shallot pasta trends. It's an Instagram-ready kitchen aesthetic ripe for sharing all of your re-created TikTok recipes.
I see shallot saucepans and baking dishes catapulting Le Creuset onto more wedding registries than ever before. It's a delicate pastel that screams soft spring wedding. The entire "new neutrals" line has a very different vibe from all of its other hues. It's likely to bring the brand onto the social media pages of many who weren't familiar with it before. These new fans may have never even cooked before, but they'll still buy a loaf pan for the clout.
Lucky for them, Le Creuset makes some damn good cookware. My mom's frequently used 30-plus-year-old Dutch oven still looks as good and works as well as ever. Everything is made in France from durable, chip-resistant enameled cast iron, and feels like a classic no matter what shade you choose.
Sure, shallot as a color and ingredient may go out of style in the future, but maybe by then social media won't exist and you won't care about the exterior appeal of your pots — you'll just be happy to have a quality product that stood the test of time.
You can buy the shallot line from Le Creuset starting at around $24.