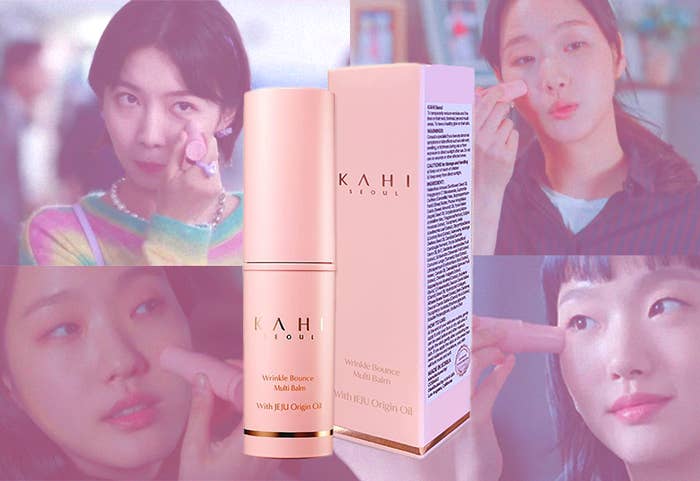 BuzzFeed may collect a share of sales or other compensation from the links on this page if you decide to shop from them. All products were independently selected by our editors, and the prices were accurate and items in stock at the time of publication.
When a colleague told me she finally got the buzzy balm stick that's all over K-dramas, I honestly had no idea what she was talking about. As it turns out, I had completely missed the biggest Korean beauty trend of 2022: multi balms.
Multiuse balm sticks rose in popularity at least partially due to the pandemic — they offer a way to apply skincare without using your potentially germy fingers. They come packaged like a ChapStick, where you twist up the product, apply it directly to the face, and then pop the cap back on. That also makes them easy to throw in your pocket or purse and keep on you at all times, so they quickly became must-have beauty products.
One multi balm in particular, the Kahi Seoul Wrinkle Bounce Multi Balm, was suddenly everywhere last summer. And by everywhere, I mean getting swiped onto the faces of actors in many K-dramas. So why did this one skyrocket into cultural recognition?
Benefits of the Kahi Multi Balm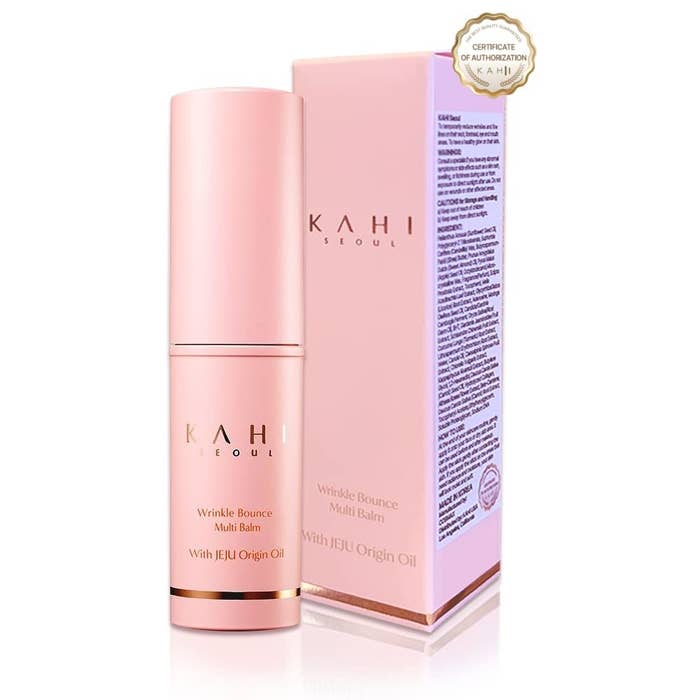 Kahi advertises the product as a hydrating balm that can restore elasticity in the skin. The active ingredients include salmon collagen, jeju natural oils, carrot root extract, beta carotene, and carrot seed oil.
"Anything that comes from a seed, berry or other organic material will have some degree of antioxidant to it," said Dr. Morgan Rabach, a board-certified dermatologist at LM Medical NYC. She added that emollient products like this are good for skin that's dehydrated, particularly the lips, around the eyes, or any dry, flaky spots. Her one warning was to be cautious with balms if you have acne-prone skin since they can sometimes clog pores.
I've been using this product regularly for almost a month, and as someone with dry, sensitive, sometimes acne-prone skin, it hasn't caused any irritation or major breakouts. I do avoid using it in areas where I tend to frequently get blemishes.
It's definitely hydrating and makes my skin glow wherever I apply it, though it can also feel a bit sticky to the touch while it's absorbing. The colleague who originally told me about the Kahi balm stick agreed that the stickiness is a con, but one she's willing to tolerate since it makes her look dewy and seems to deliver the instant moisture and bouncy skin it promises.
Fine lines tend to appear highlighted when skin is parched, so the heavier moisture in the balm may provide a temporary reduction in the look of pesky little wrinkles. But Rabach noted that none of the ingredients in the balm are scientifically proven to have lasting results when it comes to deeper wrinkles, so set your expectations on that front.
How to use Kahi Multi Balm
As the name implies, this balm stick from Kahi is intended to be used in multiple ways. The compact twist-up applicator makes it convenient to use anywhere, any time without worrying about transferring germs from your fingers to your face.
Kahi recommends using it on chapped skin or anywhere that you want to maintain moisture and shine all day long. They say you can use it on the lips and neck or around the eyes or mouth — essentially anywhere, even over makeup or in your hair.
My colleague loves being able to easily swipe the stick since she is a Busy Mom. I've mostly been keeping it at home to use as a step in my skincare routine. I apply it under my eyes, on my smile lines, sometimes in the fine lines on my forehead and around my nose before I use a moisturizer. Using it underneath another product still gives me an extra boost of hydration in those zones without the surface stickiness.
You can buy the Kahi Seoul Wrinkle Bounce Multi Balm from Amazon for around $25.