The program was the biggest casualty of the school's restructuring of its athletic department. Along with football, the bowling and rifle teams were disbanded.
UAB's athletic department operates on a $30 million budget, $20 million of which is said to be subsidized. The school expects football expenses to grow exponentially in the upcoming seasons while the program's revenue remains insignificant. Though rifle and bowling have relatively lower operating costs — expected $1 million combined — they were low priorities for the school.
The idea is that by eliminating the sinking deficit football brings, UAB can direct funds toward sports in which UAB can actually be competitive within their conference and division. UAB football has posted poor records for the past 10 seasons, but Bill Clark was hired as head coach at the beginning of the season and led them to bowl eligibility.
UAB says they "honor players' scholarships and coaches' contracts," but for many young men who came to the school to follow their football dreams, the program's shuttering severely damages their career trajectory. UAB mentions that "NCAA bylaws, players who transfer from a discontinued program can play immediately at another school," but the act of finding a new team, especially for upperclassmen, poses unexpected challenges.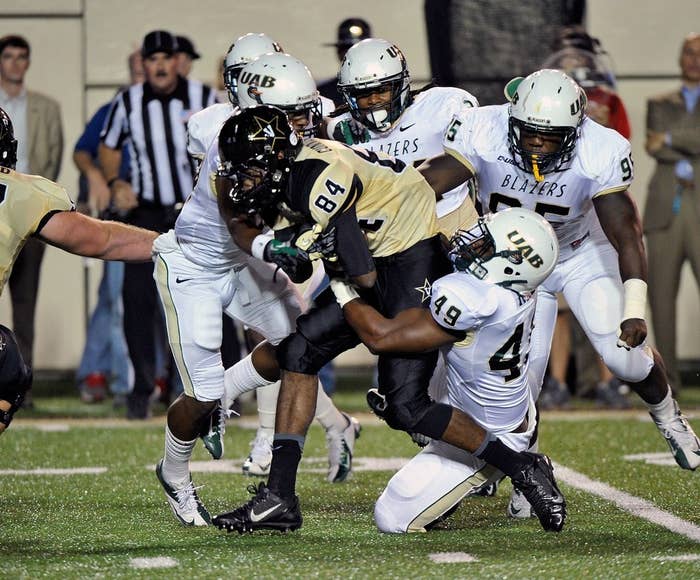 UAB is a Division I school and plays in the Conference USA. The school intends to maintain its standing in both, but outsiders believe they will be unable. CBS Sports explains:
Division I membership without football requires a minimum of 14 sports (eight women's and six men's teams), compared to 18 with football. UAB is down to five men's sports without football. [Sports business consultant Bill] Carr's report recommended UAB add men's cross country and track and field to maintain Division I requirements.
Conference USA also requires its member schools to have a football program. UAB reportedly does not have enough support from other schools to act as an exception. Athletes whose sport was not cut now face the uncertainty of their team changing conference and level of competition.
This uncertainty has led students to fear the worst for their school. A student told BuzzFeed News that they fear the school will be less appealing to recruits without a football program, and that will eventually lead to repercussions for other undergrad programs. As a result, UAB students are protesting the school's decision.
The bulk of UAB students' outrage is directed at their school president, Ray Watts, who they believe is powerless against the University of Alabama System Board of Trustees; Watts maintains it was a university decision.
There is somewhat of a precedent for this decision, dating back to 1995 when University of the Pacific shuttered its own football program. From CBS Sports:
In the decade after football ended, Pacific's other teams won 16 more conference titles and made 10 more NCAA championship appearances than in the previous 16 years when it had football. The enrollment at the private university was 5,564 in 1995; today, it's 6,304.
BuzzFeed News has reached out to UAB Director of Athletics Brian Mackin.