NFL Will Not Allow Prospect Sought For Questioning In Ex-Girlfriend's Death To Withdraw From Draft
Baton Rouge police have asked to question former LSU offensive lineman La'El Collins regarding his ex-girlfriend's death. Police, though, have reportedly said he is not currently a suspect.
Once projected to be a first-round pick, offensive lineman La'El Collins' 11th-hour request to withdraw from the 2015 NFL Draft has been turned down.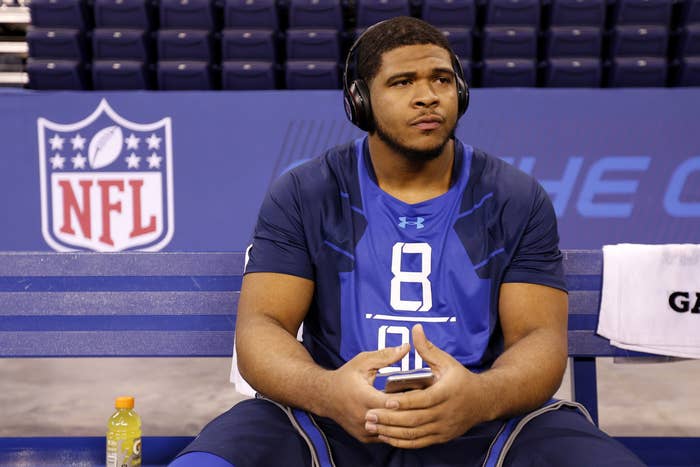 ESPN's Adam Schefter reported the decision hours before the draft was to begin.
Earlier today, Fox Sports' Jay Glazer reported that Collins' agent requested to enter him into the Supplemental Draft instead of the standard draft.
Collins was contacted by the Baton Rouge police on Tuesday after his ex-girlfriend Brittney Mills was killed on Friday.
Mills was pregnant at the time of her death, but the child she was carrying survived. Police told NFL.com reporters that they are trying to determine the child's paternity.
Pointing out that they don't believe Collins had been in contact with Mills since September 2014, police said he is not currently a suspect in the homicide.
Collins has flown back to Louisiana from Chicago, where the NFL Draft takes place this weekend, to arrange a meeting with investigators.
Projected as a first-round draft pick, NFL teams have reportedly started to shy away from Collins in the wake of his association with Mills' death. Glazer reports teams want a "full police report clearing him before they are willing to draft him."
As a result, Collins' agent asked the NFL to allow him to back out of the 2015 draft.
The Supplemental Draft is intended to allow underclassmen who did not enter the main draft but who cannot continue their college career to enter the league. Collins does not fit that criteria. It is clear his agent saw a potential switch as a better solution than entering his currently "undraftable" client into Thursday night's mix.
Collins — who, again, is not currently a suspect according to police — will now likely sit and wait into the late rounds to see if he is drafted at all.
The first round of the draft begins Thursday at 8 p.m. ET.
This story is developing and will be updated.