Thabo Sefolosha Not Guilty Of Three Charges From Confrontation With NYPD
The decision to testify in his own defense, he said, was easy: "All I had to do was tell the truth."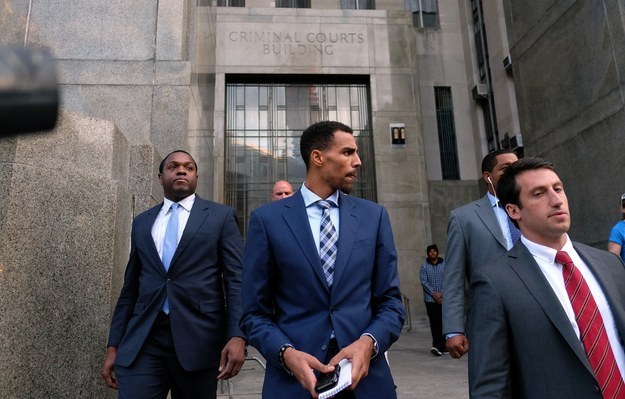 NBA star Thabo Sefolosha was found not guilty Friday of three charges stemming from a April 8 confrontation with the New York Police Department in which officers broke his leg.
Sefolosha looked relieved after the verdict was read and promptly left the courthouse. The jury deliberated for about 50 minutes.
Outside, Sefolosha said he has not decided whether he will sue the city.

When asked if he was surprised with the speed of the verdict, Sefolosha's lawyer, Alex Spiro, said, "no."
Sefolosha, a Swiss-born guard-forward, plays for the Atlanta Hawks, who had just helped his team clinch a playoff berth days before his arrest. He missed the playoffs due to his broken leg and said Thursday that he hopes to be able to return to the court this season.
In a Manhattan court this week a jury heard testimony from NYPD officers, Sefolosha's coach and teammate, and the defendant himself.
Sefolosha was charged with misdemeanor resisting arrest, obstructing government administration, and disorderly conduct. It was revealed this week that prosecutors offered a deal that would have dropped charges against the NBA player if he served one day of community service and stayed out of trouble for six months. Sefolosha and his attorney, Spiro, decided instead to move forward with the trial.
According to Sefolosha's testimony Wednesday, he was singled out of a crowd of people leaving a club and beaten by the NYPD without justifiable provocation.
On Friday, after the verdict, he said his decision to testify was easy: "All I had to do was tell the truth."
Earlier in the night, Sefolosha had been at a club called 1Oak with then-teammate Pero Antić. Outside the club that night, fellow NBA player Chris Copeland, who is not Sefolosha's teammate, was stabbed. Sefolosha said he was not aware that Copeland had been stabbed when clubgoers were ordered to leave.
Outside, NYPD began telling the crowd to disperse. Sefolosha said Thursday under cross-examination by Assistant District Attorney Francesca Bartolomey that he was instructed to go to his left, toward Tenth Avenue, and that he was told three times to move along the sidewalk.
Sefolosha admitted Thursday that he called officer JohnPaul Giacona a "midget," but maintained that it was the only time he used derogatory language toward an officer.
Upon reaching Tenth Avenue, Selofosha saw a car waiting and decided to take it back to his hotel. As he began to enter the car, a homeless man approached him and asked for money. Sefolosha said that when he extended his arm to hand money to the man, an officer grabbed him and told him to put his hands behind his back. Then, Sefolosha said, "seven or eight" officers began putting their hands on him, and while he was on his way to the ground, officer Giacona came up behind him and kicked him hard in the right leg. He said he told the officers to relax, and that he wasn't told he was under arrest. Still, he said he did not fight back, knowing he was outnumbered.
During closing arguments Thursday, Sefolosha's attorney told the jury that NYPD saw Sefolosha as "just another black man in a hoodie."
"They arrested him. They broke his leg out of eyeshot or earshot of an unrelated crime scene because he was giving a homeless person money," Spiro said. "You know what the public disturbance is? When they're smashing him into the ground."
The jury members quickly dispersed after the verdict was read and did not comment on their decision to acquit Sefolosha.
NBA Players Association executive director Michele Roberts, who was in the courtroom for Sefolosha's cross-examination Thursday, tweeted excitedly about the decision: