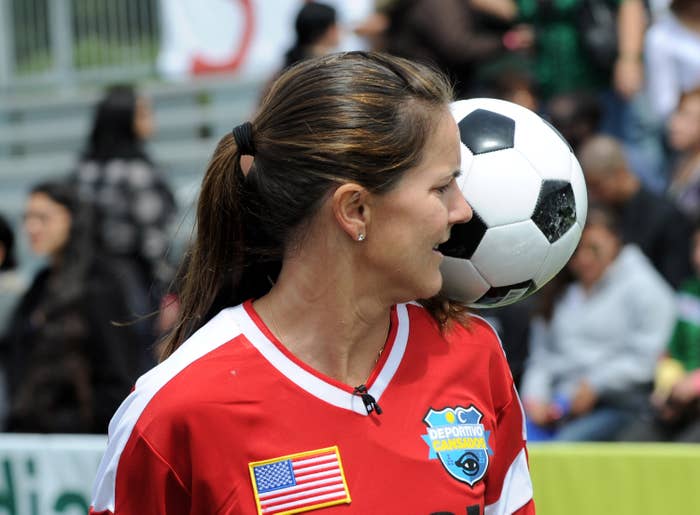 Brandi Chastain told her 9-year-old son, Jaden, on Monday morning that she intends to donate her brain to science to benefit concussion research.
"Mom, that's weird," Jaden said. "Don't you need your brain?"
Chastain — a two-time Olympic gold medalist who won the World Cup with the 1999 U.S. Women's National Soccer Team — explained to Jaden that her brain donation will happen "long after" she will be using it, and with the intention of helping others.
Chastain announced Wednesday that she will donate her brain to the Concussion Legacy Foundation, a nonprofit organization that works with brain researchers at Boston University, after her death.
Chastain met Concussion Legacy Foundation founder and former professional wrestler Chris Nowinski and Boston University researchers Ann McKee and Robert Cantu in March 2014 when they received an award from Santa Clara University's Institute of Sports Law and Ethics (ISLE). Chastain is a board member there.
Cantu and McKee at Boston University led research into chronic traumatic encephalopathy (CTE), the neurodegenerative disease linked to sub-concussive trauma in athletes and military members.
Chastain was inspired by the researchers' work and told her fellow ISLE board members she'd "like to change the rules of soccer and take heading out of youth soccer to protect our young players". By June 2014, Chastain had teamed up with the Concussion Legacy Foundation to launch an initiative called Safer Soccer that aims to reduce the practice of headers in youth soccer.
"It's not about taking headers out of soccer forever," Chastain told BuzzFeed News Tuesday. "It's about protecting the players when they're their most vulnerable so they can continue to play well into adulthood.
"There's so many skills that our kids will learn in the game if given a chance at longevity. I want as many kids playing soccer in their adult lives as possible."
Chastain was never diagnosed with a concussion during her career, though she recalls at least two instances that today she believes would have been diagnosed as mild concussions. "I've definitely headed the ball multiple times after the ball was punted very high. I never shied away from the ball and I definitely had my bell rung a few times."
Chastain's 1999 Women's World Cup teammates Michelle Akers and Cindy Parlow's careers were cut short in part due to concussions, but Chastain said she never discussed the issue with teammates. "It was absolutely never a conversation," Chastain said, pointing out the enormous gap in cultural awareness about the effects of concussions on long-term cognitive health between the late 1990s and today.
Immediately after Chastain famously made a penalty kick that led to the Women's World Cup victory, she dropped to her knees and pulled her jersey over her head in victory. The image of her celebration is one of the most famous sports photos of all time.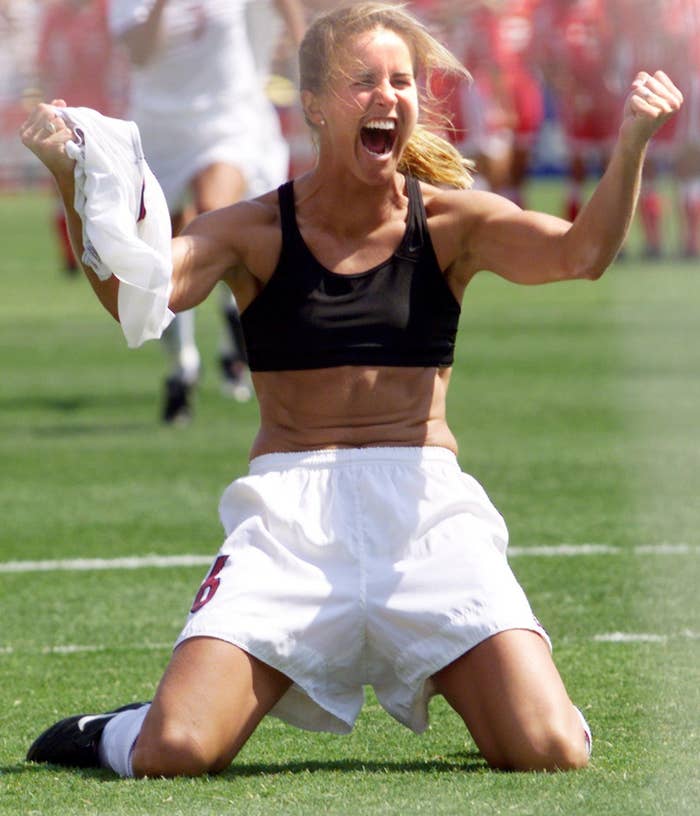 "Now as a parent, coach, and ambassador of the game of soccer — even though I feel like my legacy and our 1999 Women's World Cup victory are important — leaving soccer in a better place than when we got here would be an even more impactful legacy," Chastain said.

CTE is a neurodegenerative disease mostly associated with former NFL players and soldiers with symptoms similar to dementia. It can only be diagnosed after death, and it has not been diagnosed in the brain of a female athlete. There are records of CTE being found in two women in the 1990s: One was a victim of domestic violence, and the other had a developmental disorder that led her to bang her head repeatedly.
The Concussion Legacy Foundation on Wednesday said that of 307 brains donated to Boston University for research, only seven were from women. In an interview with BuzzFeed News in 2015, McKee said she believes there are various factors that account for the disproportionate donation rates between genders.
McKee believes families might be more reluctant to donate their daughters' and wives' brains, but she believes the risks to women athletes and ability to have their brains examined postmortem are just less publicized than with male athletes.
Chastain said her intent to donate her brain to research aims to "raise awareness for the need for brain donation among athletes, especially women".
"I'm not on a crusade to get other people to donate their brains," Chastain said Tuesday when asked if she'd discussed donation with other members of the 1999 Women's World Cup team. "I think it's a very personal decision. But the brain is such a mysterious part of the human anatomy and we can't really study it while it's in its functioning form."