Legendary San Antonio Spurs forward Tim Duncan announced his retirement Monday morning after 19 years in the NBA, all with the Spurs.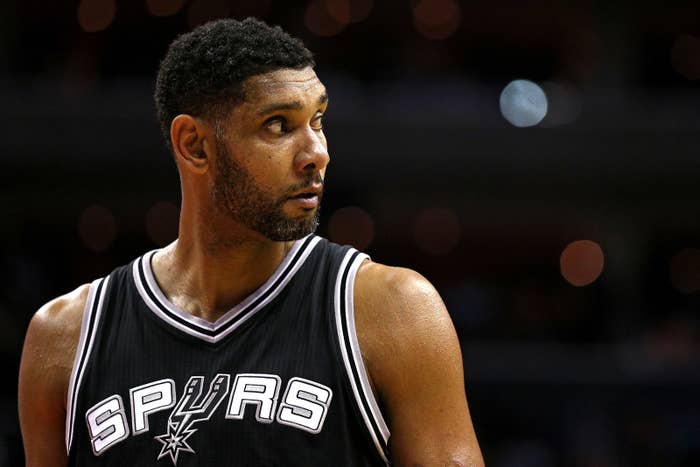 Duncan was a five-time NBA Champion, 15-time All-Star, and two-time NBA MVP.
The Spurs were NBA Champions in 1999, 2003, 2005, 2007, and 2014. Duncan was named Finals MVP in 1999, 2003, and 2005. In a press release, the NBA notes Duncan is the only NBA player in history with over "9,000 career minutes in the playoffs."
The league also notes Duncan's time with the Spurs led to a "1,072-438 regular season record, giving the team a .710 winning percentage, which is the best 19-year stretch in NBA history and was the best in all of the NBA, NFL, NHL and MLB over the last 19 years."
Duncan is known for his understated personality. Fittingly, Duncan's retirement announcement contained no quotes from Duncan himself, nor is he scheduled to appear at a Tuesday press conference with Spurs head coach Gregg Popovich. He will hold a separate press conference, according to Adrian Wojnarowski.
In a statement, NBA Commissioner Adam Silver called Duncan "one of the most dominant players in NBA history."
"His devotion to excellence and mastery of the game led five NBA championships, two regular-season MVP awards and a place among the all-time greats, while his understated selflessness made him the ultimate teammate. For two decades Tim represented the Spurs, the city of San Antonio and the league with passion and class. All of us in the NBA family thank him for his profound impact on the game."
Teammate Manu Ginobili said he knew the announcement was coming, but was "still moved by the news."
On Twitter, the Spurs paid tribute to Duncan's 19 years of playing time with this video: