The outcome of the NBA Western Conference Finals between the Oklahoma City Thunder and Golden State Warriors will not rest on whether or not one player intentionally kicked another in the balls.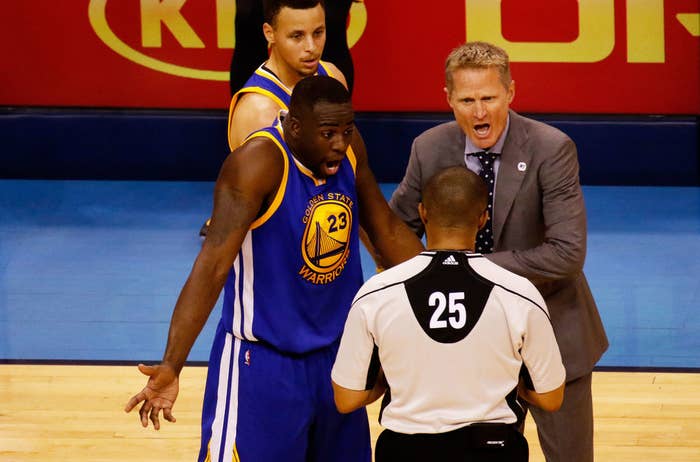 Ultimately, the NBA decided not to suspend Green, ESPN reported.
Green swore he didn't mean it.
"I'm not trying to kick somebody in the men's section," Green told ESPN. "I'm sure he wants to have kids one day. I'm not trying to end that on the basketball court. That don't make sense. I brought the ball over the top this way [makes motion], he fouled me, and I brought my leg up. I mean, I know my core's not strong enough to stop my leg halfway from wherever it was going."
The NBA said the kick was "unnecessary and excessive" — but it did not warrant a suspension.
With the Warriors down 2 games to 1 and looking utterly lost during Game 3 against the Thunder, the last thing fans in Oakland wanted was to lose one of their most aggressive players in the middle of the series.
Naturally, fans in Oklahoma City had their hopes up for an aggressive decision by the league. And they seemed to have a case: Cleveland Cavaliers guard Dahntay Jones was recently suspended for one game after, you guessed it, knocking Toronto Raptors center Bismack Biyombo in the nuts.
Last week, Sports Illustrated put Green on the cover, but so far anyway, it looks like he's avoided any curse.