Lamar Odom "Is Conscious" And Has Improved Slightly, Source Says
NBA star Lamar Odom has regained consciousness and was able to say "hi" to his estranged wife, Khloé Kardashian, at his bedside in a Las Vegas hospital, a source confirmed to BuzzFeed News on Friday.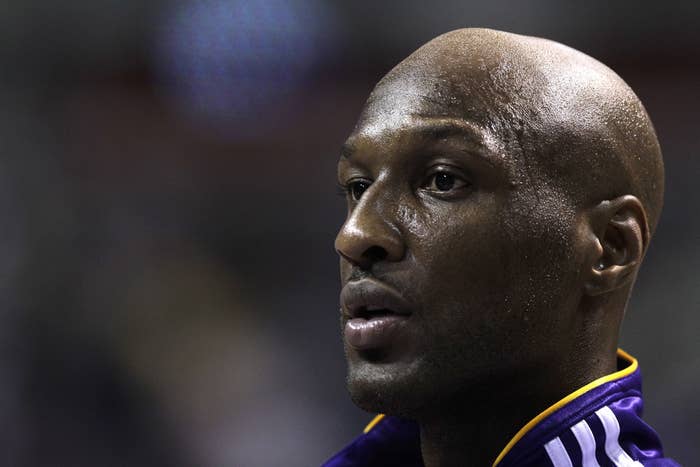 A source with knowledge of the situation confirmed to BuzzFeed News on Friday that NBA star Lamar Odom is conscious and was able to communicate with his estranged wife, Khloé Kardashian.
"Lamar is conscious and was able to say 'hi' to Khloé, but his condition remains guarded," a source close to the situation told BuzzFeed News. "He is doing a tiny, tiny bit better than yesterday."
In the days since Odom was found unconscious at a Nevada brothel after using cocaine and sexual performance enhancers, reports about his medical status have been conflicting and unconfirmed by his family or the Las Vegas hospital where he is being treated.
Daniel Artest — brother of Ron Artest, aka Metta World Peace — also posted an update about Lamar Odom's condition to Facebook.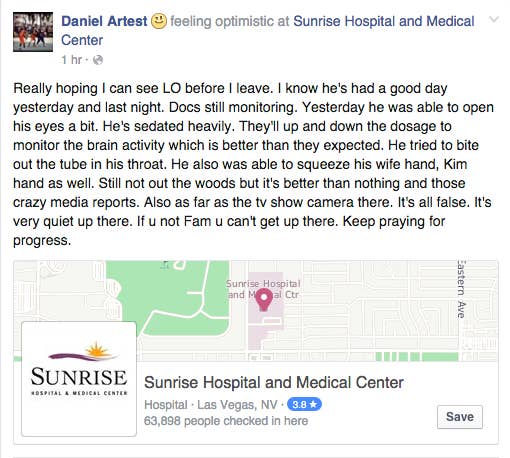 Really hoping I can see LO before I leave. I know he's had a good day yesterday and last night. Docs still monitoring. Yesterday he was able to open his eyes a bit. He's sedated heavily. They'll up and down the dosage to monitor the brain activity which is better than they expected. He tried to bite out the tube in his throat. He also was able to squeeze his wife hand, Kim hand as well. Still not out the woods but it's better than nothing and those crazy media reports. Also as far as the tv show camera there. It's all false. It's very quiet up there. If u not Fam u can't get up there. Keep praying for progress.
Khloé and other Kardashian and Odom family members have been at Sunrise Hospital holding vigil since his transfer.
Odom has two teenage children and a father, but a source close to the situation said Khloé has been making welfare decisions. The divorce she filed for in 2013 has not been finalized because a judge has yet to sign the papers.
During his recovery, there has been a strong outpouring of support from family, friends, fans, and former NBA teammates.
Odom grew up in the New York City borough of Queens with the Artest brothers.
On Thursday, Artest posted about Odom's health, saying "LO isn't out of the woods but you can be more optimistic."
His most recent update about Odom's improving status accompanied a check-in at the Sunrise Hospital.
On Wednesday and Thursday, Metta World Peace shared photos of himself and Odom as teammates — as teenagers and for the Los Angeles Lakers.
When reached by phone by BuzzFeed News on Wednesday, Ron Artest Sr. — father of Daniel and Metta — said when the boys were in high school, "Anytime Lamar was playing against Ron, the gym would be packed."
"I dont know what to say anymore," Artest Sr. said. "I'm just sad. I don't want anything to happen to the guy."