Judge Overturns Tom Brady's Four-Game Suspension
Tom Brady will not be suspended for four games after he was allegedly "generally aware" of a scheme to deflate AFC Championship game footballs earlier this year. The NFL will appeal the decision.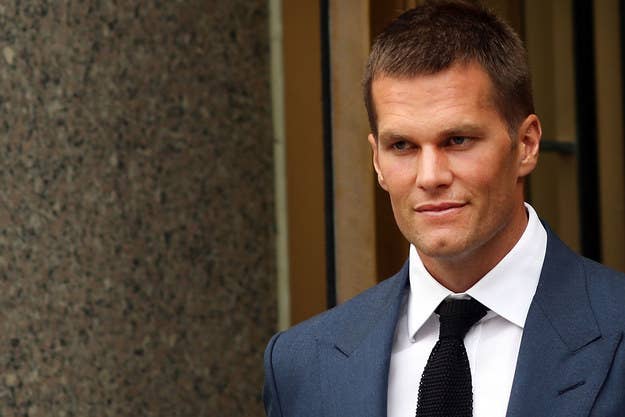 Tom Brady's four-game suspension by the NFL has been overturned by a federal judge. In a 40-page filing Thursday, Judge Richard Berman sided with the Patriots quarterback and the NFL Players Association.
Though the saga was initially concerned with whether or not Tom Brady was complicit and/or directed a scheme to deflate game-use footballs to gain a believed competitive advantage, the lawsuit was not a judgment of guilt or innocence. Instead, the lawsuit centered on the power afforded to NFL Commissioner Roger Goodell under the NFL and NFL Players Association's Collective Bargaining Agreement, which gives Goodell near-unilateral power when determining a player's punishment for policy violations, and the standard used to impose that punishment.
Goodell and the NFL later announced that they will appeal the decision "to uphold the collectively bargained responsibility to protect the integrity of the game."
Brady was suspended for four games after an investigator determined he was "generally aware," if not orchestrated, a scheme to deflate game-use footballs to gain an alleged competitive advantage against the Indianapolis Colts in the 2015 AFC Championship game.
In his decision Thursday, Judge Berman said that Brady had not been given adequate notice "that he could receive a four-game suspension for general awareness of ball deflation by others or participation in any scheme to delate footballs, and non-cooperation with the ensuing Investigation. Brady also had no notice that his discipline would be the equivalent of the discipline imposed upon a player who used performance enhancing drugs."
During the lawsuit hearings, Judge Berman repeatedly asked the NFL for clarification on the standard that an investigator used when finding Brady to be "at least generally aware" of tampering. He showed skepticism of the standard on multiple occasions in court. The topic of adequate notice is one the NFLPA on behalf of Brady made a focal point of their lawsuit. He said that the "generally aware" standard had no precedent in NFL sanctions and that Brady was also not alerted to the fact that he could be suspended for not turning over his cell phone to the investigator.
"The Court concludes that, as a matter of law, no NFL policy or precedent notifies players that they may be disciplined (much less suspended) for general awareness of misconduct by others. And, it does not appear that the NFL has ever, prior to this case, sought to punish players for such an alleged violation," Judge Berman determined.
In a letter announcing Brady's initial suspension, Goodell said Brady's four games had been determined in reference to the standard discipline for steroid use. In court and in his decision, Judge Berman found that to be baseless.
"The Award [letter announcing suspension] offers no scientific, empirical, or historical evidence of any comparability between Brady's alleged offense and steroid use. Often, steroid use has to do with critical issues of health, injury, addiction, and peer pressure, among other factors. [...] None of these factors is (remotely) present here."
Judge Berman also vacated the suspension in part because Brady and the NFLPA were not allowed to cross-examine one of the co-authors of the initial investigation during a 10-hour appeal hearing at NFL headquarters in New York. The NFL has said that attorney Jeff Pash did not have a significant role in the investigation, but Judge Berman points out that he had been called "the co-lead investigator" on the report.
"The Court finds that Commissioner Goodell's denial of Brady's motion to compel the testimony of Mr. Pash was fundamentally unfair and in violation of 9 U.S.C. § !O(a)(3). Given Mr. Pash's very senior position in the NFL, his role as Executive Vice President and General Counsel, and his designation as co-lead investigator with Ted Wells, it is logical that he would have valuable insight into the course and outcome of the Investigation and into the drafting and content of the Wells Report."
"Commissioner Goodell's refusal to hear such evidence warrants vacatur of the
Award under 9 U.S.C. § 10(a)(3)," Judge Berman determined.
Judge Berman's decision can be appealed to a higher court, but Judge Berman has warned that the entire process could take up to two years to resolve. "And I don't think anyone wants that," he said during a hearing in early August.
The NFLPA statement called the ruling a victory for Brady and all NFL players.
The rights of Tom Brady and of all NFL players under the collective bargaining agreement were affirmed today by a Federal Judge in a court of the NFL's choosing. We thank Judge Berman for his time, careful consideration of the issue and fair and just result.

This decision should prove, once and for all, that our Collective Bargaining Agreement does not grant this Commissioner the authority to be unfair, arbitrary and misleading. While the CBA grants the person who occupies the position of Commissioner the ability to judiciously and fairly exercise the designated power of that position, the union did not agree to attempts to unfairly, illegally exercise that power, contrary to what the NFL has repeatedly and wrongfully claimed.

We are happy for the victory of the rule of law for our players and our fans. This court's decision to overturn the NFL Commissioner again should signal to every NFL owner that collective bargaining is better than legal losses. Collective bargaining is a much better process that will lead to far better results.
The NFL "respectfully disagree[s]" with Judge Berman's decision and said the litigation in this matter will continue:
We are grateful to Judge Berman for hearing this matter, but respectfully disagree with today's decision. We will appeal today's ruling in order to uphold the collectively bargained responsibility to protect the integrity of the game. The commissioner's responsibility to secure the competitive fairness of our game is a paramount principle, and the league and our 32 clubs will continue to pursue a path to that end. While the legal phase of this process continues, we look forward to focusing on football and the opening of the regular season.
Patriots owner Robert Kraft, who is a longtime ally of Goodell but has been very vocal about the saga, said the Patriots will "return our focus to the game on the field."
As I have said during this process and throughout his Patriots career, Tom Brady is a classy person of the highest integrity. He represents everything that is great about this game and this league. Yet, with absolutely no evidence of any actions of wrongdoing by Tom in the Wells report, the lawyers at the league still insisted on imposing and defending unwarranted and unprecedented discipline. Judge Richard Berman understood this and we are greatly appreciative of his thoughtful decision that was delivered today. Now, we can return our focus to the game on the field.
Read the full decision here:
Download PDF