On tonight's episode of Friday Night Tykes, Esquire Network's reality series about the highly competitive Texas Youth Football Association, then-10-year-old Sedrick "Juju" Thomas took a hard hit while returning an onside kick and was immediately pulled out of the game. It was the first time on the second season of the network's breakout success that viewers saw a child experience a concussion, opening up a larger conversation about the dangers of youth contact sports.
The Esquire Network has built a roster of bachelor-centric programming about sports, bars, and "fascinating and captivating" women, but Friday Night Tykes is its biggest hit and has caught the attention of parents, a not insignificant number of whom are fiercely critical of the program. As discourse about the dangers of playing football at any age reaches the mainstream consciousness — a recent study, for example, showed a correlation between tackle football and impaired brain development — critics of Friday Night Tykes worry the program further glorifies the game. But producer Matt Maranz told BuzzFeed News via phone that the documentary-style show aims to be objective, and present viewers with the realities of the good, and the bad.
It was "never a question" as to whether Esquire Network would or wouldn't show Juju's injury on the series, Maranz said. He said he understands that watching a young boy be taken off the field with a dazed look in his eyes is "heartbreaking," adding that, as a parent, he knows that nobody wants to see a child get hurt. But he maintained the necessity of representing youth football as it exists, which included a Season 1 incident that led two coaches for the San Antonio Colts to be suspended in the wake of footage of airing that featured them instilling negative dangerous habits in their players, who were 9 years old at the time. (Coach Marecus Goodloe encouraged swearing from his young players, and coach Charles Chavarria instructed them to make violent head-to-head contact with opposing players.) Maranz told BuzzFeed News the coaches were suspended as a direct result of their misguided techniques being featured on the series.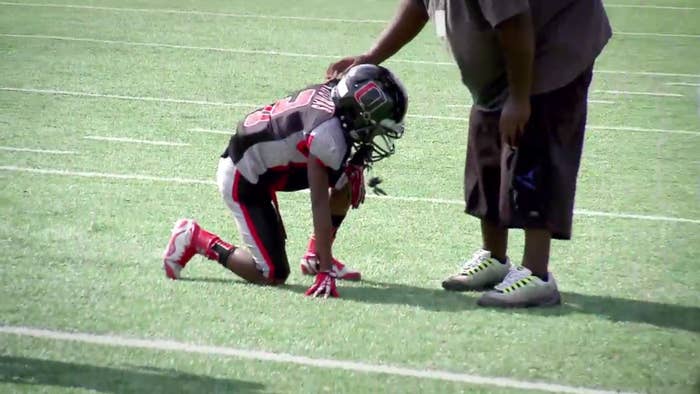 Friday Night Tykes presents a disturbing reality about the nature of youth football, which includes the lack of properly trained coaches and the physical dangers of the sport. Juju's concussive hit aired at the end of the most recent episode of Friday Night Tykes, leaving viewers with a bit of a cliffhanger about the well-being of the then-10-year-old boy. But Juju's mother, Brittney Harris, told BuzzFeed News he is excited to be playing again.
Juju, now 11, began playing flag football at age 6, but when Harris and her ex-husband realized his passion for the sport, they decided to find him a team that had a competitive edge. They chose the San Antonio Outlaws, knowing that Juju would have to work hard for his spot on the roster. During his first practice, when he was 7, he jumped right into tackling. "He just went for it," Harris said. "I watched him just take out a kid like it was nothing." Harris knew her son could tear a ligament or sprain an ankle playing the game, but in her mind, those possibilities were overridden by the benefits Juju could experience from being in a structured environment, like building character and keeping him out of trouble in his teenage years. Still, she felt and continues to feel conflicted about letting her ambitious son pursue his lifelong dream, and offering guidance and protection as his mother.
"Participation in youth team sports is highly beneficial in developing social skills, confidence, feelings of mastery, instilling a sense of hard work, teamwork, and other benefits. In no way do we want to get rid of this positive side," Dr. Robert Stern, who leads research at Boston University on the neurological effects of football and other highly physical sports, told BuzzFeed News via phone. "We just aim to make it safer for players. Does it make sense to expose children to repetitive hits to the head during cognitive development? The logical answer is no, but we are still in preliminary stages of research and understanding of football's true effects on the mind."
Football is 11-year-old Juju's life. He aspires to be like Seattle Seahawks running back Marshawn Lynch, who is known to fans as "Beast Mode," and is recognized as one of the best, if not the best, at his position in the NFL. Harris said that when Juju was diagnosed with his concussion, doctors suggested he wear sunglasses to shield himself from the intense Texas heat and sunshine. "This excited him," she remembered. "He asked me if we could buy sunglasses like the ones Marshawn wears."
After her son's injury, Harris researched concussions, testimonies by current NFL players, and how it could affect her son long-term. She told BuzzFeed News she hoped the concussion would scare Juju away from football, but he remained as passionate as ever, begging his mother to allow him to go to practices and watch games, just to make sure he was supporting his teammates and keeping up to date with offensive strategies. Harris sees her son's love of football and applauds him for his determination, but, she said, "If he gets hit like that again, he's done."
Though Friday Night Tykes is ostensibly about kids playing football in the high Texas heat, Maranz said it's ultimately about the questions parents must ask themselves as well. In making the complex benefits and drawbacks of the sport known, he believes parents will be better informed to make decisions in the best interest of their own families. "Many parents see youth football as horrible and dangerous," he said. "But others watch the show and see the structure of the program and determine that competitive, character-building environment might be right for their children."
Harris said she has very few reservations about having her son featured on Friday Night Tykes, joking that the biggest struggle is working to preserve his humility. But, when it comes to the sport, she said, "We just hope that by showing Juju's experiences in youth football, it will help other parents determine what's best for their children and their families."
Friday Night Tykes airs on Esquire Network on Tuesdays at 9 p.m. ET/
The coach who was suspended for encouraging head-to-head contact is Charles Chavarria. An earlier version of this item misidentified him as assistant coach Tony Coley.