Former Tennis Star Tackled By Five NYPD Officers Who Mistook Him For A Suspect
James Blake said he was thrown to the ground and handcuffed in Midtown Manhattan Wednesday after being mistaken for a suspect in an identity theft ring.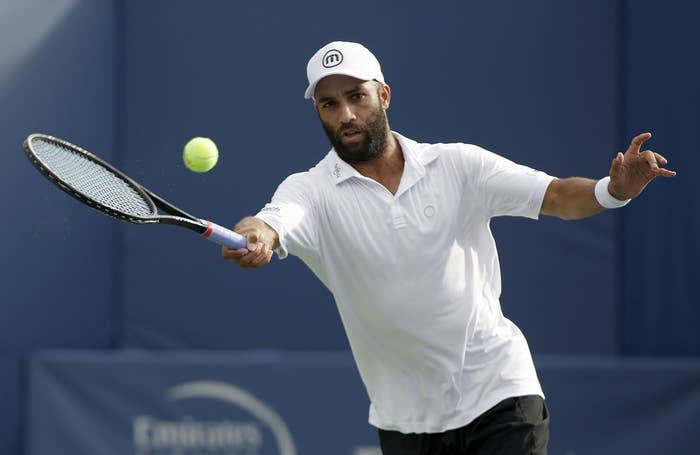 Former tennis star James Blake, who holds 10 singles titles and retired in 2013 after 14 years playing professionally, told a reporter for the New York Daily News that he was mistakenly confronted and thrown to the ground by "five plainclothes city cops" hours before attending the U.S. Open on Wednesday.
The officers, who were white, apparently thought Blake was a suspect in an identity theft scam that often operated around the Midtown Manhattan hotel, the Daily News reported.
This week, NYPD detectives were investigating an organization of people who bought cell phones using fraudulent credit cards, and the Identity Theft Task Force set up a plan to catch suspects at the Grand Hyatt hotel, where Blake happened to be staying for the US Open. One person was initially arrested in the sting. On Wednesday, the person delivering the phones in the NYPD operation told detectives he had sold cell phones to Blake and one other person who was not with the tennis player. Both men were then put in handcuffs, and a retired member of the NYPD informed detectives of Blake's identity, and he was released. The delivery person had mistakenly identified Blake as being involved in the scheme. The other man detained with Blake — who was, again, unassociated with him — was arrested.
Blake declined to comment further on the incident Wednesday when reached by BuzzFeed News, but confirmed that details in the Daily News report attributed to him were correct.
In his retelling of the event, Blake told the Daily News reporter that he was "slammed to the ground, handcuffed and detained" in front of the Grand Hyatt on East 42nd Street.
The officers looked at his license and his Open credential, according to the Daily News. After he was handcuffed for about 15 minutes, the officers realized they had the wrong person and apologized.
Wednesday evening, an NYPD spokesperson released the following statement:
"Today James Blake was detained by police in midtown Manhattan in regards to an ongoing investigation into fraudulently purchased cell phones, after being misidentified by a cooperating witness. Once Blake was properly identified and found to have no connection to the investigation, he was released from police custody immediately. In regards to the alleged improper use of force, the Police Commissioner directed the internal affairs bureau to investigate."
By Thursday morning, the NYPD had placed one of the officer's involved in the incident on modified duty, pending an investigation by the department's Internal Affairs bureau.
"Subsequent to Internal Affairs investigators viewing surveillance video of the incident at the Hyatt Hotel on Wednesday, September 9, involving James Blake, one officer has been placed on modified assignment," the NYPD said in a statement.
Blake, who is black, told the Daily News he is not sure if believes he was racially profiled:
"To me it's as simple as unnecessary police force, no matter what my race is. In my mind there's probably a race factor involved, but no matter what there's no reason for anybody to do that to anybody," he said.
"I have resources to get to the bottom of this," Blake told the Daily News. "I have a voice. But what about someone who doesn't have those resources and doesn't have a voice? The real problem is that I was tackled for no reason and that happens to a lot of people who don't have a media outlet to voice that to."
On Thursday morning, in an interview with Good Morning America, Blake said he wants an apology and an explanation from the officers on how they conducted themselves.
"We all need to be held accountable for our actions," Blake said on GMA. "Police as well. I do think most officers are doing a great job at keeping us safe, but when you police with reckless abandon you need to be held accountable."