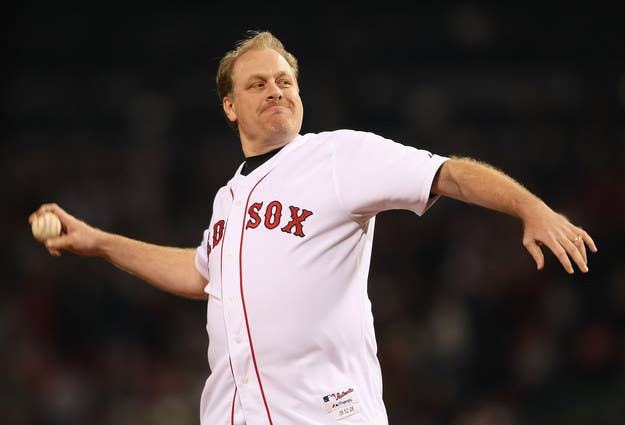 ESPN announced Thursday that baseball analyst Curt Schilling will not appear on broadcasts for the remainder of the MLB regular season and the American League Wild Card game. The remainder of the MLB playoffs, including the World Series, are scheduled to be broadcast by other networks.
Schilling's shaky standing with ESPN, where he's worked since 2010, began in August when he tweeted an image macro that drew a comparison between the number of Nazis and number of Muslim extremists, transposed over a photo of Hitler. Schilling also posted the photo to his Facebook page, which was later discovered to have entire photo albums of his collection of WWII/Nazi-related memorabilia.
ESPN quickly pulled Schilling from that week's broadcast of Sunday Night Baseball and from his Little League World Series assignment. He later tweeted an apology.
Schilling was scheduled to be back for this upcoming Sunday's broadcast, but shortly after midnight on Monday morning he sent a lengthy diatribe to reporter Dan Levy, who writes for sports media site Awful Announcing.
The former pitcher questioned Levy's integrity in covering his Nazi meme–related suspension, linking to an Awful Announcing story written by another writer.
Schilling claimed the nature of the photo had been willfully misconstrued on the site, taking a shot at a fellow ESPN colleague in the process. "Very Chris Mortensen of you," he wrote, referring to Mortensen's reporting on the Tom Brady/NFL saga, which has been largely discredited.
"I don't have a racist bone in my body," Schilling wrote. "Anyone that knows me even a little knows that."
He continued:
I don't have a racist bone in my body, never have. Anyone that knows me even a little knows that.

Yet you, like so many others, continue to destroy what's left of the publics trust and confidence in media by creating a story of your own design and liking when you didn't need to, and smearing someone's reputation ato do it. Any thought at all as to my children and their thoughts if they read the lie you created? That's an honest question. I dealt with it in my home, but I always wonder when people of your ilk give ruining someone a shot, if you ever do think about the family you impact. Especially when you are creating a story that never happened to do it.

And for what it is worth I apologized for tweeting. The forum was about as poor a choice as I could have made in trying to elicit a potential discussion on that topic. I did not, and will not apologize for the content of the tweet. If you, or anyone else, can't wrap your head around your native language enough to understand that omitting words, or adding them, is plain and simple lying when it comes to journalism. Oh and it changes the content of a quote when you do that too. But you already knew that. But to paraphrase, when a radical minority is opposed by a silent and weak majority, really really bad stuff can, and has, and likely will again, happen.
In the same email, Schilling did offer lengthy praise for fellow baseball broadcaster Jessica Mendoza, who became the first woman to call an MLB game for the network recently and sat in for Schilling on Sunday.
"My suspension or not she deserves to be in a booth calling MLB games," Schilling wrote. "Not to break a barrier, not to enter a new frontier, but because she earned it. She's one of the few still understanding if you work your ass off you can do what you dream."
Awful Announcing did not have a formal agreement with Schilling for the email to be off the record, despite Schilling requesting it be kept private, so after a day of consideration, they published the entire email.
ESPN released a statement, assuring reporters that "We weren't aware of Curt's plan to craft or sent this email."
In a follow-up, Levy published his lengthy response to Schilling, in which he asked the analyst about other offensive posts on Schilling's social media sites.
You know for a fact the post about blowing up prophets was 100% in reference to those unique gentleman on global airwaves daily, talking about the destruction of all non believers, America and Israel.

But that screws your narrative so you act more ignorant than you are, play stupid and try to make the leap, as with the tweet, i meant all prophets. At least you're consistent.

That tweet with Hitler was offensive, he was a despicable, horrible anti-christ of a human.

Did that tweet stir up negative emotions?

It was supposed to do that, albeit again it was idiotic for me to post in that forum.

We are now in a time and place where horrible despicable things are being imparted on innocent human beings around the globe by people who have made it clear they wont stop until ever non believer on the planet is dead.

Those who fail to learn from history are doomed to repeat it.
Late Thursday, ESPN issued a scathing statement on Schilling's recent — and very public — comments. The emails between Schilling and Levy were not mentioned explicitly.
At all times during the course of their engagement with us, our commentators are directly linked to ESPN and are the face of our brand. We are a sports media company. Curt's actions have not been consistent with his contractual obligations nor have they been professionally handled; they have obviously not reflected well on the company. As a result, he will not appear on ESPN through the remainder of the regular season and our Wild Card playoff game.
ESPN has not announced who will sit in for Schilling going forward, but intends to finalize and announce a decision soon.