Chase Utley Eligible To Play Against Mets Monday Night
The Dodgers infielder was suspended two games Sunday for a late slide on Saturday night.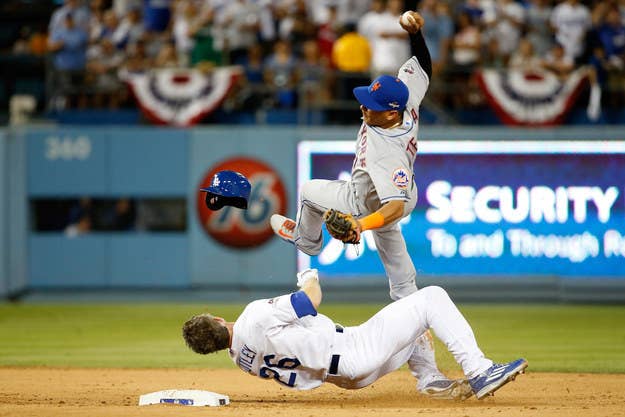 Dodgers infielder Chase Utley will be available to play Monday night against the Mets in Game 3 of the National League Division Series.
Utley was suspended for two games Sunday for a late slide on Saturday that left Mets shortstop Ruben Tejada with a broken leg. Utley immediately appealed the suspension, but MLB moved to settle the appeal early Monday. The MLB Player's Union successfully argued that they would not have a fair shot to assemble an appeal case and said there was a lack of precedent. The appeal will now be held at a later date, giving Utley the chance to take the field.
When Utley and the Dodgers take the field in Flushing, Queens, they are certainly in for a chorus of boos from furious Mets fans.
On Saturday, Utley was ruled safe at second base upon replay review, a call that remains controversial but is technically compliant with MLB's own rules.
Neither Utley nor Tejada actually touched the base while making the play, which many believed would give preference to Tejada based on the "neighborhood play," which allows infielders to be in the proximity of the base while turning a double play to avoid collisions and injury. However, MLB officials determined Tejada would not have been able to turn a double play as the Dodgers' Howie Kendrick ran to first, so the neighborhood play was not applicable. MLB's rules give preference to the baserunner over the infielder if neither touch the bag in this scenario.
On Sunday, Chief Baseball Officer Joe Torre announced a two-game suspension for Utley on the basis of a different part of the play: Interference. The rule Torre cited reads in full:
[A batter is out when:] A preceding runner shall, in the umpire's judgment, intentionally interfere with a fielder who is attempting to catch a thrown ball or to throw a ball in an attempt to complete any play;

The objective of this rule is to penalize the offensive team for deliberate, unwarranted, unsportsmanlike action by the runner in leaving the baseline for the obvious purpose of crashing the pivot man on a double play, rather than trying to reach the base. Obviously this is an umpire's judgment play.
Had the interference been called correctly by field umpires — it is not a play reviewable by replay — the Mets would have been awarded a double play that would have ended the inning and sent them into the next inning up one run on the Dodgers.
Instead, the Mets came undone during the seventh inning, and allowed the Dodgers to score four runs, taking Game 2 with a score of 5–2 and tying the series at 1–1.
Fans and analysts pointed out Sunday night and Monday morning that Utley likely has a good case for his appeal because there is very little if any precedent for suspending a player for such a slide. In giving Utley the harsh suspension, Torre was certainly trying to send the message that MLB will take steps to protect middle infielders going forward, and it is very likely that rules will be modified this offseason to establish clear-cut procedure for situations like this in the future.
Before Utley's final league sanction can be determined, though, he — or a teammate — is almost certain to face on-field retaliation from the Mets. Baseball players engage in a loose determination of "unwritten rules," which allow them to take justice into their own hands. Most commonly, retaliation is served by a pitcher intentionally hitting a batter, usually in the side or glutes.
Of course, baseball's masculinity complex combined with the pressure needing to win playoff games could escalate or deflate the Mets' retaliation. With a conflict as intense as this one, pitchers are known to throw more dangerously at batters. If this happens on Monday night, it would likely escalate the situation, and could lead to more retaliation throughout the game or a bench-clearing brawl.
However, escalation stands to hurt both the Mets and Dodgers tonight during Game 3, which will put the winning team only one win away from clinching the five-game series. First, the benches might be warned ahead of time that fighting or retaliation would lead to immediate ejection. For the Mets to take those chances with their starting pitcher during an important playoff game would be a form of shooting themselves in the foot. Even without a pre-game warning, if the situation escalates to a bench-clearing fight, it could lead to more injuries or more league sanctions.
The Mets and Dodgers' managers, Terry Collins and Don Mattingly, will certainly consider the risk/reward of bringing this drama onto the field in Queens.
On Monday afternoon, it was announced that Utley was not in the Dodgers' starting lineup.
According Anthony DiComo of MLB.com, Mets manager Terry Collins specifically instructed starting pitcher Matt Harvey "not to throw at anyone."
"We cannot let our emotions take over here. We've got to let the past go," Collins told DiComo. "We can't just give a game away to show Ruben were backing him up. If Harvey gets ejected in the second inning, we're in trouble. The minute we make this some kind of grudge match, we're going to make some mistakes."