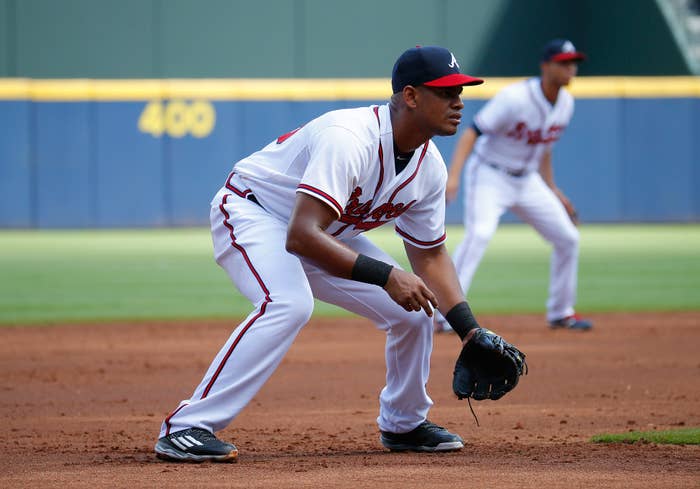 Atlanta Braves outfielder Hector Olivia will be suspended until Aug. 1 for his arrest in April after a woman accused him of assaulting her at a Ritz-Carlton hotel.
The woman notified police of the alleged assault the morning of April 13. Officers noted bruising when they arrived at the Ritz-Carlton in Arlington, Virginia, where the Braves were staying for a series against the Washington Nationals. Olivera was subsequently arrested and placed on paid administrative leave.
Olivera's unpaid suspension by Major League Baseball will be 82 games, retroactive to April 30. He will not appeal.
Olivera's suspension is the third issued under MLB's Domestic Violence, Sexual Assault, and Child Abuse Policy. On May 13, Colorado Rockies shortstop Jose Reyes was suspended until May 31 for a total of 52 unpaid games following an arrest for an alleged domestic violence incident in Hawaii. And New York Yankees pitcher Aroldis Chapman was suspended 30 games in March following an incident at his home in Florida in 2015.
MLB's announcement of Olivera's suspension did not note why his suspension is significantly longer that Reyes' and Chapman's.
Having reviewed all of the available evidence, I have concluded that Mr. Olivera violated the policy and should be subject to discipline in the form of an unpaid suspension that will expire on Aug. 1, MLB Commissioner Rob Manfred said in a statement. "Mr. Olivera has also agreed to make a significant charitable contribution to one or more charitable organizations focused on preventing and treating survivors of domestic violence.
MLB Players Association released the following statement:
Hector Olivera announced that he will not appeal the suspension levied against him today by Major League Baseball. The suspension will expire on August 1, 2016, after which Mr. Olivera will be fully reinstated.

Pursuant to the Confidentiality obligations in Major League Baseball's Joint Domestic Violence, Sexual Assault and Child Abuse Policy, the Players Association and Mr. Olivera will have no further comment on this matter.