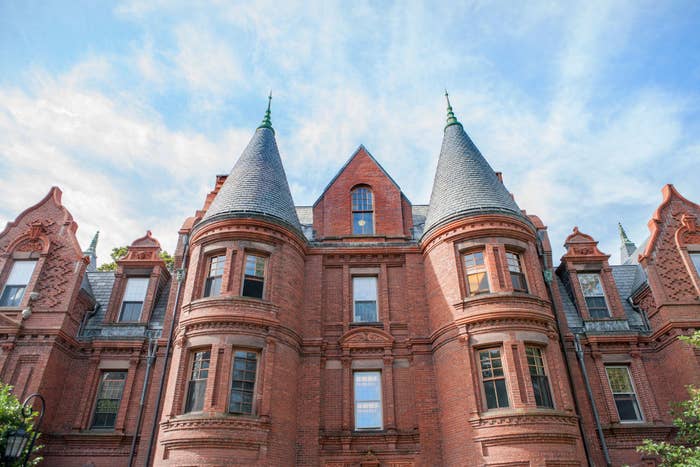 Students at Wellesley College voted Tuesday to open admissions to trans men and nonbinary applicants at the Massachusetts women's liberal arts college.
The nonbinding vote garnered widespread support not only from students, but from hundreds of faculty, staff, and alumni who signed an open letter in support of the policy change in the weeks leading up to the vote.
However, the college's administration said that it will not change its policies. The college's president, Paula A. Johnson, said in a statement that the Seven Sisters college will continue to only admit "applicants who consistently identify and live as women, including cis, trans and nonbinary students."
"We acknowledge the result of the non-binding student ballot initiative. Although there is no plan to revisit our mission as a women's college or our admissions policy, we will continue to engage all students in the important work of building an inclusive academic community where everyone feels they belong," she said in the statement.
Currently, Wellesley only accepts applications from cis women, trans women, and nonbinary students who "were assigned female at birth and who feel they belong in our community of women." The school does not accept applications from trans men but it will support students who come out as trans or nonbinary after matriculation, according to the school's mission and gender policy.
In the past decade, some women's colleges have updated their admissions policies to be more inclusive. Wellesley announced it would admit trans women applicants in 2015, after Mount Holyoke, another liberal arts college in the Seven Sisters cohort, became the first to accept all trans and nonbinary students, including trans men, the year prior.
The student initiative at Wellesley also called on the school to use gender-neutral language to refer to students in official communications, shifting from "women" to "students" and "they/them" pronouns instead of "she/her."
Students hoped that the vote would help bridge the gap in understanding between the school's administrators and the current student body — and hopefully influence the decisions of the board of trustees.
Ailie Wood, a junior who helped write the initiative, told the Wellesley News that the ballot would help strengthen the college's inclusive environment and reflect the reality of the gender-diverse student body.
"Wellesley is not currently a women's college. You interact with students of all genders every day. Your classmates are trans and nonbinary, your favorite events are run by trans and nonbinary students, and the people you pass in the dining hall or on the sidewalk every day are trans and nonbinary students. If the administration were to create policy to support this ballot question, this fact would not change," Wood said.
Wood added that the college was founded in order to create a safe environment for people who were marginalized based on their gender — and that the college should be welcoming to all trans and nonbinary students.
Across Twitter, Wellesley alumni have also shown their support of the vote.
One alum, Isha Gupta tweeted, "If stripping the "women's college" label means that Wellesley can be a more inclusive place, so be it."
Another alum, Daisy Gardner, tweeted, "We can affirm students who have been marginalized due to their gender identity without losing our character."
The college has roughly 2,500 students, but it does not keep data on the number of trans and nonbinary students.