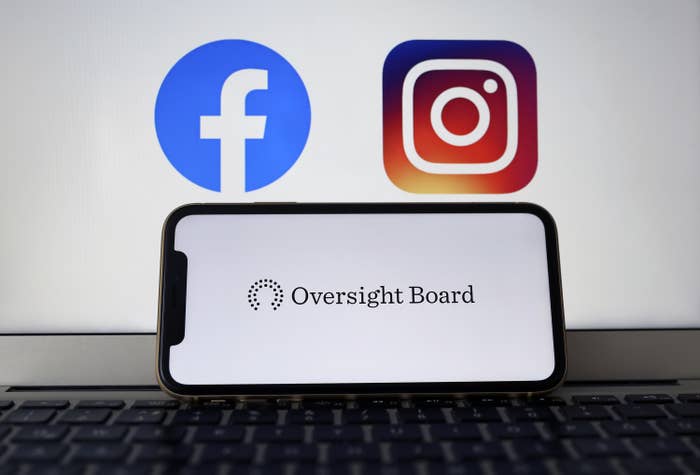 In two separate Instagram posts in 2021 and 2022, a trans and nonbinary couple announced a fundraiser for top surgery. Like others, they'd had difficulty getting the chest masculinization procedure covered by insurance. The images accompanying the caption about the fundraiser displayed their chests with "flesh-colored tape" covering their nipples in one photo, and a person covering their nipples with their hands in another.
While there wasn't a nipple in sight, both photos were flagged for violating Instagram's sexual solicitation community standard and classified as adult nudity and sexual activity. The posts were later removed by human content moderators, and the couple filed an appeal.
On Tuesday, Meta's Oversight Board, which helps govern content moderation policies for Facebook and Instagram, announced the posts were restored. (A spokesperson for Meta told BuzzFeed News the posts had been restored before the board's decision.) This case marked the first time the governing body explicitly covered the treatment of trans and nonbinary bodies on its platforms. The board also recommended the platforms create clearer guidelines around adult nudity and sexual content — something that queer artists and creators say is long overdue. Any posts featuring trans and queer bodies are too often removed for no real reason, they said, leaving them without a critical platform to promote their work and crowdfund.
"It's a start but I don't know if it's going to make a big difference," Genevieve Kuzak, a 27-year-old artist who makes erotic imagery and pornography exploring transmasculine and butch experiences, told BuzzFeed News. "If you're making queer art, the algorithm seems to flag it…for sexual solicitation."
A spokesperson for Meta told BuzzFeed News that the company welcomes the board's decision, adding that it now has 60 days to review and respond publicly to each of the recommendations.
"We are constantly evaluating our policies to help make our platforms safer for everyone," the spokesperson wrote over email. "We know more can be done to support the LGBTQ+ community, and that means working with experts and LGBTQ+ advocacy organizations on a range of issues and product improvements."
Instagram's current policy bans nudity in most circumstances, including photos of "female nipples." However, the policy does carve out exceptions in the context of breastfeeding, birth, and "health-related situations" including gender-affirming surgery.
But in practice, Kuzak, who runs the account @sadisticboyhunter, says the policy's enforcement targets queer and trans creators more often and more harshly than cis users who post more skin or sexually suggestive content.
"It's really, really confusing. I posted photos where I blur out the nipples of a trans guy and Instagram doesn't give me any issues," Kuzak said. "Then I'll post a picture of a trans guy who has TransTape on — that photo got flagged and taken down."
Kuzak's photo of a transgender man wearing TransTape, an adhesive that covers the nipples and binds the chest, was tagged as adult sexual solicitation. He said it's been a challenge to share artwork depicting trans sexuality in a positive light to the broader trans community on a platform that is always trying to make them disappear.
"If the photo gets too saucy, and there's a nipple out, you have no idea what's going to happen," Kuzak said. "But I think people underestimate how it is really important that this kind of stuff is within reach…and it becomes difficult when you have to constantly fight and worry about your account getting taken down."
Meta's Oversight Board has kept the accounts at the center of Tuesday's decision anonymous. But for Bailey Moses, a 28-year-old musician in Los Angeles, the hurdles to posting a fundraiser for top surgery hit close to home.
Last fall, Moses created an Instagram account called "Bailey's top surgery" to advertise a raffle, but Moses said the account was deleted in a matter of minutes. They tried three times with different names and phrases, cautious not to trip up the platform's no gambling policy — but each time the account disappeared, and Moses said they were never told the reason.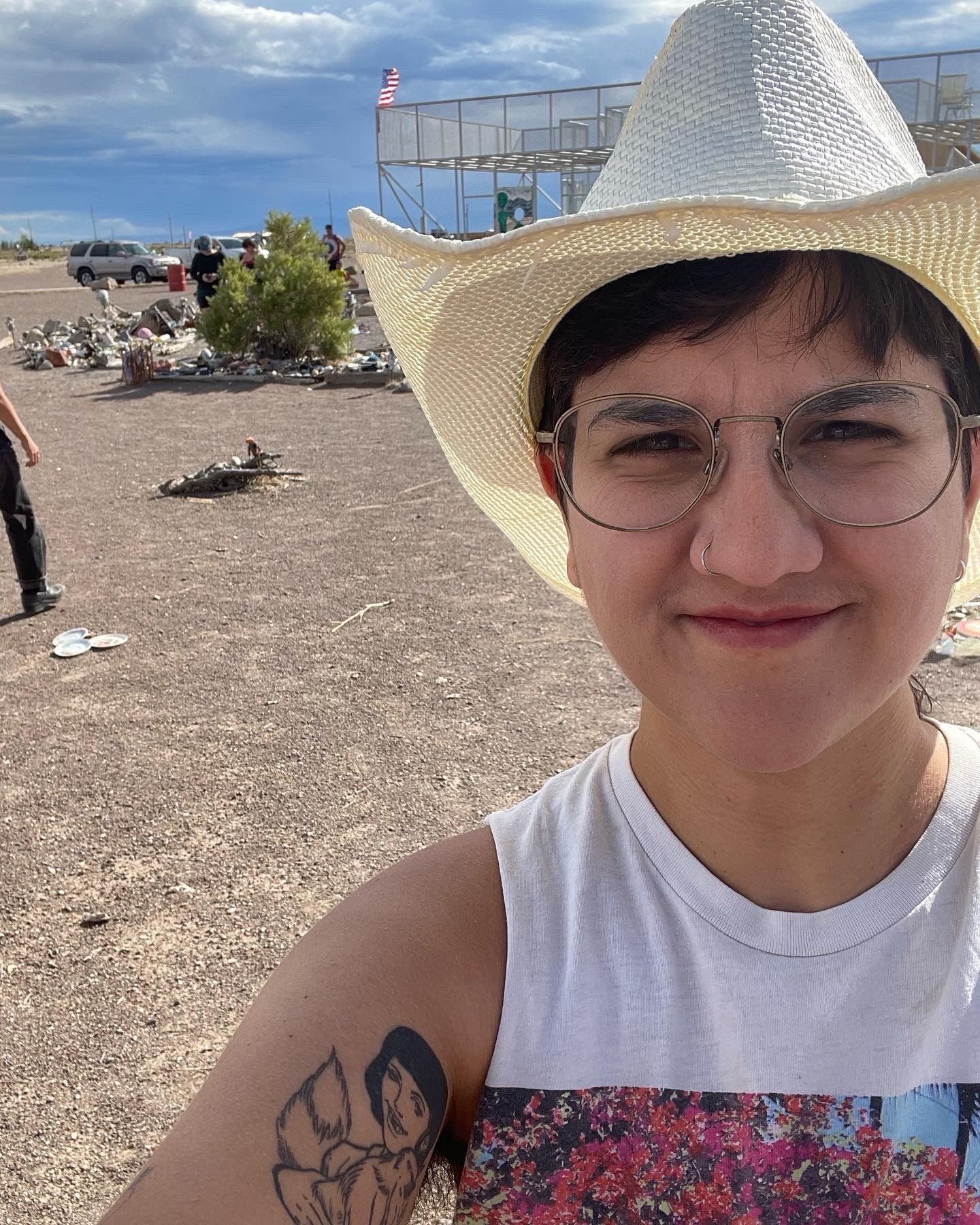 "I've never had this happen until I made an account that mentioned words like chest, top surgery, or boobs," Moses told BuzzFeed News. Finally, they created an account that used vague language and forced them to explain its purpose to their friends individually. "It definitely made me more skeptical and scared to say what I was actually doing. I felt like I had to speak in code."
The Oversight Board on Tuesday acknowledged that Meta's policies "disproportionately impact the expressive rights of both women and LGBTQI+ users of its platforms" and that policies around "female nipples" and bare chests aren't inclusive of trans and gender nonconforming people. The board recommended the company create more precise policies and provide better guidance to content moderators about sexual solicitation.
"This policy is based on a binary view of gender and a distinction between male and female bodies. Such an approach makes it unclear how the rules apply to intersex, non-binary and transgender people," the board wrote. "The restrictions and exceptions to the rules on female nipples are extensive and confusing, particularly as they apply to transgender and non-binary people."
Mickey Harmon, a Buffalo-based erotic illustrator who runs the account @super.twunk, told BuzzFeed News the board's decision addresses the bare minimum of challenges that queer and trans creators face on Instagram — and that the platform has been hypocritical in its policy enforcement.
"This is just window wash," Harmon said. "This whole nudity policy they have in place is predatory towards anything that's not just white, fitness influencers."
Over the last three years, Harmon has had his account deleted, lost nearly 10,000 followers, and had two pieces taken down for violating community standards, despite his efforts to follow guidelines and make his account viewable only to users over the age of 18.
"I feel as though my device is now eternally flagged to be in the Bad Girls Club," he said. Harmon says that deletion has cost him thousands of dollars in potential business.
And he isn't alone in feeling targeted. In its report, the board cited the high number of public comments — 130 from around the world and many from trans, nonbinary and cisgender women who have experience with posts being deleted — as another reason Meta needs to clarify its policy.
In spite of the board's recommendations, Harmon isn't too optimistic about the future of Instagram and Facebook as a safe space for trans and queer creators.
"I don't think that it's ever going to change," Harmon said. "They'll change their logo in June to support our community. But if a person who is post-op wants to celebrate their body, and the body that they have always wanted to be in, that has an issue.
"If you look at the community standards, it literally says that's OK but the technology or the mods are still suppressing that stuff."