This is Grandma, whose actual name is Magdalene Jourdan. She's an 89-year-old artist who has an exhibition of her work at the Thompson Public Library in North Grosvenordale, Connecticut.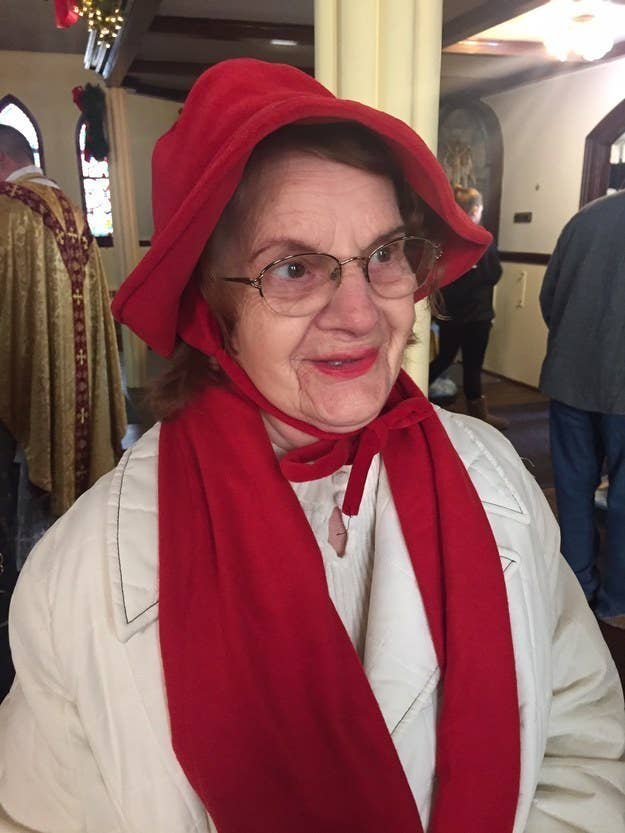 You might've already heard, but a Snapchat picture of Grandma looking sad after almost NO ONE showed up to her art opening on Thursday has spread across social media.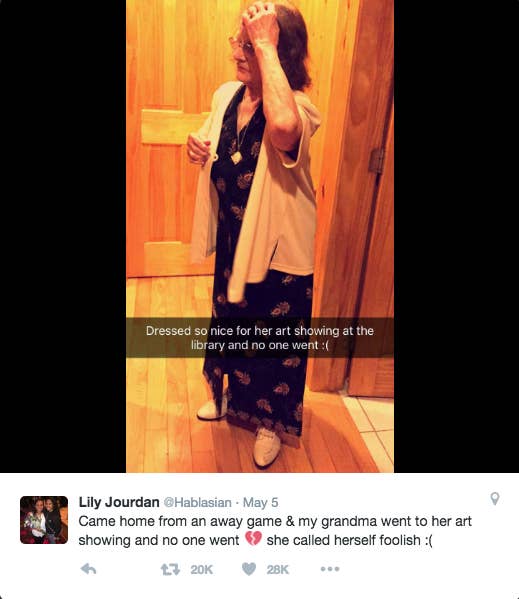 Only two people from the town came to the event. Lily Jourdan, one of her granddaughters, had a softball game and her sister, Jenean, was working. Jenean's uncle and parents also attended.
Grandma told BuzzFeed News she blames the bad weather for the low turnout to her reception.
"I was disappointed," she said. "I got all fancied up. I was a damn fool to dress up to go there."
The picture of Grandma with her hand pressed against her forehead in sadness touched A TON of people.

The tweet has been retweeted over 19,600 times and the library's event page on Facebook has amassed a bunch of comments from people showing love for Grandma.
Some people were making plans to come and see the exhibit before it closes on May 25.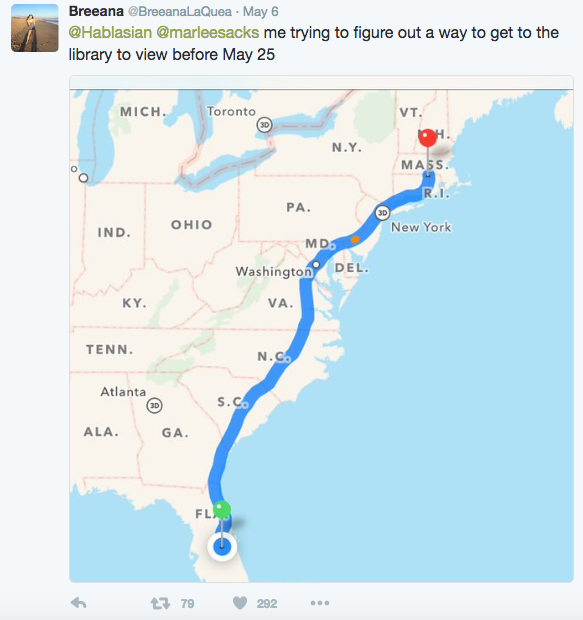 BuzzFeed News went to Grandma's art gallery on Saturday afternoon and got to spend some time with her.
Despite all the outpouring of support for Grandma online, not that many people actually showed IRL on Saturday.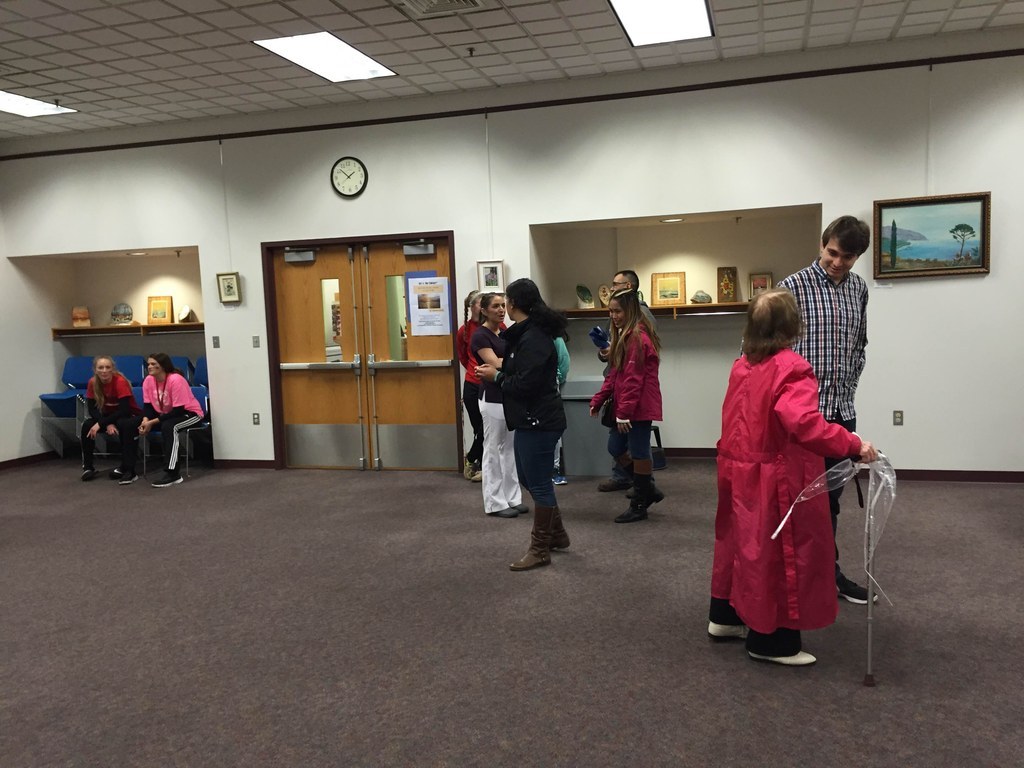 About 14 people, including family or family friends, showed up. Two people traveled from out of town to see the exhibit after hearing about it on social media or BuzzFeed.
But other than that, it was pretty sparse.
The low numbers may have been a result of a scheduling snafu. The library was closed for the Early Childhood Fair on Saturday. But it opened the art gallery at the last minute from 1 p.m. to 2 p.m. local time.

But even with the last-minute opening and low turnout, Grandma was pretty pleased with the outcome.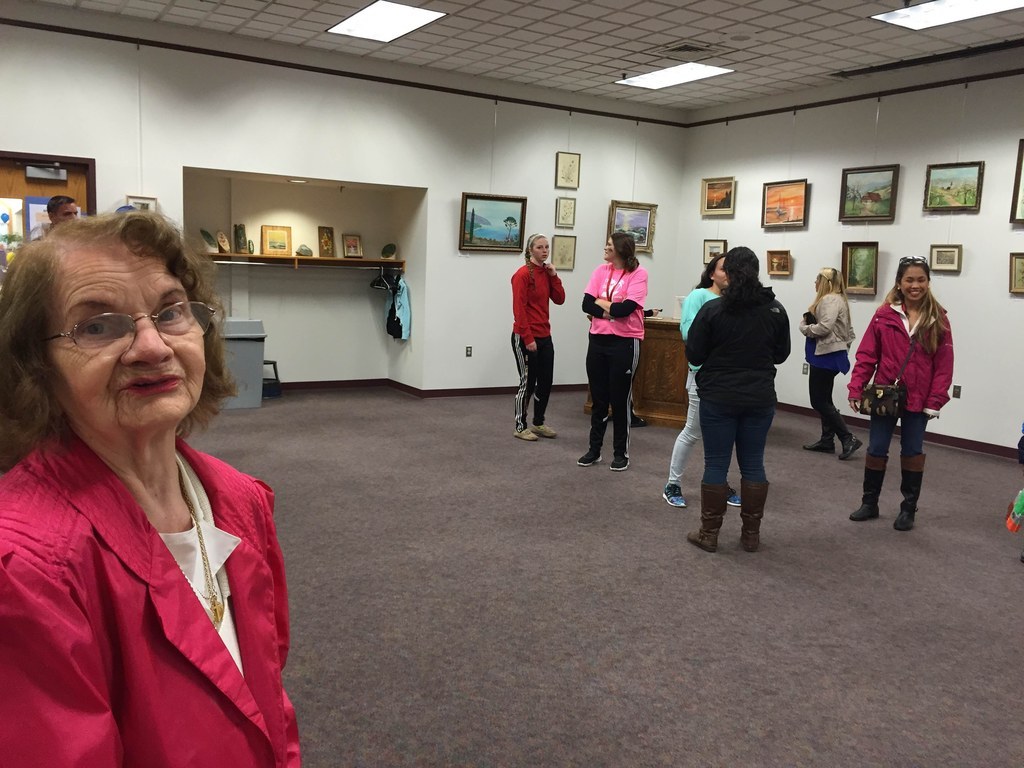 "Of course it's three times more than I had when I came here by myself," she said. "At least there seems to be interest."
Some people traveled from local cities to see Grandma's art, telling BuzzFeed News that she reminds them of their own grandparents.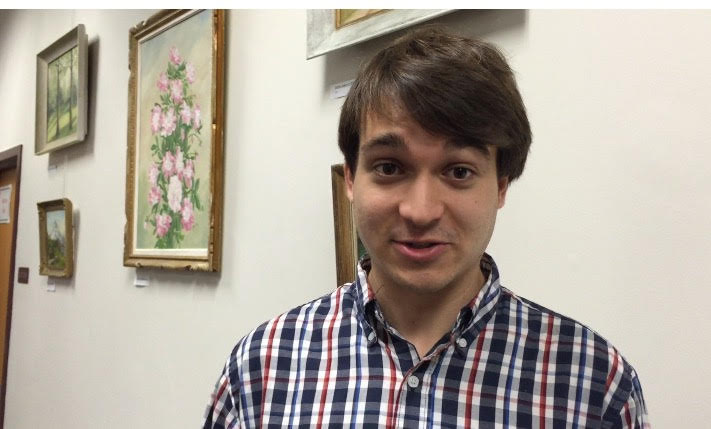 Fish Stark, a student at Yale University, told BuzzFeed News he was on his way to see his girlfriend in Boston, who suggested he stop by the exhibit.
Stark, 20, said he was happy that he did, and called the art "beautiful." Grandma reminds him of his own grandparents and ageing father, who he would not want to feel alone or unacknowledged.
"I think it's important to show up and celebrate the accomplishments of people who have been here a while and make them feel like there's a community around them," he said.
Amanda Polychronis, a 29-year-old who works in the medical software industry, traveled from Boston to see Grandma's art displayed.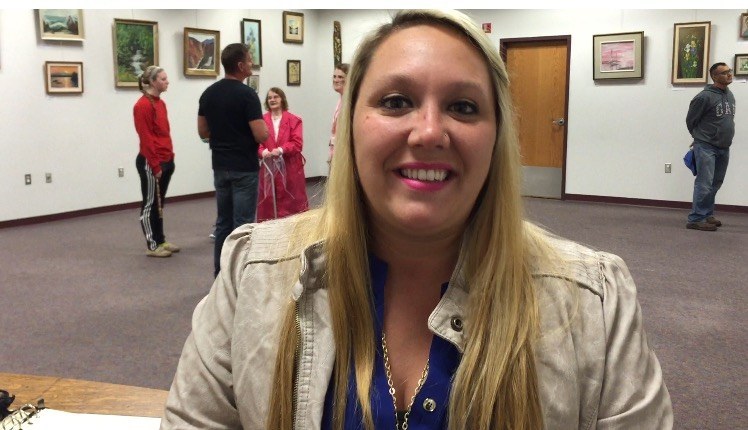 She's a recent art gallery enthusiast who said Grandma's sad turnout on Thursday "totally broke my heart."
Polychronis has a 97-year-old great aunt who she said is always around family and friends.
"There's never a time she feels forgotten," she said. "With older generations, people don't appreciate them as much as they should."
Polychronis is now in touch with Grandma's granddaughter to find out how she can buy one of her paintings.
A Hungarian immigrant to Montreal, Canada, who survived World War II, Grandma said she loves to paint nature to offset the ugliness and violence she sees in the world.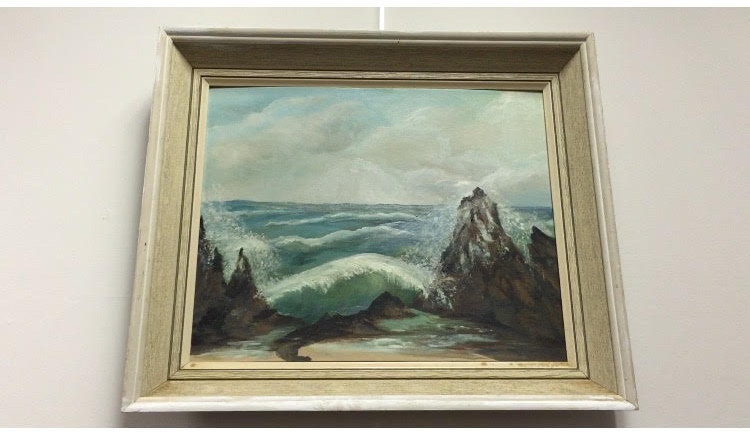 "Mostly because art is how I communicate sometimes," she said.
She estimates she has painted about 2,000 pieces over her lifetime.
Grandma first started painting when she was 3 years old. She discovered the vibrant colors that can be created from simply scratching a brick on the ground or rubbing a radish on paper.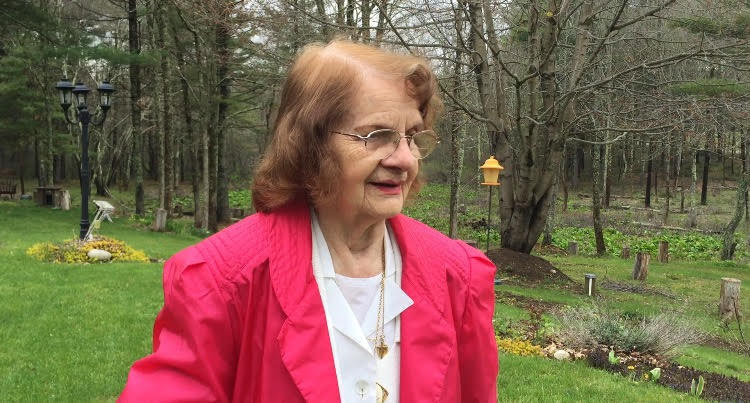 A teacher she had while still living in Hungary inspired her to not abide by certain form, but to express her art in whatever way she likes.
While much of her art is done on canvas, she also paints on whatever she can find, including tree trunks, rocks, and seashells.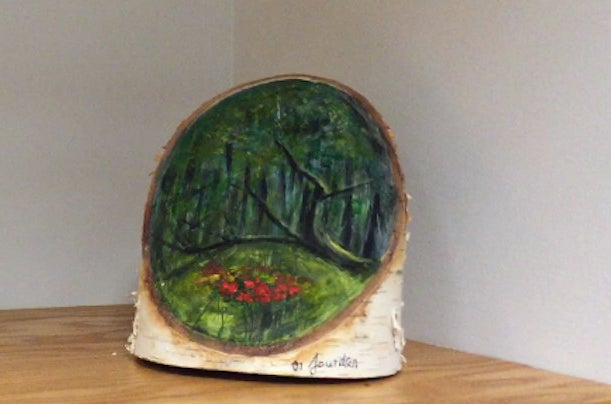 Grandma was happy after the event, along with her two granddaughters who helped spur the online swell of support.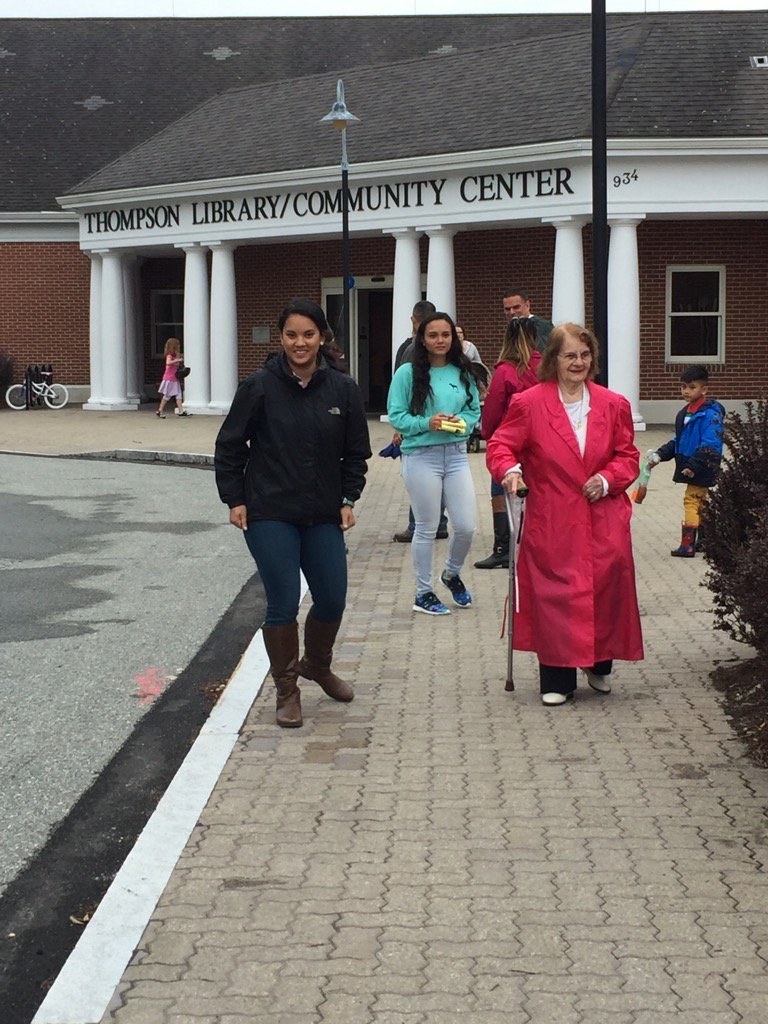 Even her granddaughter, Lily, who first tweeted the sad Snapchat image, said her grandma was elated.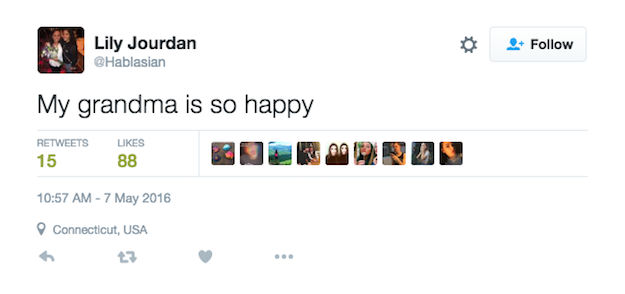 Grandma said she enjoyed speaking with guests about her art. She was particularly moved by Stark's feedback when he told her it made him feel "peaceful."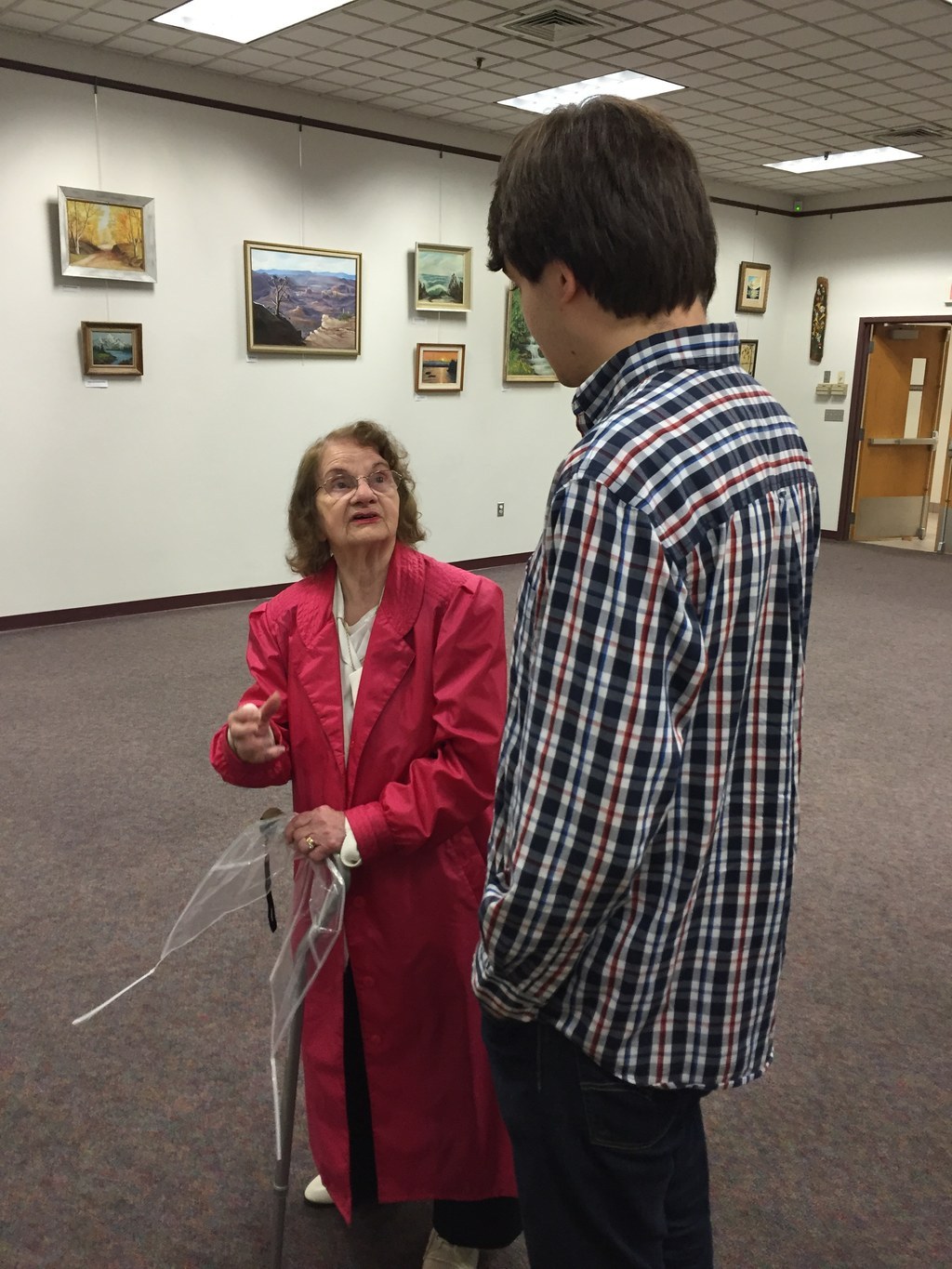 It made her feel "very joyful, very happy" like she "accomplished something today," she said.
"I was a human being," she said about the event. "Not some throwaway old woman."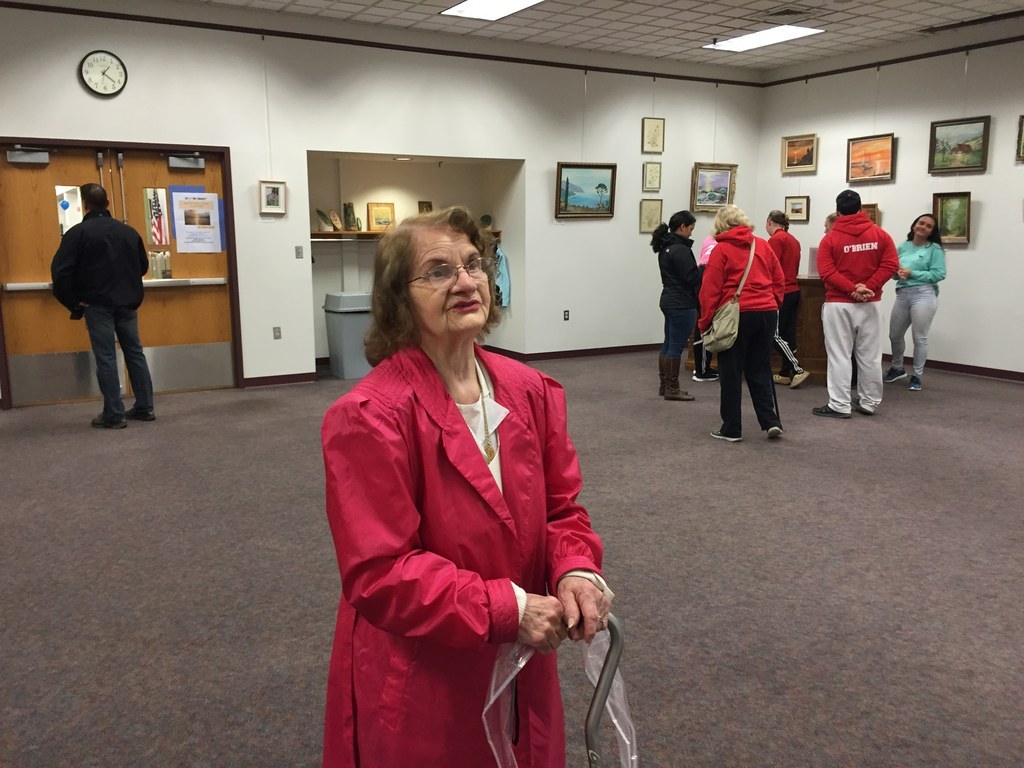 The art exhibit is open through May 25 during the library's regular hours.
Some of Grandma's supporters have asked the library to host a closing reception for people to attend. It is unclear whether the library will host the event.