Kids Choosing Between Gifts For Themselves Or Their Families Will Bring On The Waterworks
Their choice will give you all the Christmas feels.
Grab a tissue before you read any further. UP TV in Atlanta asked dozens of kids to choose between a gift for themselves or a gift for their families.
The video was produced to promote their Give a Gift Up campaign to encourage people to donate a gift to a family in need, UP TV spokesperson Wendy McCoy told BuzzFeed News.
The kids in the video are all members of the Boys & Girls Club of Metro Atlanta, where 83% of families are low-income. Some can't even afford a Christmas tree.
The kids first say what they would like for Christmas.
It was the usual mix of what kids want — a trophy case, a Barbie house, a computer, an Xbox, etc.
And then they were asked what their parents would want. One kid says his mom would want jewelry. Another one says a new TV for the living room. One kid says a ring for his mom "because she's never really had a ring."
Then, lo and behold, the kids were presented with the presents they said they wanted for both themselves and their parents!
But the twist! They had to choose one or the other — a gift for themselves or a gift for their families. It was a very tough decision, obviously.
But ultimately, after some deep soul searching, each and every kid in the video chose a gift for their families. "I get gifts every year from my family, and mom doesn't get anything," said this girl after choosing the present for her family.
"Legos don't matter. Your family matters," said this little boy who's obviously wise beyond his years. "It's either Legos or family, and I choose family."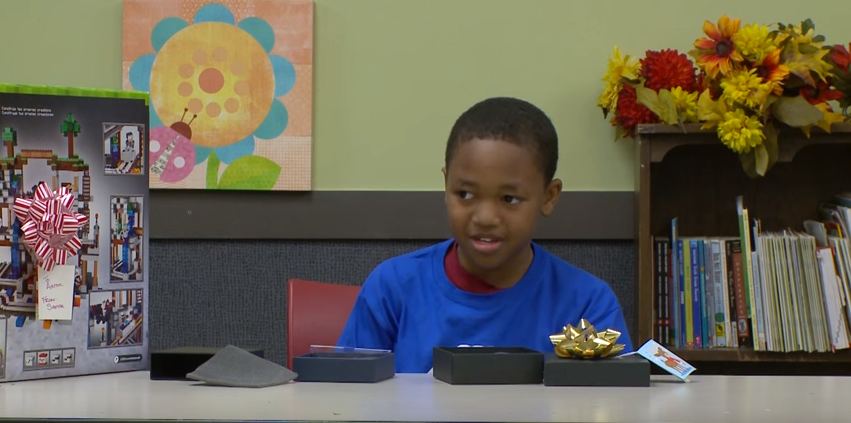 And now the feel-good holiday twist! Because they made the selfless decision to choose the gift for their families, they got to keep BOTH gifts. All 37 kids got to take home the gift for themselves and their families.
Most of the parents were brought to tears when they learned their children had made a sacrifice for them.
And, quite honestly, so were we.