Walmart Has An iPhone Game Where You Can Pretend To Work For Walmart
It's thrilling to stock shelves and get yelled at by your manager.
Ever wonder what it's like to work in retail? You can experience it for yourself — without getting a real job — thanks to an iPhone game that lets you pretend to be a Walmart sales floor worker.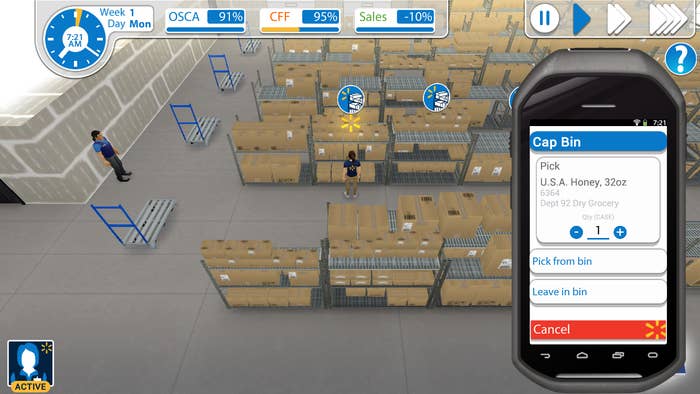 The game, called Spark City and developed by Walmart, offers players the thrilling opportunity to "maximize on shelf customer availability, and sales, while keeping your area clean, fast and friendly."
Spark, the name of the company's logo, is also the name of Walmart's grocery delivery pilot service that the company announced in September.
Walmart told BuzzFeed News that the game, available on the App Store and Google Play, sprung out of the company's training centers. The company used the game across its 200 "academies" to train associates in the fundamentals of working at Walmart.
"A mobile game was a natural progression that gives our associates a different way of reinforcing what they learn in the classroom and on the salesfloor," the company said. "We piloted the game in a dozen stores across the country and got great feedback from our associates."
We played the game for about 15 minutes. And, wow. What a thrill.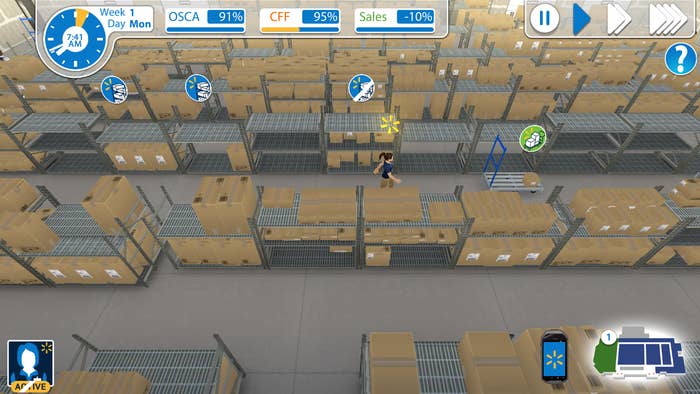 The basic premise is that you start your bright future at Walmart as a sales worker in the backroom. Your OSCA, or "on shelf customer availability," and CFF, or "clean fast friendly," are low (whatever that means, but it's clear it's bad), and sales are also low. Your job is to complete all your tasks on your floor within an eight-hour day while increasing those stats.
OK, sure. Sounds easy enough.

So, first drawback — the app seems a little glitchy.
When we first went to set up our avatar, the app didn't seem to offer any characters that weren't white. This was pretty disappointing, considering the company reported that 21% of its sales workers in 2016 were black, 14% were Latino, 4% were Asian, and 1% were Native American or Alaskan native. But after we heard from Walmart, we tried again and saw a drop-down menu that lets you customize your character's skin tone.

Walmart told BuzzFeed News that it sent feedback to its developers to make the skin tone options more obvious in the game.
ALSO, THERE IS SO MUCH TEXT.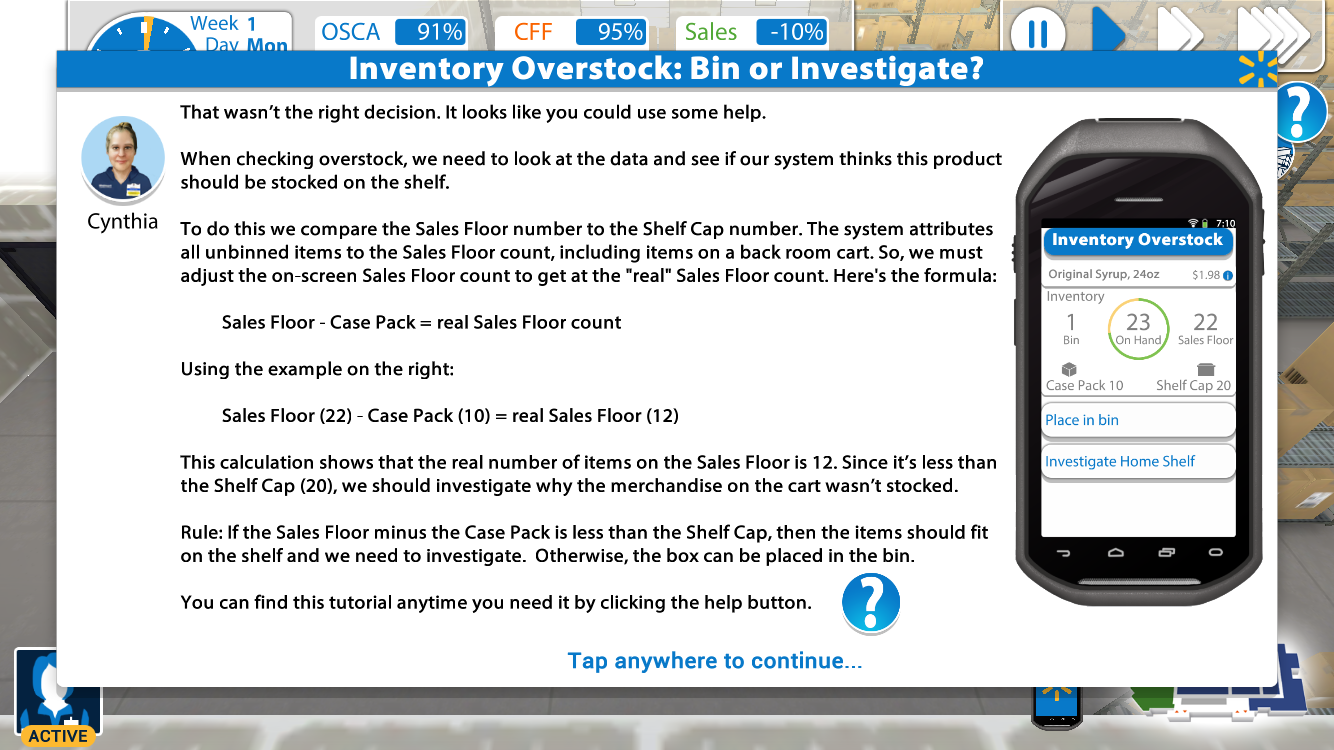 If you don't read the rules and totally understand the game's complicated inventory math, your manager will yell at you.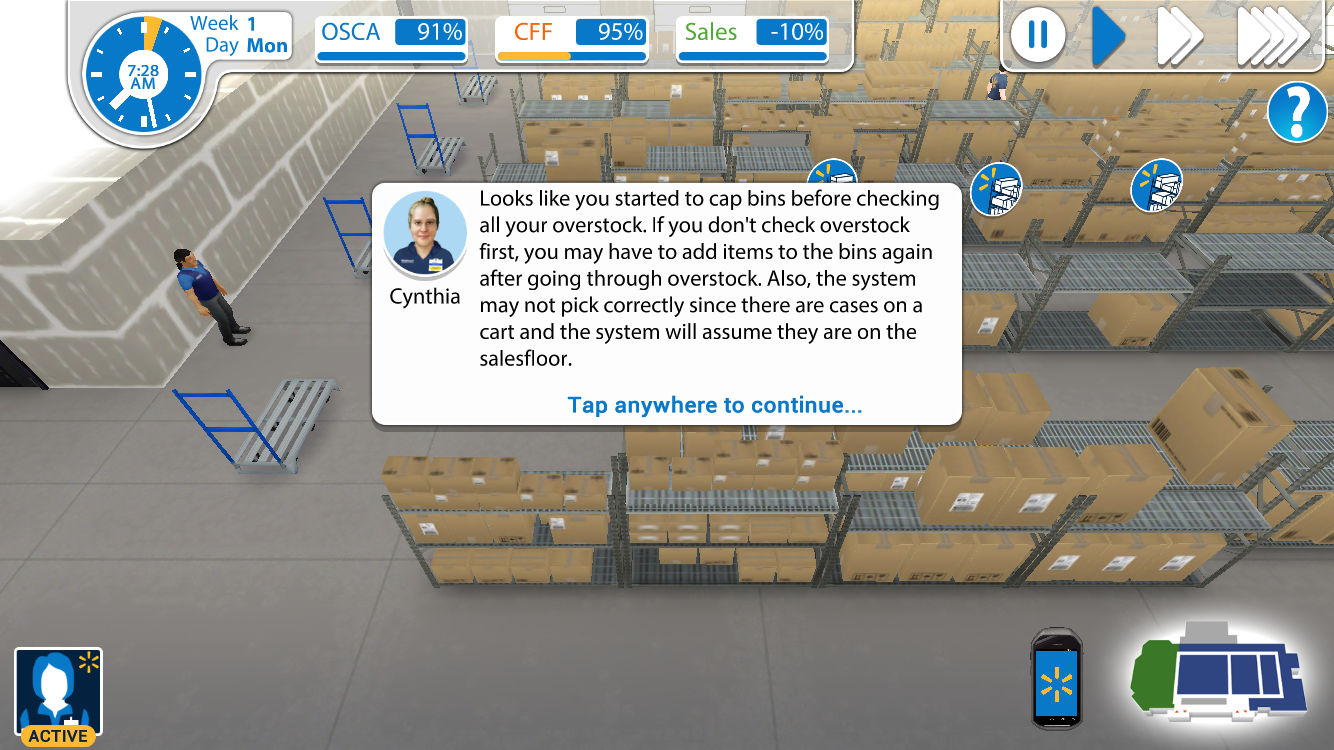 Walmart said the managers aren't "yelling," but "giving feedback."
After a few screwups, we got something right (not quite sure how), but confetti and Walmart suns exploded over our character's head. So that was fun.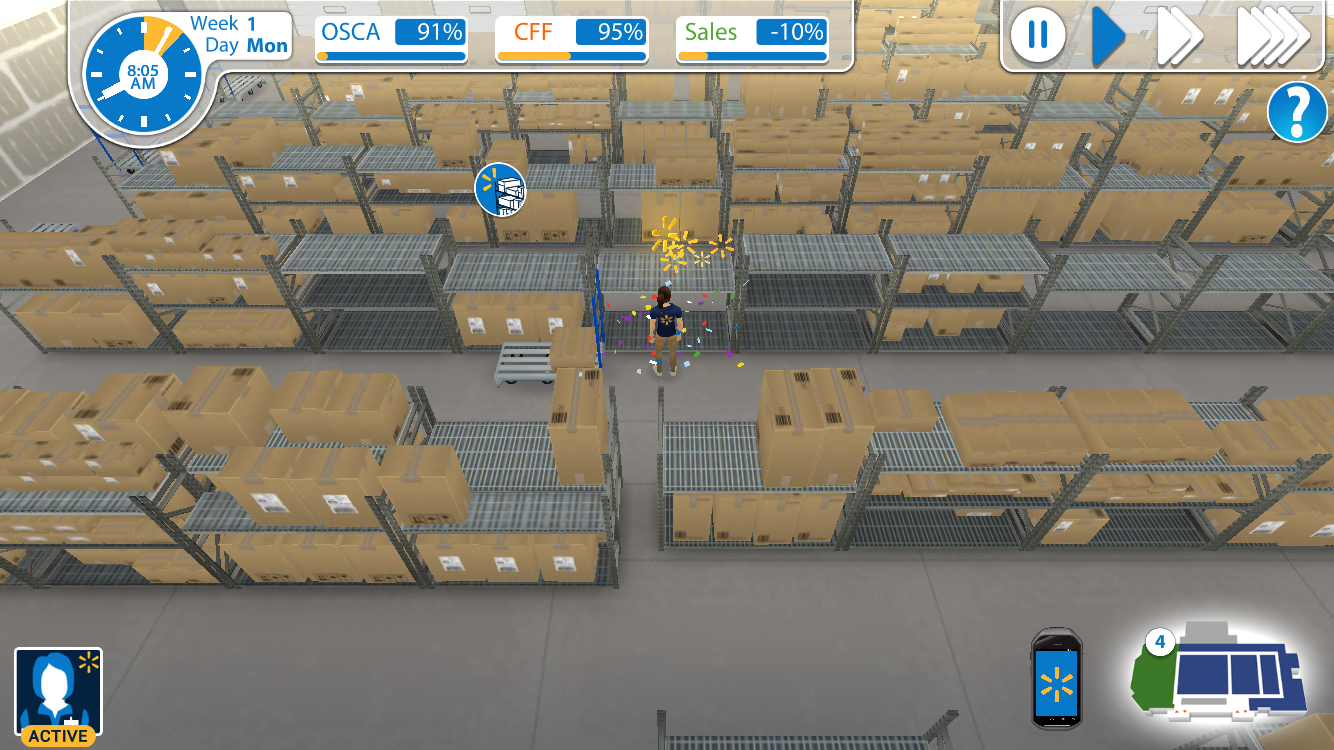 We stumbled our way through the backroom and made it to the sales floor, where we got to do fun things like clean up spills.
Our boss Cynthia yelled at us a couple more times on the sales floor. Oops.
At the end of the day, we got a chart showing our progress. It looks positive, I guess.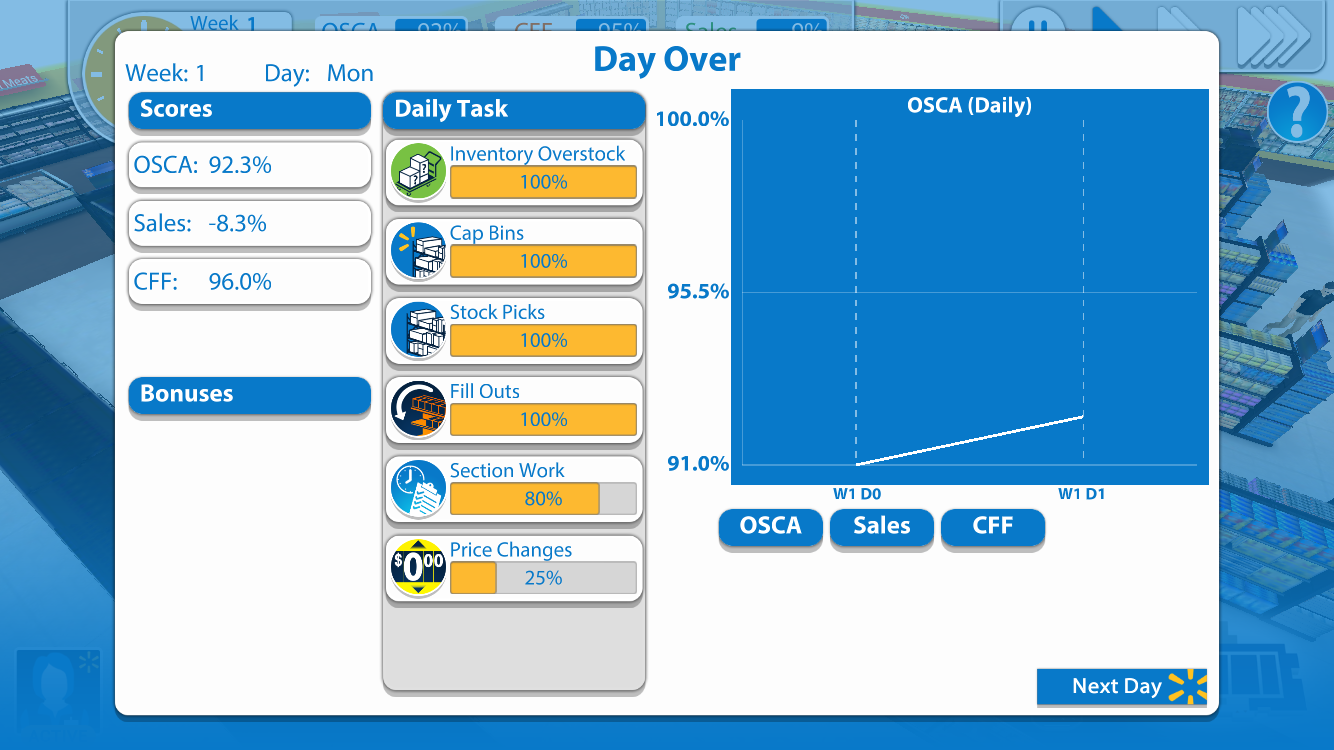 The game currently has 76 reviews with an average rating of 4.4 stars. Many reviewers commented that the game is a "realistic" and "accurate" depiction of life as a retail worker.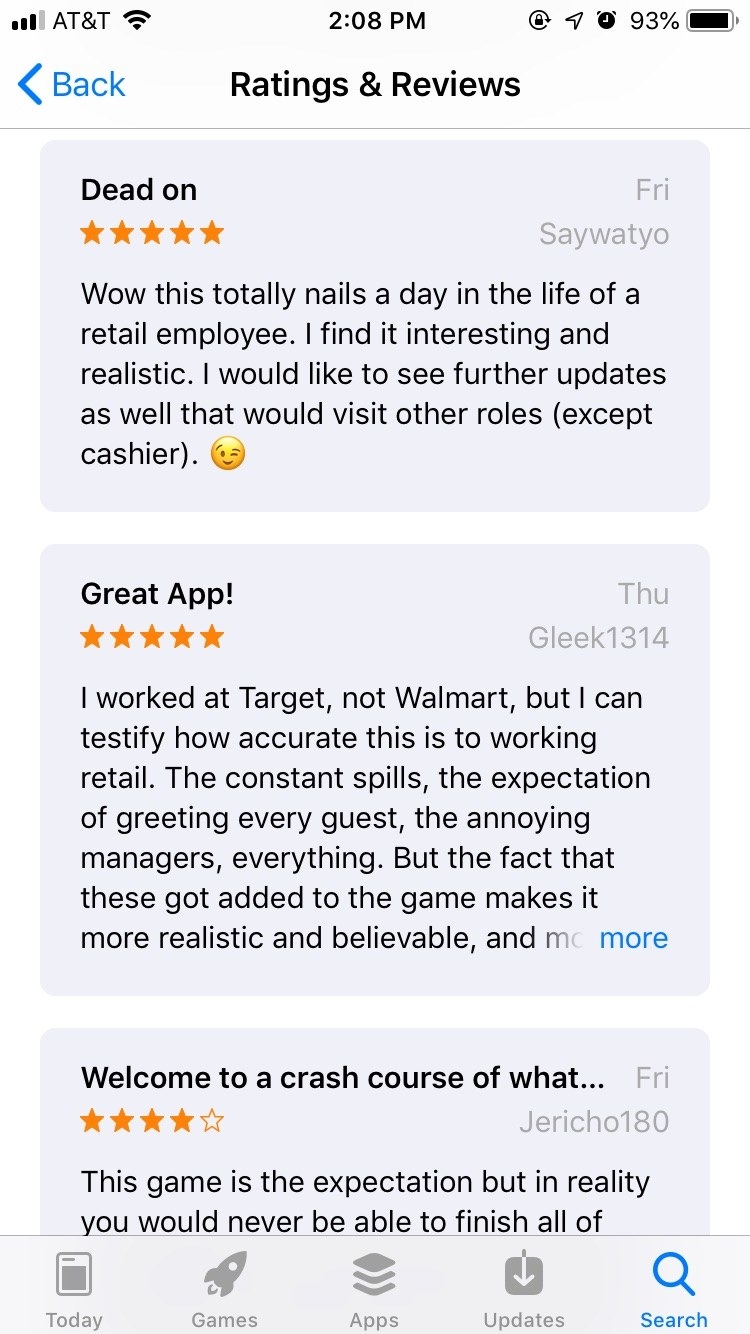 Walmart said it plans to roll out additional levels by the end of the month.
And just so you're not disappointed: There are no "Yodeling Kid" appearances anywhere in the game. Womp, womp.
CORRECTION
The game lets you customize your character's skin tone. An earlier version of this story misstated the skin tone options available.