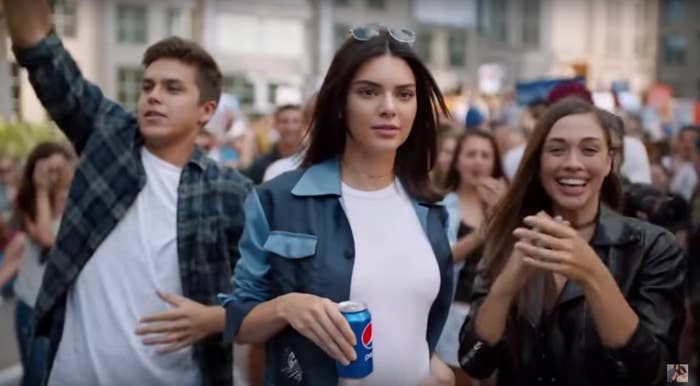 Pepsi's controversial ad featuring model and reality TV star Kendall Jenner handing a soda to a cop during a protest may not have been a total flop, if the brand had just given it a chance.
A survey of 2,202 people found that 44% them had a more favorable view of Pepsi after watching the ad, while about a quarter of them had a less favorable view. Sentiment toward the ad varied widely by race: 75% of Latinos and 51% of blacks said the ad made them more favorable toward Pepsi, while just 41% of whites said the same.

The ad didn't do much for its star, though: Just 28% of respondents said it made them see Kendall Jenner more favorably, according to the media and survey research company Morning Consult, which ran the survey.

The ad was pulled by the company hours after it was launched last week, after a rush of online criticism over its depiction of an ambiguously apolitical street protest where tensions with police were resolved by an ice-cold Pepsi delivered by a Keeping Up With the Kardashians star.
"Pepsi was trying to project a global message of unity, peace and understanding," the company said in a statement after pulling the ad. "Clearly we missed the mark, and we apologize. We did not intend to make light of any serious issue. We are removing the content and halting any further rollout. We also apologize for putting Kendall Jenner in this position."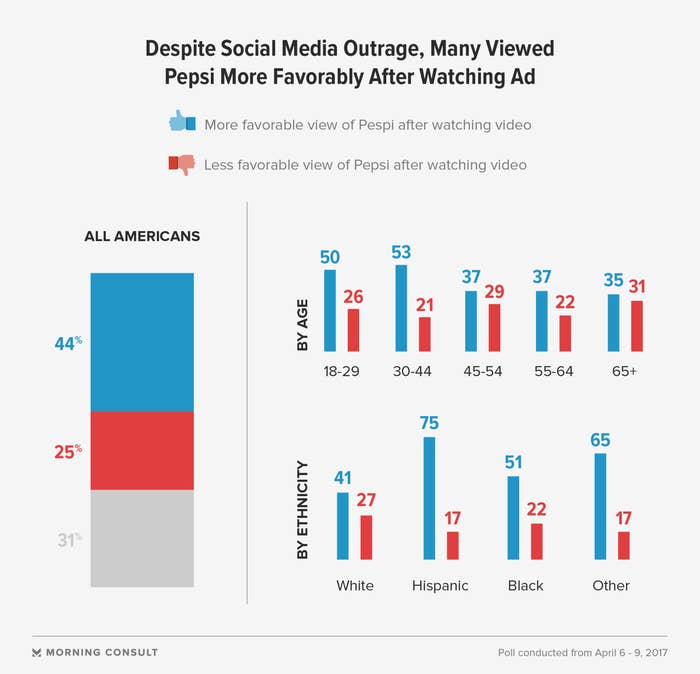 The survey found that Republicans were more likely to dislike the ad than Democrats: 29% of Republicans said the ad gave them a less favorable view of Pepsi compared to 23% of Democrats.

Respondents reacted in real time to the ad and were tracked by party affiliation. Overall, it appears Democrats had a more favorable view of the ad throughout. Republicans' favorability dipped when the man playing a cello appeared and decreased again when the woman in hijab grabbed her camera and joined the protest.
It is at the moment when Jenner handed a police officer the can of Pepsi where Republican and Democrat reactions diverged most dramatically: Democrats' favorability decreased, while Republicans' increased.