Unsolicited Flirting From Garbage Truck Leads To True Love, WWE Themed Wedding
This is the true story of Chris and Amy, newlyweds whose journey began on the back of a waste disposal vehicle and led to vows featuring the Pittsburgh Steelers and One Direction lyrics. You had me at "Hey, hot stuff!"
The couple met in the late summer of 2007, according to The News Journal in Delaware.
Amy was 18 and a recent high school graduate working retail and living at home in Wilmington, Delaware.
Chris was 20 and working at the waste disposal company that served her neighborhood.
Amy was about to get into her car when suddenly she heard someone yell "hey" at her. Turns out it was young Chris hanging off the back of a passing garbage truck.
Chris may have also added "hot stuff," according to the News Journal.
She turned around and thought, "Ew, what a jerk!"
Fate brought them together again in 2009 through a mutual friend, although Amy wasn't aware he was the amorous sanitation worker and Chris wasn't aware she was the target of his audible affection.
Amy and her friend, Lily, got a frantic call from their mutual friend, Jason. He had lost the keys to his car and the 7-11 where it was parked was threatening to tow it. To make matters worse, he was going to be late to a party.
The three friends decided to go to the party to see if anyone had a bat to break the car window.
Instead of a party, they found only Chris, who was asleep on the couch under a newspaper. Charming.
Chris woke up to help Jason, but focused his attention on Amy.
"Why does every girl wear those Ugg boots? They're hideous," he said to her.
He continued to criticize everything she was wearing and eventually followed her into another room to bang on drums while she was trying to make a call.
So she was disgusted by him forever, right? Not quite.
With some prodding by Chris, a mutual friend gave him Amy's number, and thus began the relentless wooing by text. Eventually, Amy agreed to a date. And then another. And then, all of a sudden, they were an item!
It wasn't until Amy took Chris to meet her dad, at the house where Chris had originally cat-called Amy, that they realized they had first met when he hollered at her from the garbage truck.
She told The News Journal that "he's the funniest person she's ever met."
Chris proposed in Jan. 2014 at Woody's Crab House in Maryland, and they got married in New Castle, Delaware, in September. Chris cited the Pittsburgh Steelers and One Direction during his vows, Amy cited karaoke and "Under the Sea" during her vows.
They called their wedding reception MikoMania 2015.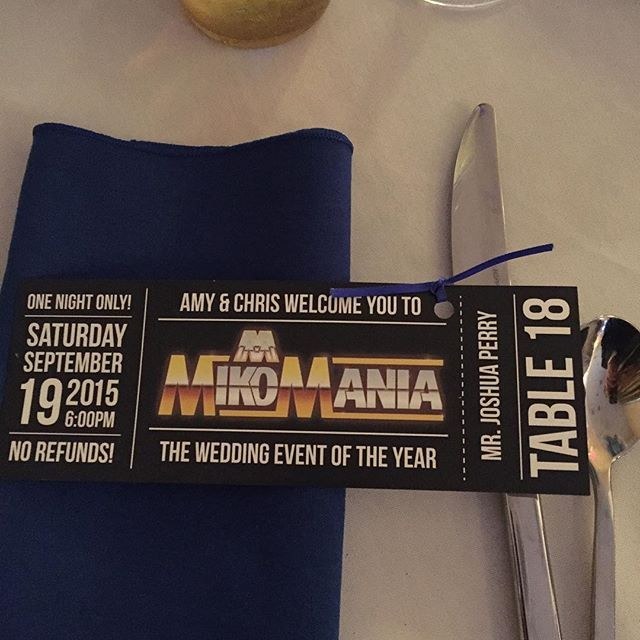 Instead of place cards, guests received tickets to #MikoMania2015 as they entered.
Each couple in the bridal party paid homage to the wrestler of their choice. One couple wore Hulk Hogan apparel and performed his shirt ripping routine.
The couple handed out Steelers towels as favors, calling them wedding towels.
Chris and his mom danced to the Backstreet Boys' "The Perfect Fan" and the party ended up in a Conga line.
Jason (the one who lost his keys to his car at the 7-11) showed up in a taco costume.
Another guest, the couple later learned, got a bit too aggressive with a selfie stick and four kitchen staff members had to escort him out of the kitchen.
Since the wedding, the happy couple recently adopted a beagle mix puppy named Marla Hooch.
They spend their evenings watching TV, mainly The Leftovers, The Walking Dead and, South Park.
They love WWE, traveling, throwing parties, and karaoke, which Amy told The New Journal, is "a way of life."
They told the paper they hope to buy a house in New Castle County and fill it with more dogs "before they fill it with kids."