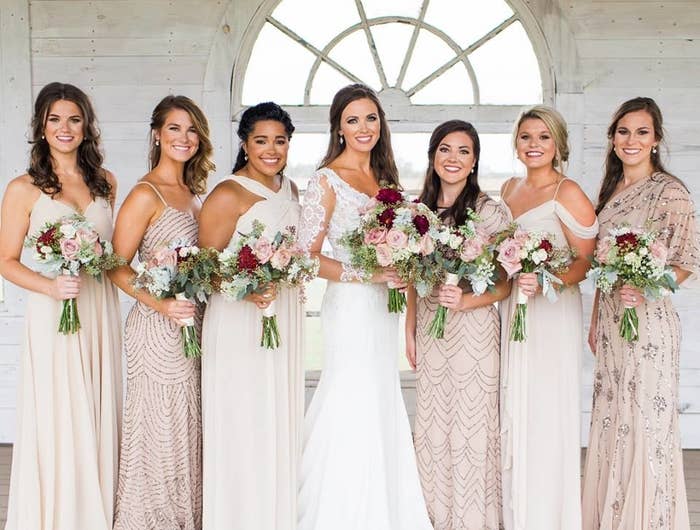 Vow to Be Chic, an online bridesmaid dress rental company, confirmed Wednesday that it is going out of business, leaving brides in tears and bridal parties scrambling for backups as peak wedding season approaches.
For weeks, customers complained the company ignored their emails and requests for refunds, and deleted comments from its social media sites. In an email to customers Wednesday, the company wrote, "As of today, we are shutting down operations at Vow To Be Chic. You are probably surprised, and like us, disappointed to hear this. We're heartbroken."
The company said in its email that it has struggled to raise funds. While Vow to be Chic raised a total of $10.68 million as of January, its funding pales in comparison to Rent the Runway, which raised $196.15 million by March, according to Pitchbook.
"Women's clothing rental is new to retail overall, and even newer to the wedding industry," the company said. "Rental is also a capital-intensive business. In short, to prove out our concept, we needed more time and money, that unfortunately, we don't have."
Kelsey Doorey, Vow to Be Chic CEO, told BuzzFeed News that the company "needed conceptual awareness and that takes time and that costs money."
"Hindsight is 20-20," she added. "We should have probably raised more capital earlier on."
Vow to Be Chic allowed brides to assemble a selection of dresses that their bridesmaids could choose from. The dresses ranged from size 0 to 18 and cost around $100. Bridesmaids received their rentals two weeks before the wedding date and had to return them one to three days after the event.

Last year, Forbes described Doorey as "disrupting the $119 billion wedding industry," and the company was featured twice on Good Morning America. Reality TV celebrities like Rachel Lindsey from The Bachelor, country music singer Kelsea Ballerini, and actor Cara Santana used the service.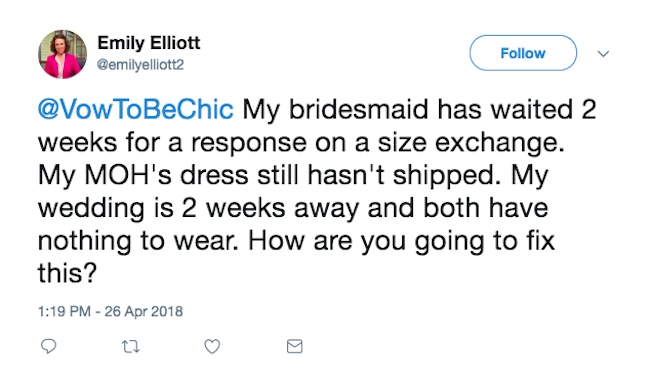 Taylor Link of in Raleigh, North Carolina, told BuzzFeed News that she has received mixed messages about several dresses she and her other bridesmaids rented in March. She has yet to receive a refund and doesn't know if her bridesmaids' dresses will come.

Taylor Carpenter, based in Indiana, told BuzzFeed News she's yet to be refunded a $200 "hold" charge after returning a try-on dress. Carpenter called and tweeted at the company until she noticed Vow to Be Chic was disabling comments on Instagram and Facebook. She has yet to be refunded the hold fee.

"In the end, I can live without it, but it's kind of like, you're not even answering people back with phone calls and emails," she said. "There are so many girls who are getting married and don't have their dresses now."
"I'm two months and 20 days from my wedding," said Dannette Bourne, who is based in Corona, California, and will get married July 22. She received the email from Vow to Be Chic while at a conference in San Diego.
"I'm coming undone," she said in a message to BuzzFeed News. "I'm at a three-day conference and am just sitting in the back crying."
Three of Bourne's bridesmaids have children, so she wanted to be sure that her dress options were affordable.
"My frustration is just the lack of transparency," she said. "The fact I have two and a half months is almost a privilege right now compared to these girls who are like, my wedding is in three weeks and I haven't heard anything."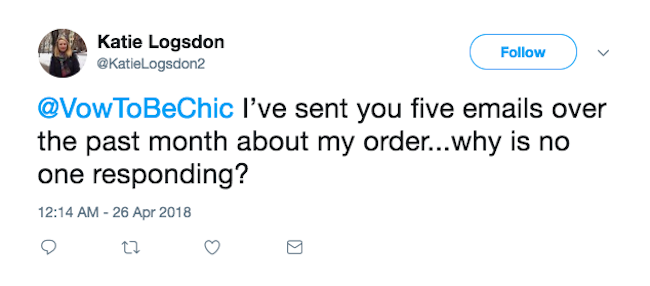 Vow is redirecting customers to other sites that are offering discounts. Former competitor Rent the Runway is offering 50% off bridal packages to affected customers, its biggest discount ever on bridal packages.
A third-party administrator will contact people about their orders, including information about the refund claim process. Customers can also file a claim immediately on this page.
Order shipments will be prioritized based on wedding date with customers with earlier dates first in line to resolve their orders.

"We reached out as soon as we possibly could," Doorey said. "Obviously people are going to be upset and we're upset as well. But there are also tens of thousands of people who had a good experience."