Cities across North America are showing Amazon how desperate they are to be the chosen location for the company's next headquarters.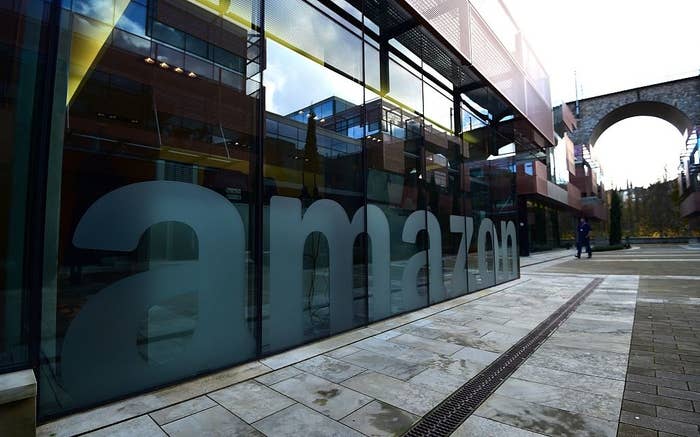 Amazon announced earlier this month that it is searching for a city where it will build its second headquarters — to be located elsewhere than its current home base, in Seattle.
It's not asking for much, really: Aside from a city with more than 1 million people, the company wants on-site access to mass transit, strong cell phone service, and easy access to a major highway or road. The company also wants to be within 45 minutes of an international airport.
It also wants the cities that raise their hands to provide traffic congestion figures, crime data, statistics on local workers, and information about local universities. Amazon says it is seeking a city that will give its employees "an overall high quality of life." (In other words, don't apply unless you have bars, restaurants, and a Starbucks nearby.)
The payoff, obviously, is huge: Amazon says that its new headquarters will bring as many as 50,000 high-paying jobs to the place that it picks — as well as a potential boost of billions of dollars to the local economy.
The potential windfall that Amazon will bring to its city of choice has some places doing some pretty desperate things to stand out:
Tucson, Arizona, a city of about 530,700 people, sent Amazon a giant cactus as a welcome gift to the company.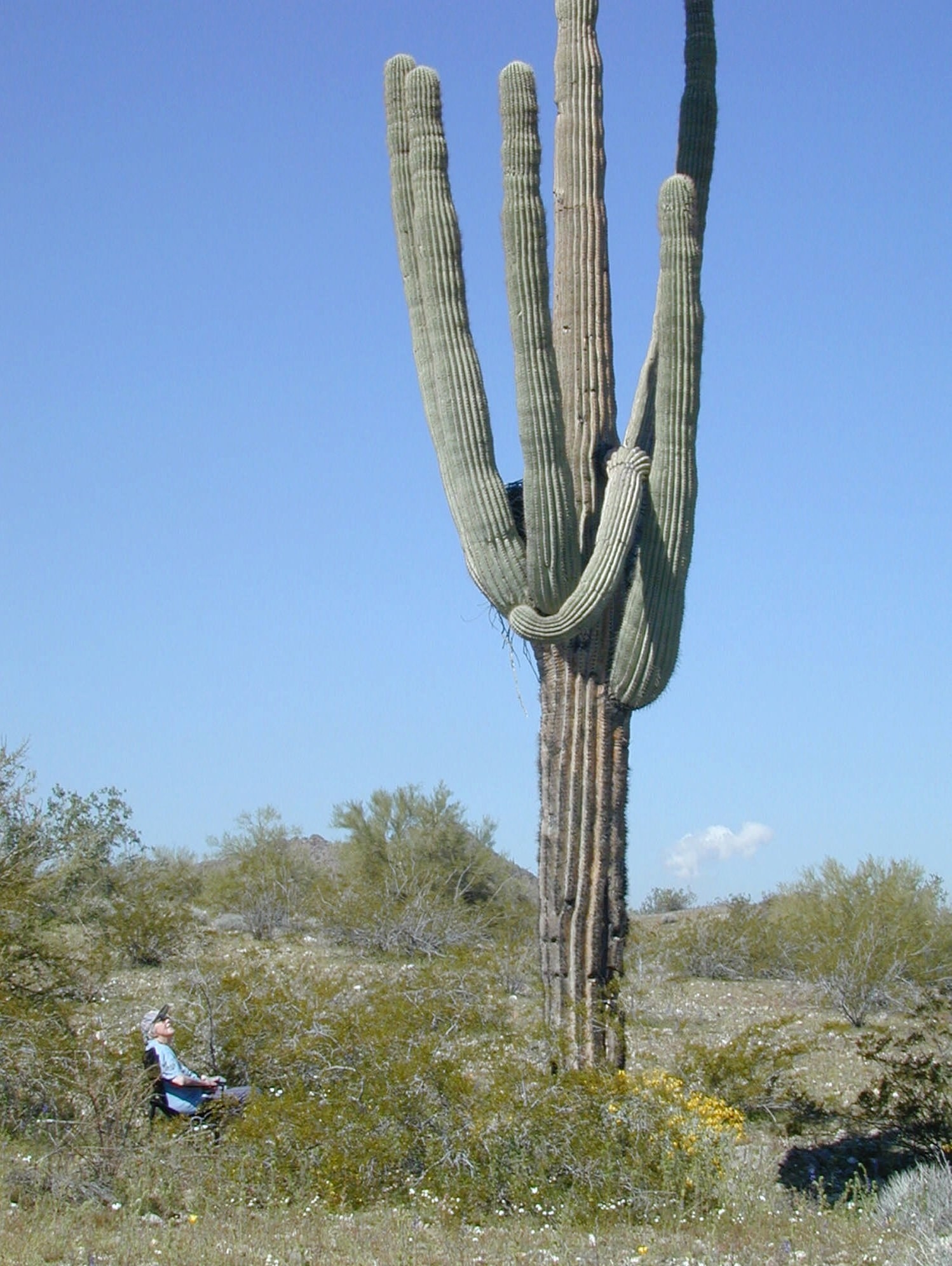 Sun Corridor Inc., an economic development group in southern Arizona working with Gov. Doug Ducey and the Arizona Commerce Authority to develop a strong proposal for the company, sent a flatbed truck carrying a 21-foot Saguaro cactus to Amazon in Seattle last week, hoping to catch the attention of Amazon CEO Jeff Bezos.

"We wanted to make sure Mr. Bezos and his team notice us, and send a message of 'We have room for you to grow here for the long term' — nothing signifies that better than a Saguaro," Joe Snell, Sun Corridor's president and CEO, told the Associated Press.

But Amazon rejected the gift saying it can't accept gifts. It donated the cactus instead.
Gary, Indiana, took out an ad in the New York Times touting the city's proximity to Chicago and its "resilient, eager to work" people.
"I know locating to me may seem far-fetched," the city writes about itself. "But 'far-fetched' is what we do in America. It was far-fetched for 13 scrawny American colonies to succeed against the might of the British Empire. Far-fetched to land a man on the moon. Far-fetched for a business selling books out of a garage to succeed in business and philanthropy. Like Amazon, I am, once again, both a game changer and a unique opportunity."
People in Stamford, Connecticut, are so desperate to throw their hat in the ring for Amazon's second headquarters they've been flooding the city's economic development office with phone calls, according to the Stamford Advocate.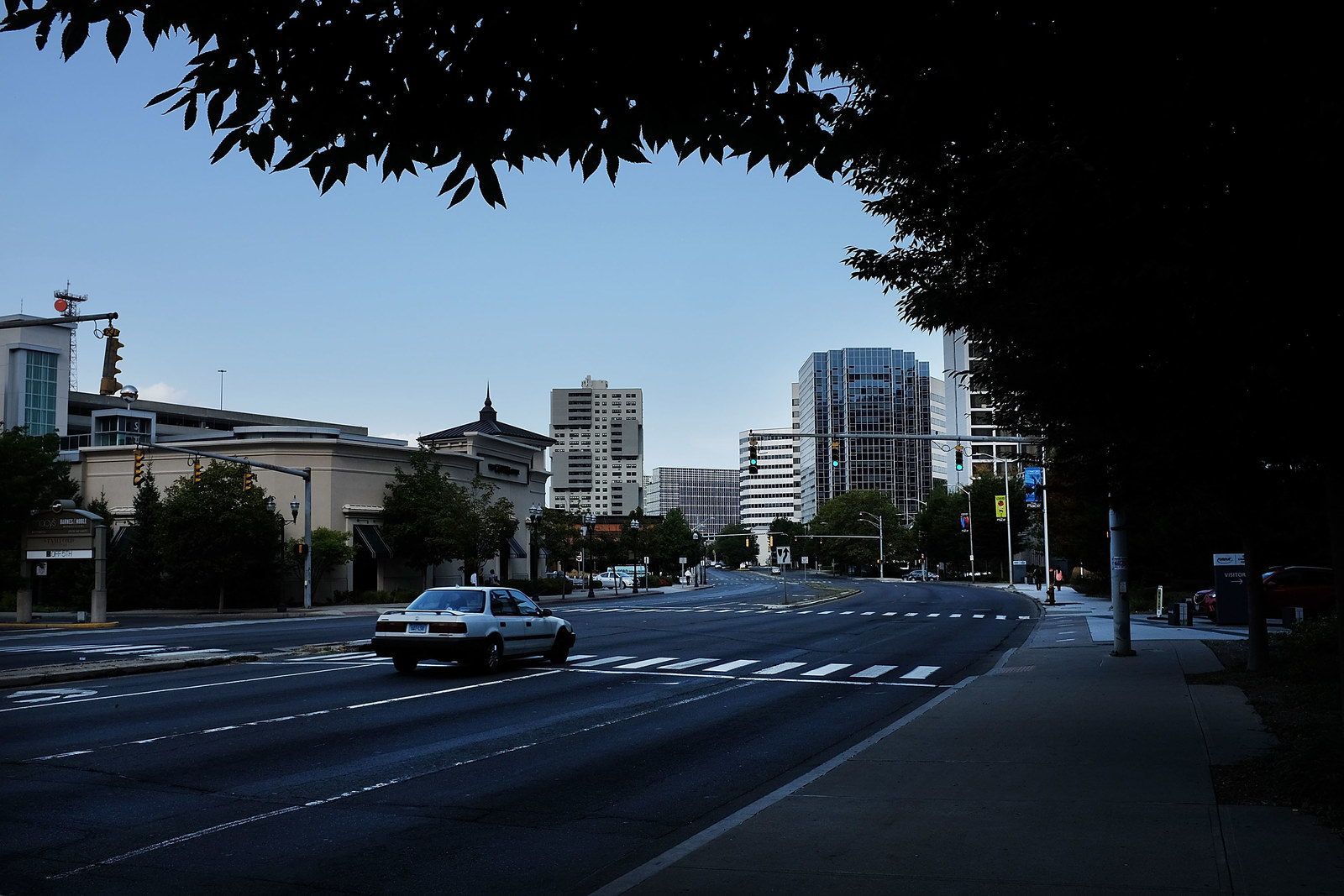 The calls became so overwhelming that Thomas Madden, director of economic development with the city, drafted a boilerplate response to anyone asking the city to apply.
"We believe Stamford, and the lower Fairfield County region, is well positioned as a desirable location for Amazon's headquarters," Madden wrote, according to the Stamford Advocate. "Stamford is one of the few cities that has the workforce, infrastructure, and quality of life that we believe Amazon is looking for."
Toronto has also expressed interest. And one Toronto resident made a desperate plea for Amazon to bring its billions to update the city's train system.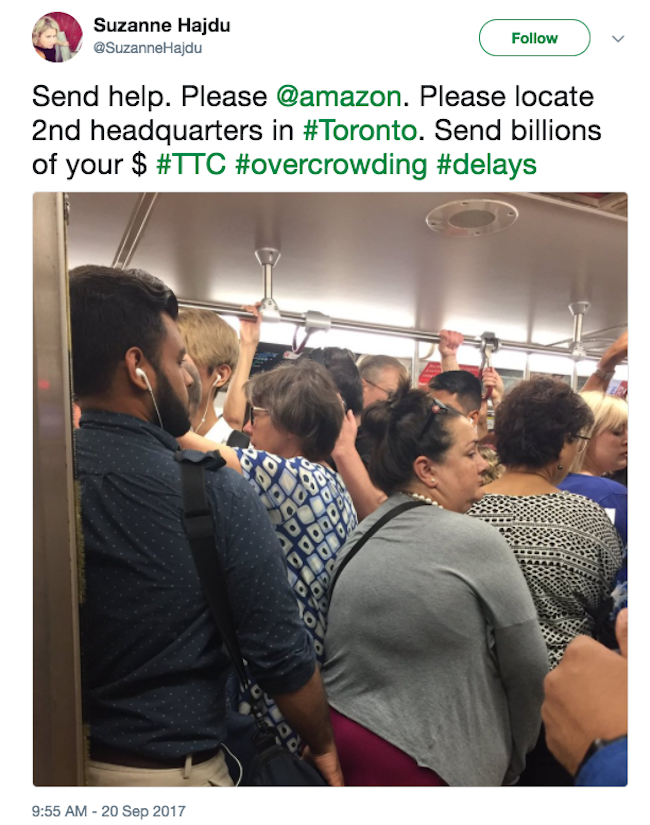 Hajdu, who says in her Twitter profile that she is a landscape architect and gardener, was complaining to the Toronto Transit Commission about conditions for commuters — conditions that Amazon may not be thrilled to have for its workers.
Applicants have until Oct. 19 to submit proposals. Others cities that have shown interest include Boston, Chicago, Denver, and Philadelphia.
CORRECTION
Tucson, Arizona, sent Amazon a giant cactus. A previous version misspelled the name of the city.