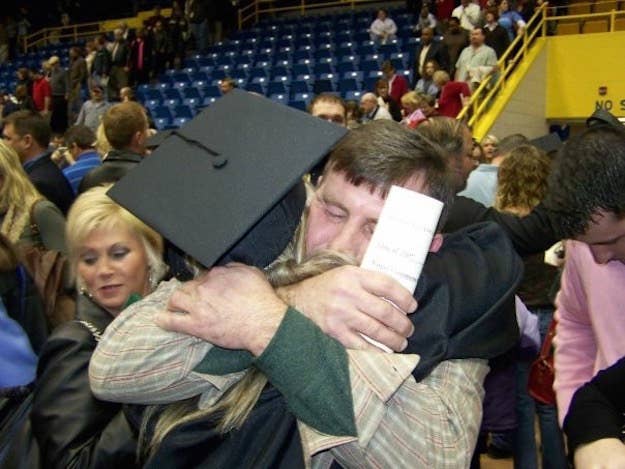 Brittany Combs thought she'd discovered a shortcut to paying off the final $10,000 of her college debt.
The 31-year old stay-at-home mom in Hindman, Kentucky saw a high school friend rave in a Facebook post about a company called Liberty Tax and Student Loan Defense, saying the company had helped wipe away their entire student debt. Combs had been slowly chipping away at her student loans since graduating from Morehead State University in 2007. "I thought, 'Why wouldn't everybody do this?'" she told BuzzFeed News. Along with two friends, she reached out to Liberty.
On the phone, she said Liberty told them their debts would be forgiven at the end of a 7-month payment period. The deal seemed straightforward — they would sign over power of attorney to Liberty, which promised to "resolve the client's student loan problems" by searching for "for affordable repayment options" on her behalf for seven monthly payments of $110 and an upfront fee of $110, according to the contract seen by BuzzFeed News. They eagerly signed the contract and handed over their tax information.

"Pretty excited my student loans are a thing of the past!" she wrote in a Facebook post in March 2014. "Praise the Lord."

But Liberty Tax and Student Defense — which changed its name to Freedom Student and Tax Defense in 2014, according to incorporation records — is among what the federal consumer finance regulator estimates are hundreds of companies selling student loan management services, often promising to clear student debt entirely. In reality, such companies can do little more than enroll customers in free government programs — and often, they don't even do that.
The Department of Education offers a number of free programs for borrowers looking to manage their monthly student loan payments, including loan consolidation, income-based repayment plans and loan forgiveness for certain professions.
While some companies collect a fee to enroll the borrower in these free programs, others like Freedom Student have been accused of making false claims that they can have loans forgiven entirely. The Federal Trade Commission reported it received 8,142 complaints around student loan products in 2015, up 13.7% from 7,158 complaints in 2014.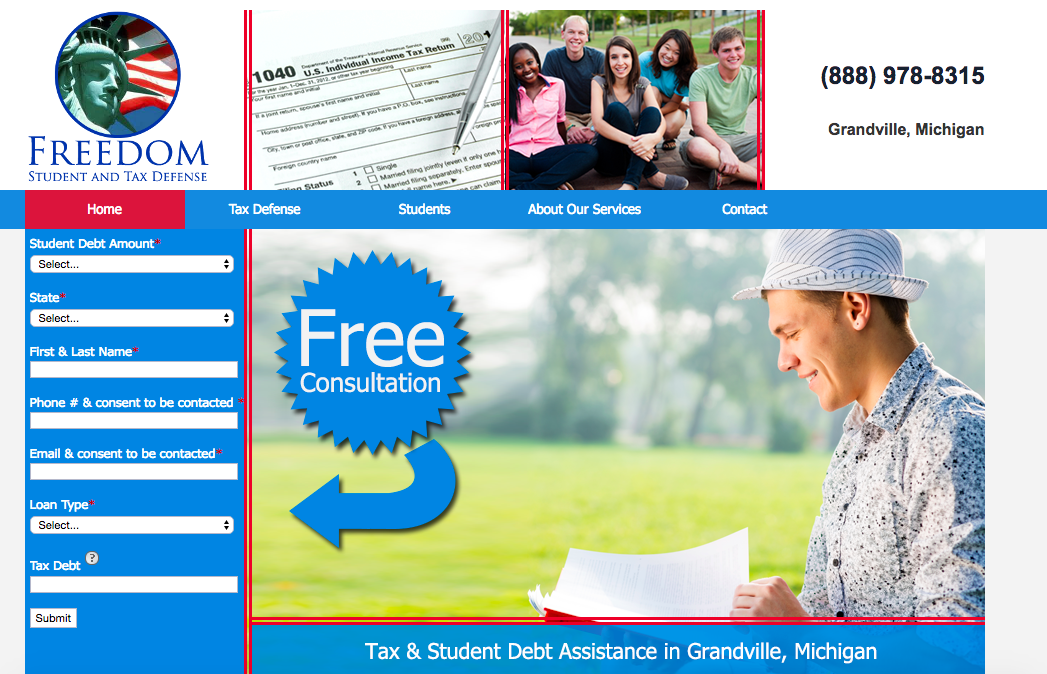 In May, Kentucky Attorney General Andy Beshear accused the Florida-based Freedom Student and Tax Defense of "hiding from the law," saying it failed to respond to a subpoena for information. Beshear threatened to seek a court injunction barring the company from doing business in the state if it does not respond to his inquiry.

Seth Frotman, the student loan ombudsman with the Consumer Financial Protection Bureau, compares loan forgiveness schemes with the flood of mortgage-related scams that followed the collapse of the housing bubble.
"During the mortgage crisis when borrowers got the runaround and couldn't get the information they needed from servicers, it created this space for scammers to prey on vulnerable borrowers by charging high up-front fees for free programs," he said. "Now we see it in the student loan context where there is a $1.3-trillion market, with millions struggling to make their payments."
Freedom Student's founding managers Azar Javid and Daryoush Khashlak began running the company in April 2013 out of a residential home in an upper-middle class neighborhood in Pinecrest, Florida, state business records show.

The Kentucky Attorney General alleged last year that the company had been deceiving consumers by offering debt adjustment services without registering with the state and misleading them to believe it could relieve their debt through its association with the Department of Education. Freedom Student has no association with the Education Department, according to the Attorney General.
A July 2015 letter from the company's legal department to the Attorney General argues that the premise of the office's complaint "is based on faulty information." It asks Beshear's office to "please cease and desist from sending us any further correspondence in this regard."

"We do not charge clients to negotiate their debt with their creditors," the letter said. "We do not participate in any activity regarding debt adjusting in Kentucky or any other state for that matter."
Instead, the company said it assisted "clients with student loans to complete their paperwork for loan consolidate [sic] under forgiveness program [sic]. We do not promise reduction of debt, because no such program exists."
Freedom Student has yet to comply with the Attorney General office's subpoena, the office told BuzzFeed News. Azar and Benjamin Javid, Daryoush Khashlak and Freedom Student and Tax Defense did not respond to multiple requests for comment from BuzzFeed News.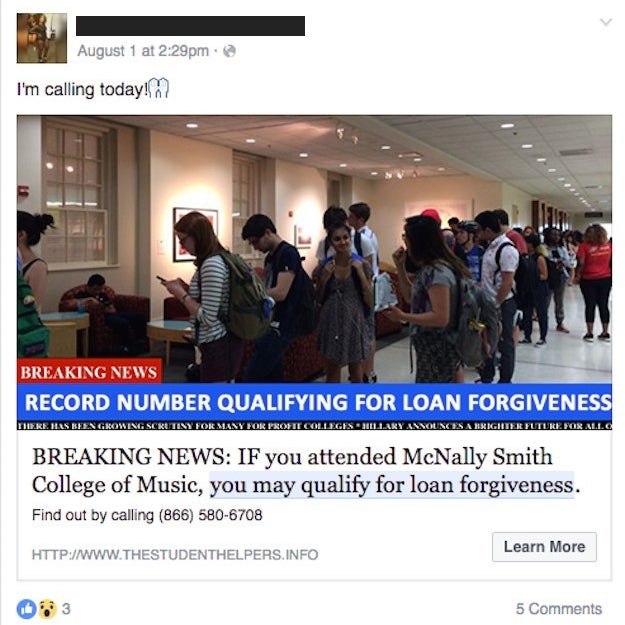 Typically companies post advertisements online, on the radio, and on social media like Facebook and Instagram with messages promising to reduce or completely relieve student debt, according to regulators and attorneys who have represented people who have been scammed. For a fee, they claim to sign up customers for programs like the Obama administration's repayment program — where borrowers pay 10% of their discretionary income per month for 20 to 25 years — which many people don't know are in fact free.

"These companies are really preying off of the confusion, frustration and people's desperation to pay their loans," said Persis Yu, a staff attorney with National Consumer Law Center based in Boston, to BuzzFeed News.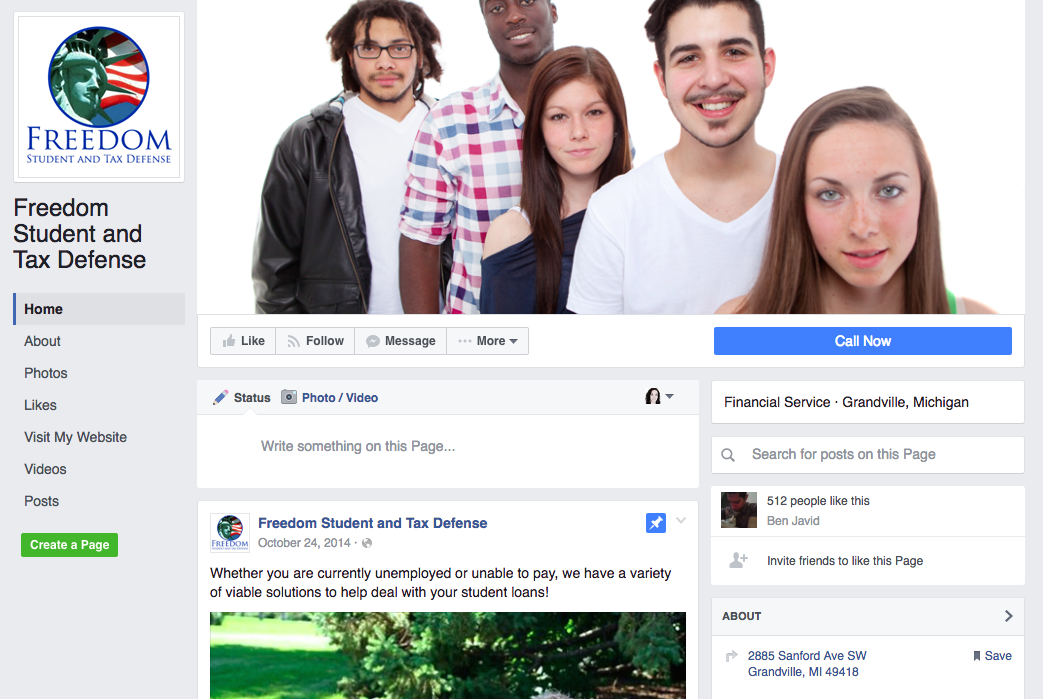 The Department of Education has been warning borrowers about student debt relief companies since 2012. It began sending out letters in January to companies falsely using its logo, including Perfect Privacy and the Student Loan Project. The department contracts with 10 loan servicers, which manage student loans at no additional charge to borrowers.
The FTC, along with Florida's State Attorney General, filed a suit in May against two businesses — Consumer Assistance Project and Student Aid Center — that promised to have clients' debt forgiven. Illinois, New York, Washington D.C., Massachusetts, Washington and Minnesota have all taken similar actions against student debt relief companies operating in their states.
But with each company that is shut down, a new one pops up, said Frotman, from the Consumer Financial Protection Bureau. The Bureau slapped Student Aid Institute, a student debt relief company, with a $500,000 penalty in March for tricking borrowers into paying for free services and saying it was affiliated with the Education Department.
"This is really kind of a whack-a-mole problem for enforcement agencies," he said. "They take steps to rein in abusive practices and before you know it, entities that sound the same begin popping up on the internet, popping up on the radio, popping up on Facebook."

Unfortunately for consumers, individual lawsuits against companies are tough to pursue because these businesses use vendors to handle various parts of the operation, said Yu, who currently has about five clients who have been scammed by student debt relief companies.
"It is very hard for individuals to get any kind of recourse because it's hard to figure out who you're working with," she said. "The companies are undercapitalized so you're probably not going to get your money back."

After signing with Freedom Student, Combs said she received letters from her loan servicer warning her about overdue loan payments, even after she paid the company to handle her debt.

When she confronted the company, she said they pinned the blame on the government. She said a representative told her that the government "doesn't want people to take advantage of these programs."
Combs said she was told she didn't send in the correct tax information and was given the runaround over the phone. Her two friends were having the same experience, which struck Combs as suspicious.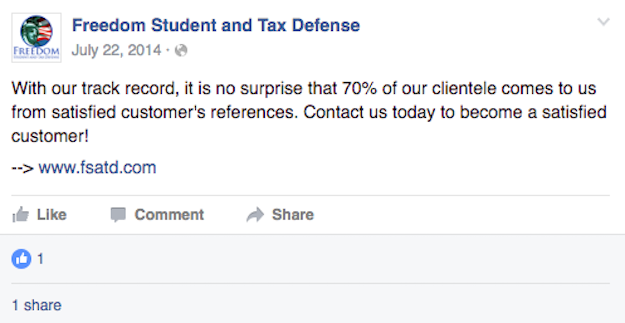 She reported the company to the Department of Education, the Attorney General's office, and the FBI. Eventually, the Better Business Bureau told Combs that she had been ensnared by what it describes as a student loan forgiveness scam.

"It became clear I was dealing with criminals," she said.
In a July 2014 Facebook post, she warned her friends about the company calling it "an absolute scam." She consolidated her loans and enrolled in the income-based repayment plan on her own. She's given up hope that she'll recover the money she lost to the company.
And yet, years later, the company still calls her claiming she owes them one final payment.
"I can't believe they still call," she said. "We just don't want this to happen to anyone again."