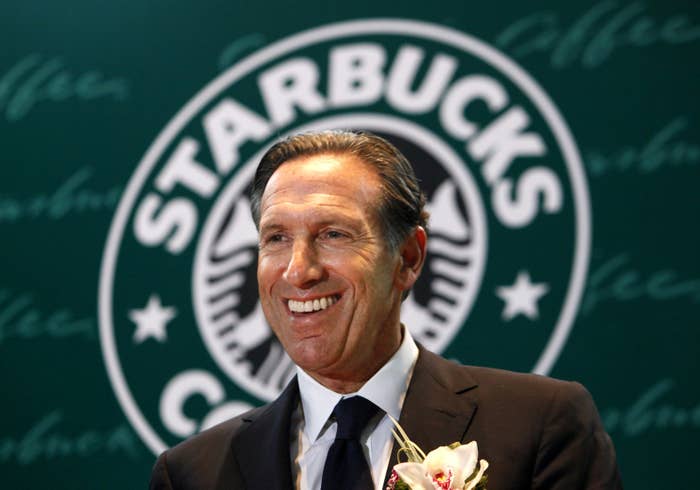 Howard Schultz, the CEO who led Starbucks as it transformed the global coffee business, is stepping down from the top job at the company.
But he's not leaving the coffee giant, which runs more than 25,000 cafés in 75 countries — Schultz will remain as chairman of its board, and will focus on the company's rollout of high-end coffee shops and retail stores, according to a statement released Thursday.
Schultz, 63, first took over the Starbucks brand as CEO in 1987 and ran the company as it drove an explosion of espresso culture in the US and around the world. He first stepped down as CEO in 2000, returning to the top job in 2008 as the company's share price tanked.
This time around, Schultz will be replaced as CEO by Starbucks' current president and chief operating officer, Kevin Johnson, who will take over next April.
Schultz said his new role at the company will focus on its Reserve brand of high-end cafés and its Roastery retail stores. "I am personally as passionate about developing the Reserve brand, and opening more Roasteries, as I was about opening our first espresso bar more than 30 years ago in Seattle," he said on a call with investors and reporters.
The move comes as Starbucks faces tight competition. The high end of the coffee market has been flooded with well-funded brands looking to eat away at Starbucks' market share, while affordable competitors like McDonald's and Dunkin' Donuts are putting more emphasis on the quality of their coffee. His new role will help fend off such competition, Schultz told the Wall Street Journal.
Starbucks opened its flagship Reserve Roastery and Tasting Room in Seattle in 2014, a 15,600-square-foot facility where beans are roasted and visitors can buy $12 cups of super-premium coffees. The company has plans to open 20 to 30 more large Reserve Roasteries and build up to 1,000 smaller stores with the Reserve brand.