Sears Filed For Bankruptcy And Plans To Shut Down 142 More Stores
The country's first "everything store" has lost 96% of its market value since it went public in 2003.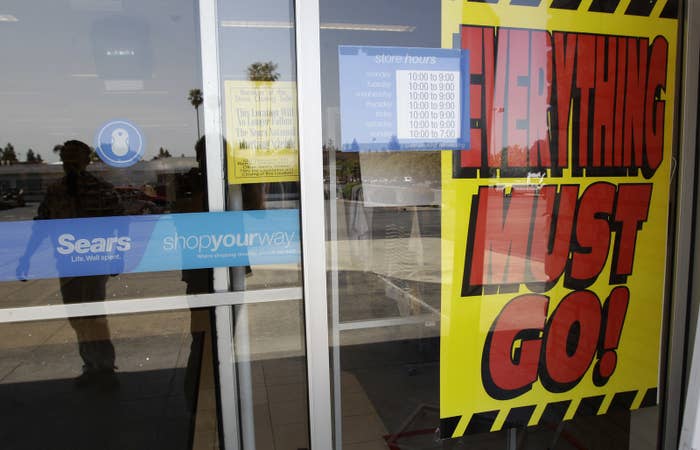 Sears Holdings, which owns Kmart as well as its namesake stores, filed for bankruptcy on Monday, announcing plans to close 142 more stores after several years of dwindling sales and mounting debt.
As part of the Chapter 11 bankruptcy restructuring, Sears CEO Eddie Lampert will step down from his position, effective immediately. Mohsin Meghji, managing partner of M-III Partners, will step in as the company's chief restructuring officer.
"Over the last several years, we have worked hard to transform our business and unlock the value of our assets," Lampert, who served as CEO for five years, said in a statement. "While we have made progress, the plan has yet to deliver the results we have desired, and addressing the company's immediate liquidity needs has impacted our efforts to become a profitable and more competitive retailer."

Sears' bankruptcy filing comes more than a decade after the company acquired Kmart in 2004 for $11 billion, merging two retailers that had struggled to keep up with changing consumer habits as Walmart and Target swept up market share.
The company did quite well with middle-class consumers beginning in the early 20th century, when it opened its first store in Chicago. Founded by railroad station agent Richard Sears in 1886, Sears reshaped American consumerism by drawing shoppers into malls, which, in turn, contributed to the suburbanization of the US after World War II.

But following the launch of big-box retailers like Walmart and online juggernauts like Amazon, Sears lost its price and convenience advantage.

Sears Holdings management tried to compete by closing stores and cutting costs over the last decade. The company dramatically cut spending on advertising and slowed upgrades to its stores.
Meanwhile, sales declined into the negatives, and debt mounted. Sears' retail footprint shrank from more than 2,400 stores in 2013 to roughly 860 this year, according to eMarketer, a retail industry research company.
The company dropped some of its mainstay brands, including Lands' End in 2014 and Craftsman brand in 2017. Sales have plunged 60% since 2010, Sears' last profitable year. By last month, its market value had fallen below $100 million.
In July, Sears closed its last remaining store in Chicago, its hometown. In August, the company announced another 46 store closings.

The department store said Monday it had received a $300 million loan from former CEO Lampert to support it through its bankruptcy. This comes on top of an additional $300 million it has secured from investment banks.
Neil Saunders, an analyst at GlobalData Retail, told BuzzFeed News that "there is no clear path to success" for Sears.
"Ultimately, Sears needs not just to fix its financial problems," he said. "It also needs to repair the deficiencies in terms of retail strategy. In our view, only a complete change of management will bring this about."