Wendy's plans to introduce self-service kiosks to manage rising labor costs linked to minimum wage increases for fast food workers, BuzzFeed News confirmed with the fast food giant.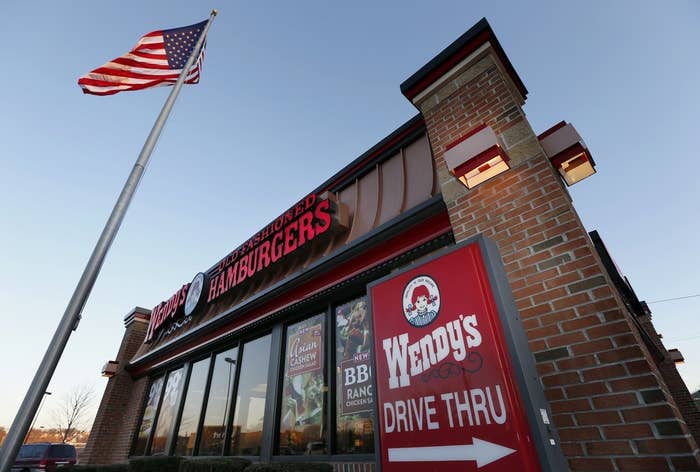 The company is "exploring greater use of technology to help mitigate rising labor and other costs," Wendy's spokesperson Bob Bertini told BuzzFeed News.
Pilot tests of the self-service order kiosks are already under way at a few restaurants, he said.
The company's new technology will become available to its franchise system by the end of the year. But it's up to the individual franchise restaurants to use it or not, said Bertini.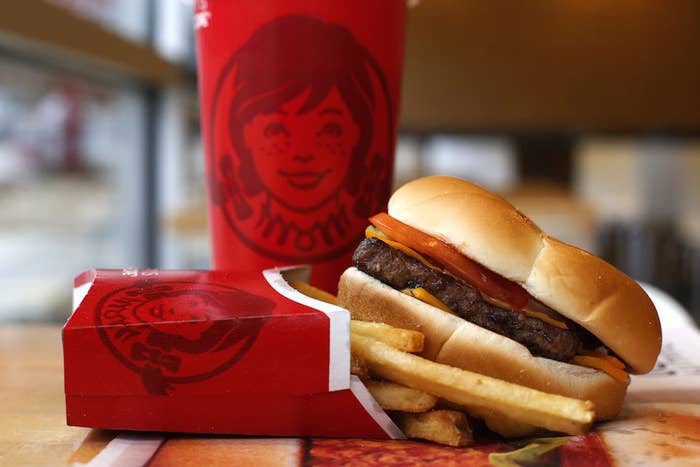 "We are always looking for opportunities to enhance our customers restaurant experience and technology is helping us do that in ways that would have not been possible a few years ago from mobile ordering and pay to self-service kiosks," Bertini said.
Wendy's move towards self-service kiosks and mobile ordering apps comes after California and New York both raised their state minimum wages to $15 per hour as fast-food workers in other states continue to push for similar wage increases.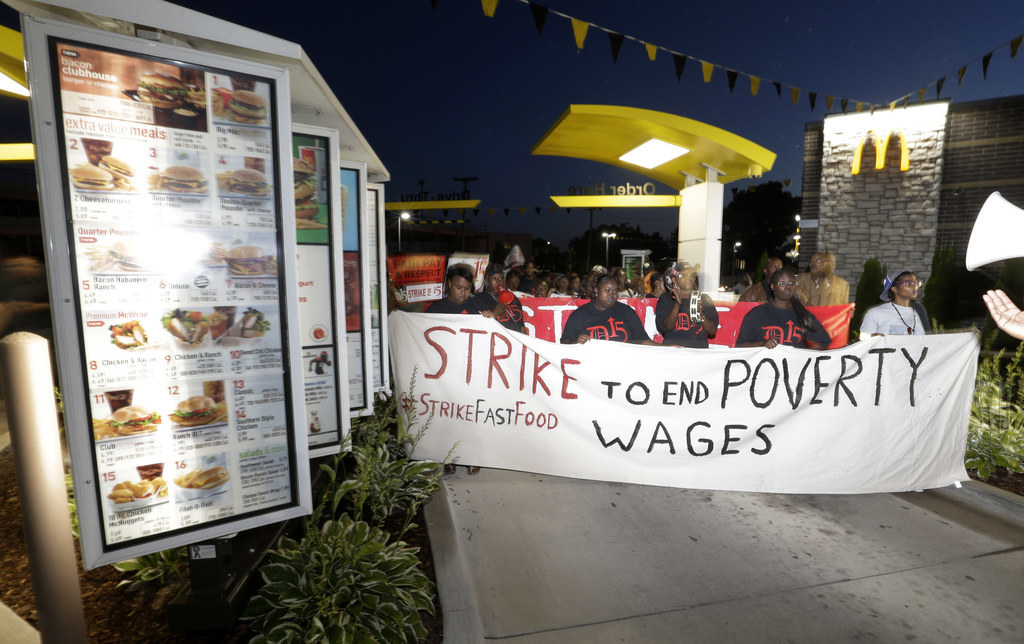 Food companies have been considering technology solutions for ordering and payment for over a year, according to BuzzFeed News.
"This is just the beginning," Starbucks CEO Howard Schultz told BuzzFeed News in March 2015. "I would say on the macro level, you can't be in any industry today, let alone a consumer business, and not integrate the business through the lens of seamless technology."
But the news of Wendy's rolling out self-service kiosks at its franchises had some people ready to boycott the restaurant.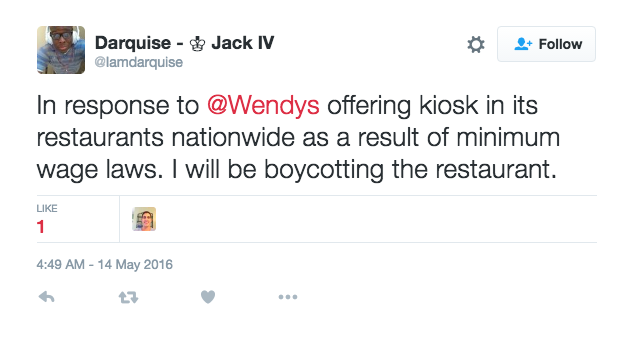 This person accuses Wendy's and McDonald's of preferring to invest in kiosks rather than pay their employees above minimum wage.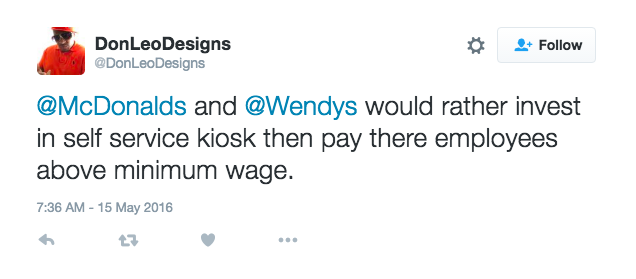 Some people said the self-service kiosks would keep workers from making mistakes.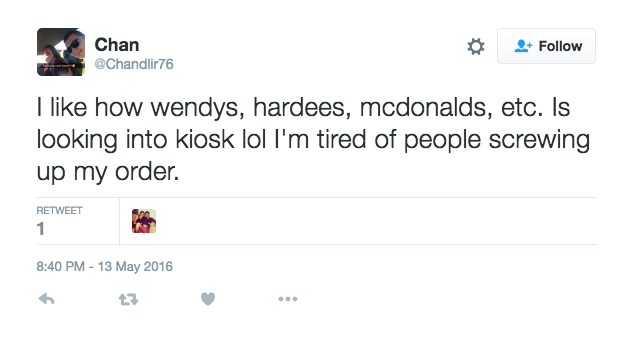 One person with a hearing disability said the self-service kiosks might make ordering a more accessible experience.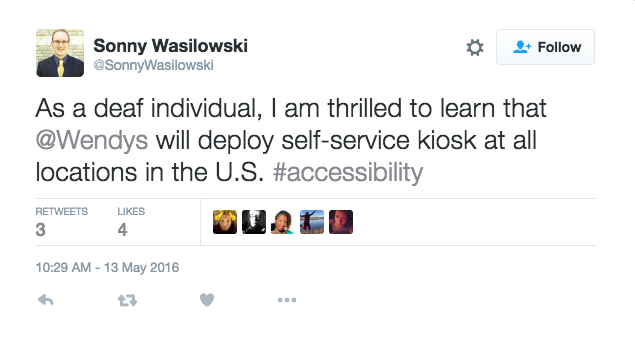 Wendy's is not the first to use technology to streamline its services. McDonald's has also been testing self-service kiosks, according to Investor's Business Daily.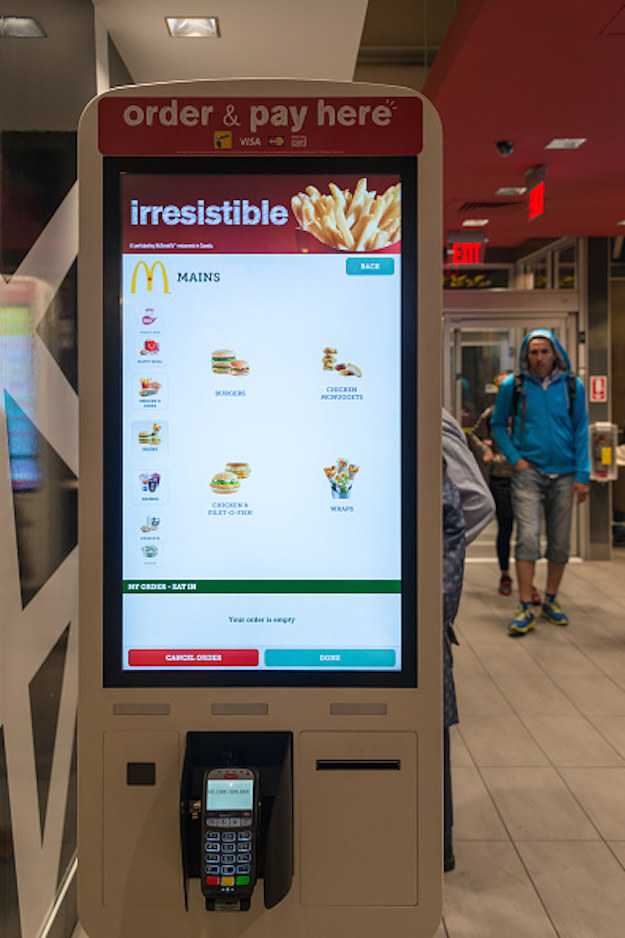 Wendy's joins McDonald's and YUM brands, which include Taco Bell, Pizza Hut and KFC, in launching mobile-ordering applications.