Three days before her 5-year-old son swallowed a loose part of his fidget spinner, Johely Morelos showed him the story of a Texas girl who was sent to the hospital after choking on a detachable part of her spinner.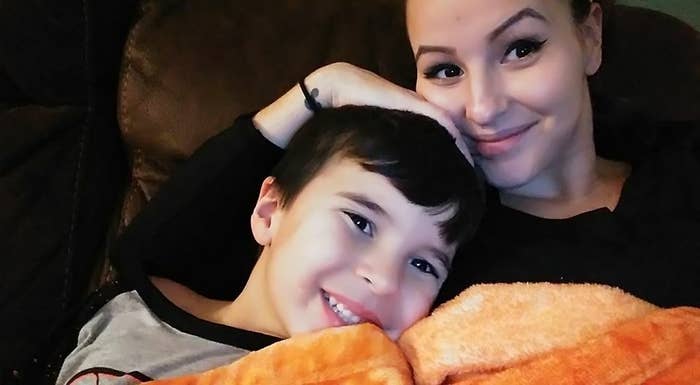 "I showed him pictures and said, 'Never put that in your mouth,'" Morelos, a 23-year-old mom in Albany, Oregon, told BuzzFeed News. "I guess he didn't listen that well."
Morelos' son, Cayden, was playing with a fidget spinner while she was running an errand at Walmart. Morelos' sister was babysitting, but that didn't stop him from popping a part loose and putting it into his mouth.
Cayden was rushed to their local hospital, whose staff couldn't remove the part from his chest.
He had to be transported to a hospital in Portland to have the disc surgically removed.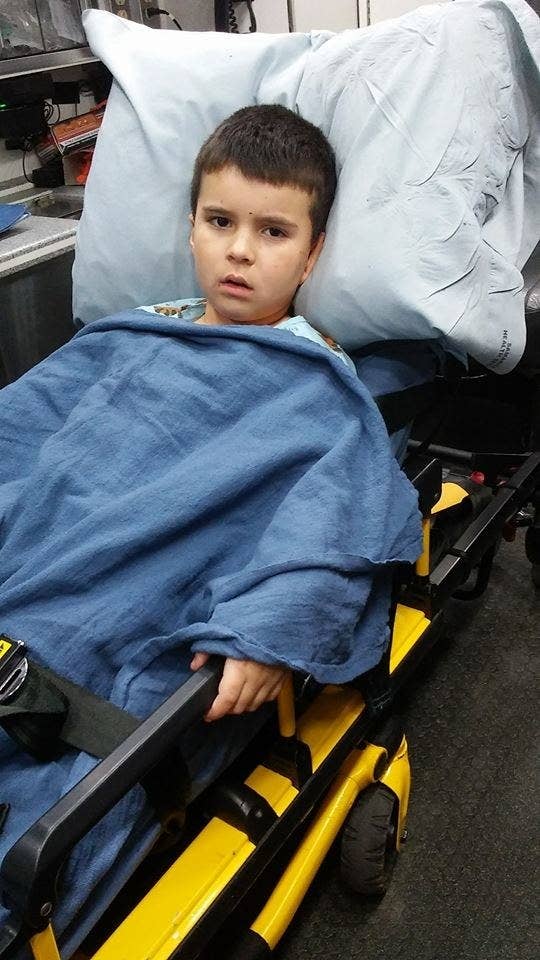 "It was super scary," said Morelos. "When they were putting a tube down his throat, he was throwing up blood. It was really scary for me to see he was in pain."
After two hours of surgery, Cayden woke up with a swollen lip and sore throat. Morelos said the next day he was back to normal as if nothing had ever happened.

Now Morelos, along with a leading child safety advocacy group, is saying fidget spinners should be recalled and required to have a choking hazard warning.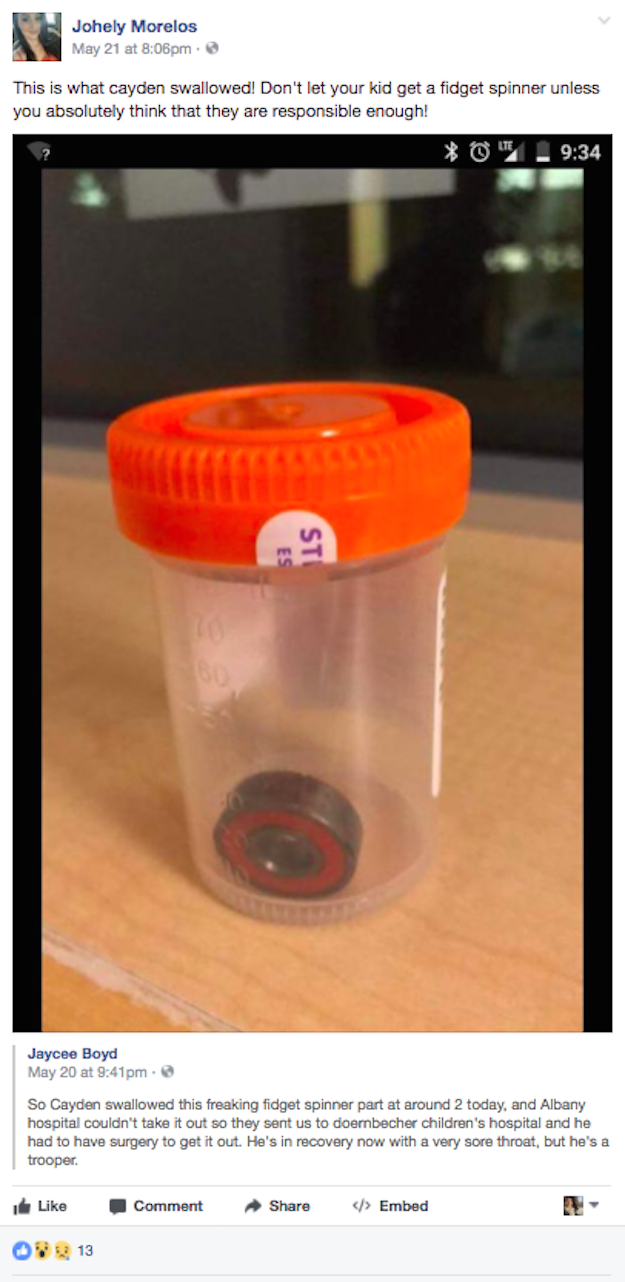 "If it is releasing small parts it should be recalled because it doesn't have warnings on the packaging," Nancy Cowles, the executive director of Kids in Danger, told BuzzFeed News.
Any toys marketed toward children must comply with federal small parts regulations, which require manufacturers to put a label on products that pose choking hazards.
A small part that can pose a choking hazard is any object that fits into a cylinder that is 2.25 inches long by 1.25 inches wide, which is about the size of the fully expanded throat of a child under 3 years old.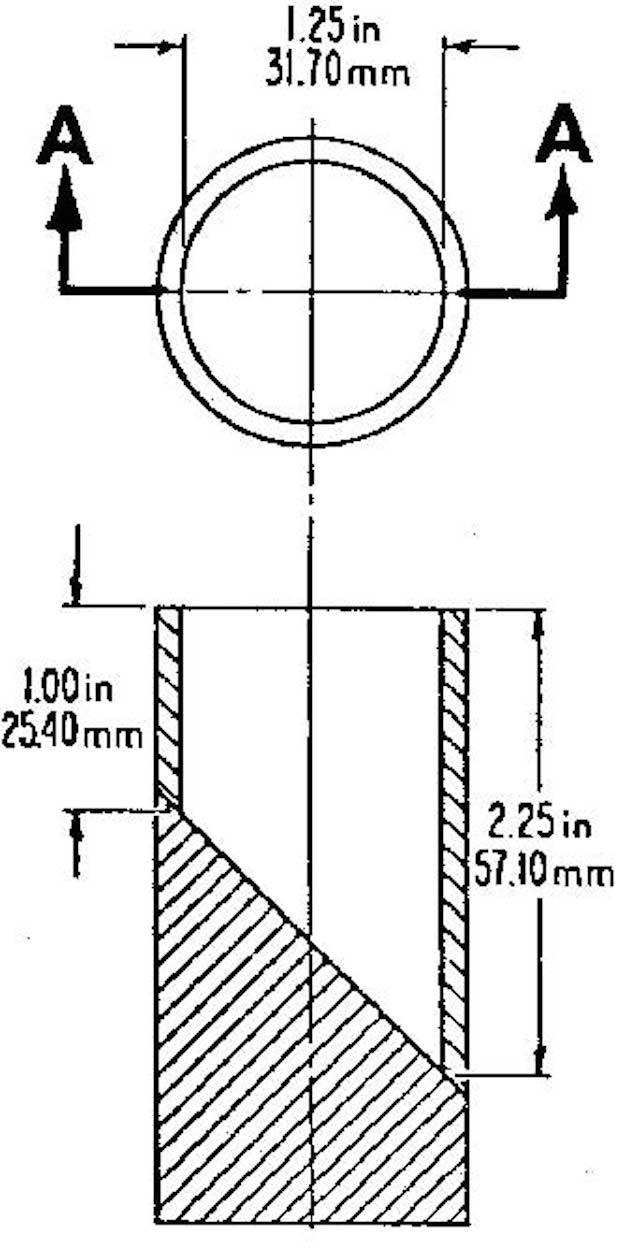 Scott Wolfson, a spokesperson for the Consumer Product Safety Commission, which regulates product safety, told BuzzFeed News that the agency is following up on the case of a 10-year-old girl in Texas who choked on a fidget spinner part, as well as other cases of children swallowing the loose discs.
"Choking risks to children are traditionally a priority for our agency so we take that very seriously," said Wolfson. "It's early in the process for us but we're taking the issue seriously. We would encourage anyone that has an incident to use SaferProducts.gov to report it right away."
None of Amazon's 10 best-selling fidget spinners include a choking hazard warning in their product descriptions as of Wednesday.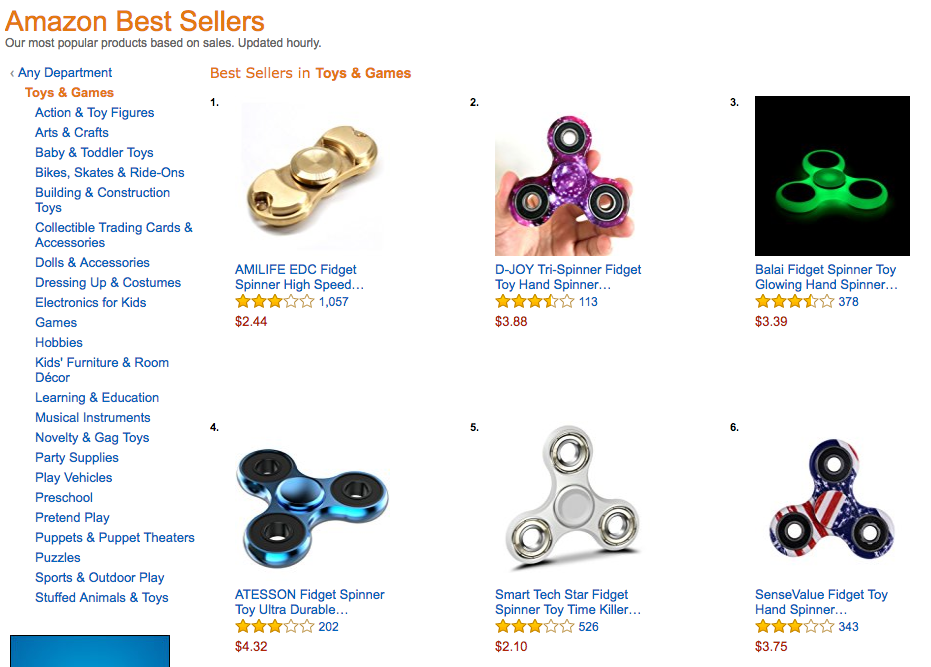 Missouri-based mom Carol Woods told BuzzFeed News that her 3-year-old son was injured by a loose piece from this spinner last Tuesday. This time, though, it was stuck on his finger.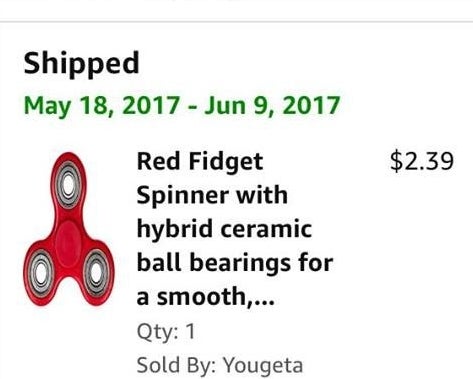 "[Charlie] had the little bearing on his middle finger," she said. She described the stuck piece as a "flimsy piece of metal."

"Mommy, I can't get it off," she recalled her son saying.

The mom attempted to remove it. "We tried everything and it began to bend and cut into his skin the more we messed with it," she said.
She took her son to urgent care and, when they couldn't help, to the ER. Once there, she said, it took "two to three different tools before [the bearing] was cut off."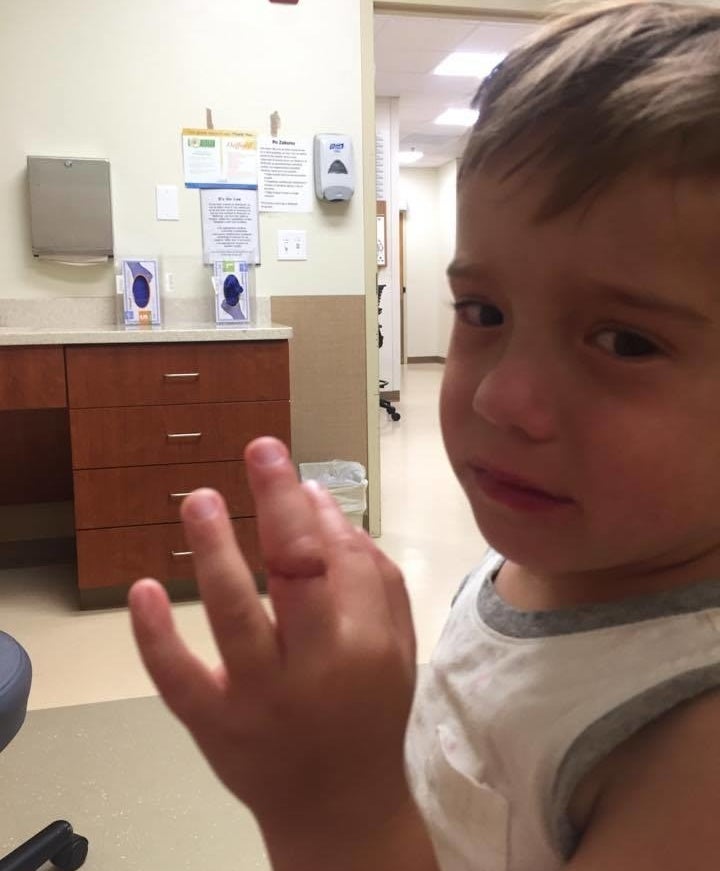 "I'll tell ya, it took some muscle," she said on its eventual removal. She said the whole ordeal was "awful" and "pretty scary."

She wants other parents to be "more aware" of potential risks. "I think it would be nice to know that these bearings can come out, when [kids] drop it," she said.

Joan Lawrence, who leads regulatory affairs for the Toy Association, which represents the toy industry, told BuzzFeed News that parents should never give children under 3 years old any items that have small parts, as many fidget spinners do.

"Buy toys from a reputable toy retailer — one you know and trust," she added. "Those retailers will be selling product that has been tested and complies with strict US toy safety standards. When a toy craze like the spinners hit, you may be tempted to buy one for your child when you see a street vendor has them, but the safety of products sold outside a reputable retailer cannot be verified."
Parents can also test the product at home by dropping the toy on the ground to see if any small parts easily come loose, Cowles with Kids in Danger added.
"If you can break it, your child can break it," she said.