As cities across the country beg and clamor to become the second headquarters location for Amazon, civic leaders in many places — including Chicago, Denver, Philadelphia, and Nashville — are calling for a more critical eye.

In an open letter to the Amazon CEO sent Tuesday morning, 73 civic groups from cities and towns around the country say that in its quest for a new headquarters outside Seattle, the company is demanding too much in terms of tax breaks and not making enough promises to the communities under review.
"So last month, Amazon announced that you are looking for a location for your second headquarters (HQ2), and cities across North America jumped at a chance to submit proposals," the letter says. "You have your list of things you're looking for from cities — but we live in these cities, and we've got some expectations of our own for Amazon."
Signatories to the letter called for the company to hire locally for construction jobs, improve conditions for warehouse workers, contribute to affordable housing developments, and decline tax incentives that allow it to sell off its corporate income tax credits.
"Amazon has a history of getting a lot of corporate welfare in cities where it's built warehouses and data centers," Erin Johansson, research director with Jobs With Justice, a workers' advocacy group in Washington, DC, that has signed the letter, told BuzzFeed News.
"They're a highly profitable company and shouldn't need a handout, but they take advantage of cities' willingness to do that," she added. "That's been their M.O. We see an opportunity to say, 'We don't want a repeat of that.'"
The groups that signed the letter have a long list of demands for Amazon, including that it employ "a substantial percentage" of people from disadvantaged communities, limit the use of temporary agencies to staff its warehouses, and make a "significant" annual contribution to support affordable housing.

"We love jobs, we love technology, and we love convenience," the letter says, "but what you're looking for will impact every part of our cities. We built these cities, and we want to make sure they remain ours. "
The community groups also want Amazon to pay all its property taxes and sales tax on any equipment or building materials it will used during construction. And they ask that the company collect sales tax on sales by its third-party merchants, an issue that has heated up as some states start to collect taxes on sales by Amazon merchants.
While Amazon is still in the early stages of the proposal process, the groups' demands may be a hard sell. Amazon seems to expect an incentive package beyond a "business-friendly environment and tax structure," according to its request for proposals released in September.
It asks city applicants to outline an incentive package that could include anything from tax incentives for land to site preparation, tax exemptions, relocation grants, workforce grants, and fee reductions. It even anticipates some cities may have to create "special incentive legislation in order for the state/province to achieve a competitive incentive proposal," it writes in its request for proposals.
In return, Amazon plans to invest over $5 billion in construction and operation of Amazon HQ2 and bring as many as 50,000 high-paying jobs to the selected area.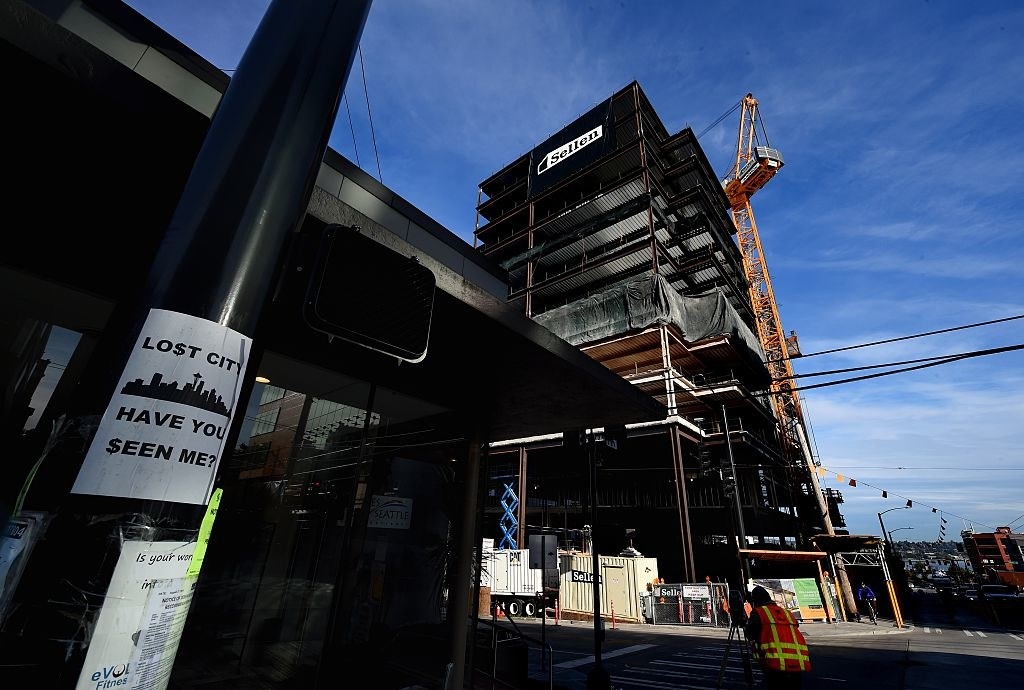 The company's record in Seattle has cities looking to boost their local economies buckling at the knees. Amazon estimates its investments in Seattle, where it is currently headquartered, from 2010 through 2016 resulted in an additional $38 billion to the city's economy. For each dollar Amazon invested, Seattle generated an additional 1.4 dollars for the city's overall economy.
But where smitten cities see dollar signs, some housing and worker advocates see warning signs.
"This may be be one of the biggest deals any of our city officials will ever negotiate," said Nikki Fortunato Bas, executive director of Partnership for Working Families, a federation of regional advocacy groups.
Bas, whose organization signed the letter, told BuzzFeed News: "We want to make sure that we're using all the brainpower of everyone in our community to make sure our communities get what they need and thrive in this deal."