A national rent-to-own chain is currently offering consumers a deal — you can get a PS4 or Xbox One for 65 "worry free" payments of $19.99. That comes out to a total cash price of about $1,299. If that doesn't sound like such a great deal, it's because that's more than triple the $350 it would cost you at Best Buy.
Rent-A-Center is one of many rent-to-own companies that target mainly low-income consumers, offering them to opportunity to rent instead of own their furniture and electronics, or to slowly pay off large purchases.
Another of the company's deals: A 40" Vizio LED TV, available for 78 weekly payments of $17.99 — a total cost of $2,078. Walmart was selling the same TV on sale for $298, almost seven times less.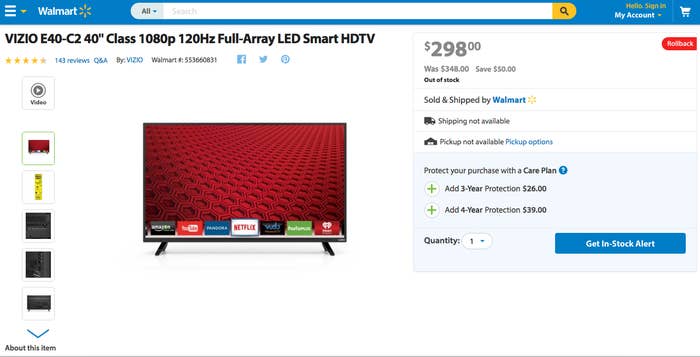 "The primary problem is they charge too much," Margot Saunders, a counsel to the National Consumer Law Center, told BuzzFeed News. "Rather than them charging $250 for a $200 item, they'll charge $400 for an item. Every incentive for that transaction is for the consumer to fail, for them to not to succeed in buying it."

Rent-to-own, which first started in the US during the 1950s, has grown into an $8.5 billion industry with roughly 9,200 stores across the country. At any given time, about 4.2 million US households are using the industry's services, according the Association of Progressive Rental Organizations, an industry group.
Have you or someone you know had an experience with rent-to-own companies? You can contact our Consumer Affairs reporter Leticia Miranda at leticia.miranda@buzzfeed.com
Most rent-to-own customers are white — 84% — and make less than $36,000 a year, according to the association. Many don't want or can't commit to a long-term payment plan, or they don't have access to credit for household purchases, it says.
"From a profitability standpoint, the rent-to-own transaction is still a profitable transaction," Brad Thomas, an analyst at KeyBanc Capital Markets, told BuzzFeed News. "It's a costly one for the consumers that participate in it but it's a flexible transaction. They're not going to end up in bankruptcy if they don't make a payment."
But rent-to-own transactions can't really be compared to retail purchases. Rent-to-own deals don't require having good credit, and typically come with either a weekly or monthly payment option. Most companies will offer product service during the rental time as well.
"Rent-A-Center primarily serves credit-constrained consumers that the retail and credit markets are unwilling to serve," Sonia Holland, a spokesperson for Rent-A-Center, told BuzzFeed News.
Bundled within the transaction is a product service agreement and the customer's ability to stop payments at any time, return the item in question, and then resume the rental when they can begin making payments again, she said. The company's overhead, labor, truck and fuel costs "necessary to provide this flexibility and assurance for our customers results in a higher cost of doing business," she added.
The rent-to-own industry is exempt from most federal and state interest rate ceilings, disclosure laws, and other consumer protections in 47 states, because its deals are considered rental agreements, not financial products, said Thomas, the KeyBanc analyst.

"If you were to try to look at this as a credit transaction, the implied interest rate could be 100% or more," he said. "This is not a credit transaction, it's a rental agreement. You're not on the hook for anything beyond a week or month and you have the right to return it."
While the total cost of buying an item through monthly rental payments is far higher than retail prices, only about 6% of Rent-A-Center's customers choose to pay the highest cost to own, the company told BuzzFeed News.

Critics like Saunders, of the National Consumer Law Center, say such transactions merely set people up to fail, particularly those who have bad or no credit and minimal income.
"If the consumer doesn't succeed [with the purchase], the item is returned then able to be rented again," she said. "It's a very different dynamic than retail installment sales, because the consumer pays so much more and will end up failing the transaction so much more."
If you have information or tips, contact this reporter at leticia.miranda@buzzfeed.com.