Federal Prisons Will Release 6,000 Inmates Charged With Drug Offenses
The largest-ever one time release of federal prisoners is the latest in an effort to reduce overcrowding in federal prisons, advocates said.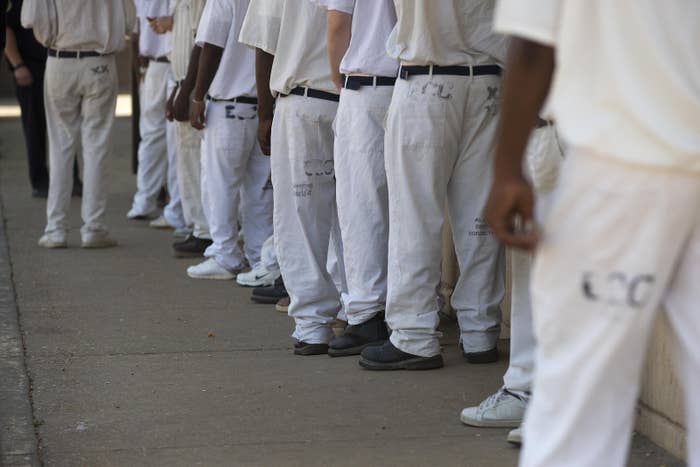 The Federal Bureau of Prisons said on Tuesday it will free 6,000 inmates charged with drug offenses under new sentencing guidelines that were adopted last year, a spokesperson confirmed.
The release comes after the Sentencing Commission voted in April 2014 to adopt guidelines that reduced the recommended sentences for drug trafficking charges. It voted to apply the rules retroactively in July 2014.
Under the new rules, prisoners charged under the old guidelines can have an average of two years removed from their sentence after a federal judge reviews their case. As many as 51,141 federal prisoners could be released, according to an analysis published by the Sentencing Commission last year.
The release, beginning Oct. 30, will be just the first in multiple waves of people who will be freed by the federal Bureau of Prisons over time, according to BOP spokesperson Edmond Ross. The department will release the first 6,000 inmates by Nov. 2. Many will be sent to halfway houses or directly back to their homes, Ross said.
The commission adopted the guidelines last year as part of a legal mandate to relieve overcrowding in federal prisons, which had reached alarming levels. A 2011 Government Accountability Office report found that crowding increased to 39% across all BOP prisons and reached about 55% in some high-security facilities. This meant that more inmates were forced to share cells and other units which brought a potentially "higher risk of violence and more potential victims," according to the report.
The bloating became a financial drain for the Justice Department. Last fiscal year the BOP made up about 25% of the department's budget, according to a 2013 memo from Inspector General Michael Horowitz. Its budget growth rate was nearly twice that of the entire Justice Department, according to the memo.
"Certainly for a number of years we have had population pressures and management issues based on population," Ross said. "So it will certainly assist us in better providing reentry programming and a more safe and secure environment for both staff and inmates."
The BOP announced Monday it decreased its overall prison population by roughly 8,000 this fiscal year, which includes the inmates that will be released at the end of the month. It's the second year it reported a reduction in inmates after 34 years of successive increases.
The new guidelines reflect a broader national effort to roll back harsh punishment for drug offenders. Former Attorney General Eric Holder implemented prosecution reforms in 2014, which reduced the number of strict sentences for nonviolent drug offenders, according to an announcement last year. President Obama's clemency initiative has resulted in the early release of 89 inmates over the course of his presidency, 76 of which were nonviolent drug offenders. A bipartisan bill announced Thursday would also retroactively apply reformed sentencing guidelines for crack cocaine offenses, which could result in the early release of 6,000 other prisoners.
"It's a matter of basic fairness to make sure people who were sentenced before a new law or policy are treated equally," said Nazgol Ghandnoosh, a research analyst with The Sentencing Project, which advocated for the guidelines to be applied retroactively. "It makes intuitive sense that people sentenced under old laws benefit from new reforms."
Many of the prisoners scheduled to be released under the new guidelines have already served long prison sentences from anywhere between 10 to 20 years, said Jesselyn McCurdy, senior counsel with the American Civil Liberties Union.
"Far too many people have lost years of their lives to draconian sentencing laws born of the failed drug war," she said in an emailed statement. "We are overjoyed that some of the people so wronged will get their freedom back."
An additional 8,550 prisoners will be eligible for release in the next year, according to the Sentencing Commission. But federal courts must find those inmates don't pose a safety risk before approving their early release.