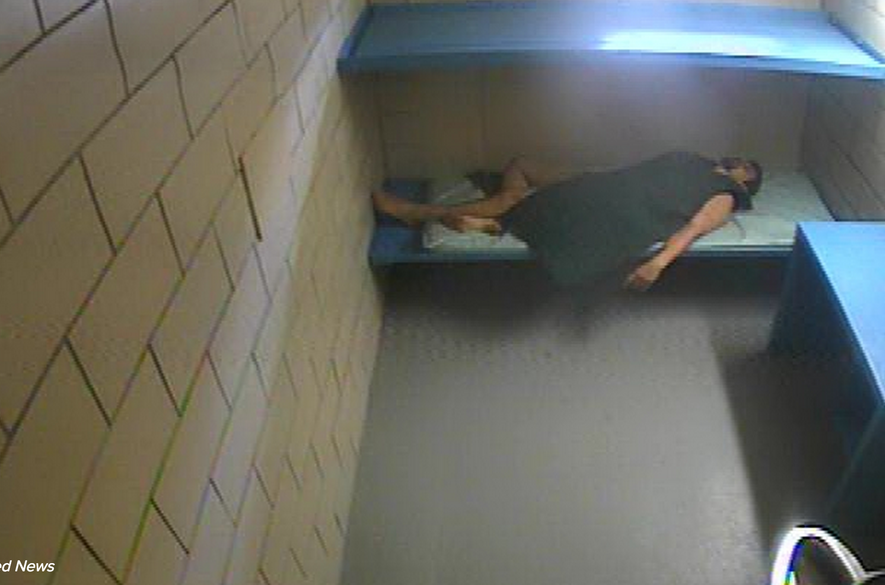 The FBI on Tuesday said it has opened a civil review of a Michigan county's investigation into the death of a man serving a 30-day jail sentence for a traffic violation, a spokesperson for the agency's Detroit division told BuzzFeed News.
David Stojcevski, a 32-year-old Roseville, Michigan, resident, was withdrawing from a drug addiction when he decided to serve the sentence beginning June 11 in lieu of paying a $772 fine for failing to appear in court for a careless driving charge, according to a federal lawsuit filed in March by his brother, Vladimir.
Stojcevski told Macomb County Jail staff that he was prescribed methadone as a part of a drug treatment regimen, along with klonopin to treat anxiety and oxycodone for pain relief, according to court records.
He was placed in a detox cell for the first week of his sentence, then on June 17 moved to a mental health unit — where inmates are required to be naked and video monitored at all times, according to court records.
Over the next 10 days, corrections and medical staff failed to continue his drug treatment, according to the complaint. While he was jailed, he lost 50 pounds and began to hallucinate, the complaint said.
He told corrections staff that "all his organs, but 10 percent of his heart was removed and his arms shredded a couple days ago," the complaint said, adding that at another point he said "he died earlier today."
A video obtained by BuzzFeed News, which captures all 240 hours Stojcevski spent in the mental health unit before his death, shows him naked and at times covered only by a thin blanket. In his final hours on June 27, 2014, he is lying on a plastic mat on the floor, nude, twitching, and listless. At times he rolls under the bunk beds.
After several hours, a corrections officer comes into the frame, leans over him, and begins administering CPR as other medical and corrections staff rush in and surround him.
He was taken to McLaren Regional Hospital and was pronounced dead about an hour later, according to the complaint. An autopsy report showed he died as a result of "acute withdrawal from chronic benzodiazepine, methadone, opiate medications, dehydration with hypernatremia and seizure/seizure-like activity," according to the complaint.
The suit accuses several Macomb County Jail staff, the sheriff, and the staff from Correct Care Solutions, which provides medical services to the inmates, of "cruel and unusual punishment" and medical negligence. Karla West, the Correct Care Services director of communications, declined to comment.
The law firm of Ihrie O'Brien, which is representing Stojcevski, said it made two attempts in writing to resolve the case outside of litigation. But it claims the letters were ignored by the Sheriff's office and Macomb County's corporation counsel. The Sheriff's office declined to comment on the issue to BuzzFeed News on Friday.
Macomb County legal counsel John Schapka told BuzzFeed News on Thursday that the family asked for $25 million to settle the case or else they would file a lawsuit. The county declined to settle and the lawsuit was filed.
On Monday, FBI agents met with Macomb County Sheriff Anthony Wickersham, who handed over the department's completed investigation, internal investigation, and about 240 hours of in-cell video to the agency, according to a statement released by the Sheriff's Office on Tuesday.
"I promote transparency within my office and look forward to the findings of the FBI," said Wickersham. "Any death that occurs in the Macomb County Jail is tragic, not only to the family of the deceased, but to the men and women of the Sheriff's Office who oversee the care and custody of our 1,200 inmates daily."
Tim Wilens, co-director of the Center for Addiction Medicine at Massachusetts General Hospital in Boston (he is not affiliated with the case) told BuzzFeed News that benzodiazepine withdrawal can be life-threatening.
Wilens said if a doctor knows that a patient has been prescribed a low dose of benzodiazepine, they will reduce the dose over time in slow increments. If a person has been misusing benzodiazepine, they will typically be referred to a detox center where they can be weaned from the drug slowly.
"It's a little bit like an airplane landing – it's better if you have a slow descent than go straight down," he said. "People then may even have a few bumps, but not life threatening."
Someone can start showing serious symptoms of withdrawal from benzodiazepine in just two days, said Wilens. They will first become anxious, get a tremor, become fearful of some impending doom, and become agitated, confused, restless, and irritable. Their blood pressure will spike, their heart rate will increase, and their eyes will dilate. They will become nauseated and might vomit. Seizures can occur at any time during withdrawal, said Wilens.
Schapka told BuzzFeed News on Friday that the family's lawsuit is likely to be unsuccessful.
"Based on the facts and circumstances and the law as I understand it, I am confident that the county will prevail in this case," he said. He declined to comment further because the case is still ongoing.
The county argued in court records that the family has not shown enough evidence to support its allegations that the jail violated David's constitutional rights or was medically negligent. The county also argued that the plaintiff's claims "are just that, labels, conclusions, and formulistic recitations of the elements of the claims."
Vladimir, who was coincidentally serving a similar sentence as his brother at the jail — stemming from a different case — was also taking several prescribed drugs as part of addiction treatment. He accuses the jail, in the suit, of denying him medication, which left him vomiting in his cell alone. He was transferred 12 days into his sentence to a hospital for medical treatment.
Bob Ihrie, David and Vladimir's attorney, declined to comment on the lawsuit on Tuesday. But Ihrie told BuzzFeed News on Friday that anyone who sees the videos of David in his cell "will be shocked and appalled and will not believe this occurs in the United States of America."
In a statement released by the firm last Thursday, the family said it hopes David's death sparks "a meaningful and productive discussion...regarding the proper equipping, training, protocol, management and protection of the constitutional rights of the sick and addicted in our jail and prison system." This would help the family "find at least some solace in that their son's death was not in vain."