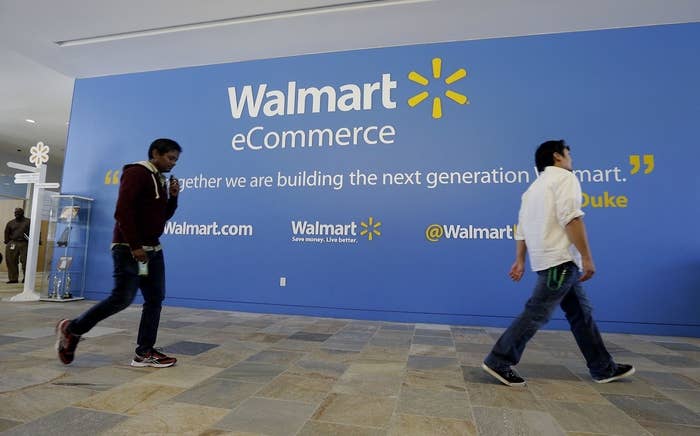 Walmart allegedly reported "misleadingly optimistic" e-commerce business results and abruptly fired a business executive who pressed the company to correct its business practices, according to a whistleblower lawsuit filed Thursday.
Tri Huynh, a former business development director with Walmart's marketplace business, claims in his suit that he was "terminated abruptly under false pretenses" in January 2017 after he "refused to back down when repeatedly instructed to stop raising concerns" about "illegitimate" actions and "ethics violation/intentional dishonesty at the executive level."
Huynh's lawsuit alleges that to get ahead of Amazon and the threat it posed to Walmart's business, Walmart miscategorized products sold by third-party sellers so it could charge them higher commissions, and it refused to accept legitimate returns on over $7 million worth of products. He also claims that Walmart overstated its revenue to "paint an overly-optimistic picture of its current and short-term progress in the catching-up in the e-commerce space."
In his lawsuit, which was filed in a US District Court in San Francisco, Huynh alleges that "Walmart sacrificed and betrayed its Founder's key principles of integrity and honesty, pushing those core values aside in its rush to win the e-commerce war at all costs."
Walmart told BuzzFeed News that "this litigation is based on allegations by a disgruntled former associate, who was let go as part of an overall restructuring."
"We take allegations like this seriously and looked into them when they were brought to our attention," said the company. "The investigation found nothing to suggest that the company acted improperly. We intend to vigorously defend the company against these claims."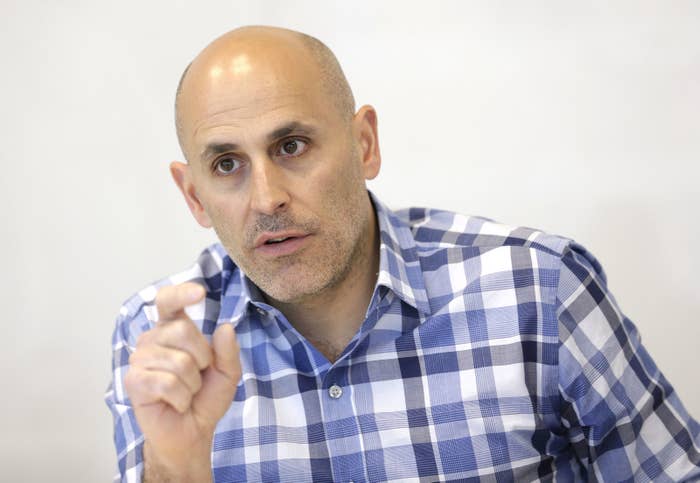 Walmart's online sales have grown under Marc Lore, who was appointed Walmart e-commerce CEO after the company acquired his company Jet.com in August 2016. In the first quarter of fiscal 2018, the company's online sales increased 63%. The company said a "majority of this growth was organic through Walmart.com." But in its most recent e-commerce sales reports for the quarter, online sales were up by only 23%, stoking concerns that the company was struggling to build a robust e-commerce business.
The company has continued to sharpen its online business by rolling out two-day free delivery, adding options to pick up online purchases in-store, redesigning parts of its website, and expanding its staff to include more web engineers. It has also expanded the number of products it sells online, from 8 million in 2016 to about 75 million items as of February.

But Huynh claims that when Amazon's market capitalization of $262.7 billion exceeded Walmart's market capitalization of $233.5 by 12% in July 2015, the company realized it "faced a real threat."
Huynh claims in his lawsuit that Walmart has been "on an overly-aggressive push to show meteoric growth in its e-commerce business by any means possible — even, illegitimate ones."
According to the lawsuit, the company's reported e-commerce results were inflated in part because it overcharged commissions on sales by its third-party sellers. When a Walmart.com shopper buys an item on the marketplace, Walmart charges a commission on the purchase to the "third-party." That commission depends on the product. For example, electronics and personal computers, which are big sellers on the marketplace, typically have a commission of 6% to 8%.
But the marketplace platform often categorizes products as "unrecognized" products, which have a higher 15% commission, Huynh claims. He reported the issue as early as December 2014, but two years later, third-party sellers continued to complain to Walmart that they were not paid accurately. One complained they had opened 16 tickets with Walmart in 16 weeks over "commission errors."
Huynh also claims Walmart failed to process customer returns worth over $7 million, which resulted in an inflation of sales by that amount from September 2015 through March 2016 when the company discovered the issue.
And because Walmart was racing to beat Amazon's growing third-party seller base, it rushed new sellers onto its marketplace, and in doing so, sacrificed quality and customer service, alleges Huynh.
Walmart's marketplace had grown from 180 sellers at the beginning of 2016 to 2,074 sellers with 16.5 million unique products by October, according to the lawsuit. But the marketplace was rife with issues, including the sale of offensive products like a "tranny granny" halloween costume and a "razor blade suicide scar wound latex" costume makeup kit.
Walmart had to suspend its third-largest "third-party" seller as a result of continued and repeated problems with poor customer service and an excessively high cancellation rate, the lawsuit claims.
Huynh claims his boss told him to stop reporting his concerns and said, "stay within your job's boundaries or I'll find someone else."
Instead, Huynh sent a detailed email to Marc Lore in January 2017 noting the platform issues with commission accuracy, the returns issues, and the recruitment of poor-quality sellers. Within days, he was told the company's investigation into his concerns was complete and "appropriate action has been taken in response to your concerns."
Three weeks after emailing Lore, he was terminated because of "alleged recent performance issues" and "a company reorganization and restructuring."
Huynh's lawsuit accuses Walmart of whistleblower retaliation in violation of the Sarbanes-Oxley Act, retaliation in violation of California labor laws, failure to prevent discrimination, and wrongful termination. He seeks unspecified damages for lost wages and economic losses and special damages.