Confederate Flag Wavers Indicted After Confrontation At Child's Birthday Party
A Georgia grand jury indicted 15 Respect the Flag members of making terroristic threats after a confrontation with black guests at a child's birthday party in July.
Fifteen members of a Confederate flag support group have been indicted on criminal gang terrorism charges in Georgia after threatening several black partygoers who were celebrating a child's birthday this summer, prosecutors said Monday.
The group was indicted with violating Georgia's Street Gang Terrorism and Prevention Act and making terroristic threats, the Douglas County District Attorney's Office announced.
The charges are related to an incident on July 25, when several members of Respect the Flag drove a caravan of pickup trucks outfitted with Confederate flags in front of a group of black guests at a child's birthday party in Douglasville.
Cell phone video of the confrontation — published by The Atlanta-Journal Constitution — appears to include audio of one of the members saying, "I'm going to kill y'all n****rs."
Levi Bush, the leader of the caravan that day, told the Atlanta Journal-Constitution that the group is not motivated by hate, pointing out that members drive around and sell flags, with the proceeds going to veterans.
However, Douglas County District Attorney Brian Fortner said First Amendment protections stop "when you begin to infringe on rights of other individuals."
"You have the right to freedom of speech, but you don't have the right to threaten to kill someone," Fortner said. "We require those exercising their First Amendment rights to respect the rights of others. It's just a balancing act."
The Douglasville confrontation occurred just one month after Dylann Roof, a 21-year-old man who often posed with a Confederate flag, massacred nine black church parishioners in Charleston, South Carolina.
Roof pleaded not guilty to 33 federal murder and hate crime charges in July.

"This is reminiscent of the Ku Klux Klan – modern-day night-riders terrorizing African Americans in the name of Southern heritage," said Southern Poverty Law Center chief trial counsel Morris Dees, who is representing some of the accusers in the Douglasville incident. "This happened just a month after Charleston, wouldn't that scare you to death? Someone coming in with guns, threatening people with little children there?"
The South Carolina church shooting and the Douglasville confrontation fueled debates on the constitutionality and moral implications of waving the Confederate flag. The debate in South Carolina came to a partial close when the state lawmakers voted to remove the flag from statehouse grounds.
Georgia voted to remove the Confederate symbol from its flag in 2001, and does not wave the Confederate flag over the state capitol. However, the state does offer license plates with the confederate symbol in honor of the Sons of Confederate Veterans.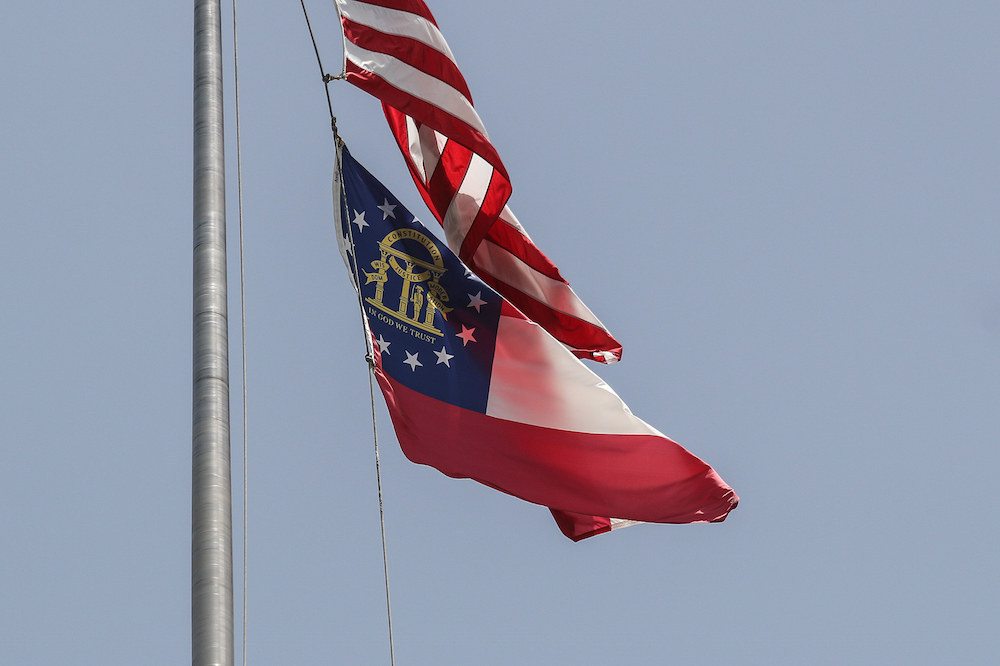 Fortner, a white Republican elected to office in 2014, told BuzzFeed News he was unfazed by the political debate surrounding the flag in evaluating the group's actions for criminal violations.
"As a DA, there are going to be people who criticize you no matter what you do," he said. "So we just try to focus on the job and do the right thing and that's what we did in this case."
Fortner, who has been a prosecutor in Georgia for 15 years, said he is not aware of previous street gang terrorism charges brought against a Confederate flag support group in Georgia.
All 15 Respect the Flag members were indicted on one count of participating in criminal gang activity and another count of making terrorist threats.
Two members of the group were also charged with battery for an incident that occurred earlier that day at a gas station. The victim of that alleged assault is white.
The group faces anywhere from one to 15 years in prison for the gang terrorism charges, and up to three years in prison for the misdemeanor battery charges.
Read the full indictment here: