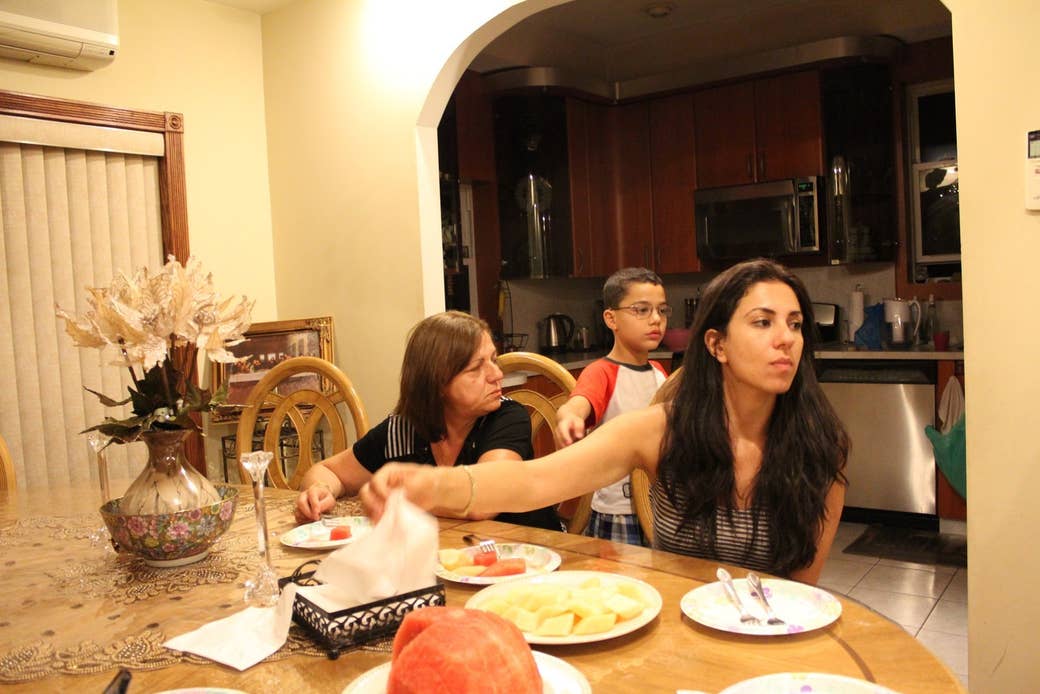 Angela's talks with her family in Syria are brief.
"Anytime there is a bomb there or something we always call and say, 'Are you good? Is it far from where you are?'" she told BuzzFeed News. Living in Bay Ridge, Brooklyn, Angela said she and her family can't offer much more than moral support to her relatives still in Syria, like answering her uncle's calls during the brief periods he has electricity.
As thousands of refugees of all religions flee the country — now in its fourth year of an intractable war between government, rebel, and ISIS forces — to make the grueling and dangerous journey to Europe, Angela's extended family opted instead to stay in their homeland and apply for visas. (Angela's name and the names of her family members have been changed out of their fear for their relatives' safety.)
The recent history of Syrian Christians — an umbrella term for the diverse minority group of Greek Orthodox, Catholics, Protestants, and others — has gone from being accepted under Bashar Al-Assad's regime to becoming a persecuted class. Their plight has been an ongoing concern for human rights advocates since the beginning of the war in 2011. Since then, more than 700,000 Christian Syrians have left the country, according to Open Doors International, a U.K.-based organization tracking the persecution of Christians.
Angela's family comes from a long line of Syrian Christians, who have become special targets for ISIS and other Islamist rebel groups because of their faith and a belief that all — instead of some — Christians support President Bashar al-Assad's regime, said Princeton historian Christian Sahner and author of Among the Ruins: Syria Past and Present. As a result, the world's oldest Christian community along with its churches, books, and icons are slowly being erased.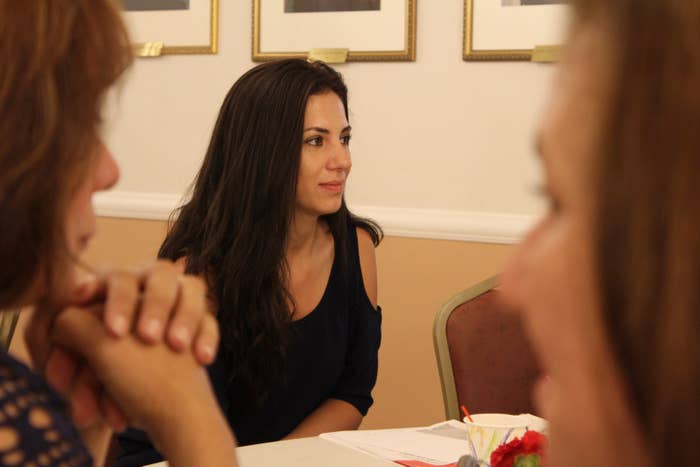 Last winter, Al-Qaeda affiliate Jabhat al-Nusra, an Islamist group competing with ISIS for control of Syria, held a group of Greek Orthodox nuns — along with 150 other Syrian women and children — hostage for four months in Syria until it released them through a prisoner exchange facilitated by officials from Qatar and Lebanon. When ISIS took the city of Qariyatain, in Homs Province, last August, it demolished the Syrian Catholic Saint Elian Monastery and kidnapped 250 Syrians from the town who still remain missing.
Angela's immediate family — her two brothers and mother — arrived in the U.S. in 1998 hoping for more economic opportunity and a chance to study at American colleges. The family quickly adjusted to life in Brooklyn. They continued their family business in jewelry and began attending services at Downtown Brooklyn's Saint Nicholas Antiochian Orthodox Cathedral, where Angela met her husband and started a family of her own.
Angela and her family in the U.S. said they can only watch as their relatives, who once enjoyed prosperity, now live in constant fear of their lives. Her mother said she read on Facebook that the priest of her hometown church in Hama, Father Rafael, was beheaded by ISIS when they took the city last April. Another friend's Facebook post said that a Christian friend of the family was beheaded in Idlib because he owned a liquor store. Angela's childhood church in Idlib, St. Mary's Orthodox Church, was taken over and destroyed by the al-Nusra Front. Three homes in their predominantly Christian neighborhood in Idlib have been bombed, leaving one man killed in his sleep, she said.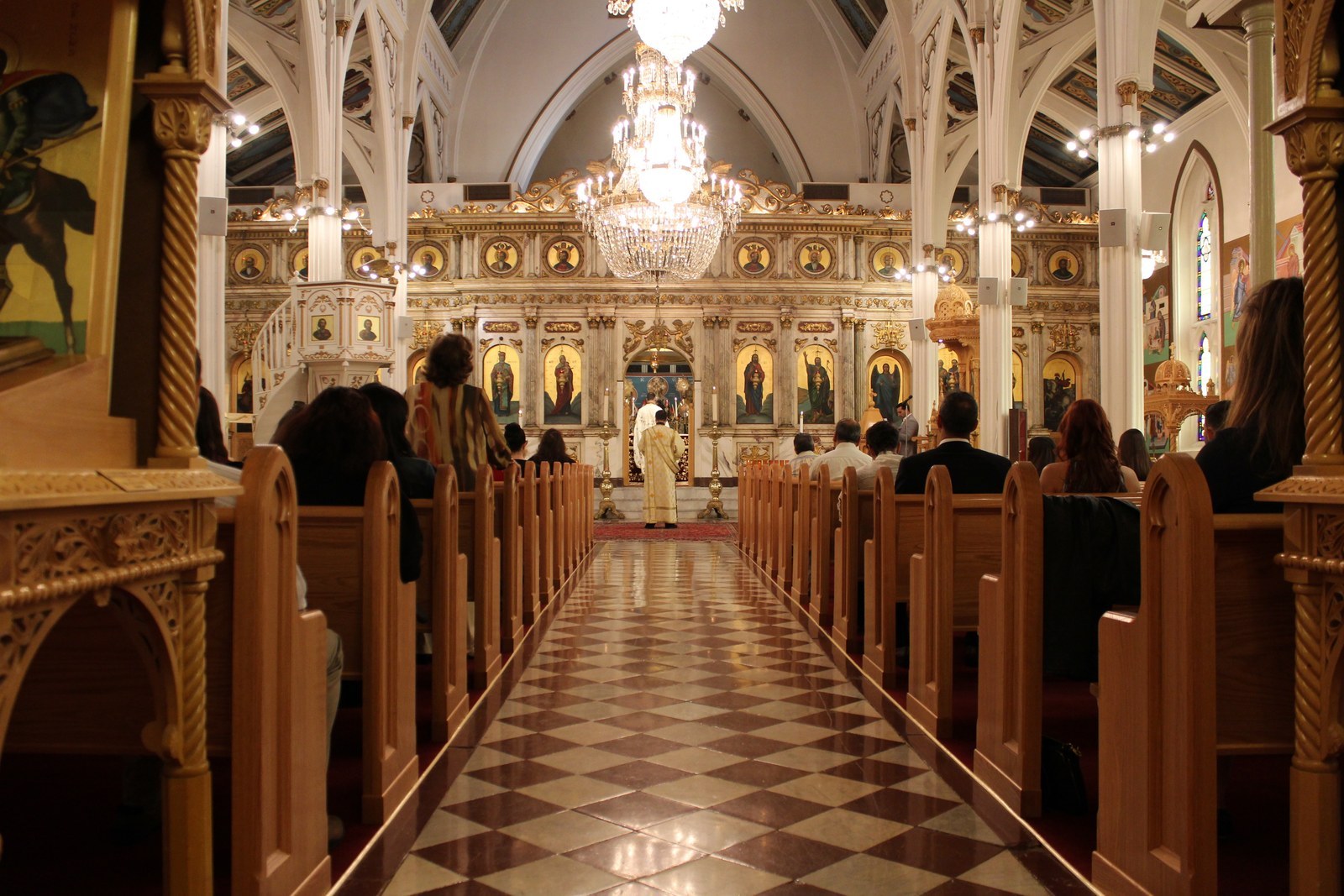 Angela's uncle, who is an engineer and building inspector in Syria, told her that a jihadist group learned he was Christian and attempted to kidnap him last year. He was inspecting a building just outside of Damascus when a group of co-workers ran to him yelling, "They're coming! They're coming!" — though they were unsure who they were affiliated with. The co-workers rushed him to a home nearby to hide for the rest of the day and returned him home to Damascus when it was safe. The next day, the group of men who helped him went missing and still have not been found. Angela's uncle now refuses to leave the city out of fear for his life.
"When we know they're leaving before they leave, we talk to them and talk to them once they get there," said Angela. "We always worry."
Most of Angela's family, like thousands of other Christians, fled Idlib about three months ago to join her uncle in Damascus. They are essentially hostage there. Before the war, the trek would take a few hours by car. Now the trip takes two days because the family must follow longer roads and change cabs to throw off potential kidnappers.
The possibility that her entire extended family can escape the country seems bleak. Instead, they have dedicated themselves to finding safety for her 23-year-old cousin. The family recently made a two-day journey to Lebanon for a visa, and the cousin was later approved for one to Germany. The rest of her family remains in Syria.
Najid, a 40-year-old physician who immigrated to the U.S. in 2000 and also lives in Bay Ridge, fears his 500-year-old family home in Damascus will become another erased relic of Syria's past. (His name has also been changed.)
The home, where nearly his entire maternal family was born, is undergoing a renovation that requires careful construction to preserve the old molding and rock walls. The house is surrounded by churches.
"I hope we're lucky and don't get bombed," said Najid as he swiped through photos of his home on his iPhone. "It's sad to me thinking about preserving my house. Think about how many houses like this get destroyed."
Many of his family members still live in Syria and are facing violence they believe is in part due to their Christian faith. One cousin in Damascus was hit in the stomach with a shard from a small bomb that detonated just feet away from him. An uncle was attacked by two rebels who pushed him to the ground, held a gun to his head, and forced him to give them his car. One of his other cousin's homes in Damascus was damaged by a bomb hurled into a wall. Fortunately, said Najid, the bomb did not explode.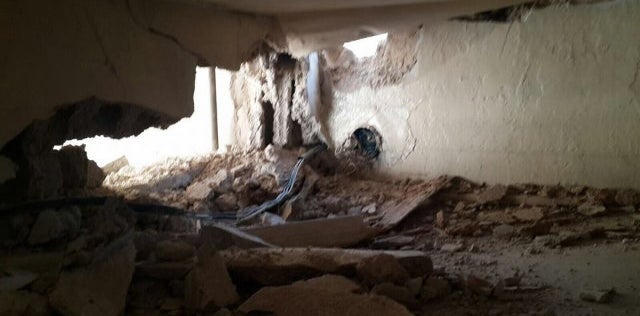 The wall of Najid's cousin's home in Damascus after an undetonated bomb broke through it.
"They're probably targeting the Christian community to force them to leave," he told BuzzFeed News. "Probably the Christians shouldn't stay in Syria. Just looking objectively, the Christians in Iraq were demolished completely. I hope not in Syria. But it might be denial. It's my fear this community will be forced out somehow."
The violence in Damascus has reached such a peak that, as he was browsing Facebook one day, he noticed a cousin had taken a smiling family photo on their patio after dinner. To the left of a table full of figs, pears, finished plates, and cups was an automatic handgun.
"I'm sure they have no intention to show it but this is the reality," said Najid, who is also a parishioner of Saint Nicholas Antiochian Orthodox Cathedral. "This is how dangerous things are."
One of his cousins has decided to join tens of thousands of other refugees and make his way to Europe. Najid's other relatives have no plans to make the trek to safer lands or apply for visas. They feel like they're in danger if they try to flee, he said.
It is unclear how many of the current refugees walking toward Europe from Syria are Christian because the U.N. does not track the religious affiliation of refugees, said Human Rights Council spokesperson Ariane Rummery to BuzzFeed News. In all, there are over 4 million registered Syrian refugees, and more than 6,500,000 Syrians have been internally displaced, according to the United Nations.
While the U.N. Convention on Refugees defines a refugee as someone escaping religious persecution or discrimination, it does not give prioritization by faith. The agency does not determine settlement based "on the basis of their minority status but on their needs and vulnerabilities," said Rummery.
"Focusing purely on resettlement intakes of minorities would only serve to reduce this diversity and risks sending the wrong message, running counter to the principle of impartiality," she said.
The war has sent thousands of Christians scrambling across the country, often running from town to town just to be turned away. Sammy Fatouh, a 47-year-old Orthodox Christian living in Bay Ridge, Brooklyn, who also attends Saint Nicholas Antiochian Orthodox Cathedral, said his extended family faced this hurdle six months ago when they fled Idlib.
Nusra forces invaded the city in March during the night. The family was asleep when news spread that Islamist fighters were nearing. His extended family of eight piled into three cars and caravanned for about 77 miles to Lattakia.
At the town border, the Syrian Army turned away the family because it had reached capacity, Fatouh said. They turned and made the hours-long drive to the coastal town of Mashta al Helou, where Fatouh's mother and brother live. Fatouh, who was visiting, said he had to meet the family at the city entrance to explain to the Syrian Army guards that they were relatives and should be allowed in.
"I have a feeling Christians are not going to be there that long," he told BuzzFeed News. "From Damascus to Homs to Lattakia, the Christians have been fading. You see Christians giving up everything just to go away."
He said a friend of his family in Idlib was burned alive with his wife for running a liquor store. The churches have been destroyed and its icons sold to fund rebel groups. His home in Mashta el Helou is relatively safe for now, but he still calls home every day between 10 a.m. and noon.
The war has reached such a level that the lines between Christian, Muslim, and Jewish targets of violence have become blurred, many of the Christian Syrians interviewed said. Even the Assad regime has been accused of using barrel bombs against its own citizens.
Angela, with no family left in Idlib, has no sense of the state of her childhood home or where her friends have gone. But even though she understands the reality must be grim, she holds out hope.
"Once they stop it, and I hope it'll stop soon, I wish to go and visit at least and see the house and see the town where I grew up and see all my friends," said Angela. "But yes, I wish."