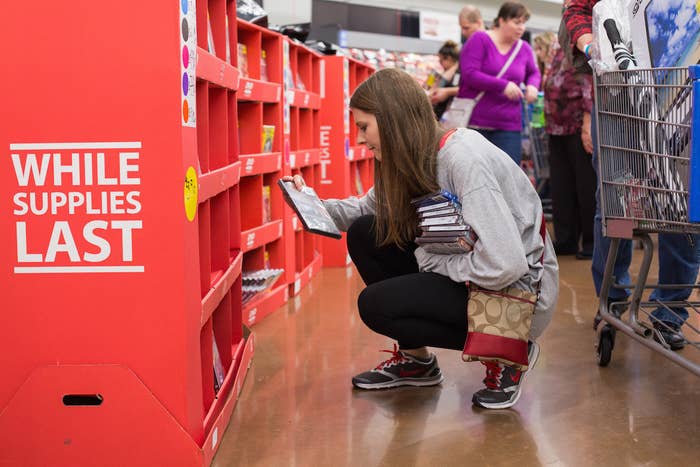 Is Black Friday really a day anymore, or really, sort of...a season?
What was once a post-Thanksgiving ritual of racing out to retail stores the day after turkey was consumed to snap up the best deals on holiday presents is now looking kind of quaint. And while "Black Friday creep" has been going on for some time now — with retailers opening on Thanksgiving Day and offering online deals earlier and earlier — this year it seems like there's a new and different dynamic.
Amazon started rolling out its Black Friday deals on Thursday, but it's been offering "countdown to Black Friday" deals since Nov. 1. Macy's, Kohl's, and Best Buy offered Black Friday deals in July, while Walmart introduced its Black Friday deals online Nov. 9.
And a lot of stores that used to open on Thanksgiving Day to get a jump on holiday sales have decided to close for the holiday this year, a sign that Black Friday deals are more continuous than date-specific.
"In the past, we would say that Black Friday was the kickoff of the holiday season," Ana Serafin Smith, a spokesperson for the National Retail Federation, told BuzzFeed News. "But now we say Thanksgiving week is the kickoff. People get ready to start shopping that week, or complete shopping that week."
This year's holiday shopping season is expected to be a big one. An estimated 164 million people are planning to shop or will consider shopping during Thanksgiving weekend, according to a survey by the National Retail Federation and Prosper Insights & Analytics. Overall spending is expected to increase between 3.6 and 4%, for a total of $678.75 billion to $682 billion, up from $655.8 billion last year.
Consumers plan to spread out their shopping fairly evenly over Thanksgiving weekend, with about 35% of people saying they plan to do the majority of their shopping on Black Friday, according to PwC, a retail accounting firm.
"There is a shift toward Black November," Steve Barr, US consumer markets leader with PwC, told BuzzFeed News. "Deals that were historically only available on Thanksgiving, Black Friday, and Thanksgiving weekend not only start earlier but extend through the entire season."

But instead of reaching for the car keys right after Thanksgiving dinner to jumpstart holiday shopping, consumers these days are more likely to reach for a laptop or phone.
For the first time, online shopping outranks in-store shopping with consumers for the holidays, according to an October survey released by the National Retail Federation and Prosper Insights & Analytics. The survey found 59% of shoppers will be shopping online this season.
With consumers spreading out their holiday shopping throughout the week and more people move online, more companies have started to reassess whether opening stores on Thanksgiving makes any business sense.
Mall chains like CBL Properties, which operates a chain of malls in the Southeastern part of the country, will close 58 malls for the first time on Thanksgiving Day. Stores including Ikea, PetSmart, and Pier 1 Imports said they won't be open for Thanksgiving Day shopping. H&M will be closed on Thanksgiving across the country for its third consecutive year, the company told BuzzFeed News.
Some retailers like Target, Sears, and Kmart have responded to the trend against Black Friday creep by adjusting store hours to stay open only when most shoppers are in-store. Kmart stores will open at 6 a.m. Thanksgiving Day and close at 10 p.m. on Black Friday, while some stores will close at midnight and others will close at 2 a.m. and reopen at 6 a.m. on Black Friday.
Sears will open some stores at 6 p.m. on Thanksgiving and keep them open until midnight — but all Sears stores will open at 5 a.m. on Black Friday.
Target stores will be open from 6 p.m. to midnight on Thanksgiving, and will reopen at 6 a.m. on Friday, Nov. 24.
"Target's new hours accommodate guests who make Black Friday shopping part of their Thanksgiving tradition, and reflect when the retailer has seen the most shopping in its stores for the past several years," the company said in a statement.
Walmart was the first major national retailer to open its doors on Thanksgiving Day, prompting other retailers to follow suit and not be beaten for sales. But roughly 10 years since then, another company has thrown a wrench into the Black Friday biorhythm: Amazon.
"Shoppers now believe there will always be a deal," Barr with PwC said. "Some level of that is the Amazon effect, and some of that is the competitive nature of retail where you're consistently trying to establish and maintain a relationship to the consumer."
REI, a cooperatively owned sporting goods and outdoor gear company based in Seattle, is credited with first challenging Black Friday creep in 2015 with its #OptOutside campaign, which encouraged shoppers to spend time outdoors on Black Friday instead of in stores.
"Black Friday, at that moment, felt like there was a lot of time, a lot of energy on who could go earliest, who could go biggest, who could open up at 6 a.m. on Thanksgiving and have a 48-hour sale," Ben Steele, senior vice president and chief creative officer with REI, told BuzzFeed News. "We wanted the experience at REI to be a different experience."
That decision to "lead with the values of the brand," as Steele described it, paid off for the company: That year 1.5 million people posted photos of their experiences outdoors on Black Friday with the hashtag #OptOutside. The company also posted a record annual revenue of $2.4 billion, and applications to work in REI stores went up 90% in the fourth quarter that year, the company told BuzzFeed News.
In 2016, 6 million people joined in the social media–based #OptOutside campaign, REI said, and its annual revenues also increased to $2.56 billion.
"We had people saying, 'I've been in retail 30 years, and I've never had this day off," said Steele. "It really struck a chord with people, because it's about more than a day of sales — it's about their best days, who they spend it with, and where they go. It's big stuff; it's stuff that's important to people."