Bed Bath & Beyond Coupons Are Eating Into The Company's Profits
The bath store's sales declined 0.6% in the first quarter of the year in part due to its infamous coupons and rebates.
The joy of walking into Bed Bath & Beyond with a pile of coupons and rebates might be a shopper's thrill, but it's turning into a company headache.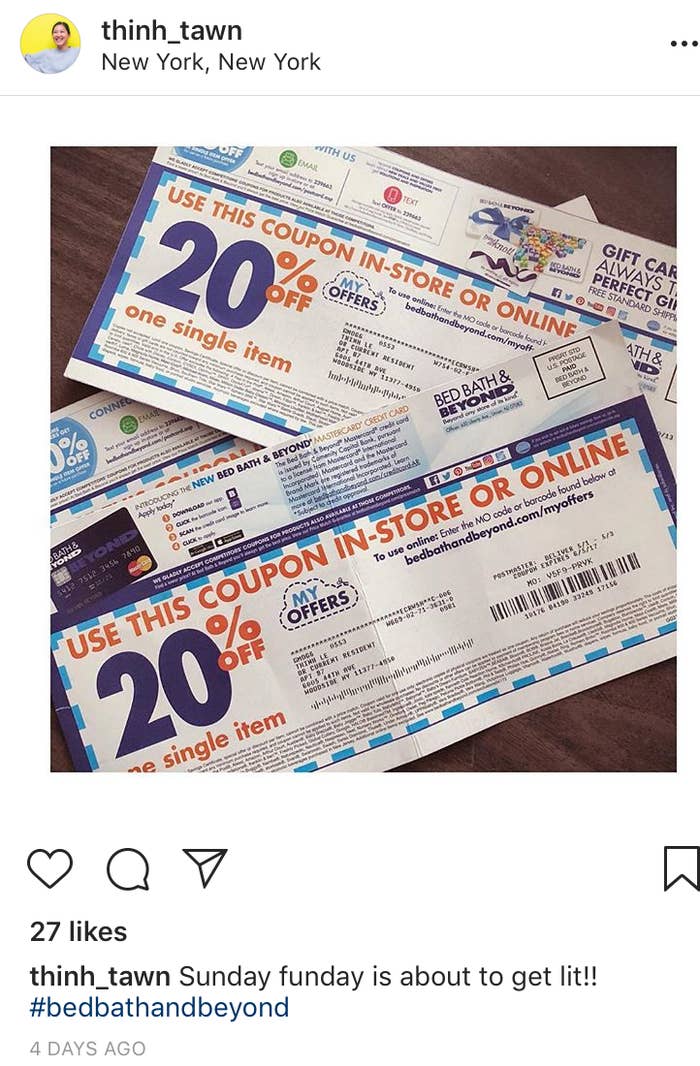 Bed Bath & Beyond reported another quarter of decreased profits on Wednesday. Its sales have decreased by 0.6% compared to the same time last year.
Its gross profit amounted to $1.3 billion in the first quarter of 2018, compared to $1.43 billion during the same time last year, the company reported.
Why? Because those coupons and rebates are just TOO DAMN GOOD.
Robyn M. D'Elia, Bed Bath & Beyond CFO and treasurer, told investors during the company's earnings call on Wednesday that the decrease in sales resulted from shoppers redeeming fewer, but higher-priced, coupons.
"It's continuing to have a significant impact," D'Elia said. "When we discuss the changes in the margin, we put them in magnitude order, so it's still the highest driver."
Turns out Bed Bath & Beyond's coupons have been eating into its profits for some time.
The company's gross profit had fallen from $4.6 billion in 2015 to $4.5 billion in 2016, and $4.4 billion in 2017.
The company said in its annual report that its gross profit has been falling since 2015 because of "an increase in coupon expense resulting from increases in redemptions and the average coupon amount."
It also blames lower merchandise margins and direct-to-customer shipping expenses.
Bed Bath & Beyond CEO Steven Temares defended the company's aggressive couponing to investors on a call last September.
"It's an important component of our value proposition for many of our customers," he said. "So it's something that, as we improve our marketing and our personalization generally, it affords us the opportunity to play with how much couponing we do and who receives it. ... But at Bed Bath, it is and it remains important."

It seems Bed Bath & Beyond coupons are safe. For now.
Bed, Bath & Beyond did not respond to BuzzFeed News' request for comment.