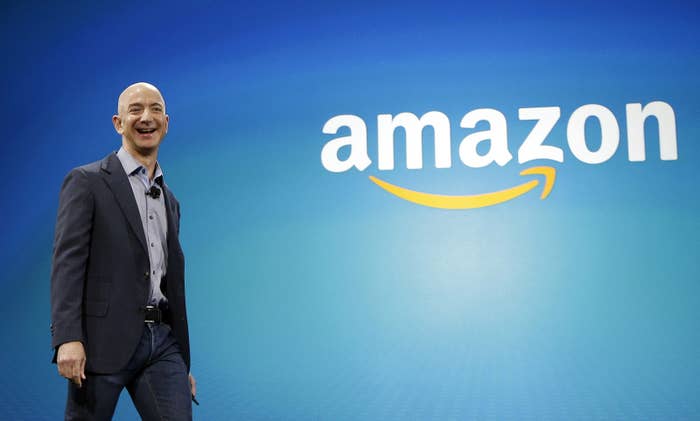 Amazon is raising its annual prime fee from $99 to $119 beginning May 11, the company told investors while reporting first quarter earnings Thursday.
"There's all kinds of new features that we've continually added to the Prime program," Brian Olsavsky, Amazon's chief financial officer, told investors Thursday, noting customers can now get products within two hours. "It's much different than it was in 2014. This is a reflection of that — a better reflection of the cost value of the program."
New annual Amazon Prime subscribers will pay $119 a year for the membership program, a $20 increase from $99, beginning May 11. The new annual fee will apply to membership renewals beginning June 16.
The fee hike comes a week after Jeff Bezos told shareholders that Amazon's Prime program now includes more than 100 million members. Amazon increased its Prime monthly fee from $10.99 to $12.99 in January. This is the first time in four years that Amazon has raised the price of annual Prime membership.
Olsavsky told investors on the call that Amazon's Prime service has grown exponentially since the company first launched it. Prime members can now get more than 100 million products through free two-day shipping compared to 20 million in 2014. The cost of two-hour shipping and delivery from Whole Foods stores also informed Amazon's decision to increase price, he noted.
Amazon Prime continues to juice company profits. Sales from subscription services, which include Prime, were $3.1 billion in the company's first quarter — a 56% increase from the same time last year.
Amazon Web Services is also proving quite lucrative. It brought in $5.4 billion in net sales over the first quarter in 2018, a 48% increase from $3.6 billion during the same time last year — while the category that includes its net advertising sales grew 132% compared to the first quarter of last year, making roughly $2 billion in sales.
While much of that revenue is driven by the platform's third-party sellers, bigger retail players like Procter & Gamble find their investments in Amazon advertising are paying off, Cooper Smith, research director and resident Amazon analyst at L2 Inc, a consumer product research firm, told BuzzFeed News.
"If you walk into WPP or any large agency, they're going to tell you they're increasing ad budgets on Amazon for their clients," said Smith. "You don't hear from anyone that they're decreasing their budget this year. Again, it's a testament to where the momentum is going and the momentum is moving toward Amazon's best interest."
Amazon's overall net income for the quarter was $1.6 billion compared with just $724 million during the same time last year. Its closing stock price was $1,517.96.
Yet Amazon's outlook for the year may not be as rosy as its first-quarter earnings. Amazon's CEO Jeff Bezos has come under fire from President Trump in recent weeks, who has accused the company of avoiding taxes and sinking the US Postal Service.
Bezos also took heat in Berlin, Germany, on Wednesday from union workers protesting their meager pay. Amazon disclosed last week that the median pay for its employees was just $28,446 in 2017, which means half of Amazon's employees earned less than that amount. Meanwhile, Bezos' annual 2017 compensation was $1,681,840.
Amazon was also recently listed in the National Council for Occupational Safety and Health's list of 12 companies that "put communities and workers at risk." The agency criticized the company for creating unsafe work conditions that led to seven "preventable deaths" while also requesting billions in tax breaks for a new headquarters, in addition to $1 billion it already received from state and local taxpayers.