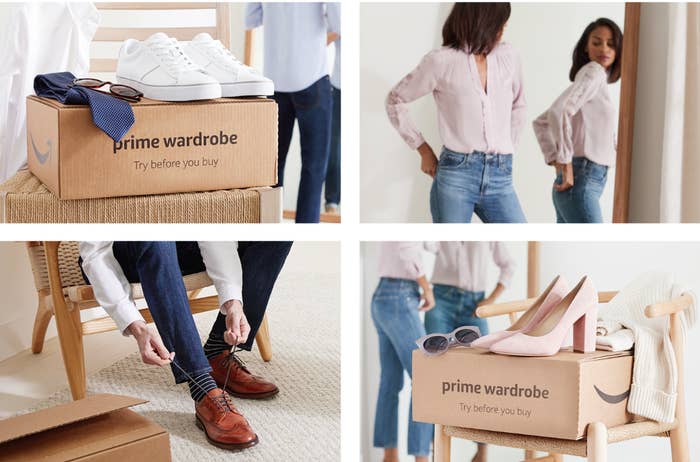 Amazon shoppers in the US will no longer need an invitation to join Amazon Prime Wardrobe, a service lets you try on a box of clothes at home before purchasing anything. Starting Wednesday, all US Prime members will be able to sign up for the service, which launched in beta last year, the company said in a blog.
With Prime Wardrobe, US Prime members can pick three or more items of clothing, shoes, or accessories from a set selection, and they have seven days to decide what to buy. Returns can be made using a resealable box and prepaid return label.
The countrywide rollout comes as Amazon ramps up its push into fashion with several of its own private-label brands. The company said Wednesday that some of its top sellers for Prime Wardrobe include its own private-label brands like Lark & Ro, Daily Ritual, and Amazon Essentials.
While still a new player in fashion, Amazon's combined 2017 apparel and shoes sales exceeded $8 billion, including third-party sellers, according to e-commerce data analytics company One Click Retail. By 2021, Cowen equity analysts believe Amazon will be the top apparel seller in the US, raking in an estimated $62 billion in annual apparel sales, with TJ Maxx and Macy's following behind at an estimated $26 billion and $23 billion in sales, respectively.

But Amazon is new to the clothes-in-a-box game, which already has a star player — Stitch Fix. Stitch Fix, which grew its active clients by roughly 29% over the last year to 2.7 million as of April, is credited as a leader in the subscription box industry. Its revenues grew in the third quarter of this year to $316.7 million, a 29% increase compared to the same time last year, it told shareholders in a letter.
Unlike Stitch Fix, Amazon Prime Wardrobe does not include a personal stylist to curate a box based on a customer's style or interest. With Stitch Fix, shoppers pay a $20 stylist fee and get a box of five items in their selected price range. Stitch Fix customers can buy what they like inside of the box, or buy the whole box and get 25% off the whole purchase.
When asked for comment, Stitch Fix referred BuzzFeed News to remarks CEO Katrina Lake told Recode in May. "Amazon is amazing when you want something cheapest and fastest. But if what you simply want is a pair of jeans or a dress to wear to a wedding, those are really hard problems to solve when you're sifting through millions of things which have varying degrees of relevance to you," she said. "So in a lot of ways, I think our value proposition is almost the opposite. It's not endless choice. In fact, it's a very select group of things that we think are highly, highly relevant for you."
Stitch Fix's success is buoyed by the success of unboxing videos, where YouTubers unpack a box and try on the items for review. The videos often collect between a few hundred views to more than 92,000.
YouTubers like the Kavalier, which reviews products for men, and lifestyle vlogger Jessica Braun have racked up thousands of subscribers in large part through unboxing videos of subscription goods.
John Haji, cofounder of the men's grooming subscription service Gentleman's Box, told BuzzFeed News he believes Amazon entering boxed clothing services will only further legitimatize the subscription box industry, which has been met with skepticism.

"This shows this model — that Stitch Fix model — must be good; it must be something to get on board with," he said. "When Amazon enters the industry, it can only benefit those that pioneered it, because it proves to the consumer that this is something that's great."